13 Best Retinols For Sensitive Skin That Restore Its Glow – 2023
The perfect skin elixir and the answer to all your skin issues in the present skincare world.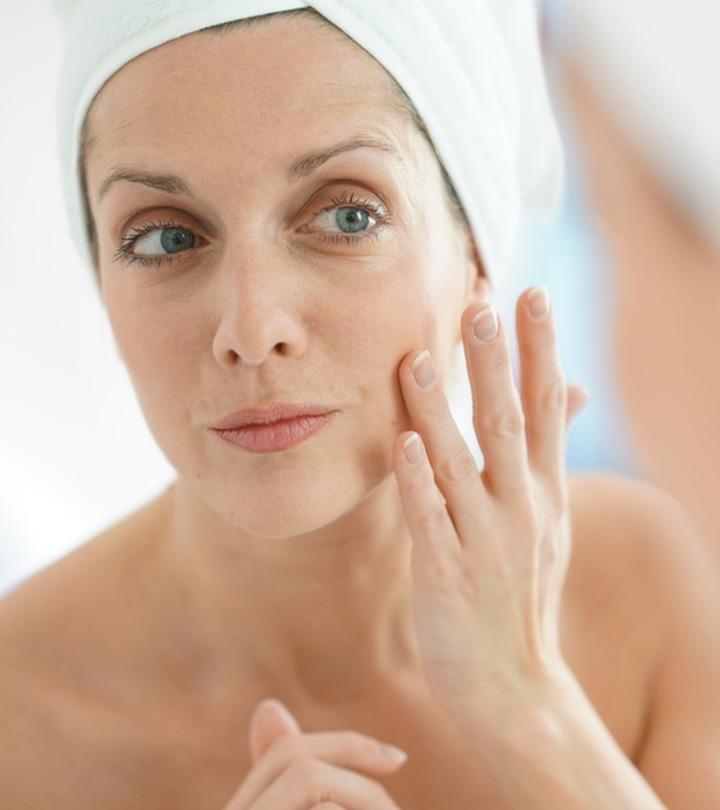 Retinol is the best solution for minimizing aging signs. Though retinol can be too strong for sensitive skin, you have to be careful about the formulation. There are several best products with retinol for sensitive skin available on the market that can help with sensitive skin issues. To help you out, we did some research to put together some of the best retinol products for sensitive skin. This vitamin A derivative is extremely potent and keeps the skin youthful and wrinkle-free. Retinol products are especially beneficial for mature skin. It is always best to start with the lowest concentration and let your skin get used to retinol.
Have you used retinol before? Do you know how to choose the best retinol product for you? If not, do not worry, for we have got you covered. Scroll down to check out the 13 best retinols for sensitive skin available on the market.
Read on to know more!
Top 13 Best Retinol For Sensitive Skin You Must Try in 2023
This wrinkle-easing moisturizer provides intense hydration packed with retinol (2.5%) for your skin to look fresh, younger, and firmer than before. So yes, quit accepting the fine lines and wrinkles already when this enriching blend containing vitamin E, jojoba oil, hyaluronic acid, and green tea will awaken your youthful glow with every use. Georgia Smith a cosmetologist-turned-cosmetic chemist says, "This product formulation is great as sometimes retinol can leave the skin dry and flakey when used for the first time. The humectants and oils within this formula will prevent this from happening." Ideal to use as both day and night cream, it also fades age spots, enhances skin texture, and leaves a radiating appearance.
Pros
Light and creamy texture
Guarantees results within 5 weeks
Absorbs quickly and non-acnegenic
Boosts collagen, elastin, and blood circulation
Improves elasticity and stimulates cell renewal
Non-comedogenic, non-oily, and non-sticky
Alcohol-free, paraben-free, and cruelty-free
Suitable for dry, normal, oily, and sensitive skin
Cons
Price at the time of publication: $26.97
Sensitive skin needs extra care, especially when it comes to aging signs. This anti-aging formula for sensitive skin by Poppy Austin has 71% organic ingredients that work towards restoring optimal health with every use. Infused with 2.5% retinol, vitamin E and green, jojoba oil, shea butter, and vitamin A, it offers multiple benefits to revitalize and restore natural firmness. From boosting collagen, stimulating cell renewal to reducing age spots, sun spots, wrinkles, and more, it is one of the top picks for mature skin users out there. And the best takeaway— airless pump packaging that ensures the cream's effectiveness stays intact always! Still, want to miss it?
Pros
Lightweight and soothing cream
Enhances skin's texture and tone
Hydrates and nourishes intensely
Non-irritating and non-drying
Non-greasy and quick-absorbing
Suitable for men and women
Cruelty-free and free from artificial colors and fragrances
Cons
Not suitable if you prefer fragrance-free products
Price at the time of publication: $19.99
Have you never used retinol or an anti-aging cream before? Start with InstaNatural Retinol Moisturizer. Gentle for first-time users yet powerful enough to tackle all aging signs, this ultra-nourishing blend contains vitamin A and C that'll defend your skin against all mature skin woes. Be it dark circles, age spots, scars, hyperpigmentation, fine lines, or wrinkles, consider them reduced and smoothened with this antioxidant-rich cream. InstaNatural Retinol Moisturizer also contains hyaluronic acid, green tea extract, and safflower seed oil and is suitable for all skin types (even sensitive!). Check out the review of this product on YouTube to know why it is one of the best out there.
Pros
Ensures a polished look
Enhances skin's tone and texture
Brightens skin and combats acne
Reduces dehydration and dullness
Leaves skin soft, smooth and radiant
Paraben-free, mineral oil-free, and cruelty-free
Cons
Fragrance may be overwhelming for some
Price at the time of publication: $19.97
More like a tonic packed with skin-revitalizing ingredients! This anti-sagging cream claims to be tough on crepe wrinkles, age spots, and sun damages. Apply it consistently to notice it defend your skin against all aging signs and leave a healthy, nourished, and polished glow. The formula contains vitamin A (retinol), ferulic acid, botanimoist AMS, chamomile, aloe vera, black tea, shea butter, and extracts from rosemary, apple, and sunflower to offer a holistic TLC experience. Try it to witness the difference.
Pros
Vegan and cruelty-free
Boosts hydration by 88%
Balances the pH level at 5.5
Reduces fine lines and wrinkles
Enhances skin tone and improves elasticity
Safe to use on neck, hand, décolleté, around eyes, and body
Free from harsh chemicals such as parabens, sulfates, alcohol, and more
Cons
Price at the time of publication: $15.62
With 2.5% moist and active retinol, get ready to age in reverse with this one. Raging a war on under-eye puffiness, fine lines, wrinkles, and uneven skin tone, its all-natural formula makes it suitable for sensitive skin as well. It contains green tea, vitamin E, hyaluronic acid, propolis, and aloe vera to quicken skin firming and restore optimal hydration and glow. Yep, add to the skincare routine already!
Pros
Improves complexion
Boosts collagen production with anti-aging vitamins
Restores elasticity and enhances texture
Cruelty-free, paraben-free, and fragrance-free
Dermatologist-recommended, non-greasy, and lightweight
Suitable for men and women
Cons
Price at the time of publication: $12.7
With every ingredient playing an IMP role, do not ignore this advanced skin firming cream. Infused with retinol that boosts collagen and helps tighten up the skin, the aloe vera and chamomile reduce visible redness and nourish intensely to improve elasticity. Green tea, on the other hand, protects from environmental damages and reduces puffiness, whereas hyaluronic acid hydrates and leaves a younger-looking glow. Yep, sounds like a salon-worthy treatment to us! Try it.
Pros
Non-irritating and gentle
Combats sun damages
Minimizes fine lines and wrinkles
Cruelty-free, fragrance-free, and paraben-free
Ideal for sensitive and mature skin
Suitable to use under eyes, neck, décolleté, and body
Cons
Price at the time of publication: $25.99
No clogged pores, puffy eyes, or breakouts with this anti-aging retinol cream! Fight those wrinkles, fine lines, pimples, dullness, and dark circles all in one go. Guaranteeing to plump, lift, and firm your skin, it also boosts collagen and stimulates cell renewal to slow down aging signs naturally. A great option to combat sun spots, damaged skin, and uneven skin tone as well, if you are looking for a hypoallergenic product, Ebanel Retinol Moisturizer Cream would be it.
Pros
Vegan and cruelty-free
Enhances texture and complexion
Reduces redness and exfoliates dull skin
Diminishes blemishes and prevents cyst formation
Balances sebum production and improves elasticity
cGMP-certified, sulfate-free, and paraben-free
Suitable to use around lips, eyes, and neck
Ideal for combination, oily, sensitive, dry, and normal skin
Cons
Price at the time of publication: $22.95
Not a fan of creams? Try this gel peel for a change! With 30% glycolic acid, retinol, hyaluronic acid, and green tea extract, watch it decongest pores while hydrating intensely to leave a healthy glow. Besides this, it also exfoliates gently to get rid of acne scars, sun damages, fine lines, and dark spots to improve your complexion. Just what you need to combat wrinkles and hyperpigmentation, all at once, give this gel peel a try ASAP.
Pros
Ensures deep nourishment
Stimulates collagen production
Enhances skin tone and texture
Minimizes pores, acne, pimples, and wrinkles
Vegan, cruelty-free, and paraben-free
Suitable for dry, normal, combination, oily and sensitive skin
Cons
Price at the time of publication: $9.99
Are other anti-aging creams causing redness or irritation? If yes, then you must try this mild night cream by RoC. Fighting aging signs head-on, and will take care of dark circles, dark spots, uneven tone, and crow's feet on your skin. A great option for ultra-sensitive skin and first-time retinol users, this cream is also clinically proven to show desirable results in just 8 weeks! Yep, want more? It contains hyaluronic acid that hydrates intensely to plump and lift the skin too. Do not skip it!
Pros
Restores natural firmness
Removes dull and dead skin cells
Promotes healthy and younger-looking skin
Reduces the appearance of wrinkles and fine lines
Lightweight, non-greasy, and non-comedogenic
Free from fragrances, oils, and harsh chemicals
Cons
Price at the time of publication: $2619
Adding "good" to your night's sleep with its powerful formula, wake up to younger-looking skin in 5 weeks with this one! Claiming to reduce the appearance of wrinkles and fine lines drastically, it also ensures a soft and polished look for the day. Its ultra-enriching formula contains retinol, vitamin E, coenzymeQ10, and macadamia nut oil. Want more? It's dermatologist-recommended. Do not skip it!
Pros
Moisturizes intensely
Gentle and non-irritating
Fragrance-free and alcohol-free
Non-comedogenic and safe for sensitive skin
Cons
Price at the time of publication: $11.35
How about something premium for your precious skin? La Roche-Posay Retinol B3 Serum with pure retinol, glycerin, and vitamin B3 ensures to make your skin look firmer and hydrated than before. From combating premature sun damages, reducing the appearance of wrinkles, age spots to easing fine lines, this non-comedogenic and allergy-tested formula is a must-try. Ideal to use a night so you can wake up with fresh and glowing skin, give this luxurious blend a try ASAP.
Pros
Dermatologist-tested
Lightweight and gentle
Oil-free and paraben-free
Suitable for sensitive and dry skin
Safe to use around sensitive eyes
Cons
Price at the time of publication: $37.59
Enjoy the power of 3 in one go! This retinol cream formulated with tri-active technology is a godsend option for sensitive and mature skin users. Powered by retinol booster, time-release retinol, fast-acting retinoid, and hyaluronic acid, your skin has no choice but to tighten up and look plumper with constant use. Leaving a healthy and younger-looking glow, this premium product works its magic overnight to give you desirable results. Do not skip it!
Pros
Gentle formula
Corrects uneven skin tones
Reduces fine lines and wrinkles
Hydrates intensely to eliminate dryness
Clinically proven and cruelty-free
Phthalate-free, gluten-free, sulfate-free, paraben-free, and more
Cons
Price at the time of publication: $31
Lastly, this skin-revitalizer with 0.25% retinol and a blend of ultra-nourishing ingredients! Helping ease the wrinkles and fine lines drastically, this age-reversing cream also contains peptides, vitamin C, hyaluronic acid complex, aloe, vitamin E, allantoin, colloidal oatmeal, and ceramides. Yep, more like a comforting balm that'll reawaken your youthful glow from slumber, this gentle formula is ideal for beginners and those with sensitive skin too. Indulge, ASAP!
Pros
Gentle and non-irritating
Soothes and softens skin
Dermatologist-tested, cruelty-free, and vegan
Gluten-free, soy-free, nut-free, and nano-free
Free from alcohol, phthalates, parabens, sulfates, talc, and more
Cons
Price at the time of publication: $58
Buying Guide
How To Choose The Best Retinol For Sensitive Skin?
Look out for the following features in the product before buying:
Skin type: Sensitive skin users, inspect if the product is suitable for your skin type to enjoy fruitful results. Also, figure out if your skin is dry, oily, or combination as well before choosing a cream.
Retinol percentage: Retinol is clinically-recognized as a powerful ingredient against aging signs. So, if you want to enjoy the maximum benefit on your skin, pick the one with at least 2.5% retinol in it.
Intensely Hydrating: Deep hydration is IMP to revitalize and restore the younger-looking glow. So, inspect all the ingredients and also look out for hyaluronic acid as it is intensely hydrating for the skin.
Combat Aging Signs: Why only settle for easing wrinkles and fine lines when there are retinol creams that can tackle sun damages, age spots, dark circles, and under-eye puffiness too. Yep, make the best out of retinol!
AM or PM lotion: Lastly, retinol creams are available in the form of day and night creams. So before blindly picking up any, check if it suits your preferences.
How To Use Retinol For Sensitive Skin?
Using a retinol cream or serum is no rocket science. Whether it is day or night cream, apply it generously on your face, neck, décolleté, and other problematic areas daily to witness desired results.
Now, what are you waiting for? Awaken your young and glowing skin with the best retinol cream, moisturizer, and serum on the market. Giving your skin a break from wrinkles, fine lines, and age spots, retinol is the weapon you need to banish the stubborn lines and spots ASAP. Think no more; browse through our list again and get ready to flaunt your stunning glow with the best retinol for sensitive skin!
Why Trust StyleCraze?
The author, Vaishnavi Kothuri, is a skin care enthusiast and loves writing informative articles on beauty products. She believes that retinol products help treat mature skin and prevent aging signs. She browsed hundreds of reviews and checked various user feedback to provide you with the best retinol for sensitive skin. These retinol products make your skin youthful, firmer, hydrated, and enhance your skin tone and texture.
Frequently Asked Questions
Can you use retinol if you have sensitive skin?
Yes, you can use retinol creams with mild formulas, for they guarantee minimal to no irritation on sensitive skin. Also, there are retinol creams available for beginners and ultra-sensitive skin too.
Do you apply moisturizer after retinol?
If you are using concentrated retinol, then apply a moisturizer before applying retinol and then 20 minutes after applying retinol for the best results.
Can retinol worsen wrinkles?
Using too much retinol can dry out the skin more, thus quickening the signs of aging rather than reversing it.
Do you use retinol or hyaluronic acid first?
When it comes to using retinol and hyaluronic acid together, always apply retinol first and then follow it up with hyaluronic acid to replenish and hydrate your skin.
How should you use retinol on sensitive skin?
People with sensitive skin can start easy with the retinol dosage, such as 0.25% for two-three times a week. You can start building up your tolerance from there.
Can you use retinol while pregnant?
It is best to avoid retinol while pregnant as it has been linked to some birth defects.
Can you use retinol while breastfeeding?
No, do not use retinol during breastfeeding because it can get absorbed into your bloodstream and pass on to the baby.
Recommended Articles