8 Best Rice Cookers Available In India – Buying Guide
Say goodbye to soggy or burnt rice and say hello to perfect rice every time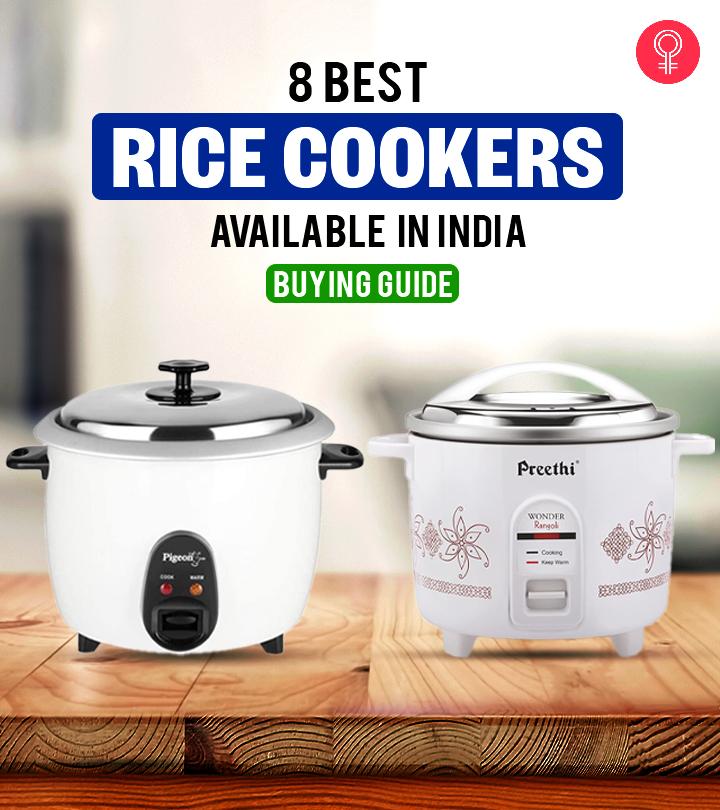 Rice is a staple food in India, and it is consumed regularly in almost every household. It is an integral part of daily meals, especially in South Indian states like Tamil Nadu, Kerala, Karnataka, and Andhra Pradesh. Rice is used in various dishes, from biryanis to fried rice, pulao, pongal, and sweet delicacies like payasam. Rice cookers are handy for steaming rice, making it an essential requirement in every Indian kitchen. The The ideal rice cooker enables you to cook rice faster and saves energy while preserving most of its nutrients.
Here's a list of the 8 best rice cookers available in India that will ensure you enjoy steaming, nutrient-rich rice in every meal. Keep reading for more information.
8 Best Rice Cookers Available In India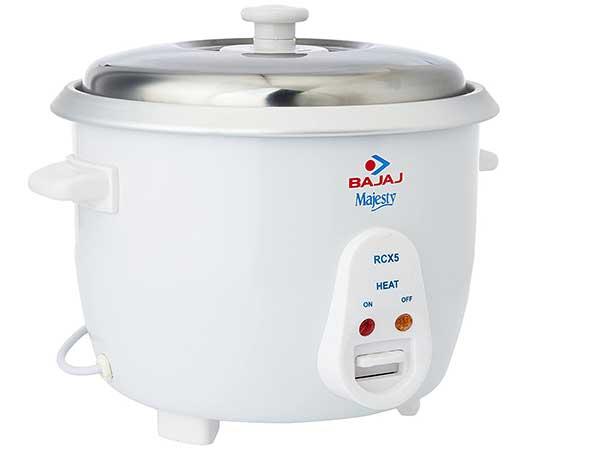 The RCX5 rice cooker from Bajaj is ideal for larger families. It is white and made up of plastic and stainless steel. The inner cooking bowl is made of aluminum with an anodized finish, and the sturdy cool-touch handles make it easy to lift when it's hot. The stainless steel lid has steam vents, which help optimize the moisture level and give perfectly cooked rice.
The rice cooker has an auto-shut off mechanism that avoids overcooking rice and preserves its nutrients. It is also equipped with a detachable power cord, which can be removed from the socket when not in use. The cooker is electrically powered and takes about 15-20 minutes to cook the rice. It serves as a smart cooking solution that does not consume much time.
Specifications
Capacity: 8 L
Warranty: 2 years
Power: 550 W
Weight:29 kg
Pros
Easy to use
Stylish exterior
User-friendly controls
Auto-shut off
Cool-touch handles
Cons
Rice sticks at the bottom.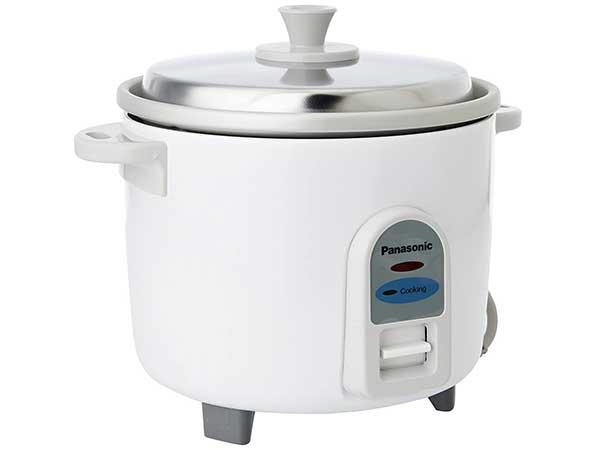 The rice cooker from Panasonic can cook up to 0.6 kg of rice, suitable for a small gathering. This device performs automatic cooking with an auto-cut off function. It comes with a cooking plate and a scoop holder. The rice pan is made up of durable anodized aluminum.
With a power of 660 W, the cooker ensures faster cooking and is suitable for cooking biryani, vegetable pulao, lemon rice, sambar and tamarind rice, tomato rice, and other delicacies. It takes about 20 minutes to cook rice. The cooker's body is made up of premium-quality food-grade material and comes with a stainless steel lid.
Specifications
Capacity: 8 L
Warranty: 2 years on product and 5 years on heater
Power: 660 W
Weight:67 kg
Pros
Sturdy design
Lightweight
Chip-resistant
Heat-resistant handles
Convenient
Double safety locking system
ROHS compliant material
Cons
Nondetachable cord
'Warm' option not available.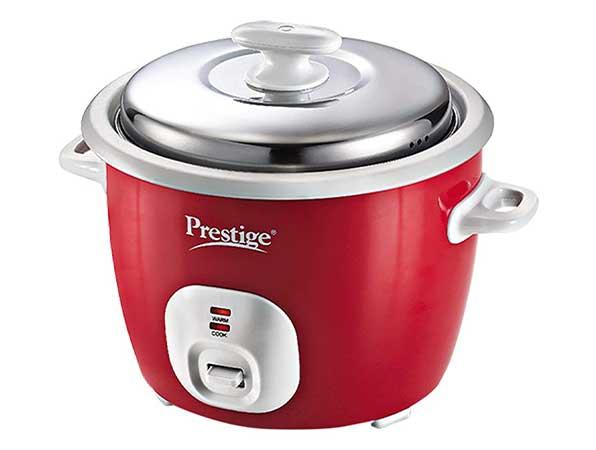 This rice cooker from Prestige can cook up to 1kg of rice. It has double pans made of aluminum, which distributes the heat evenly for efficient cooking. The cooker's body is electrically insulated with a stainless steel close-fit lid. It is also equipped with an auto "keep warm" mode and water level indicator for easy cooking.
The rice cooker features a detachable power cord that allows you to plug or take off the unit and carry it along. The steam vent lets the steam escape while cooking. You can also cook porridge, kanji rice, soup, stew, idli, pulao, steam vegetables, and meat.
Specifications
Capacity: 8 L
Warranty: 1 year
Power: 700 W
Weight: 31kg
Pros
Cool-touch handles
Strong scoop holder
Convenient design
User-friendly controls
Easy to clean
Cons
Lid might corrode.
Faulty switching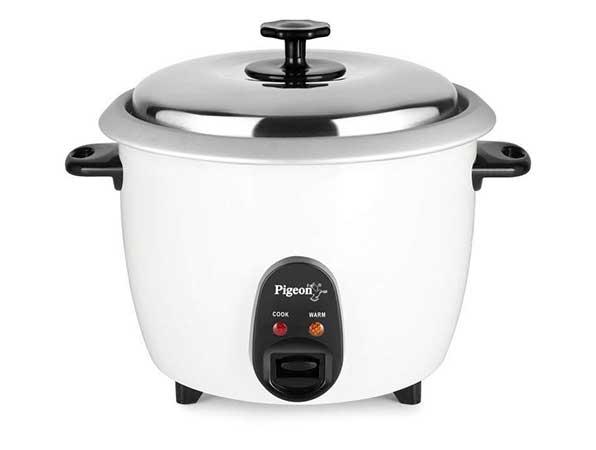 The Pigeon Rice Cooker by Stovekraft caters to the needs of small families (4-5 people). It looks stylish and goes well with most kitchen decors. The base is equipped with an aluminum cooking plate that distributes the heat evenly in the cooker, letting your food cook thoroughly. It is one of the best electric rice cookers with controls that enable you to monitor and track the cooking easily.
The cool-touch handles allow handling the rice cooker with ease. This rice cooker also features a stainless steel lid with a Bakelite knob. You can use it for cooking rice, oats, khichdi, pulao, steam vegetables, and more with just one click. The package includes a rice cooker, a spatula, and a measuring cup.  The device has two indicators that show the cooking and warm mode of the rice cooker for your convenience. Its 1.1 m long swivel cord is ideal for reaching every corner of the kitchen.
 Specifications
Capacity: 8 L
Warranty: 1 year
Power: 700 W
Weight: 1.9 kg
Pros
Easy to clean
Travel-friendly
Hassle-free
One-click operation
Auto-shut off option
Long-lasting
 Cons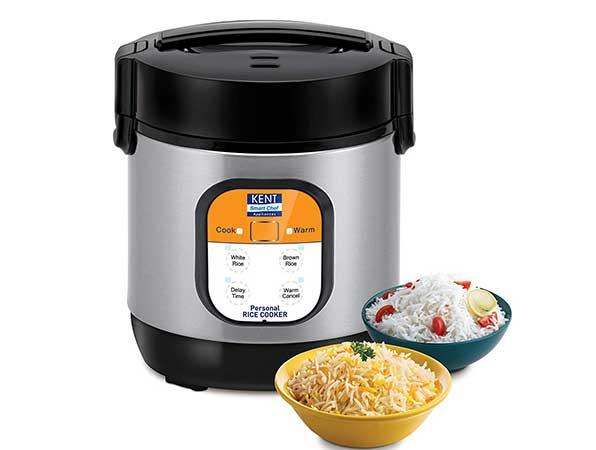 The Kent Rice Cooker comes in a sleek black and silver finish that makes your kitchen look modern and stylish. Its advanced induction heating function helps in cooking rice evenly. The device is designed with a delayed cooking function that enables you to cook your food within the desired time as per your needs. The pack includes a rice cooker, an inner pan, an extra container, and a measuring cup. Its compact and handy design makes it easy to carry and ideal for bachelors and frequent travelers.
Specifications
Capacity: 9 L
Warranty: 1 year
Power: 180 W
Weight: 14 kg
Pros
Automatic start
Compact design
Portable
Easy to use
Convenient to clean and store
Durable
Value for money
Cons    
Cooks small quantity.
Takes time to cook.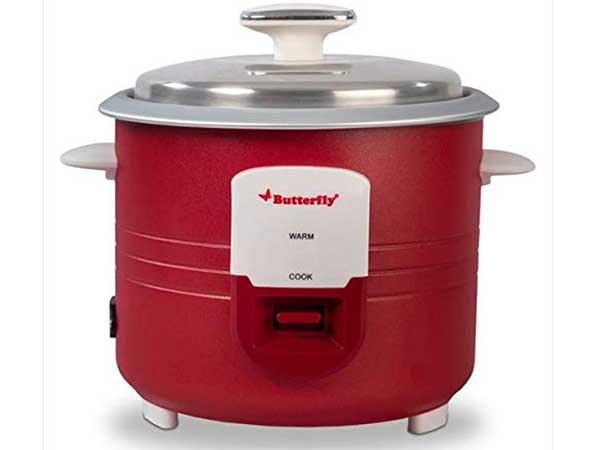 The Butterfly Rice Cooker is ergonomically designed and made of stainless steel. Its red color adds a unique charm and gives the best rice cooking experience in the kitchen. The auto-cut off function interrupts the power supply once the rice is cooked, preventing your food from getting burned.
The'Keep Warm'feature keeps the rice warm for a longer time without making it soggy. This Indian rice cooker has an anti-skid rubber base that makes the unit stand firmly while cooking. It also comes with a detachable cord, a measuring cup, and a spatula. The required cooking time is about 15 to 20 minutes.
Specifications
Capacity: 8 L
Warranty: 1 year limited warranty
Power: 700 W
Weight:2 kg
Pros
Durable
Ergonomically designed
Cool-touch handles
Portable
Easy to use
Cons
Rice might stick at the bottom.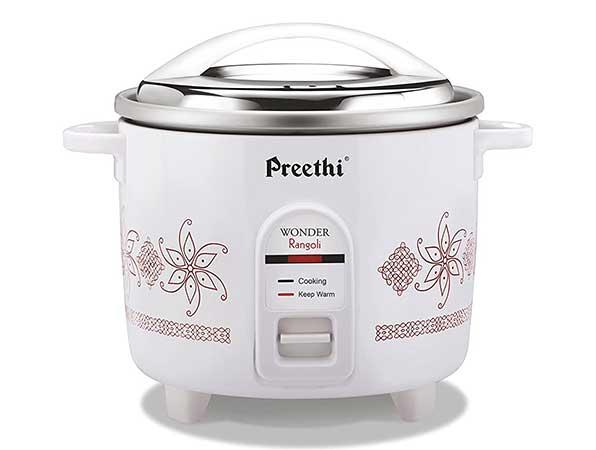 The Preethi RC-320 Rice Cooker is equipped with a double pan that cooks rice to perfection. It is made of aluminum, ensuring fast, easy, and healthy cooking. You can keep a watch over the rice cooking with the thermostat controls. It is one of the most trusted rice cooker brands that automatically cuts off once the rice is cooked well.
The overlapped heating coil ensures faster and reliable cooking. The manufacturers have used electrostatic painting technology to provide an anti-rust coating to the cooker. This also makes the unit look new and function well even after several years of operation. No more worries of lead melting, rusting, or moisture formation as the soldering points are covered with RTV 80 silicon glue and ceramic seal.
Specification
Capacity: 2 L
Warranty: 1 year
Power: 660 W
Weight: 09 kg
Pros
Double layered
All-round protection
Eco-friendly
Safe cooking
1-year warranty
Cons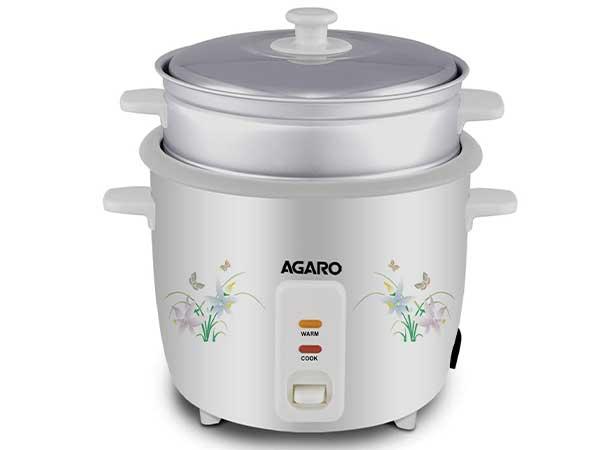 The elegantly designed Agaro-33307 Rice Cooker is made of premium-quality plastic and has a stainless steel close fit lid that seals in the heat, keeping the rice thoroughly cooked and hot. The unit comes with a steamer, which can be used as a double boiler. It has two cooking modes –Cook and Warm. The former mode enables cooking while the latter is meant for keeping food hot for serving. The rice cooker features cool-touch handles that allow easy lifting and comes with an aluminum inner pot, a measuring cup, and a spatula.
Specifications
Capacity: 1 L
Warranty: 3 years on the heating plate
Power: 400 W
Weight: 83 kg
Pros
Detachable power cord
Easy to clean and maintain
Travel-friendly
Cost-effective
Cons
An electric rice cooker adds convenience to your kitchen as it saves a lot of time and energy. It comes with various features and offers the following benefits.
What Are The Benefits Of Using Rice Cookers?
They eliminate the chances of excess water spillage while cooking and rice wastage due to overflowing.
They cook rice to perfection without undercooking, burning, or overcooking.
These devices help you cook different varieties of rice, such as brown rice, red rice, and more.
The rice stays warm and fresh for several hours when the cooker's lid is not open.
They do not require someone to monitor the process of rice cooking. Hence, you can switch the device on and carry on with other chores.
When using a rice cooker, one needs to follow certain basic safety precautions.
What Are The Safety Measures To Use Rice Cookers?
Read through all the instructions provided in the user manual of the product.
Never immerse the electric cord, plug, or heating cooker in water, cleaning solution, or liquids. It might cause an electric shock.
Avoid touching the hot surfaces of the rice cooker, whether it is external or internal.
Handle the rice cooker with the help of the handles or knobs attached to the unit.
Never use the rice cooker unit for other than the intended purpose.
Do not use any tool or accessory that is not meant to be used for the cooker.
Closely supervise the rice cooker, especially when children are around.
Unplug the rice cooker from the socket before cleaning it. Let it cool down before touching or cleaning.
Do not leave the cord hanging down over surfaces.
Liquids should not be poured directly into the heated body.
If any part of the rice cooker, plug, or cord is damaged, do not use the unit.
Contact only professionals to fix the defect in the rice cooker.
With the wide range of rice cookers available on the market, it can be overwhelming to choose the right one for your cooking needs. Here are some of the things to look for when choosing the best rice cookers.
How To Choose The Best Rice Cookers
The quality of the material and product is vital when choosing a rice cooker. One that is of premium quality can be reliable, work efficiently, durable, and perform all that it promises.
The weight of the rice cooker is another factor that needs to be taken into account. Settle for a rice cooker that is lightweight and handy to carry, cook, and serve.
Most rice cookers feature a one-touch control thermostat or panel for easy and convenient operation. You will also find rice cookers with advanced digital displays that ensure precision and reliability for a good cooking experience. Understand and stay updated about the operation of the controls.
The traditional types feature manual timer knobs. The advanced models have digital timers with which you can set the time to cook the rice and set it to switch off at the specified time.
The interiors of the rice cooker should be easy to clean and maintain at all times. Choose rice cookers with inner stainless steel bowls that are safe, healthy, and hygienic. Moreover, they are also durable and easy to clean.
Pick a rice cooker with an insulated body as that keeps the exteriors cool. This prevents accidental burning of your hands and mishaps in the kitchen when the unit is switched on.
Avoid rice cookers that feature metallic handles that heat up quickly. Instead, choose the ones with cool-touch, strong, and ergonomic handles that enable you to hold the cooker and serve from it directly.
Choose a rice cooker that can cook rice by setting different modes. It becomes useful in various rice preparations. For example, biryani, fried rice, and pulao require the rice to be cooked as separate grains, while for pongal and other delicacies, it needs to be in mashed form.
Most rice cooker brands offer additional accessories along with the cooking bowl. It is wise to choose a unit that comes with a measuring cup and wooden spatula for a stress-free experience.
The size of your family matters a great deal when it comes to choosing a rice cooker. Large families require a rice cooker with a larger capacity.
Rice cookers are designed to make the process of cooking rice stress-free without the need for constant monitoring. With the wide range of features provided in the rice cookers, cooking is faster, power-efficient, and saves a lot of your energy. So, bring out the hidden chef in you and cook your favorite rice dishes with any of the rice cookers mentioned in our list.
Frequently Asked Questions
How long does it take to cook rice in a rice cooker?
Generally, a cup of regular rice takes about 15 minutes to cook in a rice cooker. Whole grain rice takes 40-45 minutes, while parboiled rice takes 20 minutes.
What is the ratio of rice to water in a rice cooker?
You will need 1 ¼ cups of water for short-grain rice, 2 ¼ cups of water for long-grain brown rice, and 2 cups of water for parboiled rice. The above water ratio is ideal for 1 cup rice.
How long does a rice cooker keep the rice warm?
Rice cookers with the auto warm mode can keep it warm for a maximum of 12 hours.
Can you open a rice cooker while cooking?
No. Do not open the rice cooker's lid while the contents are cooking as the heat can escape. This causes the rice to be unevenly cooked.
Are there any disadvantages of using rice cookers?
Some rice cooker models are not very effective in cooking thicker rice varieties. They are also quite bulky and take up more space in the kitchen.
Recommended Articles
The following two tabs change content below.