10 Best Roasting Pans Of 2020 Reviewed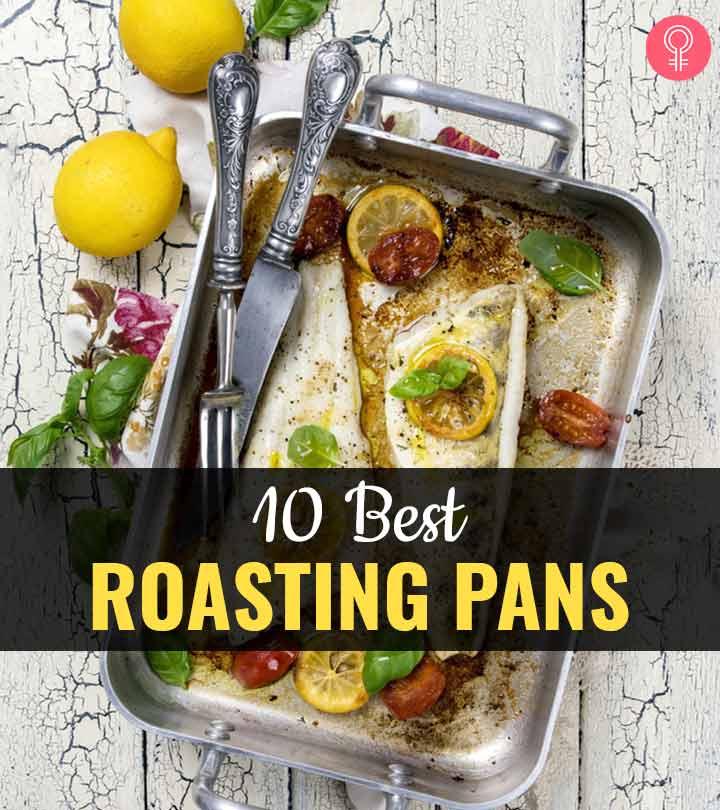 A roasting pan is a must-have item for every kitchen. It is a high-walled pan for cooking large cuts of meat and veggies at high temperatures. Although they are oven-safe, roasting pans are not the same as baking pans. These are made of heavy-duty metal, in which you can braise or roast meat and vegetables easily.  The high walls of the roasting pan allow even heating and trap all the flavor and liquid inside. With its excellent range of functionality, there is nothing that you cannot prepare in a roasting pan. If you are looking for one, check out our list of the 10 best roasting pans. Scroll down to know more!
Top 10 Roasting Pans For Your Kitchen
The Cuisinart 7117-16UR roasting pan has a stainless steel body and riveted stainless steel handles. It comes with stainless steel racks that allow proper heat circulation and even cooking. This is a deep-sided roasting pan that does not let the juices escape. The racks are high enough to let the food underneath bake properly. It is large enough to hold an entire bird and is also easy to clean.
Measurement: 12.8″W x 16.8″L x 3.4″H (pan only), 12.8″L x 21.1″W x 5.8″H (with rack)
Pros
Stainless steel body and racks
Drip-free pouring
Dishwasher safe
Easy to clean
Sturdy design
Easy to grip handles
Heat surround technology
Stainless triple-ply construction
Cons
May not fit in some ovens.
This roasting pan has a U-shaped rack. It is made of heavy-gauge steel that ensures even heat distribution for cooking a perfect meal. It is built with superior non-stick technology, so your food never sticks to the pan or the rack. It has wide handles for a comfortable and sturdy grip. Hand washing is recommended for preserving the non-stick quality.
Measurement: 17"L x 13"W x 6.5"H
Pros
Removable U-rack
PFOA-free
Lead-free
Cadmium-free
Non-stick surface
Wide handles and rolled edges
Easy to clean
Oven-safe
Cons
Might rust after a few washes/uses.
This versatile non-stick roasting pan can handle cooking challenges from rib roasts to holiday turkey. This is a heavy-duty steel roasting pan and is oven-safe up to 450 degrees Fahrenheit. It has dual riveted stainless steel handles that fold down and can easily fit into your oven.  You can also save a lot on storage space. This pan comes with a removable chrome-plated flat rack, which helps to keep the meats and drippings separate. Hand washing is recommended for this pan.
Measurement: 16.00"L x 11.25"W x 2.5"H (dimensions), 11" x 15" (size)
Pros
Non-stick
Easy to clean
Foldable handles
Oven-safe
Durable
Easy to clean
Cons
The handles are tough to grip.
This roasting pan has a heavy-gauge aluminum core between two layers of stainless steel. Aluminum is an excellent conductor of heat and provides even heating for proper cooking. It has triple-riveted handles, so lifting and turning the pan gets easy.  The clear tempered glass lids allow you to watch your food while it is cooking. The non-stick V-shaped rack allows heat circulation for excellent browning heat.
Measurement: 16.25"L x 13.75"W x 4.25"H
Pros
Full aluminum core for even heating
Brushed stainless steel exterior
Long-lasting
Non-stick V-Rack for browning
Dishwasher safe
Broiler and oven-safe
Full lifetime warranty
Easy to clean
Can hold up to a 25-pound turkey
Cons
Handle curves inward
The rack keeps moving.
This superior quality roasting pan is made of medium-gauge hard-anodized aluminum that ensures even heating. This product comes with a non-stick rack that elevates foods for even browning and lets the fat and liquid drain away. The rack has side handles for easy lifting. The roasting pan has two double-riveted stainless steel handles to provide a secure grip while lifting it out from the oven.
Measurement: 18.63"L x 13.00"W x 4.50"H
Pros
Oven-safe
Non-stick racks
Stainless steel loop handles
Non-stick interior
Durable
Compatible with gas, electric, halogen, glass top.
Cons
The bottom of the pan may get scratched easily.
This roasting pan with racks is made of heavy-gauge stainless steel that provides even cooking and browning. It has a V-shaped rack that allows quick browning of meat and is easy to clean. This roasting pan is compatible with stovetops, and the flat bottom is suitable for baking.
Measurement: 17"L x 14"W x 3.5"H
Pros
Oven-safe (up to 500 degrees Fahrenheit)
Riveted handles
Tapered tip
Dishwasher safe
Compatible with stovetops, electric, ceramic, and glass tops.
Cons
The rack slides a little.
This stainless steel roasting pan has unique inverted handles. The design of the handles allows easy storage. The roaster fits easily into ovens. It comes with a v-shaped non-stick elevated cooking rack, designed to help cook food evenly and fast. The 3-ply stainless steel clad design has aluminum core sandwiched between steel. It is durable with superior heat conductivity along the bottom and sides of the pan.
Measurement: 16"L x 13"W x 3"H
Pros
3-ply stainless steel clad design
PFOA- and PFOE-free cooking rack
Even heating
Inverted handles
Limited lifetime warranty
Dishwasher safe
Easy to clean
Refrigerator safe
Easy storage and handling
Cons
The rack coating may chip off.
This pan is made of heavy-gauge 18/10 stainless steel and is perfect for preparing roasted meats and casseroles like lasagne. This roasting pan comes in three convenient sizes and has a sleek but efficient design. It also includes a stainless steel basting grill and riveted mirror-polished handles.
Measurement: 15.25"L x 11.19"W x 4.06"H (dimensions), 13.5" (size)
Pros
Durable
Heavy-duty build
Sturdy
Easy to clean
Broiler-safe
Oven-safe
Available in different sizes
Mirror polished handles
Lifetime warranty
Easy and dripless pouring
Tri-ply base construction
Cons
A few products might warp.
The Granite Ware Roasting Pan has a steel core sandwiched between porcelain. The steel core ensures even heat distribution, while the porcelain surface provides a non-stick base. The porcelain does not affect the taste and nutritional value of your food. The steel core ensures even cooking. This roaster fits an 18-pound turkey or chicken easily. It is safe to be used on any heat source other than a glass cooktop.
Measurement: 15"L x 10.75"W x 4"H (interior dimensions), 18″L x 12.25″W x 4.25″H (exterior dimensions)
Pros
PFOA- and PTFE-free
Dishwasher safe
Metal utensil safe
Durable
Lightweight
Easy to clean
Cons
None
This is a versatile heavy-duty roasting pan that has tall and straight sides. This helps to trap all the flavor, juices, and moisture and prevents splatters and spills. It has upright handles and comes with a V-shaped non-stick roasting rack. The elevated rack promotes even heating and makes it easy to collect the juices from the base of the pan for glazing or preparing gravy. This is an anodized roasting pan and is sturdy enough to resist warping.
Measurement: 16.5"L x 14"W x 6"H (dimensions), 13″L x 16″W (size)
Pros
Warp-resistant
Removable V-shaped rack
PFOA-free
Scratch-resistant non-stick coating
Oven safe up to 500oF
Dishwasher safe
Easy to clean
Contoured handles
Cons
The handles get hot while cooking.
The coating on the racks may come off.
If you want to enjoy your holiday turkey year-round, you know which kitchen tool you need. Before you pick a roasting pan to cook the juiciest turkey, here are a few points to keep in mind.
How To Pick The Best Roasting Pan
1. It Should Be Heavy
Ideally, a perfect roasting pan should be heavy enough not to warp or flex but not so heavy that you drop it when it is hot. Check for metal (anodized aluminum or stainless steel) pans. Also, go for strong handles and large and sturdy built.
2. The Depth
The depth of the pan affects the cooking time. Too deep pans prevent the heat from circulating below the meat, and too shallow pans cannot trap the liquid and juices. The ideal depth of a roasting pan should be around 5-8 cm. This allows proper air circulation and also retains the gravy.
3. The Material
You will get aluminum, stainless steel, cast iron, and anodized aluminum roasting pans in the market. Aluminum is a great conductor of heat, but it is lightweight. Anodized aluminum is non-stick and has a dark color that helps in browning the meat while roasting. Stainless steel is easy to clean and also gives you the best gravy at the bottom of the pan. Cast iron roasting pans are sturdy, easy to clean (if enameled), and retain heat, but they can be heavy. Stoneware pans are made of fire-treated clay and look great. This versatile cookware can also be used for baking cakes.
4. The Size
Size matters! An ideal roasting pan should be 5 cm larger at all sides. If it is smaller than this, you will lose the moisture and gravy.
5. The Accessories
Does the roasting pan have a roasting rack? What about the handles? A roasting rack helps in easy cooking and is handy while removing the meat from the pan. Sturdy riveted handles help in easy and secure removal of the pan from the oven.
Whether you are choosing a cast iron or stainless steel roasting pan with or without handles, these tips will help you pick the best one for your kitchen from the above list. We hope this article was helpful!
Expert's Answers for Readers Questions
What can I use if I do not have a roasting pan?
You can use a cast iron or stainless steel skillet or broiler pans.  Though the results will not be the same, these can be alternatives.
Does the roasting pan need a roasting rack?
Yes, you will need one if you are cooking an entire turkey or chicken.
Recommended Articles