13 Best Robot Vacuums of 2020 For You! (With Buyer's Guide)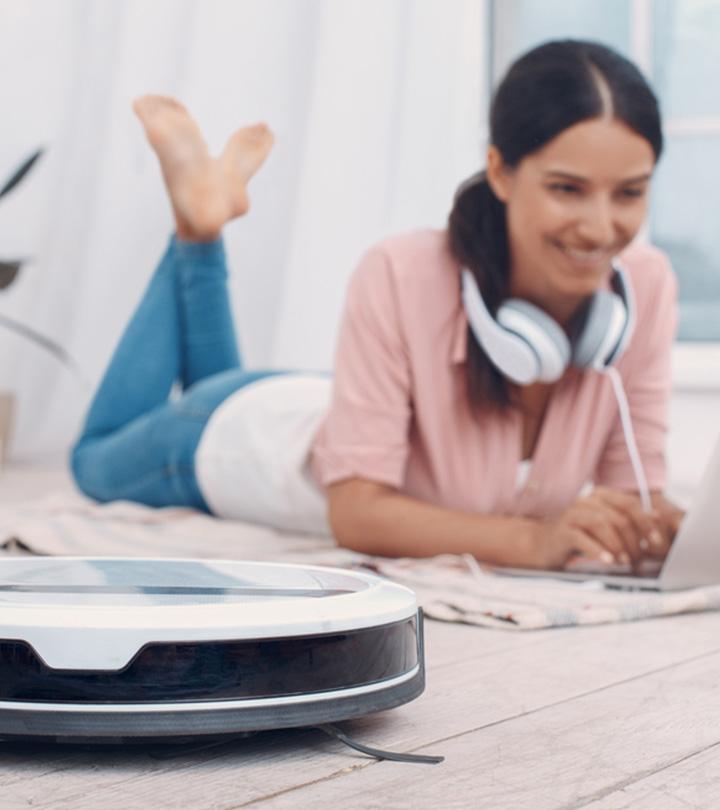 Imagine a weekend when you don't have to worry about dusting, cleaning, or scrubbing the floors and carpets anymore! Just you and your family catching up on a good movie or spending time together. Yes, it's possible. All you have to do is switch that deafening vacuum cleaner with the best robot vacuum cleaner of 2020! Becoming a part of the family and taking care of all your cleaning and dusting needs, you'll never come home to a dusty room anymore. Plus, these robot vacuums are so self-reliant that they also recharge and resume cleaning on their own. Like little cleaners keeping all the dust and debris at bay without your help, they are a godsend for pet lovers too.
Now, who's ready to make a new addition to their family? For we have filtered and lined up 13 best robot vacuums of 2020 for you!
Read on to know more!
13 Best Robot Vacuums of 2020 For You! (With Buyer's Guide)
Busting all your dusting needs while you enjoy leisure time, this robot vacuum cleaner assures spic-and-span floors with its super-sleek design. Designed with boost IQ technology that delivers a powerful suction at 1300 pa, it can clean continuously for up to 100 minutes! Also, no more deafening noise, every time you vacuum; eufy RoboVac will keep it quiet and effortless as it tidies up every corner of your house. And given its high-efficiency, it is always ready to clean as it recharges automatically. No wonder it was awarded as the "Best Robot Vacuum of 2018".
Pros:
Guarantees powerful and intense cleaning
3-point cleaning system ensures clean floor and carpets
Large built-in dustbin and triple-layer premium filter
Evades obstacles with infrared-sensor
Avoids fall with drop-sense technology
Remote control, Ac power adaptor and charging base included
It comes with a cleaning tool and extra high-performance filters too
The premium and protective tempered glass is anti-scratch.
Cons:
It needs immediate cleaning.
It may get stuck under the furniture.
Be it dust on the carpet or dirt in the corners, they stand no chance against iRobot Roomba! Compatible with, iRobotHome App, WiFi and Alexa, iRobot Roomba is designed with auto-adjusting sensors and dirt-detect technology that makes it one of the most intelligent robot vacuum cleaners. Adapting to different heights effortlessly, its full-suite smart navigation detects obstacles and guarantees to leave your house squeaky clean without assistance.
Pros:
3-stage cleaning system
Easy to connect and schedule cleaning mode
Auto-docks and auto-recharges
Schedules and cleans for up to 90 minutes
Ensures intense cleaning on concentrated dust areas
Dual multi-surface brushes grab every spec on the floor
Powerful suction loosens and lifts dust, hair or dirt
Edge-sweeping brush cleans corners and edges.
Cons:
Docking may require assistance
It might get noisy on the hard floor.
Are you tired of pet hair everywhere? This multi-room robot vacuum cleaner offers a unique tangle-free service that grabs everything from dust to hair without blocking the rollers. All you need to do is schedule a cleaning session and forget about the floors forever! Its 3-integrated infrared sensors will prevent falls and 10-set of infrared sensors on the front will avoid obstacles effortlessly. Guaranteeing safe, inaudible, and intense cleaning with every use, it is also user-friendly and runs up to 100 minutes.
Pros:
Auto-docks and auto-recharges
Built-in LCD screen and LED indicators display work status
Four cleaning modes and nano-fibers cloth for intense cleaning
Extra-large wheels allow smooth glide from floor to carpet
Sleek and slim design helps clean under bed or furniture
Ideal for wood floors and low-pile carpets
Cons:
Cleaning may be a hassle
It may not pick up large debris.
With Deebot 500 in the house, finding dust or dirt will become a challenge! Cleaning away swiftly and quietly while you enjoy your "me" time, its smart sensors also avoid obstacles and falls. Designed to target troublesome door sills and carpets, its max-power mode claims to unleash a suction 2 times more powerful than other robot vacuums in the market for best results. Eliminating all the dust, debris, hair, and pet hair in its 110-running time, this minimalistic-charmed robot will dock and recharge without assistance too. Also, it is compatible with Ecovacs Home App, Google Assistant and Alexa.
Pros:
3 easy-to-use cleaning modes (auto, spot, and edge)
1 main brush and 2 side brushes for intense cleaning
Large easy-to-clean dustbin capacity
Pet-friendly with anti-scratch outer shell design
Built-in durable and protective bumpers
Ideal for spacious rooms and large homes
Large wheels for a smooth glide over thresholds and carpets.
Cons:
It may not map the floor plan accurately.
This robot vacuum will not only clean but empty the dustbin too! Yep, with the bag less base claiming to hold dust and debris for up to 30 days at a stretch, your cleaning needs can't get more hassle-free than this. Plus, it recharges and resumes from where it left off and self-cleans with brush rolls removing long hair and pet hair. Ensuring your house stays dust-free always with automatic dirt disposal, it promises to bring a unique combination of intelligence and convenience into your home.
Pros:
Eliminates dust, debris, and allergens
Compatible with Shark Clean app, Alexa, and Google assistant
IQ Nav technology maps the entire house
Powerful suction grabs small to large debris and pet hair
It cleans row by row to assure thorough sanitation.
The side brushes are angled to clean deep edges and corners.
Cons:
Loud
It may need assistance with docking.
Believe it or not, but Coredy Robot Vacuum Cleaner stands out for its incredible suction power and battery life. With 1700pa super-powerful suction and battery life (2600mAh) that can last up to 120 minutes, it picks up pet hair, debris, and crumbs on the floor or carpet with ease. Plus, this budget robot vacuum also has a 550ml dustbin and washable HEPA filter for longer cleaning sessions. An ideal option for those with pets or bigger houses, it adapts easily to medium-pile carpets and hard floors too.
Pros:
User-friendly remote control with 4 cleaning modes
Self-docks and auto-recharges
4 side brushes built-in for intense cleaning
1 dustbin cleaning brush included
Designed with anti-collision, anti-drop sensors, and auto-drip technology.
Cons:
Not recommended for pet hair.
Along with cleaning and dusting, this one will mop too! Designed with a technology to adapt to different thresholds, this intelligent vacuum cleaner will automatically maximize its suction power while carpet cleaning. Also, its dual-gyro system and 13 auto sensors ensure thorough cleaning. And as far as mopping is concerned — it mops in a snap, not kidding! Taking hassle-free cleaning to a whole new level with its 1800pa strong suction; this 2-in-1 device also auto-recharges and resumes from where it stopped. Basically, no assistance required!
Pros:
Guarantees fast and noise-less cleaning
Anti-drop, anti-collide, and anti-trap
Prevents puddling while mopping
Electric eye tracker allows route planning
Can clean up to 100 minutes
Compatible with Alexa, Google Assistant, and WiFi
The large dustbin allows longer cleaning sessions.
Cons:
The device app may not be user-friendly
Cleaning the mop cloth may be a hassle.
Clean up only where you want to, for this smart vacuum cleaner is designed to detect border strips! Tidying up the house without disturbing you, children, or pets, the device comes with a high-performance battery (2600mAh) that'll last up to 120 minutes. Whether you have multiple, large, or small rooms, its various cleaning modes will cater to all your dusting needs. And given its sleek and low-grade design, you don't have to worry about dust under furniture too.
Pros:
2000pa powerful suction that grabs everything
It climbs carpets, avoids falls and obstacles
Auto-recharges after every cleaning session
Clean small rooms within 30 minutes
High-quality filter, large trash bin, and cleaning brush included
Ideal for wooden floors, hard floors, and carpets
Spot cleaning mode performs spiral cleaning on concentrated dirt areas.
Cons:
The device may need assistance while finding the home base.
Your house isn't clean unless the corners and edges are, right? Hence, why you need to experience this robot vacuum's edge clean master technology! It detects dust in corners, and its extendable rubber blade cleans them diligently. Claiming to be a device you can depend on for 100% dust-free rooms, the Cyclone Force Technology also guarantees long-lasting and non-clogging suction power. But what really makes this gps robot vacuum unique is the visionary mapping feature. It displays areas where it has cleaned already to assure the user no part was left out.
Pros:
20 times more powerful suction than other brands
Compatible with Alexa, Google Assistant or Bixby
Adapts from hard floors to carpet easily
Multiple sensors prevent obstacles
The on-board camera tracks the cleaning route.
Cons:
Not recommended for pet hair
It has a bulky design, and may not clean under furniture.
Suffering from dust allergies, or is pet hair giving you a hard time while cleaning carpets? Yeedi Robot Vacuum Cleaner might be an ideal option for you. Why? Firstly, the triple-filter system ensures your house is dust- and allergen-free. Secondly, the turbo mode maxes out the suction power, thus grabbing all the pet hair or hair on the carpet. Also, the v-shaped rubber and nylon rolling brush pats carpet gently to grab on hidden dust, if any. So basically, with this maxclean robot vacuum in your room, consider all the dust far, far away.
Pros:
Pet-friendly with an anti-scratch outer shell
Sleek low-profile design to reach under low-clearence furniture
2 times powerful suction for concentrated dust or dirt
Ensure noise-free cleaning experience up to 110 minutes
Integrated with anti-fall and anti-collide sensors
Auto-docks and auto-recharges after cleaning or when low battery.
Cons:
It may require assistance with the charging dock. 
Are you coming home to dusty floors and carpets every day? With a triple-action cleaning system, Bissell Robot Vacuum Cleaner will ensure your house is all tidied-up, at the touch of a button! Schedule once, and it will clean all the dust, dirt, pet hair, and hard-to-reach places in 100 minutes. A must-try for workaholics and frequent travelers — with this sleek and low-profile vacuum cleaner in your house, you can forget about manual cleaning forever.
Pros:
Guarantees hands-free intense cleaning
Lifts dust from wall edges and corners
Auto-docks and auto-recharges after cleaning
Ensure ultra-quiet cleaning and is pet-friendly
Integrated with smart sensors that prevent falls and obstacles.
Cons:
It may get entangled in wires
You can only set start time, not cleaning duration.
How about calling it one of the smartest devices to have in your smart house? From mapping the room, creating a cleaning route to detecting dirt in the most unreachable corners, this affordable robot vacuum will do it all with its V-slam technology. With a super-thin design that makes it easy-to-reach dust under furniture, it also has a super-powerful suction that picks up all the dirt and debris from cracks or carpets. And the best part is, you wouldn't even realize it is in the same room as you, it is that quiet! Ensuring to last up to 120 minutes on full battery life, it dutifully returns to the home base to recharge after cleaning or when the battery runs low.
Pros:
User-friendly remote control with 4 cleaning modes
1400pa powerful suction for cleaning hard floors, carpets, and tiles
Boundary strips ensure you get to control where it cleans
Dual multi-surface rubber brushes guarantee a tangle-free experience
Pet-friendly and ideal for eliminating pet hair
Integrated with anti-fall, anti-strike and anti-collide sensors.
Cons:
It may not dock on its own
It might get tangled in wires.
Lastly, this dust terminator with 5 times more suction power ensures to keep your house 100% free from dust, dirt, allergens, debris, hair, and pet hair effortlessly! With a high-efficiency filter that captures even the smallest particles (10 microns), iRobot Roomba with v-slam navigation, and iAdapt 2.0 technology claim to provide total floor coverage. Also, it automatically recharges after every cleaning session or when the battery runs out, and is compatible with Alexa and Google assistant too.
Pros:
Designed with a 3-stage cleaning system for intense cleaning
1 dual-mode virtual barrier included
Anti-fall, anti-collide, and resumes where it left off
It maps the room before cleaning
The device notifies when the dustbin is full
Dual multi-surface rubber brushes allow adaptability to floors and carpets
It has an edge-cleaning brush and auto-adjust cleaning head.
Cons:
There you go! Those are the 13 best robot vacuums of 2020 for you. Need some tips on how to buy the best vacuum cleaner for your house? Check out our buying guide below!
Buying Guide – Best Robot Vacuum Cleaner
How Do Robot Vacuums Work?
Robot Vacuum Cleaners, with the help of multiple sensors and advanced navigation technology, create cleaning tracks on the floor before automatically grabbing all the dirt and debris with the help of its powerful suction motor. Also, with no need for human assistance except while scheduling a cleaning time or mode, it dutifully cleans or mops the room as per your needs. 
How To Choose The Best Robot Vacuum?
Look out for the following features while shopping for a vacuum cleaner:
Suction Power: Suction power determines the strength with which it will pick up the debris, dust, or crumbs from the floor. Naturally, the more powered the suction is, the more dirt it can get rid of, especially from carpets, which are ideal resting places for dust and pet hair.
Mapping: Mapping plays an important role when it comes to cleaning the room. A device that can intelligently map the room will avoid cleaning the same area again and will resume from where it left off after recharging. Hence, choosing a robot vacuum with advanced mapping features is essential.
Battery Life: This depends on your suitability. If you have multiple or large rooms, you should ideally opt for high battery power, so the device doesn't have to recharge often and clean in one go.
Adaptability: An important feature if you have carpets in your house – The robot vacuums are designed to adapt to certain heights and thresholds. So, before purchasing, check if the robot vacuum is compatible with your carpet.
Noise: It's advisable to choose a noise-free or low-sound robot vacuum, so you no longer have to pacify pets or toddlers while vacuuming the house.
High-performance Filter: Cleaning the floor not only means suction of small or large debris, it means capturing dust, allergens, or pollens as well, to ensure an ultra-clean experience. And for this, you must look out for a high-performance filter.
Compatibility: Lastly, it should be compatible with your smartphone or with Alexa or Google Assistance for the best and user-friendly experience. 
Important Tips To Remember While Using Robot Vacuums
Do a trial run to figure out how the robot vacuum maps the room, then accordingly create space for it to run along smoothly
Removes or tuck away all the wires carefully so the vacuum doesn't get stuck
Keep the home or charging base in an open area and away from furniture so it can self-dock easily and without any assistance
Check if your vacuum adapts to rugs or carpets in the house. There are high chances of rugs with the tassles getting stuck in the rollers. So, it's advisable you tuck them away
Lastly, keep the tables clean so in case the vacuum collides with the table, it doesn't end up toppling things over.
Are Robot Vacuums Better Than Canister and Upright Vacuums?
Robot vacuums are definitely changing the cleaning scenario with their autonomous cleaning features. Without the need of human assistance, they map the room, create cleaning tracks, and ensure your floors and carpets are all dust-free. Plus, they can be operated from anywhere, they are compatible with smartphones and WIFI, and they ensure quiet cleaning too. So yes, robot vacuums are ideal if you are looking for a hassle-free experience. 
Go dust-free, at the touch of a button! Making cleaning fun and a care-free experience for all, these robot vacuums are pet-friendly too. Why spend your quality time cleaning, dusting, and scrubbing when one device can do it all for you! Trust these little dust warriors to keep your house clean, while you enjoy your leisure time with family. Go, buy your robot vacuum cleaner from our lists of 13 best robot vacuums of 2020, today!
Expert's Answers for Readers Questions
Are Robot Vacuums Worth It?
Given that robot vacuums ensure a dust-free room at the touch of a button from anywhere and anytime, they are undoubtedly worth it.
Which Robot Vacuum Is Best For Pet Hair?
Though most of the robot vacuums guarantee to remove pet hair, Yeedi K600 Robot Vacuum Cleaner is one of the best robot vacuums for pet hair and is pet-friendly too with an anti-scratch design.
Which Is The Best Robot Vacuum And Mop?
Roborock E25 Robot Vacuum Cleaner is one of the best robot vacuums for those who are looking for both vacuuming and mopping features. Plus, it prevents puddling too so, you don't have to worry about kids or pets slipping on wet floors.
Can Robot Vacuum Replace Normal Vacuum?
If you are looking for a hassle-free and noise-free cleaning experience, then a robot vacuum is the ideal choice for you. Plus, it is self-reliant – it recharges on its own and comes with a self-empty bin feature too.
How Long Do Robot Vacuums Last?
Robot vacuums with proper maintenance can easily last up to 6 years.
Which Is Better Dyson Or Roomba?
Roomba is widely known for its powerful suction and iAdapt technology that ensure total floor coverage. Also, they adapt to hard floors and carpets with ease, thus giving the user the desired results with every use.
Is Roomba Worth The Money?
It depends on your needs and suitability. Roomba robots are known for their high-performance features, making them a favorite amongst most users.
Are Robot Vacuums Loud?
Most of the robot vacuums today are not loud, but they are not noise-free either. Many of them produce sound as low as a microwave, which makes them ideal for family use.