10 Best Robotic Vacuum Cleaners Available In India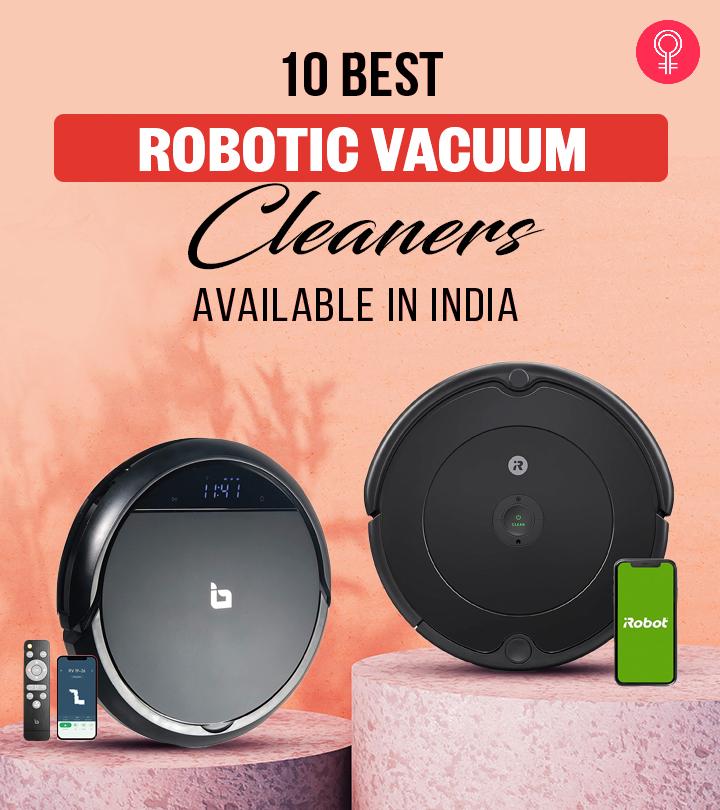 Keeping the house clean is a full-time job. But, for the busy millennials who are leading hectic lives, cleaning the home can quickly escalate into a big problem. To make things easier, we recommend using robotic vacuum cleaners.
These devices come with various features like vacuuming, mopping, and sterilizing to effortlessly clean different surfaces, including carpets, rugs, floors, and other furnishings in your house. If you are keen to try these cleaning devices to keep your house spic and span, scroll down to check out the 10 best robotic vacuum cleaners in India!
10 Best Robotic Vacuum Cleaners Available In India
The eufy RoboVac 11S Robot Vacuum Cleaner from Anker has a super sleek design and comes with auto-cleaning schedules, multiple cleaning modes, and powerful suction to effortlessly clean the house. Its large wheels smoothly roll over surfaces like carpets and clean effectively. The Drop Sensing Technology ensures your robotic vacuum cleaner does not fall off ledges. Set the device on a preset vacuuming timer to clean the house while you are busy elsewhere.
The self-charging RoboVac vacuum cleaner automatically heads to the charging base when the battery is low. Its 0.6 L large dust box does not need frequent emptying.
Specifications
Maximum Suction Power: 1300 Pa
Dust Collector Capacity: 0.6 L
Height: 2.85 inches
Pros
Auto clean scheduling
Low noise
Slim design
Anti-scratch tempered glass cover
Includes cable ties
Up to 60 minutes of cleaning
Perfect for micro cleaning
Cons
Navigation issues
Not for high-pile carpets or dark floors.
The V5s Pro 2-in-1 Robotic Vacuum Cleaner from ILIFE works for both dry and wet cleaning. It makes cleaning easy with its unique combination of suction and wiping functions. The front brushes can clean short-pile carpets or hard floors, while the attached microfiber cleaning cloth can mop the floors. You can effectively clean hard-to-reach areas of the home with this vacuum cleaner. The inbuilt protection sensor protects your furniture from scratches. With this machine, you get 110 minutes of cleaning on a single charge. Overall, this robotic vacuum cleaner is perfect for a small home.
Specifications
Maximum Suction Power: 850 Pa
Dust Collector Capacity: 0.3 L
Height: 3.5 inches
Pros
Suitable for dry cleaning
Can be used for mopping
Self-charging
Comes with protection sensors
Anti-fall design
Scheduled cleaning
Remote control features
Cons
Cliff detection not so efficient
Does not deep clean
The Irobot Roomba 692 Vacuum Cleaning Robot comes with a 3-stage cleaning system to efficiently grab dust, dirt, and debris from hard floors and carpeted surfaces. Its dual multi-surface brushes work on carpets or smooth surfaces to thoroughly eliminate small dust particles and debris. This device also features adaptive navigation to move around and under furniture, including the edges. This cleaner can operate via voice assistants like Alexa and Google Assistant.
Specifications
Maximum Suction Power: 600 Pa
Dust Collector Capacity: 0.35 L
Height: 3.54 inches
Pros
Voice assistant feature
Adaptive navigation
Home-based charging station
Includes a line cord
Auto adjustment
Damage-free cleaning
Auto charging
Scheduled cleaning
Cons
The Roomba i7+ Robot Vacuum Cleaner from iRobot effectively cleans your home without damaging your furniture. The advanced navigation and imprint smart mapping technology map your home to determine the best way to clean quickly. After cleaning, it automatically empties the dirt into the clean base without letting anything escape during the transfer. The dual multi-surface rubber brushes work with powerlifting suction to wipe off stubborn messes. You can schedule your cleaning with Roomba i7+ or ask your voice assistant to initiate the machine.
Specifications
Maximum Suction Power: 600 Pa
Dust Collector Capacity: 0.4 L
Height: 3.63 inches
Pros
Scheduled cleaning
Adaptive
Auto empty feature
Sequence cleaning
Anti-allergen lock bag
Two-year warranty
Suitable to extract pet hair
Cons
The Deebot 500 EU RobotsVacuum Cleaner from ECOVACS ensures thorough cleaning of your house with a three-stage cleaning system. The max mode doubles the suction power to remove dirt from the far-reaching corners. Its schedule cleaning mode lets you plan your cleaning. This vacuum cleaner can operate on voice assistants' commands. It has a high-performing filter of large efficiency to prevent airborne triggers during vacuuming.
Specifications
Maximum Suction Power: 900 Pa
Dust Collector Capacity: 0.52 L
Height: 2 inches
Pros
Anti-collision feature
Voice assistant control
Prevents airborne triggers
App control
Timer function
Auto-charging
Lasting battery
Cons
No full dustbin alarm
Sticks on foot rugs
The 360 C50 Robot Vacuum and Mop has an ultra-sleek design and super small size. Its slim design allows it to slip under furniture for complete cleaning. The 300 ml water tank lets you mop the floor with ease, while the 510 ml bag does not need frequent emptying.
Its drop sensing technology ensures the device does not fall off ledges and stairs. The self-charging feature returns the device to the charging dock when the battery reaches below 20%. This robotic vacuum cleaner can operate on remote or voice controls.
Specifications
Maximum Suction Power: 2600 Pa
Dust Collector Capacity: 0.5 L
Height: 3.11 inches
Pros
Auto charging
Voice assistant control
Anti-dropping sensors
Scheduled cleaning
Sleek and smart design
No frequent emptying
High suction power
Cons
The S7 Laser Navigation Robot Vacuum Cleaner from 360 comes with a smart laser navigation system and LDS LIDAR technology that accurately cleans the surface in low light settings. It learns and maps your house with SLAM algorithm to accurately plans the optimal route for the best cleaning. The max mode automatically turns on carpets for deep cleaning. Its auto charging feature automatically recharges the battery on becoming low.
Specifications
Maximum Suction Power: 2000 Pa
Dust Collector Capacity: 0.4 L
Height: 3.94 inches
Pros
Comes with a mopping feature
Auto charging
Anti-collision and anti-drop sensors
Washable filter
Self-adjusting main brush
Low noise
Reaches off-limit areas
Cons
The Max Robot Vacuum Cleaner from the house of Trifo, with its advanced intelligent vision and proprietary algorithms, gives you a hassle-free cleaning experience. This vacuum cleaner is Alexa enabled and can run on simple voice commands. The 5200 mAh battery that charges in 180 minutes offers a cleaning time of 120 minutes. Its auto-charging feature allows the device to dock itself to recharge automatically. It is equipped with mobile video surveillance to let you remotely monitor the house.
Specifications
Maximum Suction Power: 3000 Pa
Dust Collector Capacity: 0.6 L
Height: 3.3 inches
Pros
Smart navigation
Real-time mapping
Live video communicator
Video surveillance
Alexa enabled
Includes batteries
Cons
Issues with the mopping feature
The IBELL 360° Smart Sensor Robotic Vacuum Cleaner makes everyday cleaning easy with its vacuum, sweep and mopping features. It comes with a two-in-one reservoir that acts as a dust box and water tank.
The dynamic suction produces power up to 1300 Pa, and the 2500 mAh battery provides a cleaning time of 120 minutes. This soundless cleaning device comes with a slim design, making hard-to-reach areas more accessible to cleaning. The multiple modes meet different cleaning requirements like spot cleaning, edge cleaning, and manual cleaning. This smart and safe robotic vacuum cleaner is suitable for personal and commercial use.
Specifications
Maximum Suction Power: 1300 Pa
Dust Collector Capacity: 0.25 L
Height: 4.6 inches
Pros
Multiple cleaning modes
Auto charging
Voice-controlled
Comes with a remote and dedicated app
Wet cleaning mode
Suitable for multiple surfaces
Has anti-bump sensors
Cons
The Milagrow RedHawk21 Robotic Vacuum Cleaner with iBoost technology comes with a powerful suction motor that can deep clean the home. The four cleaning modes – spot, edge, smart, and manual – clean at different suction levels, ranging from 800, 1000, to 1500 Pa. It features a 110 ml large water tank with a 290 mm wide microfiber mop to ensure thorough and spotless mopping. The large dustbin of 600 ml capacity uses triple filters to meet the daily cleaning needs and avoid hassles.
Specifications
Maximum Suction Power: 1500 Pa
Dust Collector Capacity: 0.6 L
Height: 3.3 inches
Pros
Multi-cleaning modes
Auto charging
Can be used for mopping
Long battery life
Cons
Now that you know which robotic vacuum cleaners to invest in, it's time to dig through the points to be kept in mind before buying any of them for your house.
How To Choose The Best Robotic Vacuum Cleaners?
Go for a robotic vacuum cleaner equipped with multiple cleaning modes like mopping, vacuuming with features like edge cleaning, corner cleaning, auto cleaning, and manual cleaning.
Opt for devices that come with less charging time and long battery life.
A robotic vacuum cleaner that has a sleek and slim design is recommended. Such vacuum cleaners can effortlessly clean the hard-to-reach surfaces without fuss.
A vacuum cleaner that features anti-fall, anti-bump, and protection sensors is ideal for cleaning. These sensors prevent damage to furnishing and the device itself by avoiding collision with the edges and furniture and falling from ledges and stairs.
Look for vacuum cleaners with low noise or silent operations to avoid disturbing others while cleaning the house.
Vacuum cleaners have certainly made cleaning easy and hassle-free, but robotic vacuum cleaners are way ahead. They come packed with various features to meet your cleaning needs while letting your mop and vacuum the house. We hope the above list of robotic vacuum cleaners will help you find the right gadget for your home. Happy shopping!
The following two tabs change content below.