7 Best RODIN Products For You To Try In 2022
Give a younger-looking glow to your skin with these non-greasy skin revitalizing formulas.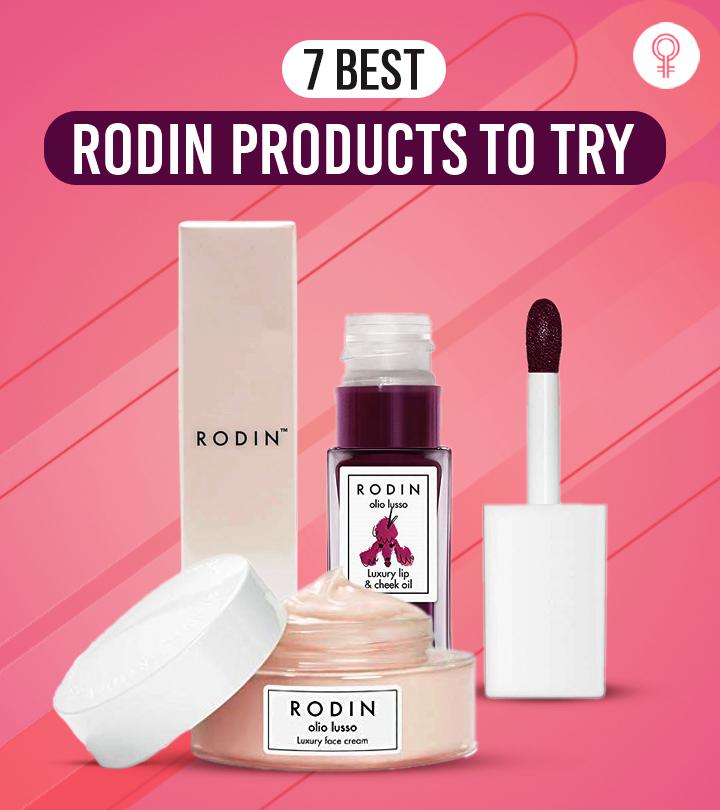 RODIN Olio Lusso products, replete with natural oils, are known to provide fresh, clean, and bright skin without any harmful chemicals. Here, we have compiled the best RODIN Olio Lusso products that you can use to get naturally glowing skin.
These products are meticulously curated and comprise a powerful basis of plant oils called 'olio lusso.' You can utilize these formulas individually or in layers to build a perfect personal skin care regime. The RODIN Olio Lusso products' nourishing properties, together with the mood-boosting olfactive, energize your skin and senses. In addition, the brand's products are free of chemicals and are not tested on animals.
In this article, we have listed the 7 best-reviewed RODIN Olio Lusso products for you to use. So, what are you waiting for? Let's have a look at them.
The Rodin olio lusso Jasmine & Neroli Luxury Face Oil is packed with jasmine and neroli that impart natural shine, smoothness, and glow to your skin. It contains a carefully curated blend of 11 essential oils to provide instant hydration and radiance. This blend is rich in omega 3, 6, 7, and 9 fatty acids that strengthen the skin barrier and vitamin E and pro-vitamin A that nourish the skin and protect it from free radical damage. This luxury oil nourishes and revitalizes the skin and makes it radiant.
How To Use: Massage a little amount of the oil onto a clean, dry face and leave it on.
Key Ingredients: Egyptian jasmine oil and Moroccan Neroli oil
Pros
Soothes the skin
Imparts glow
Quickly absorbed
Non-greasy
A little goes a long way
Cons
The skin on your body needs a different kind of nourishment as compared to the skin on your face. This is because it is thicker and less exposed. The Rodin olio lusso Luxury Body Oil contains a blend of 11 plant and flower oils that deeply nourishes, softens, conditions, and rejuvenates the skin to impart a radiant glow.
How To Use: Apply a small amount of the oil to clean, moist skin after a shower.
Key Ingredients: Jasmine oil, Neroli oil, Jojoba oil, Apricot oil, Sweet almond oil, Calendula flower oil, Evening primrose oil, Argan oil, Sunflower oil, and Rosehip oil
Pros
Makes the skin soft and supple
A little goes a long way
Non-greasy
Evens out the skin tone
Cons
The RODINolio lusso Lip Balm is a blush-toned lip balm that contains a blend of shea butter, beeswax, jasmine, orange flower oil, and castor seed oil. These highly emollient ingredients soften, smoothen, seal, and protect your lips. The sheer color and smooth and non-greasy texture of this delicately scented lip balm make it suitable to wear throughout the day. It comes in chic, compact packaging, making it easy to carry in your purse or handbag.
How To Use: Apply this lip balmat regular intervals when the lips feel dry. You can wear it over and under lipsticks.
Key Ingredients: Jasmine, Orange flower oil, Shea butter, Castor oil, and Beeswax
Pros
Travel-friendly
No smell
Moisturizes the lips
Lightweight
Cons
TheRODIN olio lusso Jasmine & Neroli Crema is a non-greasy hand and body cream that makes your skin soft and smooth. It contains a blend of shea butter, aloe, and jojoba, macadamia, and argan oils that intensely moisturize, nourish, and soothe the hands and body. The jasmine and neroli oils nourish the skin and impart glow and an exquisite aroma that awakens the senses.
How To Use: Apply a dollop of the cream to the back of your hands and work it over to the fingertips, palms, and wrist. You can also use it on the body.
Key Ingredients: Egyptian jasmine, Moroccan neroli, Jojoba oil, Shea butter, and Aloe
Pros
Pleasant smell
Non-greasy
Non-comedogenic
Imparts glow
Cons
Some people may find the smell overwhelming.
If you are looking for a customized cleansing routine, check out the RODIN olio lusso Facial Cleansing Powder. It contains jojoba oil that soothes the skin, rice bran extract that is rich in vitamins B and E and exfoliates the skin, and red algae extract that hydrates and smooths the skin. This cleansing powder also contains jasmine and neroli oils that nourish and soften the skin.
How To Use: Pour a small amount of the cleansing powder into your palm and mix it with warm water. Massage this mixture onto your face and rinse with water.
Key Ingredients: Rice bran extract, Jojoba oil, Red algae, Jasmine oil, and Neroli oil
Pros
Gentle
Suitable for all skin types
Can help remove makeup
Makes the skin smooth
Cons
The Luxury Lip & Cheek Oil from Rodin olio lusso nourishes the lips and cheeks and imparts the perfect hint of color. It contains a blend of botanical oils and conditioners to nourish the skin and impart a radiant look. The botanical oils include jojoba, safflower seed, and sunflower seed oils and the conditioners include ceramides and turmeric. This lightweight oil is available in five universally flattering shades – Berry Baci, Billy on the Bike, Heavenly Hopp, Red Hedy, and So Mod.
How To Use: Using your fingertips, dab the oil, and blend it over the lips and cheeks.
Key Ingredients: Safflower seed oil, Sunflower seed oil, Jojoba seed oil, Ceramides, and Turmeric extract
Pros
Comfortable
Lightweight
A little goes a long way
Available in 5 shades
Nourishes the lips and cheeks
Cons
None
TheRODIN olio lusso Luxury Face Cream is a 95% naturally derived formula that contains a blend of botanical oils, natural butters, and the signature olio lusso oil blend. These ingredients nourish, soothe, condition, hydrate, and plump the skin. This lightweight face cream has a subtle yet intoxicating scent, making it suitable for layering with other products.
How To Use: Gently warm the cream between your fingertips and apply to a clean face and neck every morning and night.
Key Ingredients: Avocado oil, Jojoba seed oil, Rosehip seed oil, and Apricot kernel
Pros
Lightweight
Plumps the skin
Imparts glow
Does not leave any residue
Cons
Why Trust StyleCraze?
As a certified skin care coach, Shiboli Chakraborti, the author of this article, loves to help her readers find the right skin care products. To this end, she researched the best RODIN products and sifted through numerous user reviews to make this list of their best offerings. The shortlisted products are cruelty and chemical-free, contain plant oils, and help you get healthy and glowing skin.
Frequently Asked Questions
Are RODIN products cruelty-free?
Yes, RODIN products are not tested on animals are cruelty-free.
What are the other RODIN products to try?
You can try out the RODIN Luxury Lipstick, Face Oil Stick, and Illuminating Eye Cream.
How to use RODIN products to give perfect results?
Apart from the information on the product package, you can also go through Linda Rodin's interviews and tutorials to learn how to use the products for the perfect results.
Recommended Articles