11 Best Roll-On Deodorants For Women Available In India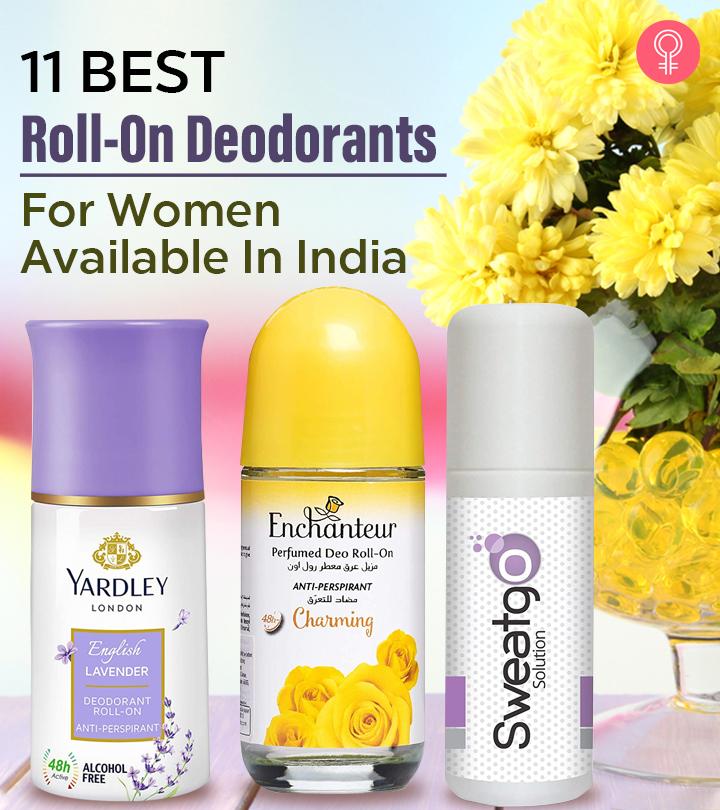 Are you looking for a solution to deal with constant sweating, embarrassing wet armpits, and foul body odor? Try roll-on deodorants. These products deliver a dry or gentle liquid formula on the delicate underarm skin to destroy odor-causing bacteria, leaving you feeling fresh and confident throughout the day. Scroll down to check out the 11 best roll-on deodorants for women in India and pick one for yourself today.
11 Best Roll-On Deodorants For Women In India
The Invisible Solid Secret roll-on deodorant offers 24-hour protection from bad body odor. The antiperspirant roll-on minimizes underarm wetness. It goes onto the skin dry and stays dry. The pH-balanced formula provides a long-lasting, shower-fresh fragrance.
Pros
Mineral oil-free
Cruelty-free
pH-balanced
PETA certified
Long-lasting
Cons
The Nivea Pearl & Beauty Deodorant roll-on offers 48-hour odor protection. The formula takes care of the delicate underarm skin with a blend of Nivea's gentle care and reliable protection. It contains antimicrobial agents that ward away bacteria and control bad odor for long periods. This roll-on deodorant for women is infused with precious pearl extracts to provide a soothing, mild scent that leaves you feeling fresh all day. It keeps the underarms from sweating while providing an even skin tone.
Pros
Dermatologically tested
Long-lasting
Alcohol-free
Artificial color-free
Cons
The Dove Invisible roll-on deodorant leaves no white marks and is a no-stain formula. It offers up to 48 hours of underarm care and protection from sweat and bad odor. It is a dry-feel roll-on that reduces skin irritation caused by shaving or excessive perspiration. The formula is blended with ¼ moisturizing cream, which smoothens the underarm skin and keeps it soft. This deodorant has a fresh and clean fragrance that leaves you feeling refreshed all day.
Pros
Alcohol-free
Long-lasting
Non-staining
Non-irritating
Dry-feel
Cons
May leave a waxy deposit.
This roll-on deodorant for women from Nivea is a gentle and reliable formula for all-day odor protection. The deodorant contains similar ingredients as the Nivea crème, which controls perspiration and takes care of the delicate underarm skin. It offers 48-hour protection from body odor and leaves the underarms feeling dry and soft so that you can go about your day with confidence.
Pros
Dermatologically tested
Gentle
Alcohol-free
Long-lasting
Dry-feel
Cons
None
This Yardley London English Lavender Deodarant Roll-On has been created meticulously with the world's finest natural lavender oils. It contains licorice extracts and amino peptides, which reduce wrinkles and lighten the skin tone to make the underarms fairer and softer. This anti-perspirant offers 48-hour sweat protection. The fragrance's top notes are lavender and rosemary, followed by heart notes of cedar and geranium, base notes of tonka beans, oakmoss, and musk.
Pros
Dermatologically tested
Alcohol-free
Long-lasting
Cons
Rexona Underarm Odour Protection roll-on is formulated with Sweat Guard Technology, preventing bad odor caused by bacteria formation in the underarms. It has a soothing, calming feel with a light aloe vera scent. This roll-on deodorant for women keeps the underarms clean, fresh, and protected for up to 48 hours. It minimizes wetness in the underarms and leaves you feeling dry, clean, and confident. This antiperspirant provides 10 times more protection than regular products.
Pros
Dermatologically tested
Alcohol-free
Cooling effect
Safe
Cons
The Bella Vita Organic Deo White Roll-On Deodorant offers antibacterial and skin-lightening benefits. The natural formula heals and protects the sensitive underarm skin. It is infused with aqua and natural extracts to prevent bad odor and provide long-lasting freshness. The cucumber extracts lighten pigmented and dark skin and rejuvenate dry patches. Coconut oil moisturizes the skin and makes it lighter and brighter. This deodorant does not block the pores and is ideal for all skin types.
Pros
Refreshing scent
Alcohol-free
Cruelty-free
Paraben-free
Sulfate-free
Cons
The Dove Go Fresh Deodorant Stick kick-starts your day with the freshness of cucumber and green tea fragrance. The healing properties of these ingredients also relieve irritation in the delicate underarm skin caused by sweat or shaving. This roll-on deodorant for women offers 48-hour protection against perspiration and underarm wetness. The mild scent keeps you feeling nourished, fresh, and clean throughout the day.
Pros
Long-lasting
Mild fragrance
Value for money
Cons
The Fa Caribbean Lemon roll-on deodorant can be used by both men and women. The exotic fragrance of exotic Caribbean lemons leaves you feeling fresh all day. It has a double active formula containing Protectiva, which provides 24-hour protection from body odor. This skin-friendly formula is recommended for daily use and can be applied any time of the day.
Pros
Dermatologically tested
Aluminum salt-free
Non-greasy
Long-lasting
Cons
The Salve Sweatgo Solution Lavender roll-on is an effective deodorant and can be used on the palm, feet, and underarms. This formula is specially used for hyperhidrosis and minimizes the bacteria causing malodor. It is safe for the skin and contains an optimum concentration of aluminium chlorohydrate as per US FDA guidelines. It has a gentle fragrance of lavender and reduces sweat. Use at night as this product forms a layer to relieve over-sweating.
Pros
Alcohol-free
Mild fragrance
Approved by US FDA
Cons
Enchanteur Charming Perfumed Deo Roll-On provides 48-hour protection from bad body odor. The gentle formula is soft on the skin and makes the skin texture smooth. The long-lasting freshness and sweat-free feel provide all-day confidence. This roll-on deodorant for women is infused with the zesty spunk of citrus, timeless femininity of roses, and muguet to add a sweet sensuality to the scent.
Pros
Gentle
Non-alcoholic
Aluminum-free
Non-sticky
Long-lasting
Cons
There are many roll-on deodorants available on the market, but here are some important criteria to keep in mind when buying one for yourself.
How To Choose The Best Roll-On Deodorant
Natural Ingredients: It is best to look for a roll-on with 100% natural ingredients like extracts of fruits, flowers, and natural oils. These ingredients are safe for the skin and not cause any darkening, drying, or damage to the delicate underarms.
Antiperspirant: Make sure the deodorant you pick is also an antiperspirant to minimize sweating and wet underarms.
Bacteria-killers: A roll-on should not only be about fragrance but also have natural ingredients like neem, hops, kaolin clay, eucalyptus, and saccharomyces to fight bacteria formed in the underarms due to sweating and kill the root cause of bad odor.
Aluminum-free: Make sure your roll-on is aluminum-free as it physically blocks the sweat glands, hampers the body's natural cooling process, and can cause other health complications.
Long-lasting: Choose a fragrance roll-on that will have long-lasting effects on curbing sweat, bad odor, and keep you feeling fresh.
Non-staining: Some roll-ons leave a white residue on the skin and may stain clothes, especially darker or bright colors. Choose a clear roll-on that is free of any colorants or white talc.
Allergies: Please check the ingredients on the bottle to eliminate anything you may be allergic to.
Size And Price: Roll-on deodorants are often easy to carry and apply throughout the day. Pick one that is travel-friendly and fits your budget.
Roll-on deodorants are a handy way to keep yourself feeling fresh and smell nice all day and beat sweaty odor. Pick your favorite from our recommended list of the 11 best roll-on deodorants for women available in India.
The following two tabs change content below.