8 Best Rose Gold Hair Dyes Of 2023
Get soft yet striking hair with these glamorous shades and make heads turn your way.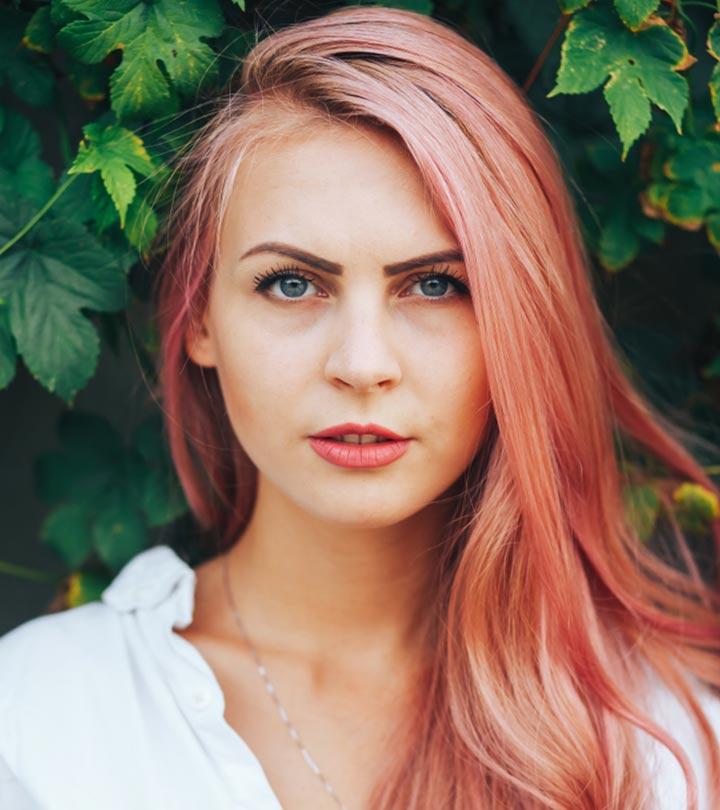 Revamping your hair color may mean an exciting turn in your life. Specifically, if you hunt for the best rose gold hair dye, we definitely know something big is around the corner. Whether you're trying to spice up your everyday look or just jumping on the next big hair color trend, rose gold is quite the popular color to dye your hair these days. Like why wouldn't it be? If it can look strikingly good on a certain mobile device that resembles a fruit, why wouldn't it look drop dead gorgeous on your hair! To get the low-down on the best rose fold hair dye, check out our list of the top brands!
Top 8 Best Rose Gold Hair Dyes That You Can Use At Home
Pros
One-day color
Easy application
Gentle on hair
No bleach required
Available in 11 different shades
Cons
Might make the hair stiff
Price at the time of publication: $8.97
This is not your regular hair dye; it is a salon-quality finish rose gold hair dye! The shade will leave a wonderful hue on your hair, giving you a healthy-looking glow. Sparks Long Lasting Bright Hair Color is formulated without ammonia, so rest assured there won't be any hair damage. This rose gold hair dye can be applied directly without any developer. You can create a colorful look by using multiple shades on your hair strands. Simply color on and look stylish!
Pros
Cruelty-free
PPD-free
DIY hair dye
No ammonia
No developer needed
Cons
Might leave stubborn stains during application
Price at the time of publication: $20.26
Not ready to get a permanent look yet? No worries, get a temporary rose gold blonde hair dye shade for your hair. This Clairol Natural Instincts Semi-Permanent hair dye lasts only upto 28 washes, giving you a chance to try something new. Made with coconut and aloe vera, it gives your hair a natural shine. It's a no-drip crème formula that makes the application gentle and smooth on hair. You can color your grays with different shades every month and stay stylish all year long. You can also check this YouTube video for a complete idea about the product.
Pros
Boosts shine
No ammonia
No added parabens
For all hair types
Available in 37 shades
80% naturally-derived ingredients
Cons
The tube may not be easy to use initially.
Price at the time of publication: $20.28
Doesn't matter if you are a brunette or blonde; this rose gold hair dye will take a gorgeous hue on you. It slowly fades into your true color in about 15 washes. It has a thick and creamy consistency that allows for precision color application on your hair. Get a lovely shade even if you have already bleached your hair with Clairol Color Crave Semi-Permanent Hair Color. Pro tip: For bolder color results, try a 30-minute application. If you want to know more about the results, take a look at this review on YouTube.
Pros
No mixing
No ammonia
No parabens
No peroxide
Lasts longer on porous hair
Thick and creamy formula
Cons
May not be suitable for sensitive skin
Price at the time of publication: $6.98
This is one of the best rose gold hair dyes for you if you love a vibrant shade! Pravana Chromasilk Vivids hair dye will give you a beautiful, bright color without having to sacrifice the sprightly tonality. It is a clear formula that will not leave a dull hair effect on you. Not only will it give you a metal rose gold finish, but also a choice of clear-dilute and clear-pastel. Select the one that you think is perfect for the look you desire. Pro tip: Let the application stay for 20-30 minutes at room temperature.
Pros
No dim hair effect
True to color
No developer needed
Available in 24 shades
Cons
May not be very long-lasting
Price at the time of publication: $10.99
The science behind ion's permanent hair color is why it is one of the best hair dyes in the industry. It is formulated with exotic and natural ingredients with high-tech compounds that deliver a wonderful color and superior gray hair coverage. The color stays on your hair permanently because of the microscopic pigment molecules that oxidize slowly and penetrate deep into the cortex of every single hair strand. If you want a long-lasting and fade-resistant dye, this is the one for you. You can apply it on highlighted or pre-lightened hair too. This rose gold color is vibrant and contemporary, making your hair look perfect for all your formal and informal events.
Pros
Vegan
Easy application
Natural ingredients
Salon-like quality
Permanent hair dye
Creamy consistency
Superior gray coverage
Cons
Some types of hair might take time to take/show color.
Price at the time of publication: $12.78
How great would it be if you could dye your hair without any stains? Mise En Scene Hello Bubble has foam technology that creates multiple bubbles during application, giving you a stainless experience. The color shows according to your hair's true color, giving you a light or dark hue; either way, it looks great! This rose gold hair dye formula not only protects your hair during application but also pigments in only 20 minutes. Now you can use this rose gold hair dye and get a salon-like finish at home.
Pros
DIY hair dye
Foam technology
Colors quickly
Stainless application
Magic essence protects hair
Cons
Price at the time of publication: $18.65
Not everything has to be shiny or glossy; a lovely, pastel rose gold hair dye will look great for a summer or autumn look. You can color your hair, wear your plain tank top with denim shorts, and be chic for the season. This rose gold semi-permanent hair dye is infused with natural coconut oil that will help restore damaged hair strands and moisturize dry ones. Since it is formulated without any harsh chemicals, you can trust this product for your regular hair dyeing needs. The cherry on top — is imbued with the sweet fragrance of yuzu-cranberry Pro tip: You will get the best results if you do a level 10+ color lightening before dyeing your hair with this hair color.
Pros
Vegan
Cruelty-free
Long-lasting
Cream-based formula
Natural ingredients
Ammonia and PPD-free
Without petroleum-based chemicals
Cons
Some people might find it slightly orangish.
Price at the time of publication: $9
You might be confused as to which is the best color and product for you. Coloring by yourself can be a task. Here are a few doubts that you might have about the best rose gold hair dye, how to get rose gold hair color, and how to use one.
How To Choose A Rose Gold Hair Dye
Choosing a rose gold hair dye depends on the type of hair you have and the product you are going for. Do you want a natural rose gold shade? Or are you looking for something vibrant and flashy? Are you looking for a one-day hair color, the temporary color of the month, or a permanent look? Here are the answers to all the queries:
Hair type: Colors look different on a brunette than they would on a blonde. The same product may take a lighter tone on blonde curls and a darker hue on a brunette with straight hair. Whatever the shade, you will find a close-enough review for you to understand.
Pre-treatment: Some women tend to use bleach for making the color more prominent. If you have lightened your hair, the color will take a purer shade. Although a lot of brands advise against it, some specifically instruct you to do so.
Duration: Temporary colors fade away with few washes. So the application is much simpler and takes less time. Some products are simply to be sprayed without hassle, while few hair dyes take about 20-45 minutes to blend in.
Product: Is your product cream-based or you can directly apply it? According to the instruction manual, you may need to mix and then apply the dye to your hair. There are some that come housed in a tube for direct application.
In this section, we will learn how to dye hair in rose gold hair color formula at home.
How To Dye Your Hair In Rose Gold At Home
If coloring small sections of hair, the application is done usually by taking a few strands of hair, flattening them on paper, applying color, and clipping them upwards. Repeat the same for your entire hair until done. In this way, your clothes or neck do not get messy as hair dyes can leave stains.
Simply follow the instructions on the box as they are and research your product in detail before applying.
It is always advised to get a professional opinion before using a product for the first time, especially if your hair is already colored, bleached, straightened, smoothened, etc.
How Long Does Rose Gold Hair Dye Last
There are three types of rose gold hair colors, depending on the lasting you want. You can color in any pattern you wish to: streaks, half head, hints, or a blend of few colors. Here are the three types of rose gold hair dye lastings:
Permanent: This means that the color will last for a very long time, sometimes even a year. A permanent hair dye is for people who want that particular color to be their unique style statement. The color will stay, so being sure about it is necessary before taking this step. If you change your mind, recoloring it with something else might give you a funny or odd color that you might not like. And hair dyeing with your original hair color might also not give you a natural effect.
Temporary: Temporary colors last for a few days or weeks, depending on the product. There are few colors that fade with every single wash until the true color completely takes over. The process takes about 3-5 weeks.
One-day: As the name hints these are one-day hair dyes that usually come in the form of sprays. These rose gold hair dyes have pigmentation that fades away in one wash. You can style your hair for a party or an event for a fun change and go back to your original hair color easily. You don't have to commit to any color, and you can try new looks all the time.
Why Trust StyleCraze?
Kirtana Divakar is a hair care enthusiast who ensures that her readers receive the best product recommendations. After an in-depth examination of user reviews and descriptions of each product, she compiled the above list of the best rose gold hair dyes. These products are easy to apply, chemical-free, and offer long-lasting results. Some of them come in thick creamy formulas and ensure proper gray coverage.
Frequently Asked Questions
Does rose gold hair color fade quickly?
Temporary rose gold hair color fades away after a few washes. Some even last as long as about 30 washes.
Can you dye your hair rose gold at home?
Yes, you can get a rose gold hair dye at home and color your hair yourself. Simply follow the instructions on the manual for the best results.
Do you have to bleach your hair to dye it rose gold?
Some products suggest bleaching. There are few that don't require bleaching and will give you a good rose gold color on your hair anyway. You can choose what you prefer.
Is rose gold too trendy?
Rose gold hair color is currently trendy. But it is an ever-loved shade as it goes with all types of hairstyles, clothes, and events. Boss girls don't wait for trends to come and go; they select a color they want and just go for it.
What skin tone does a rose gold hair suit?
There are several rose gold shades suitable for different skin tones. For example, medium skin tones look best with peachy or dusty rose old shades. Rose gold shade works best for people with warm and neutral undertones.
Is rose gold hair hard to maintain?
Yes, rose gold hair is hard to maintain and lasts for not more than six to eight washes.
What color does rose gold hair fade to?
The rose gold hair gradually fades into a blonde ombre shade.