7 Best Rose Gold Highlighters Of 2023, According To A Makeup Artist
Add these dazzling formulations to your makeup kitty to get that sun kissed glow anytime.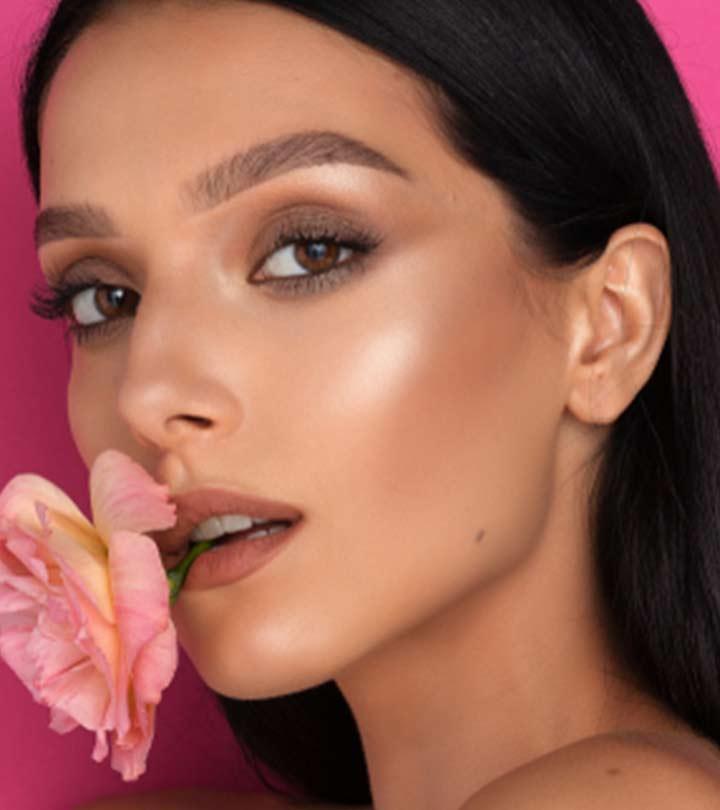 What makes the best rose gold highlighters stand out is that they are universal and timeless. These metallic shades give you both a cool and warm look, making it one of the most versatile tools in your beauty arsenal. Their metallic sheen adds to the luminesce of your look. What makes them irresistible is that they give a wonderful hue to your skin or any skin tone for that matter. This is why rose gold highlighters have made a place for themselves in every girl's makeup routine. Be it liquid, cream, powder, or gel, the choices are many. How do you know the right one for you and not end up picking the wrong one? It's simple. Take a look at our list of the top rose gold highlighters out there for you to choose from. If you haven't, scroll down to the next section to check them out!
Top 7 Rose Gold Highlighters For Luminous Skin – 2023
Most people with dry skin find it hard to work with powdered highlighters because it may appear flaky after a few hours. If you relate to this, Physicians Formula's rose gold highlighter is here to solve your problem while imparting some amazing skincare benefits. It is infused with murumuru, cupuacu, and tucuma butter from the Amazon that lends it a creamy texture. It melts into your skin as you sweep it over your cheeks and gives a flawless shimmer while making your skin look supple. The dermatologist-tested highlighter also contains mica and natural silica that give it the right amount of pigmentation without feeling heavy on the skin. The anti-aging peptides bless your skin to fight the signs of aging, and the skin-conditioning ingredients keep your skin hydrated, giving you a radiant complexion. The product is not tested on animals, which makes it ideal for people seeking ethically conscious makeup options. This video details a tester's experience with the product. It will help you understand the formula better.
Pros
Cream-to-powder formula
Hypoallergenic
Paraben and gluten-free
Dermatologist-tested
Cruelty-free
Travel-friendly packaging
Cons
Some may find it a little too sparkly.
This rose gold highlighter is one of the best drugstore options for ardent fans of the metallic glow. On days when you're too lazy to apply any makeup, using a little bit of this Maybelline highlighter in the rose gold shade can add the right amount of vibrance to your face. However, if you're looking for a bold highlighter that goes over your foundation, it glides on easily and offers an intense, fine shimmer. It feels light on the skin and offers a molten metallic finish while accentuating your best facial features. Check out the detailed review of the product in this video that features a reviewer's experience with it. According to online reviewers, the product is buildable and provides a soft glow.
Pros
Reflective pigments offer a sheen chrome effect
Rich hue
Metallic finish
Suits all skin tones
Cons
This rose gold highlighter adds a natural and luminous glow to the face without being overly shimmery. A good skincare routine coupled with a hint of this highlighter every day equals naturally glowy skin that complements a warm complexion. It works wonders on all skin types and comes in a buildable formula without looking cakey. It is formulated with ultrafine multidimensional pearls that reflect the light from all angles for a subtle glow rather than a shimmery finish. You can highlight your cheekbones and other features of the face for a healthy glow that stays on for the whole day. If you're applying the highlighter on top of another product, it blends well without eroding the layer of the product. Watch this video to learn more about a reviewer's experience with the product.
Pros
Blends seamlessly
Delivers a natural glow
Balanced color dispersion
Cruelty-free
Cons
Not very pigmented
Slightly expensive
The Aesthetica Starlite Highlighter is like stardust packed in a compact form, giving you a natural and multidimensional radiance. You can highlight the high points of your face with this expertly crafted rose gold highlighter for sharper facial features or apply it evenly to your cheeks for an overall illuminating glow. The expert grade formula makes it long-lasting and locks the shine, so it stays on from morning to night without losing much of its shimmer. Subtle or bold — it works beautifully for both finishes depending on the amount of product you use. It blends well, leaving behind a picture-perfect glow for all skin types and light and deeper skin tones.
Pros
Gluten and paraben-free
Sleek case with mirror
Cruelty-free
Vegan
Long-lasting wear
Complements neutral complexion
Cons
It may not be highly pigmented.
This rose gold highlighter from the celebrity-endorsed brand e.l.f. has a soft buttery consistency and packs a high-shimmer formula perfect for a shiny and sparkly finish. The metallic rose gold hue is quite intense and flatters tanned skin like no other. It is a great combination of subtle and luminous and adds the right kind of flare without looking overdone. When you want an intense look with more enhanced features, you can dampen your highlighter brush for more impact. It works on the cheekbones, brow bones, cupid's bow, and lasts quite long. Couple this stunner with the perfect summer eyeshadow, and you're sure to get that celebrity-inspired flawless look.
Pros
Free from phthalates, parabens, and other toxic ingredients
Cruelty-free and vegan
Intense glow
Good pigmentation
Long-lasting
Cons
Highly compressed, which can make application with a brush difficult.
This versatile baked highlighter complements all skin types and skin tones, giving an instant radiance. You can apply it to the features of the face that the sun naturally hits and let the light illuminate your face. This subtle highlighter is formulated to deliver a soft glow to your skin while making it look supple and adding a bit of sparkle. If you love aesthetically pleasing products, you'd be happy to know that the compact case is beautifully designed. Many reviews have indicated that this golden rose highlighter is long-wearing and does not have any fragrance. It is perfect for daily wear that flatters warm and cool complexions.
Pros
Buildable coverage
Offers natural radiance
Formulated with delicate micro-pearls
Magnetic case
Cons
As it features a silver hue, it may not flatter warm skin undertones.
This versatile 2-in-1 highlighter that features a blush is perfect if you want to reduce the clutter in your makeup bag. One half of this product is a statement-making rose gold highlighter while the other half is a blush. It glides smoothly and is buildable, so you can apply multiple layers if you want more pigmentation. You can use a single shade or swirl your highlighter brush to blend the highlighter and blush for a similar highlighting blush effect. This application technique provides a natural glow to help you shine without making your face too shimmery.
Pros
Long-lasting
Value for money
Ideal for everyday use
Cruelty-free
Vegan
Subtle shimmer effect
Cons
*The prices provided in this article are based on the latest available information. However, they may vary due to changes in pricing by the seller and/or promotional offers.
Now that we have looked at the list of the best rose gold highlighters from some of the big-time, high-end brands, here's a brief guide about using a highlighter the right way.
How To Use A Highlighter?
When using a highlighter — whether you pick a rose gold highlighter stick from Fenty Beauty or settle for a rose gold liquid highlighter from Maybelline, you should know how to use it correctly for the right kind of radiance. We have covered a few points that will help you pick your highlighter to accentuate your best features.
If you want the highlighter to help provide an enviable shine, you have to first figure out what parts of your face you should focus on. For a natural glow, highlight parts of your face where the light naturally falls. These areas are cheekbones, arch of the brows, the tip of the nose, and cupid's bow. While you don't always need to highlight all these areas, you should never miss out on the cheekbones. If you want to experiment with a bold look, you can use highlighter a little more generously. While the areas are constant, the way you go about highlighting changes the outcome.
Whether you want a natural look or wish to go all out, you should always prep your face with a high-quality moisturizer and primer before applying a highlighter. This also saves your pores from getting clogged. In addition to that, a good primer can also help other makeup products settle better, giving your makeup the right kind of finish.
Using a highlighter stick
Highlighter sticks mostly pack a creamy formula and are ideal for a quick application. When you're done with the rest of your makeup, all you have to do is twist it open and dab it on the cheekbones and other facial features. Start by marking the parts of the face with a little bit of the highlighter. Use a blender or a brush to blend it properly for a seamless and transluscent finish.
Highlighter powders are generally more shimmery, and they can be applied with either a highlighter brush or fingers. Most highlighter powders have a buildable formula that offers great control over the amount of highlighter you use. However, when using a pressed highlighter powder, start lightly and add layers and blend well until you have achieved the desired finish.
Why Trust StyleCraze?
The author of this article, Srijita De, loves trying out makeup products that are universal and timeless. She believes the metallic shades of rose highlighters give you a variety of looks, making it a versatile tool to have in your makeup arsenal. She tried out several rose gold highlighters from leading brands and picked the top ones for you to try. This list of highlighters is dermatologically tested and cruelty-free, giving you a shimmery and glamorous look
Frequently Asked Questions
How do you use a rose gold highlighter?
Apply foundation and blush. Take a bit of your rose gold highlighter in a fan brush and tap off the excess product. Apply it to the inner corner of your eyes, forehead, cheekbones, brow bone, bridge of your nose, cupid's bow, and chin. Blend it out for a seamless look.
Is a rose gold highlighter good for fair skin?
Rose gold is one of the best highlighters for light skin tones. It looks natural on this skin tone and does not look too bold, fake, or overdone.
Do you put highlighter on before or after powder?
Apply the setting powder after applying your highlighter. However, if you apply a liquid highlighter, use the powder afterward.
What's the difference between a highlighter and an illuminator?
A highlighter is used on the high points of your face where the light hits naturally. An illuminator is for your entire face. It helps give your makeup a lively, luminous glow.
Can we use both illuminator and highlighter?
Yes. Use your illuminator first and then apply the highlighter on the high points of your face.
What is strobing?
Strobing is an illuminating makeup technique that allows you to illuminate certain parts of your face like your cheekbones, nose, brows, forehead, and chin without wasting a lot of the product.
Recommended Articles: