10 Best Rosehip Oils For The Face – 2020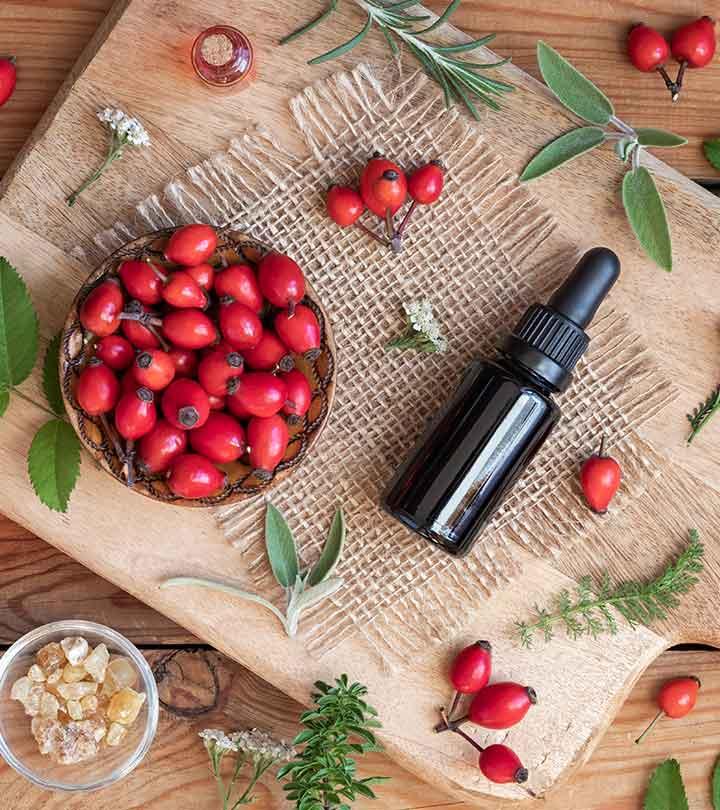 Of all the recent skin care discoveries, rosehip oil stands out for more reasons than one. This oil is extracted from the seeds of the rose plant and formulated using other potent ingredients that battle the signs of aging, protect your skin from environmental damage, and nourish it from within. It packs a punch with essential vitamins and nutrients and is a go-to product for the Duchess Of Cambridge. We have rounded up the best-selling rosehip oils on the market right now. Check them out!
10 Best Rosehip Oils For The Face – 2020
Radha Rosehip Oil is extracted from seeds harvested in Chile and is a potent formula. It is lightweight and seeps into your skin quickly. It works on improving the texture of your skin from within. It works on all types of skin issues like scars, hyperpigmentation, acne, blemishes, and wrinkles.
Pros
Affordable
Suitable for aging skin
Reduces hyperpigmentation
Cons
Has a yellow tint that can stain pillows
Similar Products

The Duchess Of Cambridge swears by this brand of rosehip oil. It packs a punch with powerful vitamins and omega fatty acids that reduce fine lines and stretch marks and improve the overall texture of your skin. You will see visibly healthier and plumper skin over time.
Pros
Certified organic product
Finest quality ingredients
Soothes redness and parched skin
Reduces acne
Cons
None
Similar Products

Kosmea Rosehip Oil is a potent blend of essential fatty acids, antioxidants, and vitamins that work on a host of skin concerns. Rosehip oil is a natural source of beta-carotene that protects from and repairs sun damage, pigmentation, and fine lines. This formula also contains linoleic, oleic, and linolenic acids that improve the overall texture of your skin.
Pros
Suitable for all skin types
Ethically sourced ingredients
Reduces dark spots
Cons
Similar Products

If you are a fan of The Ordinary's organic skincare products, here's another reason for you to go back to this brand. Get your daily dose of rosehip oil from this product that is formulated using the highest quality ingredients. Just apply a few drops of this oil every day to pamper your skin.
Pros
Vegan
Gluten-, alcohol-, and chemical-free
UV-protected packaging
Cons
Similar Products

No products found.
The method of extraction of the Bioregenerate Rosehip Oil is what makes it unique and compelling. It is made with organic ingredients and extracted via supercritical extraction, which is a step above the cold-press method. This formula deeply conditions your face to restore moisture balance and improve your skin's overall texture. It has a healing effect on your skin. It also reduces fine lines, wrinkles, and discoloration.
Pros
Vegan
Suitable for all skin types
Lightweight
Gets absorbed easily
Cons
Expensive
Strong fragrance
Similar Products

This rosehip oil from Pixi Beauty is a botanical blend of rose seed extracts, youth-preserving oils, and other fortifying natural butter like avocado, jojoba, and pomegranate that induces a natural glow. It nourishes and moisturizes your skin and improves its elasticity. It works well as an overnight face serum.
Pros
Cons
Not suitable for oily skin
Kate Blanc Rosehip Seed Oil is organic and cold-pressed. It does not contain any preservatives. It gets absorbed quickly and does not clog pores or cause breakouts. It repairs skin damage caused by the sun, aging, and dehydration, leaving your skin feeling supple.
Pros
Non-comedogenic
Does not contain any carrier oils
Pleasant fragrance
Cons
Inconsistent quality when bought online
Pura D'or Rosehip Seed Oil is made with high-quality ingredients and is free of chemicals. It contains the purest rosehip seed extracts. Mix it with a few drops of water, apply all over your face, and leave it on overnight. In time, you will notice better skin texture, diminishes fine lines, and supple skin.
Pros
Great for hair and skin
Free of parabens, pesticides, and chemicals
Organic and cold-pressed
Cons
None
This cold-pressed rosehip oil from Teddie Organics is pure, potent, and of the highest quality. It reduces acne, scars, and hyperpigmentation on oily skin. It also reduces redness and soothes and moisturizes your skin.
Pros
Affordable
Unrefined and organic
Cons
Sukin Rosehip Oil is a powerhouse of antioxidants, nutrients, and essential fatty acids. It contains extracts of rose seed and pomegranate. These ingredients are mixed with Kakadu plum that hydrates your skin, reduces fine lines, and retains moisture.
Pros
Maintains moisture balance
Suitable for dry skin
Cons
Can be delivered a fake product when ordered online
Rosehip oil was being used in teas, wine, and a host of other things before the beauty industry picked it up. We couldn't be more grateful. If you haven't tried it already, give it a shot. We're sure it will find a permanent place in your cosmetic closet. Do you have any more questions about this amazing oil? If so, drop a message in the comments section below.