6 Best Roti Makers To Make Soft And Fluffy Rotis
Invest in this genius tool if you struggle with rolling the perfectly round Indian bread.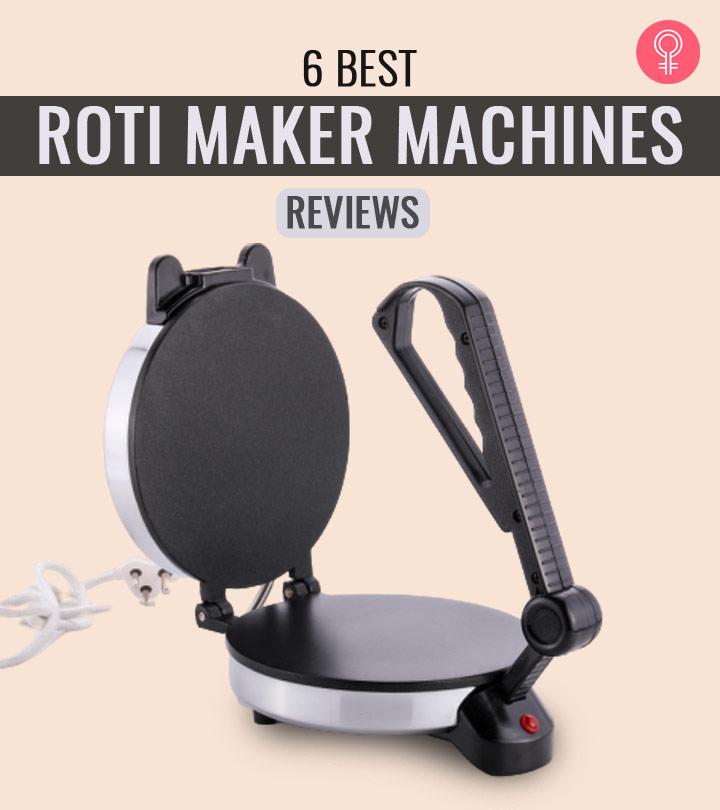 Not many people have the time or skills to prepare rotis the traditional way. But the popularity of this Indian flatbread is has seen a steady rise. All you need to make perfectly round rotis is one of the best roti makers readily available online. With this appliance, you can easily get delicious and soft rotis without the need to roll one. Take a peek at our list of popular roti makers you can try. Keep reading!
Top 6 Roti Maker Machines On The Market
The Brentwood Nonstick Electric Tortilla Maker cooks perfectly round and soft 10-inch rotis or tortillas. The heat is adjustable, so you can choose to make soft or crispy tortillas. This device is easy to clean as its nonstick aluminum plates do not allow the flour to stick to it. This roti/ tortilla maker has indicator lights that get illuminated when the machine is powered and when the plates are hot and ready to cook. You can also use this appliance to make chapatti, flatbread, and mandarin pancakes.
Specifications
Size: 8 x 9 x 2 inches
Weight: 3.7 pounds
Griddle Material: Stainless steel
Wattage: 1200 W
Pros
Durable
Easy to clean
Nonstick surface
Cool-touch handle
Power/ready indicator lights
Fast and even heating
Cons
Price at the time of publication: $39.99
The Revel Roti CTM-630 Tortilla Flatbread Maker has a light and compact design. It has a temperature knob for adjusting the heat so that you can customize your cooking. The body is made up of hardened plastic and is safe to use. This roti maker comes in a classy black color and can be used to make rotis, puris, or chapatis, along with tortillas. It comes with auto on/ready light and is easy to clean.
Specifications
Size: 15.1 x 11.5 x 9 inches
Weight: 6.34 pounds
Griddle Material: Plastic
Wattage: 1000 W
Pros
Light
Compact
Adjustable temperature
Auto on/ready light
Cons
The Westinghouse Roti Maker is amazing for making pitas, chapattis, tortilla wraps, rotis, and other flatbreads in a matter of minutes. It comes with a thermostat that allows you to increase or decrease the heat of the cooking plates for customized cooking. Both the cooking plates are coated with a nonstick material that makes the release process of the roti seamless.
This roti maker has a beautiful chrome finish and compact design. Its cool touch top handle press makes flattening the dough easy. The red light indicates that the machine is powered, and the green one indicates that the appliance is ready to be used. The unit is very easy to clean – all you need to do is wipe off the stuck debris with a cloth.
Specifications
Size: 12.25 x 9 x 7.75 inches
Weight: 3.99 pounds
Griddle Material: Stainless steel
Wattage: 1000 W
Pros
Easy to clean
Has power and ready light indicator
Easy to use
Cons
Makes small and thick rotis
Price at the time of publication: $59.99
The Prestige Roti Maker PRM 3.0 is perfect for you if you want wide rotis that are round and fluffy. It is made of stainless steel and has a wide 8-inch diameter plate. The roti maker has an adjustable temperature control knob that is situated at the tip of the griddle where it meets the bar handle. The minimum and maximum temperatures are indicated by green and red on the knob's indicator. The device has a cool handle made of quality plastic fiber, preventing scalding or electric shocks. You can use it for cooking small uttapams, dosas, and khakras as well.
Specifications
Size: 11.81 x 7.87 x 8.27 inches
Weight: 4 pounds
Griddle Material: Stainless steel
Wattage: 900 W
Pros
Adjustable temperature control knob
Wide nonstick griddle plate
Durable
Shockproof fiber plastic body
Cons
Price at the time of publication: $200.0
The Brentwood TS-127 Stainless Steel Nonstick Electric Tortilla Maker has adjustable heat settings that let you customize your cooking. You can choose between soft or crispy tortillas. The nonstick aluminum plates are easy to clean. The indicator lights get illuminated when the appliance is powered and also when it is ready to cook. You can also use this roti maker to make chapattis, rotis, mandarin pancakes, and flatbread.
Specifications
Size: 10 x 6 x 7 inches
Weight: 2.6 pounds
Griddle Material: Stainless steel
Wattage: 1000 W
Pros
Lightweight
Easy to clean
Easy to use
Heats up fast
Cons
Price at the time of publication: $35.69
The Revel CTM-680 Flatbread Maker is an ergonomically designed appliance. It comes with temperature control options that make it easy for you to customize your cooking. It is very easy to clean. The Revel Tortilla Flat Bread Maker has a chrome finish body and built-in cord storage.
Specifications
Size: 12.5 x 8.5 x 9.5 inches
Weight: 3.5 pounds
Griddle Material: Chrome
Wattage: 1000 W
Pros
Built-in cord wrap
Value for money
Cons
Not durable
Quality issues
Price at the time of publication: $54.99
Now that we know about the best roti makers available on the market, let's look at the types.
Types Of Roti Makers
There are two main types of roti makers:
Electric Roti Makers: An electric roti maker has an electric presser and two heated hot plates that have been heated electrically. These press onto each other to cook the roti or tortilla. Electric roti makers are the most common type of appliances used in kitchens. Some of these roti makers can also be used to cook other flatbread items like khakras, dosas, and parathas.
Automatic Roti Makers: An automatic roti maker requires the least assistance from you to cook rotis. All you need to do is put all the ingredients inside it (where specified) and go about your chores. You will come back to the finished product. One example of an automatic roti maker would be Rotimatic. It can make multiple rotis and different kinds of bread.
Before investing in a roti maker machine, it is important to keep a few things in mind to make sure you are happy with your purchase.
Best Roti Maker Machine Buying Guide
Size And Weight: Most roti makers are designed to be compact and easy to store in the kitchen, be it on the platform or the countertop. The size isn't really a concern; the main thing to be concerned about is the weight. You need to lift the upper lid and press it down to make a uniformly round and thin roti. If the upper lid is too heavy to lift, it will become an issue after the first couple of rotis. Hence, purchase a lightweight roti maker.
Griddle Material: The griddle, which is also called the tawa, should be made of aluminum or stainless steel, which enables even heating. The roti maker should be made of nonstick material, which will reduce the need to add oil. To make perfect rotis, choose 8 to 10 inches griddle sizes. Some griddle material can cook faster than others and with consistent size and quality.
Wattage: The more power the roti maker has, the faster it will cook your rotis or tortillas. Look for one that has a minimum of 800 W power.
Warranty: Try to purchase a roti maker that provides at least a year of warranty.
Other Features
Adjustable Temperature: A roti maker generally comes with three temperature settings – low, medium, and high. If you purchase a model with adjustable temperature, it will allow you to cook different items other than rotis – such as puris, omelets, or papads.
Shockproof Body: A roti maker should be shockproof to protect you from electric shocks if there are short circuits or voltage fluctuations.
Non-heating Handles: Consumers often complain that the handle gets too hot to touch. Make sure the roti maker you buy is well insulated, so the handle stays cool even at high temperatures. This will protect your hands from accidentally getting burned.
On/Off Indicators: These indicators will notify you when the roti maker is ready to be used. Some brands have green or red indicator lights that flash after the roti maker reaches the required temperature. Some models lack this feature, so you need to check it before purchasing it.
Here are a few things you have to keep in mind when making rotis in a roti maker.
Things To Keep In Mind While Making Rotis In A Roti Maker
Add More Water While Kneading
The dough you make for a roti maker is different than the dough you make for gas rotis. Do not knead the atta too much, or it will get rubbery and hard. Make it softer and stickier so that it can easily get flattened by pressing. To make the dough, add 15-20% more water.
Wait For Some Time
After kneading the dough, let it sit for about 30-60 minutes. This enables the gluten strands to start forming in the kneaded dough and makes the rotis puffy and soft. If you are in a hurry, let the dough rest for at least 10-15 minutes.
Prepare Fresh Dough Every Time
Dough that is stored in the refrigerator cannot make puffy and soft rotis. They will end up getting hard and crispy. Knead fresh dough every time you have to make rotis with a roti maker.
Use A Few Drops Of Oil Or Ghee
Adding a few drops of ghee or oil to the dough will make the rotis softer, and they won't stick to the roti maker. Adding the fat will allow the heat to be spread evenly over the surface, and the rotis will get cooked evenly from the center to the corners. You don't need to add a lot of oil to the dough, simply dip your finger in it when making the dough balls.
Eat Them As Soon As Possible
Rotis that are made with a roti maker tend to get hard faster than normal ones. Eat them as soon as they are made so that they don't become too hard to chew.
That was our list of the best roti makers on the market. Stop toiling in the kitchen, and instead of working hard, work smart. Gift yourself one of these appliances. Happy roti making!
Why Trust StyleCraze?
The author, Pratyasha Ray, is quite passionate about kitchen and dining tools and loves trying out new appliances and machines. She has curated this list of the best roti maker machines available on the market after carefully researching and browsing through multiple online user reviews. The shortlisted roti makers can easily get you delicious and soft rotis without even having to roll one. In addition, these products are light, compact, and easy to use.
Frequently Asked Questions
Do I need to put oil first on the plate before using a roti maker?
If the roti maker has nonstick coated plates, oil is not required. But you may put oil on the plate if you want to get paratha-like rotis.
How to make puffy rotis with your roti maker?
Making rotis using a roti maker is very simple. Here is what you need to do to make puffy rotis.
Put the flour through the sieve to remove any hard particles or grains.
Add water to it. You can also add salt to taste.
Add a few drops of ghee/oil/melted butter to the dough for added taste and softness.
Knead the dough until it gets soft and sticky.
Let it rest for 30 minutes to 1 hour.
After an hour, start making small round dough balls.
Switch the roti maker on.
Put it on the highest temperature. Let the indicator light turn green.
Flatten the dough ball a bit. However, you don't need to make it very thin or even round.
Put the dough ball a little off-center, towards the handle.
Close the top plate. Gently press it on the dough ball to flatten it.
Open it immediately.
Cook one side of the roti for a few seconds.
Flip the roti when you see bubbles forming.
Flip it again to cook both sides evenly. The roti will start puffing up on its own.
If your roti hasn't puffed yet, close the upper lid slightly and leave it there. Don't press it down. The roti will puff and lift the upper lid on its own.
What is the watts difference between the upper and lower lids when heating?
It completely depends on the roti maker machine, but generally, the lower lid has a higher temperature than that of the upper lid. For example, for 900 W models, the upper lid has 300 W, and the lower one has 600 W.
Can I clean a roti maker?
Yes, you can. Wipe the surface with a clean cloth. Don't put it under running water or in the dishwasher. Use a damp cloth to remove oil marks, stains, or residue.
Why should you purchase a roti maker?
If you make 6-30 rotis a day, a roti maker will make this manual work a lot easier for you. Some benefits of having a roti maker are:
Saves Time And Effort: How fast can you make a roti? How long does it take you to roll out the balls? A roti maker will do all these within a few seconds.
Will Make You Healthy: You can make parathas or chapattis using very little ghee or oil. That means fewer calories and healthy eating. Moreover, you won't buy takeaway rotis, so there are fewer chances of contracting food-related diseases.
No Mess: Making rotis can get really messy, especially if you are new at it. Regardless of how careful you are, there will always be some flour on the countertop, which will need to be cleaned each time you make a roti. This is not the case with a roti maker. Cooking with a roti maker involves zero mess, so no more wasting time cleaning the areas of sticky flour.
One-touch Program: The best roti maker machines have a one-touch program that makes the job possible with just a single touch. Hence, you will have more time to do other kitchen tasks.
Why is there a temperature control knob for some roti makers?
Usually, high-end roti maker models have temperature control knobs. You can customize, select, and set the desired temperature, depending on the dish you want to cook.
Can the roti maker handle voltage fluctuations?
Yes, of course. Almost all roti makers are shockproof. They are built to handle voltage fluctuations. However, make sure the cord material used is of high quality. Also, always plug the roti maker in a safe and proper socket to make sure it doesn't get short-circuited.
Why is my roti maker making uncooked rotis?
You may be making some mistakes. The most common one is not waiting for the machine maker to reach the highest temperature. Some people put their hands above the surface to feel the heat before placing the dough balls. That won't work. You must wait patiently for the roti maker to reach the required temperature or the 'ready-to-use' indicator light to flash. Also, taking too much or too little time in opening and closing the upper lid, pressing the handle too lightly or too hard, improper dough, and using super sharp spatulas for flipping the rotis are some other reasons your rotis could be uncooked. If the problem persists after you have corrected these mistakes, take the roti maker to a service center.
Which is better – an electric roti maker or a manual roti maker?
It depends on your preference. Electric roti makers are expensive but easier to use. Manual roti makers need a bit of effort. However, if you plan to use it outdoors, go for a manual one.
Can I use a roti maker to make khakhra and other dishes?
Yes, most roti makers can be used to make paranthas, kulchas, papads, and khakhras.