10 Best Rowing Machines For Full-Body Fitness At Home – 2023
Add a rowing machine to your workout area for excellent low-impact cardio exercise. This best rowing machine list and buying guide with reviews is for all the gym-savvy enthusiasts who love their cardiovascular workouts. These types of equipment are very beneficial in steeling your core without causing any cramps or putting added strain on your joints. Rowing is a low-impact workout that targets almost all the muscles in your body, making it a highly effective full-body workout. Here, you will find information about the top 10 rowing machines available, including details about their features, brands, exercise versatility, and suitability for home use.

10 Best Rowing Machines – 2023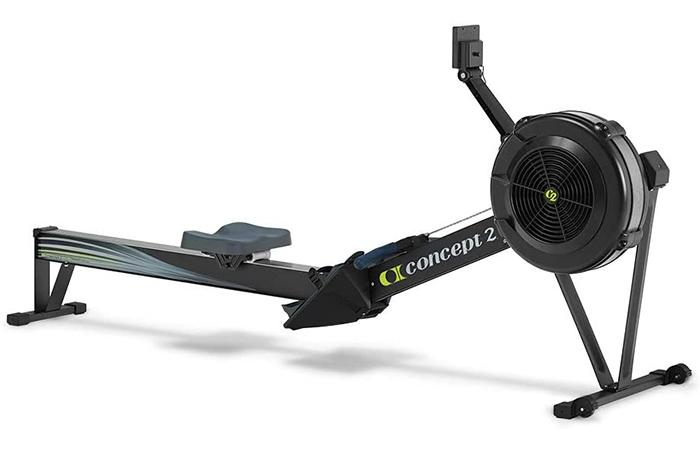 Concept 2 Model D Indoor Rowing Machine is so versatile that it caters to the needs of professional rowers, fitness enthusiasts, and even beginners seeking effective cardiovascular workout at home. The low–impact exercise engages all the muscle groups, helping in burning calories effectively. It is made with commercial-grade material and is sturdy for use in a boathouse, gym, or home. Its powder-coat finish is durable while the 14" high seat is designed to fit most users. The Performance Monitor 5 lets you control your workout intensity in real time. This air-resistance rower is easy to assemble and store, making it an ideal space-saving equipment with an ergonomic design for people who like to work out at home. For more information about the product, click this video.
Product Dimensions
Length: 96″
Width: 24″
Height: 14″
Storage: Upright/Foldable
Weight: 57 lbs
Resistance System: Air
Key Features
Air resistance rower
Suitable for home use
14" seat
Pros
Preset workouts
500 lbs user weight capacity
Caster wheels offer mobility
Easy to assemble
Adjustable footrests
Ergonomic handle
Minimal noise
Cons
Steel chain requires maintenance
Price at the time of publication: $1177.82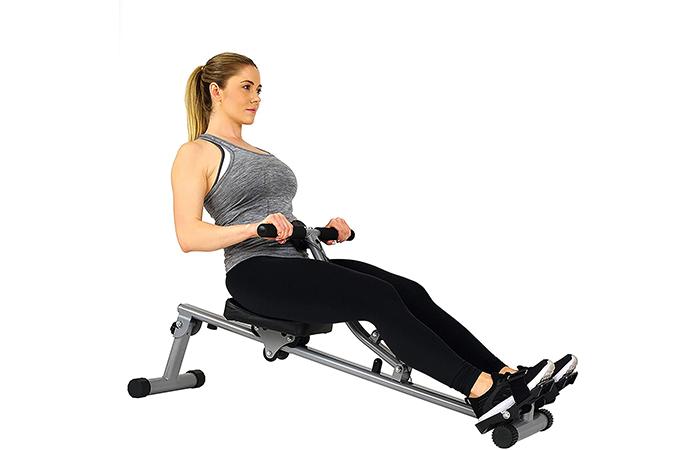 The Sunny Health & Fitness SF-RW1205 Rowing Machine is a commercial-grade rowing machine with 12 levels of resistance that let you customize your fitness routine. It is ergonomically designed with commercial–grade steel and is equipped with a smooth gliding seat, non-slip grip handles, and pivoting foot plates, making it the perfect choice for a home gym. The LCD screen displays the calories burned and time duration, which helps you track your progress during low-impact aerobic exercises. This machine helps in working out your arms, abs, glutes, back, and legs simultaneously. Thus, this home rower with hydraulic resistance provides an effective workout for all body types. Check this video to learn more about the product.
Product Dimensions
Length: 54″
Width: 20″
Height: 23″
Storage: Upright/Foldable
Weight: 20.5 lbs
Resistance System: Hydraulic Piston
Key Features
12 levels of hydraulic resistance
Non-slip handles and foot pedals
Pros
220 lbs user weight capacity
Non-slip pedal
Adjustable foot strap
Wide cushioned seat
Digital display
Cons
Price at the time of publication: $99.99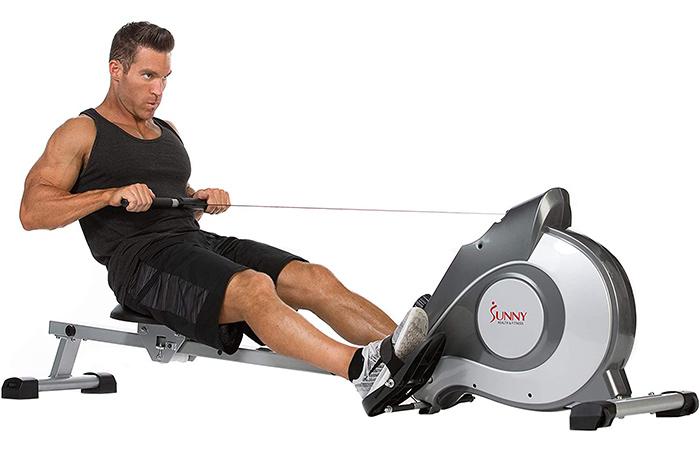 Another amazing product from Sunny Health & Fitness makes it to our list. The SF-RW5515 Magnetic Rowing Machineis a magnetic rowing machine that is sturdy and robust and designed with 8 levels of adjustable tension, a fully padded seat, large anti-slip foot pedals, and an LCD monitor. The LCD console displays time, count, calories, total count, and scan. The range of motion is smoother and quieter than non–magnetic rowing machines. It also has transport wheels, making it convenient to move around. This is a great machine for intense workouts to build endurance and stamina.
Product Dimensions
Length: 82″
Width: 19″
Height: 23″
Storage: Upright/Foldable
Weight: 59 lbs
Resistance System: Magnetic Piston
Key Features
8 levels of magnetic tension
Smooth resistance
Pros
Noiseless
Extra-long slide rail
Strong resistance
Non-slip foot pedals
Adjustable resistance
Foam grip handlebars
Cons
Price at the time of publication: $249.0

Water Rower Classic Rowing Machine is handcrafted with American black walnut wood and finished with Danish oil. The wood absorbs most vibrations to give a smooth and quiet rowing experience. Its patented Water Flywheel mimics the dynamics of a boat in water and creates the feeling of natural rowing in water. The paddles are actually attached to a tank filled with real water! It does not need a motor as it works on a self-regulating resistance system. The 4–performance monitor is user–friendly and tracks workout intensity, heart rate, duration, distance, and stroke rate. This is one of the best water rowing machines currently available. Take a look at this video to get more information on the product.
Product Dimensions
Length: 83″
Width: 24″
Height: 21″
Storage: Upright
Weight: 117 lbs
Resistance System: Water
Key Features
Amazing craftsmanship
Water resistance
Patented Water Flywheel technology
Exercises 84% of your muscle mass
Pros
Pulleys don't require lubrication or maintenance
Smooth and fluid motion
Noiseless
Easy to assemble
High quality
Cons
No backlight in the monitor
Price at the time of publication: $1560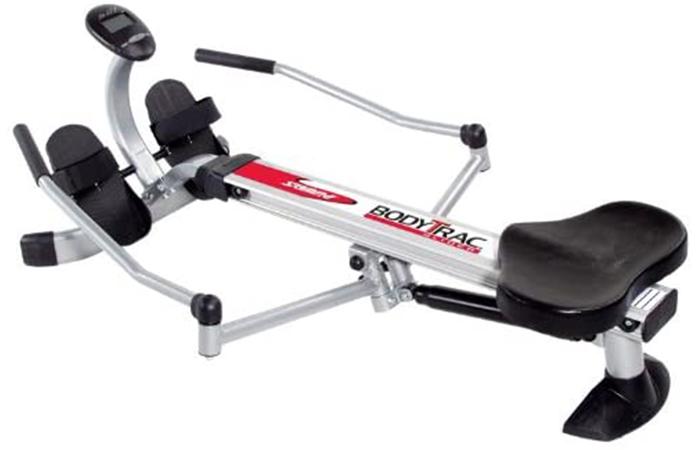 Stamina Body Trac Glider 1050 Rowing Machine has a steel frame and an aluminum center beam. This machine's ball-bearing roller system and adjustable cylinder resistance arm create a seamless and smooth rowing motion. This hydraulic rower can be adjusted to the desired intensity of workout. The LCD monitor tracks the total strokes accumulated, calories burned, and workout time. The machine is designed with comfort in mind, so the molded seat, adjustable nylon straps, and textured surface come in handy during long workout routines. This low-maintenance machine can be used in a small space.
Product Dimensions
Length: 50″
Width: 12″
Height: 10″
Storage: Upright/Foldable
Weight: 39 lbs
Resistance System: Hydraulic Piston
Key Features
Compact foot plates
Smooth ball-bearing roller system
Full-motion arms
Pros
Comfortable molded seat
Adjustable resistance
Foldable arms
Compact storage
Textured foot plates
Foam-padded hand grips
Cons
Price at the time of publication: $169.0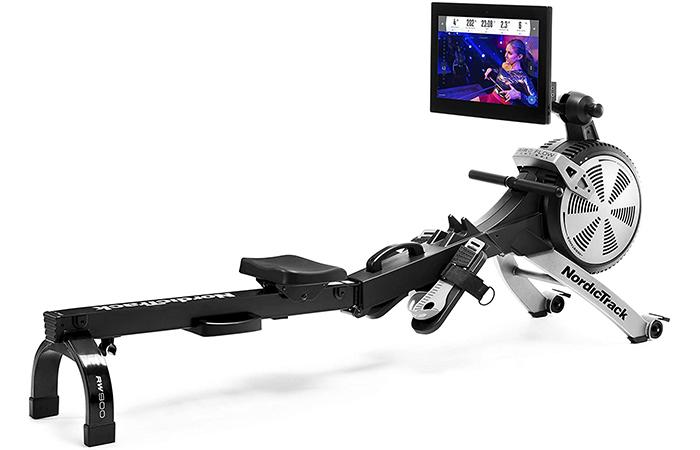 NordicTrack RW Rower comes with Interactive Personal Training that you can avail from home. It offers two types of resistance. The first one is a coach-controlled resistance with up to 26 levels, customized to your fitness goals. The second type is manual air resistance, which lets you increase the intensity and build strength. The silent magnetic resistance (SMR) and an inertia-enhanced flywheel help in experiencing rowing at home. This rowing machine comes with a 22" HD SMART touchscreen display, space-saving design, an adjustable console angle, and an ergonomic molded seat for a comfortable but efficient workout. It is compact and has built-in wheels that make it easy to transport and store.
Product Dimensions
Length: 86.5″
Width: 22″
Height: 50.4″
Storage: Upright/Foldable
Weight: 130.6 lbs
Resistance System: Hydraulic Piston
Key Features
Interactive Personal Training
Silent Magnetic Resistance (SMR)
Innovative SpaceSaver design
Pros
Interactive coach-guided training
Two forms of resistance
Adjustable console angle
Convenient storage and transport
Quiet, energy-efficient workouts
Cons
The HD smartscreen needs improvement
Price at the time of publication: $1099.98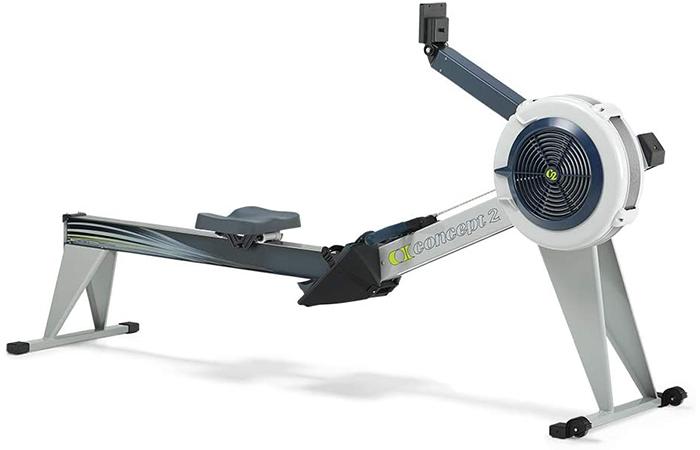 Concept 2 Model E Indoor Rowing Machine is durable, sleek, and suitable for use at home or at the gym. It is available in two colors: light gray and black. The durable 20" frame offers mobility and flexibility. The resistance is controlled by a spiral damper and a flywheel. This is a quiet machine that offers a smooth rowing experience. The glossy double coat finish does not need frequent oiling. This commercial-grade indoor rower also comes with a Performance Monitor 5 that has a strong back light and a USB port. Your workout data can be stored in a flash drive. This exercise equipment works out the entire body.
Product Dimensions
Length: 96″
Width: 24″
Height: 20″
Storage: Upright/Foldable
Weight: 63.9 lbs
Resistance System: Hydraulic Piston
Key Features
20" frame height for better mobility
Double powder coat with a glossy finish to protect against scratches
Pros
Adjustable monitor angle
Higher seat
Real-time reliable data
Easy to assemble
Stores in two pieces
Low maintenance
Cons
Performance Monitor 5 needs to be updated
Price at the time of publication: $1559
This rowing machine has an alloy steel body and ball-bearing rollers for a smooth workout session.  It is equipped with 14-level dual transmission magnetic tension resistance for clear workouts. In addition, you can now easily do front raises, side raises, tricep extensions, and reverse curl grip. The machine comes with a nylon rowing belt offering noise-less exercising. Moreover, you can now connect the machine to the MyCloudFitness app to track time, distance, and calories burned.
Product Dimensions
Length: 88.5 inches
Width: 21.5 inches
Height: 21.5 inches
Storage: Upright/Foldable
Weight: 63.9 lbs
Resistance system: Magnetic
Key Features
Front stabilizer foot pads
Versatile connectivity
Pros
Easy to use
Sturdy
Easy to assemble
Compact storage
Anti-slip pedals
LCD display
Cons
Does not provide much resistance even at the highest level
Price at the time of publication: $358.99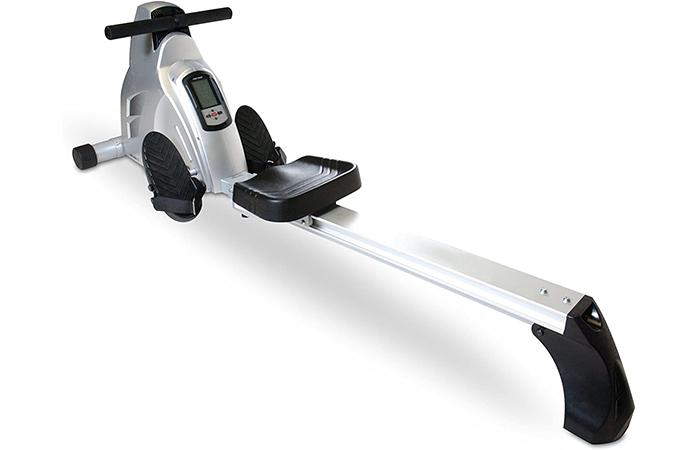 Velocity Exercise Magnetic Rower features drum magnetic control and electronic tension control that provide strong resistance. This rowing machine is very smooth and quiet. It has a sturdy aluminum frame, non-slip foot pedals, and a molded foam seat that compliments your posture and form while working out. Various parameters such as pulse rate, strokes per minute, distance, and calories are captured on the LCD monitor. It also comes with 12 programs, out of which 6 are preset.
Product Dimensions
Length: 80″
Width: 20″
Height: 29″
Storage: Upright/Foldable
Weight:75 lbs
Resistance System: Magnetic drum
KeyFeatures
Drum magnetic control system helps in noise reduction
Heart rate monitor
Pros
Large molded foam seat
Noiseless
Big non-slip foot pedals with Velcro straps
Folds for easy storage
Sturdy frame
Cons
Difficult to transport
Poor resistance
Price at the time of publication: $429.99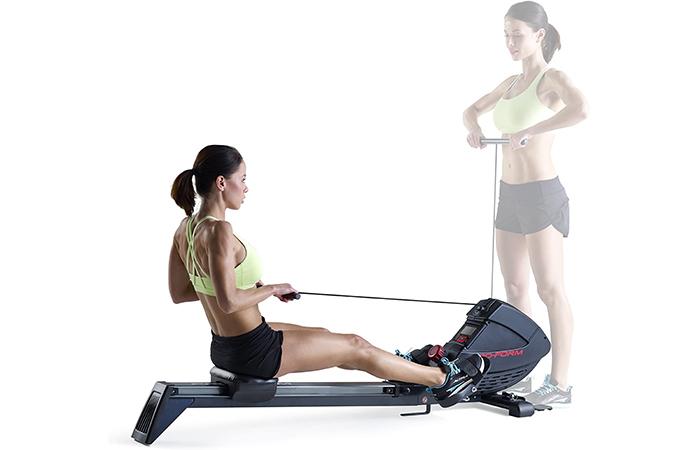 ProForm 440R Rower is integrated with an inertia-enhanced flywheel that creates a smooth and steady motion. It offers 8 levels of resistance, making it an excellent option for strength and endurance training. It is quite sturdy with a lightweight aluminum seat rail and large bike pedals that can be secured with straps. This portable rower is designed with an ergonomically molded cushioned seat. A large LCD monitor measures your progress by tracking strokes per minute, distance, total number of strokes, calories, and time duration. With its durable construction, ProForm 440R Rower is an excellent choice for those looking for a reliable and comfortable rowing machine that provides accurate tracking metrics.
Product Dimensions
Length: 77″
Width: 21″
Height: 38″
Storage: Upright/Foldable
Weight: 61.7 lbs
Resistance System: Hydraulic Piston
Key Features
Inertia-enhanced flywheel for a noise-free experience
Integrated dual-action strength training (8 resistance levels)
Extra-large pedals with adjustable nylon foot straps
Pros
8 rowing resistance levels
Large pedals
Adjustable foot straps
Compact
Easy to transport
Cons
Price at the time of publication: $295.99
Those were the ten best rowing machines available right now. Listed in the next section are some of the features to keep in mind while buying one for your home/gym. 
Buying Tips For Rowing Machines
Type of Resistance
The rowing experience of the user is dependent on the type of resistance mechanism used in the rowing machine. Each type of resistance has unique characteristics, such as size, noise level, storage capacity, and price. The four major types of resistance in indoor rowing machine are:
Water Resistance: Rowing machines that use water to create resistance are designed by suspending the paddles in a water tank. The amount of water is proportional to the resistance experienced by the user. When the user pulls the handles, the paddles in the water are set in motion, thus mimicking the feel and resistance of outdoor rowing. The levels of resistance are adjustable and dependent on the user. Though these machines make noise, most people consider the sound of splashing water calming and relaxing. This type of rowing machine gives one of the smoothest rowing experiences. This comes at a price as most of these are made of wood and handcrafted.
Air Resistance:Uses a spinning fan flywheel that spins when the user pulls the handle. The harder the user pulls, the faster the wheel spins, setting in motion the act of rowing. Thus, the resistance the user feels is proportional to the force he uses. This type of resistance is very popular for high-intensity interval training (HIIT) and is even preferred by Olympic athletes for practice as it offers a very smooth rowing motion. The rowing machines that use this mechanism need a longer seat rail and are also a little noisy.
Magnetic Resistance: The machines that use magnetic resistance rely on a magnetic brake system that controls the speed of the flywheel. The closer the magnet, the stronger the resistance. There is very little friction, hence it results in a quieter motion. The motion is similar to air resistance but is not as smooth or fluid as that achieved by air resistance. It is perfect for people of all fitness levels as the resistance levels can be adjusted. The salient feature of this type of resistance is its noiseless quality.
Piston/Hydraulic Resistance: Rowing machines that use hydraulic pistons offer more control over resistance.The adjustable resistance comes from the ability to control the amount of fluid in and out of the piston with a manual knob. This also creates levels of resistance that are perfect for people looking for rehabilitative or corrective exercises, such as elders or beginners. They are fairly noiseless and don't require much space. This is alsoone of the most affordable types of rowing machines currently available. However, they come with a downside, which is they overheat quickly.
The materials used for building the framework determine the stability of the rowing machine. Most machines are built using stainless steel, lightweight aluminum, or wood, depending on the type of mechanism used. Wood-based rowers are considered to be the best quality.
Comfortability And Adjustability
The other components of a rowing machine, such as the seat, handles, and foot pedals, determine how comfortable the experience is going to be for the user. The seat is usually made of plastic but has a cushion to help the user work out for extended periods of time. One of the most common mobility issues is that of sliding seats. Adding extra padding is a great feature for an uninterrupted full-body workout.
Similarly, the handles are padded and sometimes need gloves for a better grip. The handles in certain machines are adjustable, offering more flexibility for a full-body workout. Finally, the size of the foot rests and the straps to keep your feet secured in place help in providing the best rowing experience. Pivot pedals are a great feature to have as they improve the workout experience. Most pedals are large to accommodate all foot sizes, and the adjustable straps help in keeping your feet from falling off.
The weight capacity of the rowing machine depends on its build and its own weight. Most rowing machines are sturdy and robust. Some even have a maximum user weight capacity of up to 500 lbs. Thesolid construction of a rowing machine adds to its overall value.
The noise level is mostly dependent on the type of resistance used. Rowing machines with magnetic resistance make the least amount of noise.
Various factors, such as the material used and the type of technology incorporated, determine the price of a rowing machine. Budget rowing machines with great value are also available.
The warranty of a rowing machine is usually at the discretion of the manufacturer or the brand. Although wooden machines are known to have a longer life, most rowing machines come with a decent warranty. It is a good idea to have a parts warranty as well.
Most rowers are compact and lightweight. Some of them can be folded for saving space and easy storage. Most of these machines come with transportation wheels, making them convenient to move around.
A staple feature of most rowing machines is a monitor that tracks the intensity of the workout. The display screen tracks various parameters such as the number of strokes, time duration, distance covered, heart rate, and calories burned during a session, which are recorded in real time to give the user an opportunity to adjust their fitness targets.
Most rowing machines are easy to assemble. They come with an instruction manual and there are online resources available, as well. Some brands may also offer at-home assistance for assembly. 
Why Trust StyleCraze?
Aditi Naskar, the author, holds a diploma in health & wellness. She knows the importance of a regular fitness routine and tries to make it fun and comfortable for you! She has in-depth knowledge of the various tools, equipment, and accessories that can help enhance the benefits of your fitness regimen. So when it comes to the best rowing machines for your home gym, she has made sure to bring you nothing but the best! She has gone through several health and wellness forums and scoured through valuable customer testimonials, before carefully curating this list of the 10 best rowing machines. These not only help strengthen your core but work on all your muscles to give you a full-body workout.
Frequently Asked Questions
Is a rowing machine worth it?
Yes, rowing exercises can help you build your back muscles and simultaneously improve your core muscles too. So, it's worth investing in a rowing machine.
Is a rowing machine better than running one?
Rowing machines are better as they involve more muscles while performing an exercise than running.
Is a rowing machine good for belly fat?
Yes, rowing machines help you target core muscles along with other muscles, which helps you in shredding belly fat effectively and overall body fat too.
Is it safe to row every day?
Yes, you can row daily, but don't forget to take a rest day, to help your muscles recover properly.
How long should a beginner row on a rowing machine?
For starters, attaining the correct posture should be a priority along with duration. As a beginner you can row for about 30 minutes to keep your muscles active.