The 13 Best Rubber Dumbbells To Buy For Your Home Gym In 2023
The perfect addition to your home gym if you want to get those muscles up and working!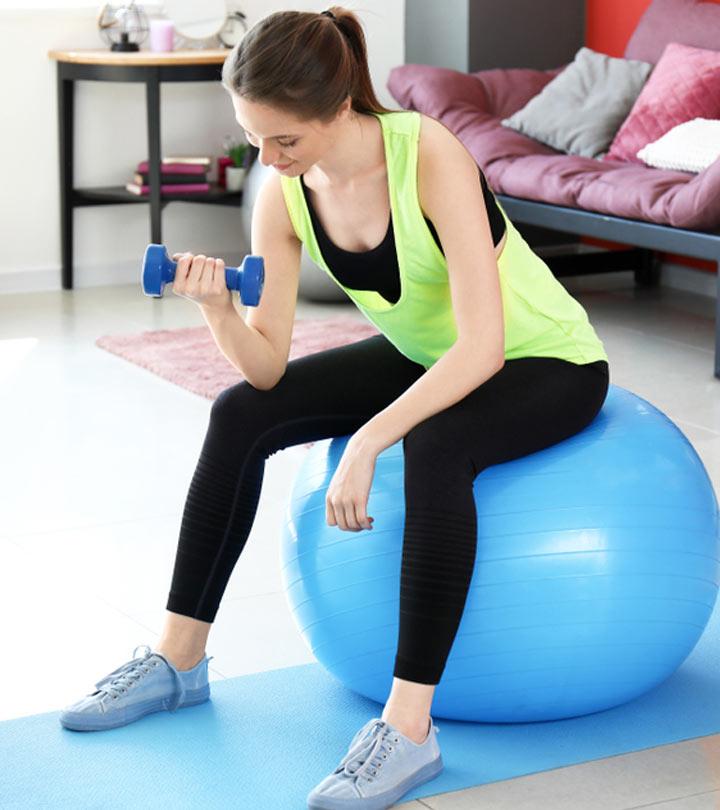 If you are too busy to hit the gym but are also willing to get fit, you may need some equipment to build your own home gym. Let us get you started with the best rubber dumbbells. A rubber dumbbell is an effective gym tool that helps to boost your muscles and tone your body. The dumbbells are travel-friendly, easy to use, and pocket-friendly. They are slip-resistant and do not roll out when placed on the floor.
Robert Savin, is a certified personal trainer says, "dumbbells are an essential part of a home gym set up for effective training. Rubber dumbbells are especially useful since they're floor-friendly and low-maintenance, so you can simply focus on your workout! If you had to pick one piece of equipment for your gym, it would be a proper set of dumbbells for their versatility and overall use-ability for all types of exercises regardless of your fitness goal."
Additionally, these dumbbells won't damage your floor, and you can practice the workouts by watching the videos by experts. The dumbbells come with rubber weight plates that can be attached on either side as you desire. These weights can be ranging from 3 lb to 120 lb. The rubber dumbbells are ideal for any individual willing to exercise daily for a healthy life. We have mentioned 13 carefully picked rubber dumbbells in this article so that you can pick one easily. Keep scrolling!
What Exactly Are Rubber Dumbbells
Rubber dumbbells are just metal dumbbells with a rubber coating. They may be fully encased in rubber or simply have rubber-coated balls or plates. These dumbbells are one of the most essential weight training tools and can be used individually or in pairs, with one in each hand.
Top 13 Best Rubber Dumbbells For Your Home Gym
Pros
Won't roll away
1-year warranty
Neoprene coating ensures firm grip
Ideal for home workouts or fitness classes
Cons
The rubber coating may be a bit thick.
Pros
Anti-slip grip
Anti-roll design
Weight printed on its heads
Versatile use
Cons
May rust if not well maintained
If you have been skipping leg day, well, then try a strength training lower body workout with this AmazonBasics Rubber-Encased Hex Dumbbell. Adding this weight to your routine will allow for more focused, dedicated repetitions on each side of the body. It works as weight-resistance and as a counterbalance for several upper and lower body exercise routines. It comes in a variety of sizes, ranging from 10 to 50 lb (in 5-lb increments).
Pros
Won't roll away
1-year warranty
Comfortable grip
Built-to-last solid cast iron core
Cons
May have an off-putting odor initially when unwrapped
Price at the time of publication: $38.49
Sculpt your shoulders, back, and arms with this Yes4All Rubber Hex Dumbbell Set. These 2 lb neoprene dumbbells will not break or bend after multiple use and are less prone to splitting than vinyl, making them a great choice for your home gym. The handle offers a firm grip while the hexagonal head prevents the weights from rolling away on the floor. They are color-coded and have weights printed on them so that you can easily switch during an exercise. It is available in different weights, ranging from 2 to 18 lb.
Pros
Anti-slip grip
High-quality solid cast iron core
Doesn't make much noise
Neoprene coating prevents dumbbells from chipping
Cons
The grip circumference may be a bit big for some.
Price at the time of publication: $10.49
If you are a beginner or just setting up a home gym, it is important that you opt for weights that fit well with your aesthetics. If it is something that looks modern and stylish, these Crown Sporting Goods Hand Weights will be the perfect match. They are built with cast iron and coated with thick neoprene. They are well-suited for both outdoor and indoor workout routines. Don't be deceived by its lightweight features; they can be used to add resistance to aerobic exercises to burn more calories. They are  available in 1 lb and 10 lb weights.
Pros
Durable
Comfortable grip
Perfect travel size
Attractive bright colors
Cons
May have a foul smell when you unwrap it the first time
Price at the time of publication: $14.99
This CAP Neoprene Coated Dumbbell Weights in magenta are attractive and will stand out from the rest of your gym accessories. It is built to be safe and versatile, proving to be a great accompaniment for HIIT workouts, functional training, or a full-body exercise. Of course, you can always get creative and add resistance by using this 5 lb weight in your existing regime but only after consulting your trainer. It is available in different sizes — from 1 to 12 lb.
Pros
Durable
Offers essential grip
Hex shaped heads prevent rolling
Iron core made from ASTM A48 Grade 20 grey iron
Cons
Price at the time of publication: $15.99
Built to complement some heavy-duty weight training, this j/fit Neoprene Dumbbell Set will help you boost your workouts by adding resistance, which will improve your strength and stamina. These are solid iron weights with double-dipped neoprene coating. This set includes dumbbells that are available in 3 pairs — 20 lb set that includes 5, 3, and 2 lb pairs. Other set options include: 32 lb set (8, 5, and 3 lb pairs), 46 lb set (10, 8, and 5 lb pairs), 60 lb set (12, 10, and 8 lb pairs), and 74 lb set (15, 12, and 10 lb pairs). Choose the set that works well with your workout. The lighter weight sets are great for Barre routines, walking, and jogging while the heavier weight sets are ideal for strength training.
Pros
Anti-slip grip
10-year warranty
Won't chip or flake
Includes an easy-to-assemble stand that allows for quick access
Cons
May have a rubber odor when unwrapped
These Unipack Neoprene Dumbbells are built from cast iron and coated with neoprene in different colors, offering you a wide range of selection. Each pair of dumbbells in a set is marked with its weight for easy identification. All while the hexagon head design ensures that it doesn't roll away on the floor, in turn preventing accidents. They are coated with premium quality neoprene, so rest assured it will not crack, rust, or fade. They are compact in size and suitable for a home gym session and can be carried with you when you're traveling. This set of 2 neoprene dumbbells are 3 lb each.
Pros
Non-slip grip
Easy to clean
Comfortable hold
Great for indoor and outdoor use
Cons
It may be a bit too thick.
If you haven't been going to the gym lately or aren't looking to renew your gym membership anytime soon, using this Weider Rubber Hex Dumbbell is as close you can get to an original gym workout session. It looks and feels exactly like your gym weights and is multi-functional. You can use it while doing any upper or lower body exercise to build strength, stamina, burn more calories, and improve your energy levels. The solid rubber hex dumbbell is available in a range of weight values starting from 5 lb to 70 lb.
Pros
Compact size
Non-slip grip
Won't roll away on the floor
No weight-lifting gloves necessary
Cons
May get a bit greasy if not maintained well
Price at the time of publication: $24.76
These PAPABABE Rubber Coated Hex Dumbbells are convenient to use and affordable. If you are looking to train at home and have a small space, this set will work well for you. These dumbbells are compact, and you can do myriads of workouts that help you boost your cardiovascular fitness, elevate muscle endurance for sports, build muscle, and burn calories. These weights offer your body some balance, and adding them to your bench presses will improve your physical strength. It is available in sizes ranging from 5 lb to 50 lb.
Pros
Anti-slip grip
1-year warranty
Hexagon shaped heads prevent rolling
5 mm diamond knurl ergonomic handle
Cons
May require frequent maintenance to last for years
Price at the time of publication: $279.99
If you are looking to take your home workout routines to the next level, try XMark Fitness Rubber Coated Hex Dumbbells to add strength training to any basic exercise. A superior quality premium rubber casing made from virgin and recycled rubber covers each head. Their ergonomic chrome-plated straight handles reduce hand fatigue and are designed to fit easily in the palm of your hands. These dumbbells weigh 30 lb. each.
Pros
Anti-slip grip
Durable
High-quality cast iron heads
Six-sided design prevents rolling
Cons
Pros
Slip-resistant hand grip
2-year limited warranty
Comes with a carrying case
High-quality anti-slip neoprene covering
Cons
The case may not be sturdy and durable.
Price at the time of publication: $34.98
This 5 lb WF Athletic Supply Dumbbell Set features a strong 1018 cold rolled steel chromed handle that will last through multiple workout routines over the years. Sold in pairs, these dumbbells are available in multiple sizes — ranging from 3 to 120 lb (in 5 lb increment). With the lighter dumbbells, you can do some warming up exercises and pick up the heavier ones once you are ready to go full throttle into strength training exercises. They are also a great accompaniment while walking and for step aerobics to burn more calories and better your stamina.
Pros
Will not bend or break after repeated use
Ergonomic handle offers comfortable grip
Rubber hexagon-shaped head prevents rolling
Made from high-quality solid cast iron material
Cons
May need to be wiped regularly to last long
Price at the time of publication: $124.99
If working out at home has always been your thing, you must be aware of the challenges of being able to build a good workout routine minus all the fancy equipment of the gym. Fortunately, if you invest in a pair of rubber dumbbells, you can take your home workout to another level. Rubber dumbbells are extremely useful during cardio and floor exercise routines. The variety of rubber dumbbells available can be overwhelming. So, we have compiled a list of factors you should remember while choosing the best rubber dumbbells for your home gym.
How To Choose The Best Rubber Dumbbells For Your Home Gym
Fitness Goals: Choose rubber dumbbells depending on your fitness goals. A lighter set is best if you want to enhance muscular endurance. Opt for adjustable dumbbells if you want to supplement your existing bodybuilding program. You can continue using them as your experience level builds. For Olympic lifts, you can choose a set of rubber hex dumbbells.
Dumbbell Type: Take into consideration the available space you have. An adjustable set is ideal if you have less storage space, or a set with a space-saving stand. But if you have lots of space and a room dedicated to your home gym, a complete set with a rack and a bunch of fixed dumbbell weights is your best option. A collapsible, portable dumbbell is ideal if you are a frequent traveler.
Construction and Durability: Pick dumbbells that last in good stead over years of rigorous workouts. Opt for steel or iron dumbbells coated with rubber or neoprene. For example, rubber hex dumbbells are durable and designed to last many years. Additionally, ensure they have non-slip grips to avoid dropping them on your floors.
Ease of Use: Some shapes and grips are more comfortable than others, depending on your level of training. Compare a few models and check the reviews before adding one to your cart. Additionally, think about the weight you want to lift. For adding some resistance to your workout, choose smaller weights. However, look for heavier loads if you are an experienced lifter.
Before you decide to buy rubber dumbbells, do consider a few important points.
 Why Choose Rubber Dumbbells
Without a doubt, rubber dumbbells are one of the most reliant gym gears to count on to build a healthy body.
The rubber coat helps protect the dumbbells from damage.
They are also a safe choice for your house floor.
They are waterproof, so you don't have to worry about it being ruined because of moisture.
The rubber thickness minimizes noise while re-racking the dumbbells or while exercising with the weights alone.
They are corrosion and rust-resistant owing to the thick rubber layering.
Factors To Know While Buying Rubber Dumbbells
Storage: If you want your dumbbells to last long, buying a rack is recommended. Nobody likes a roughly arranged dumbbell.
Use of mobility and space: They take up minimal space and the hex rubber dumbbells do not roll away.
Floor protection: They are best for both home and commercial gym use because they don't ruin the floor when dropped accidently, thanks to the soft and thick rubber coating on the edges of the hex dumbbells.
Weight range: Depending on whether you need them for strength or toning, you can use different weights. You can choose from as low as 1 lb to over 20 lb.
Durability: To ensure your dumbbells have a long life, invest in the ones made of high-quality steel and premium rubber or neoprene coating.
Ease of use: Opt for dumbbells that are reliable and extremely easy to use, be it for lifts or weight training.
Rubber Dumbbells vs Iron Dumbbells
Rubber dumbbells are built from cast iron, which is then coated with rubber. Iron dumbbells, unlike rubber ones, rust easily and can cause serious damage to your floor, in case you drop them. The rubber coating means the dumbbells will be a bit pricier than iron dumbbells, but even your trainer would agree that the investment is worth it because the pros outweigh the cons.
Why Pick Rubber Dumbbells Over Iron Dumbbells
Can be safely dropped
Rust-resistant
Less likely to scratch your floor
Offers comfortable, anti-slip grip
Great for indoor and outdoor workout
Looks better, since the paint won't chip off like with iron dumbbells
How To Care For Rubber Dumbbells
Rubber hex dumbbells last a long time, but you still need to care for it.
Clean the rubber layer of the dumbbells by dipping a cloth in dish soap and water, and wipe it dry immediately.
You can also clean the chrome handles by applying a thin coating of WD40 and then wipe them off, so they don't become slippery. The WD40 will protect them against rust.
Why Trust StyleCraze?
The author, Shreya Vishwanathan, is a health and fitness enthusiast. She is always looking for the most efficient health tools. Our list of rubber dumbells mentioned in the post is carefully curated after thorough research and customer reviews and feedback. These dumbells are a perfect fit for your fitness journey, and they are easy to carry and use. The best part is they fall under affordable scale.
Frequently Asked Questions
Are rubber dumbbells better?
Rubber dumbbells are usually considered to be a safer choice than iron or chrome dumbbells. However, if you are allergic to latex or sensitive to strong odors, it is advised to use iron dumbbells instead.
Why do rubber dumbbells smell?
Rubber has a natural property to release an intense smelling gas. If your rubber dumbbells have an odor, it isn't a bad quality product. It is just the rubber doing its thing. Keep the dumbbells outside until the odor dissipates.
Can I use dumbbells to burn arm fat?
Lifting weights such as dumbbells may not cause fat loss in your arm specifically, but it will accelerate the fat loss process and tone your arms, making them look slimmer.
Should women use dumbbells every day?
Although it is great if you are able to find time to work out every day religiously, it is advisable to leave yourself at least one day of rest per week.
Will dumbbells help me tone muscle?
Yes, simple dumbbell exercises will help you tone your muscle.
What weight should I start with?
If you are healthy, then it is suggested that you start with lightweight and move on to moderate ones.
Why do women need dumbbells for strength training?
Resistance exercise, such as lifting weights as part of strength training, helps you build muscle mass. Maintaining a healthy level of muscle mass is a great way to keep fat off and stay fit.
Why should you add dumbbells to your home gym?
Dumbbells help strengthen muscles more than barbells do and are easy to carry, store, and exercise with. Hence, it is a primary accessory for any home gym.
Are dumbbells for women different than dumbbells for men?
No, they are the same. Your dumbbell weight requirement may vary depending on why you are doing strength training.
Are dumbbells different from hand weights?
Technically, it is the same thing, but usually, the lighter weights are referred to as hand weights.
Can you really tone a body part with dumbbells?
There are specific dumbbell exercises to target a part of your body.
Recommended Articles