The 13 Best Running Hats For Women To Block Sun And Sweat
Keep your head cool and sweat-free with light, breathable, and soft running hats.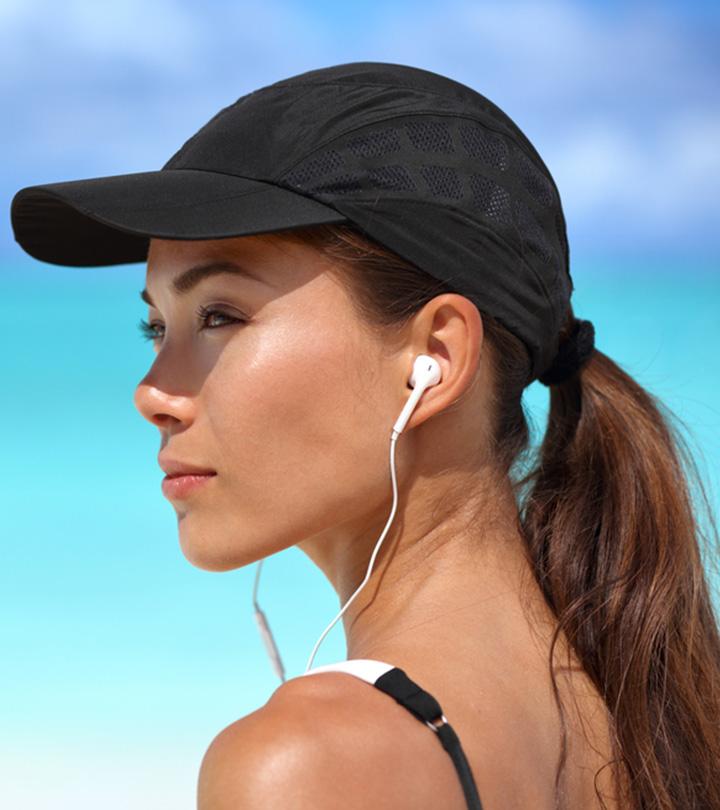 Do you frequently remove your running cap because you feel stuffy or sticky? If yes, you require a replacement! But before looking for the best running hats for women, look at our list of the top ones. Yes, you can stop suffocating every time you go for a stroll or run when all you need is an airy, breathable cap with an expanded visor to prevent the sun and sweat. Although caps are undervalued and often purchased without care, many people end up purchasing headwear that is not even designed for jogging or sports! In this article, we have discussed what a running hat is and listed the top13 running hats for women. Keep scrolling.
What is the best running hat?
A running hat or cap is a sports headgear that is meant to provide more than just a snug fit and sun protection. It keeps the head cool, dry, and airy with ventilated panels and the cap also has moisture-wicking sweatbands to ensure no dampness. Plus, it is ultra-light and shields the head from heating up due to the sun and intense activities. "It can also partially protect your face from UV rays and prevent your hair color from fading," says Chandel Stallworth, an expert in Pilates, Strength Training, and Corrective Exercise.
Now if you are ready to add a new hat to your sporty collection, scroll on to check out the 13 best running hats for women below!
Read on to know more!
Top 13 Best Running Hats For Women That Guarantee Comfort & Sun Protection!
Well-known for its premium sports gear worldwide, Nike's caps have a breathable design that offers an ideal combination of style, comfort, and high functionality. This one, for instance, with Dri-Fit moisture technology ensures no stuffiness no matter how long you wear it. Lightweight, airy, and perforated at the back and center, its low-profile design with a loop and hook closure offers a snug fit to all. Also, the long visor and contrasting underbill blocks out maximum sun glare. A great choice for golfers, hikers, and gym rats— if a high-quality running hat is what you are looking for, then Nike women's running hat womens is one of the best options.
Pros
Made of 100% polyester fabric
Unstructured crown design
Soft and breathable material
Adjustable and moisture-absorbent
The logo is embroidered on the visor.
Cons
Expensive
It may not dry quickly.
Price at the time of publication: $26.66
This is no ordinary running cap! With an anti-UV coating on top to protect your face from harmful rays, the extended visor also has a reflective band to increase your visibility at night. So, if you enjoy night jogs, running, or cycling, this highly-rated cap will make sure all incoming vehicles know you are around. Also, its water-resistant power is no joke. In case of light rain or splash, the visor's lotus effect will slide off the water quickly without absorbing, thus preventing dampness. Plus, the sweat-absorption fabric with button closure keeps you cool and comfy all the time! Now, why would you miss a cap so convenient?
Pros
Blocks 98% harmful UVA and UVB rays
UPF 50+ tested for ultimate sun protection
Long and wide visor reduces sun glare
Durable, unstructured, and adjustable cap
Soft, breathable, and 100% polyester material
Lightweight, quick-drying, and easy-to-fold
Ideal for hunting, fishing, mountaineering, running, etc.
Cons
Flimsy stitching
It may not fit petite heads.
Price at the time of publication: $13.99
Let your hair and ponytail breathe with this running hat by TrailHeads for women. If you are looking for a women's running hat that'll keep you comfy and "light-headed" for several hours, then you might as well give this cap a try. Made of soft, breathable, and moisture-wicking fabric, it claims to be so lightweight that you'll barely feel it on the head. Plus, the elongated visor with a dark underbill minimizes sun glare and the reflective strip on the trim ensures visibility during dark hours. This hat's brim size is Ideal for women to stay protected and stylish on race days. This ponytail running hat is ideal for hiking, jogging, fishing, and golfing too.
Pros
One-size-fit-all cap
Made of 100% polyester
Hand and machine-washable
Unstructured and low-profile design
Quick-drying and sweat-absorbent
Easy to adjust with Velcro strap closure
Convenient to store with easy-to-fold structure
Cons
Shallow and may not be ideal for big heads
Price at the time of publication: $21.0
UVA and UVB rays can be extremely harmful to the skin and hair, which is why you need a cap that ensures complete protection. And whether you are brand-conscious or not, this cap by Adidas claims to block the harmful rays of the sun with its anti-UV coating. Plus, the visor is super-elongated to keep your forehead and nose shaded from the sunlight, whereas the dark underbill prevents reflection. A great option to keep the sun out of your way while you enjoy the outdoors, This hat is made with quick-drying material and it's also available in multiple colors for you.
Pros
Made of 13% spandex and 87% polyester
Ensures a comfortable and snug fit
Adjustable with loop and hook closure
Soft, breathable, and lightweight fabric
Moisture-wicking, non-stuffy, and allows airflow
Cons
Expensive
Hair might get tangled in the Velcro straps
Price at the time of publication: $31.99
Cap, but make it chic! Shout out to fashionistas out there who like to keep their sportswear in line with their everyday style— here's a popular cap by Puma that guarantees to be comfortable and trendy at the same time! Embossed with the HD logo of the brand on the front and back, the adjustable fit has flexible closure with velcro ensuring a snug fit for all. Ideal for gym enthusiasts, runners, and hikers, amp up your sporty look this season with this classy running cap womens by Puma.
Pros
Universal-size cap
Made of 100% polyester
Easy to fold and convenient to store
Quick-drying with a low-profile design
Mesh is breathable and allows airflow
Sweatbands in the front absorb all the moisture.
The elongated visor minimizes sun glare.
Cons
Expensive
It's not washing machine-compatible.
Price at the time of publication: $16.16
6.
Best Breathable Material:
C.C Ponycap
Here's a cap that your ponytail will love! Given how some caps can be uncomfortable, especially if you like to tie high buns or ponytails, this affordable cap has a customized slot for you all. Also, no more strands getting stuck in the Velcro strap! All you have to do is pull your hair through the gap and go ahead with the hairstyle of your choice. Besides this, the design is lightweight and super-airy too. Wear on and watch your ponytail sway in delight! Click on the video to find more about the C.C. Ponycaps.
Pros
Ideal for man buns too
Made of 40% polyester and 60% cotton
Long and wide visor ensures sun protection
Loop and hook closure allow easy adjustment
Breathable mesh allows constant airflow
Suitable for all seasons and outdoor activities
Cons
Price at the time of publication: $12.99
Are you planning to go hiking, fishing, or camping? Then an ordinary cap won't suffice. You will need one that not only protects your face from the harmful sun rays but also repels rainwater, is sweat-proof, and provides a snug fit. Like this cap, for example, comes with an invisible mesh that ensures to keep the rain, humidity, and sweat in control. And since the fabric is breathable, it increases ventilation to keep you comfortable and light-headed all the time. However, beside all this, the best takeaway has to be the unique 3-panel foldable design that makes it easy to pack and store even in back pockets plus the durability is amazing as well! Need we say more?
Pros
Anti-UV and UPF 40+ tested cap
Blocks 95% harmful UV rays
Quick-drying, flexible, and durable cap
Long and wide visor design to minimize sun glare
Balances optimum temperature to prevent dampness
Adjustable snap with a stretch and Velcro closure
The lotus effect makes sure the rainwater slides off easily.
Cons
The Velcro strap may be a hassle for your hair.
Price at the time of publication: $8.99
Soft, breathable, and quick-drying— this sporty cap is for the athlete in you! Hit the road or treadmill for some intense workouts without worry about sweating or feeling stuffy. This running cap is designed to provide the utmost comfort! Also, it ensures to protect your face from sunburn with anti-UV coating and a long visor. Ideal for those who prefer to go hiking and camping as well, this ultra-comfortable cap will not disappoint. Give it a try!
Pros
Made of 100% polyester
UPF 50+ tested for ultimate sun protection
Guarantees a snug fit and ponytail-compatible
Lightweight and moisture-wicking fabric
Adjustable with a buckle and Velcro closure
The cap has reflective details with strips to improve visibility at night.
Cons
Price at the time of publication: $11.99
For all those who have a thick mane, a highly-ventilated cap is essential to avoid dampness. 2XU Run Cap, other than having vented panels, is made of soft and breathable mesh fabric to offer optimum comfort. So, if you are into intense workouts or looking for a cap that'll keep your head cool and dry during the extreme weather, this running cap is a great choice for you. The best thing about it is the functionality as it comes with a Velcro and strap closure for easy and quick adjustment, even on the go. Don't skip it! Watch the review of the 2XU Run Cap to know everything about the cap.
Pros
Blocks harmful UV rays
Made of 100% nylon and Anti-UV fabric
Ensures a secure fit even on windy days
Lightweight, durable, and moisture-wicking
Ideal for long wear, hiking, camping, workouts, etc.
Cons
Pricey
It's not machine-washable.
Price at the time of publication: $19.95
Believe it or not, but a soft and cozy cap has a different kind of fandom out there. Offering a feel-good experience every time you wear it, this cap by ZZEWINTRAVELER claims to be anti-wrinkling and stuffy too. So, if you are particularly looking for something that feels soft, light, and comfortable on the head, you might as well try this outdoor cap. And, although it feels light on the head, it is designed to block the most harmful rays of the sun. And since the mesh is ultra-soft and breathable, your head stays cool and comfy all the time. Give it a try!
Pros
Made of 100% polyester mesh fabric
Long and wide visor minimizes sun glare
Durable and provide optimum sun protection
Buckle closure with adjustable webbing option
Dries quickly, moisture-wicking, and sweat-proof
Ideal for long wear, casual wear, sports, running, etc.
Cons
May not be ideal for windy weather
Price at the time of publication: $11.99
Functional and fashionable, your sporty look can't be more upscale than this! Made of bamboo viscose, this outdoor cap is not only moisture-wicking but transfers the sweat odor from the hair to the last layer of the running hat for quick evaporation. And given how ultra-light and breathable it is, you'll barely feel any weight on your head on wearing this cap. Highly absorbent and designed with a dynamic moisture management system, it keeps your head cool and fresh even after intense workouts! Yep, moisture-absorbing bamboo hat anyone?
Pros
Guarantees to absorb maximum moisture
Provides optimum sun protection with UPF 30+
Offers a comfortable and snug fit
Flexible, quick-drying, and durable cap
Cons
Expensive
May not be suitable to wear during windy weather
Price at the time of publication: $27.99
Let not the sweat or humidity keep you from going on walks or jogs during summer! Wear this running cap by Under Armour is one of the best women's sports accessories, which is designed with a special sweatband to keep your head cool and dry with its moisture-wicking feature. And did you notice the pre-curved visor? Structured to offer protection from the sun glare, it also looks sleek and stylish if you are into trendy sportswear. And a quick tip— you can use the extended visor to conceal your identity in public too! Now, can your regular hat be this versatile? Tell, we'll wait. Watch the video to know about the benefits of the Under Armour women's sports headgear.
Pros
Unstructured cap with a low-profile design
Adjustable with a loop and hook closure
Lightweight, stretchy, quick-drying, and durable
The mesh fabric guarantees high ventilation.
The anti-UV coating ensures protection from harmful rays.
Cons
Pricey
May not provide a snug fit
Price at the time of publication: $34.0
Lastly, this running cap for women that not only looks cool but keeps you cool and sun-protected too! This is one of the most effective performance hats with a 6-panel design that ensures a snug fit on the head, it also claims to keep the sun and sweat away with its DRI-STAR technology. Also, the long and curved visor promises minimum sun glare! Just what you need to stay dry and sweat-free yet stylish while on the run— upgrade from your regular boring cap to this lightweight crown today.
Pros
Made of 100% polyester fabric
Breathable, super-light, and durable
Adjustable with Velcro straps, loop, and hook closure
Ensure a secure fit all day long
Cons
The visor may be too long for some.
Price at the time of publication: $15.0
There you go! Those were the 13 best women running hats for women to block the sun rays. And if you are wondering how to pick the right running hat or cap for yourself, then you must check out the buying guide below.
Buying Guide – Best Running Hat For Women
How To Choose The Best Running Hat?
Choosing the right running hat is absolutely important if you are into workouts, hiking, or need ultimate protection from the sun. And here are some features you must look out for:
Fitting: Before you choose a hat, measure your head circumference so you are completely sure about the measurement. Though most of the caps have adjustable closures, it is ideal to pick one which is closest to your size, to get that perfect snug fit.
Closure: Women and Velcro don't really get along, considering how easily hair gets stuck in the straps! However, several caps ensure no such experiences, and Velcro, on the other hand, guarantees a perfect fit. Besides this, caps are available with buckle closures too. So, pick the one that best suits your needs!
Sun and Sweat proof: Nobody likes sweating while jogging or running, which is why you must choose a cap made of moisture-wicking fabric. Other than high-absorbing power, your cap should have an anti-UV coating as well, to keep your head from heating up and to block harmful UV rays.
Visor & Underbill: A cap should have a long and wide visor to keep your head, forehead, and nose protected from the sun rays. Also, the darker the underbill the better, so it doesn't reflect the sun glare and reduce visibility during the day.
Ventilation: At no point should the cap feel stuffy, otherwise, it's not a running cap at all. Hence before choosing one, check if it has ventilation panels and slots. This is to make sure that you don't feel stuffy or damp while running, and your head remains cool and dry all the time.
Why Trust StyleCraze?
The author of this article, Shreya Vishwanathan, is a sports lover. She believes that fitness is key to keeping herself healthy in the long run. With that in mind, she tried out different running hats and curated a list with the best fitting, closure, and other factors in mind. These running hats are designed to protect you from sun and sweat and ensure your head is cool and ventilated.
Frequently Asked Questions
Why do runners wear a cap?
Intense activities like running, jogging, or hiking outdoors can expose you to extreme weather conditions and even sun glare. So, to avoid an increase in body heat, sunburn, or excessive sweating, runners prefer to wear a cap during outdoor activities.
Is it bad to wear a hat while running?
No, in fact, a good running hat will keep you cool and protected from the sun while running. So, it is ideal that you wear a hat while running, jogging, etc.
How can I protect my face from the sun while running?
One of the best ways to protect your face other than sunscreen is to wear a good running hat. They not only keep your head and face protected from the sun glare but also maintain optimum temperature to prevent excessive sweating and dampness.
Do hats really protect you from the sun?
Yes, they do! Though sunscreen is indispensable, a running hat is like an extra shield that protects your forehead, eyes, skin, and neck-front with the long visor. It also keeps your head from heating up due to the constant sun glare.
Do black hats heat up quicker?
Many would avoid a black hat because the shade tends to absorb heat faster than white, but on the other hand, it will absorb body heat too thus keeping you cool and dry for longer.
Do hats make you sweat?
A good running hat will not make you sweat. It will in fact prevent sweating because of the ventilated panels on the hat that allow incessant airflow and keep your head cool and dry.
Can I wear a hat instead of sunscreen?
Sunscreen is absolutely necessary if you are going to step out in the sun. A running hat only adds extra protection with the help of the long visor, and will not completely shield you from the sun.
Is it good to wear a hat while working out?
Ideally, you should as it keeps your head from heating up (in case you are outdoors) and prevents sweating with the help of the moisture-wicking feature.
Should you wear a hat when running in cold weather?
The harmful UV rays can penetrate through the clouds during winter too, so to protect your skin and face from the sun, it is preferable to wear a lightweight running hat during outdoor activities.
Recommended Articles