13 Best Running Shoes For Bad Knees That Are Supportive
Run care-free and stress-free with specially designed running shoes for bad knees.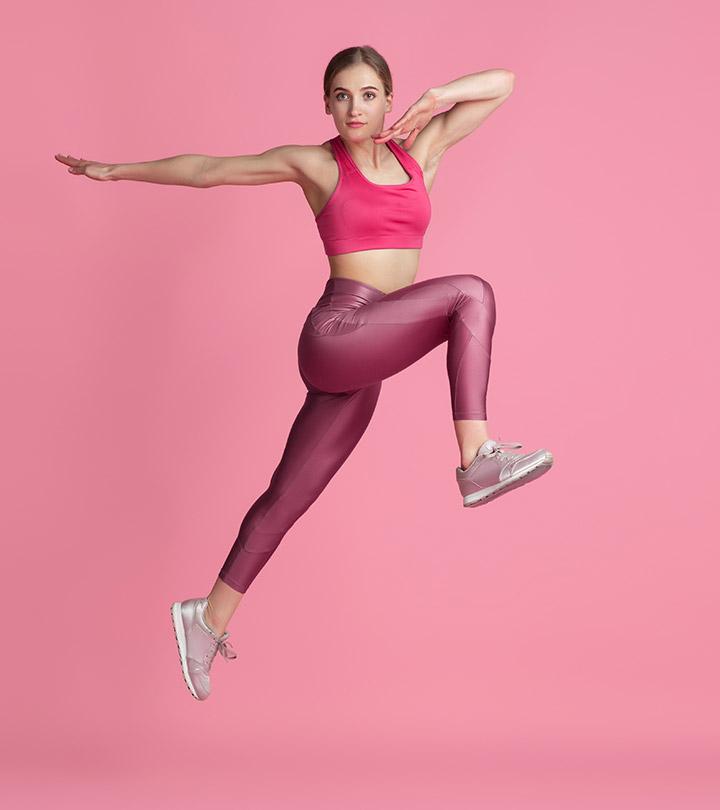 There are multiple factors that can lead to leg pain while running, but a simple way to alleviate this is by investing in the best running shoes for knee pain. These shoes are specially designed to provide support and remove pressure from the knees to the muscles around the area. They are designed for heel shock absorption and provide a cushioning effect that protects your feet from injuries. Plus, these shoes are designed with lightweight materials and have padded rubber insoles and outsoles that provide an extra layer of comfort and flexibility. These running shoes are durable and feature-rich. They have a breathable exterior to provide comfort and a soft lining with a grippy sole to enable proper movement. Here we have compiled a list of some of the most popular running shoes beneficial for bad knees. We have also included features that will help you decide better. So, find yourself the right pair of shoes and enjoy your favorite sport of running carefree.
13 Best Running Shoes For Bad Knees That Extend Comfort
The Brooks Adrenaline running shoes for knee pain use GuideRails to keep your knees in check during intense movement. For every single footfall, you can rely on the DNA LOFT Crash Pad cushions that team up with BioMoGo DNA to adapt to your strides. A secure fit is offered by the mesh upper body that also aids in foot breathability to keep you cool and dry. The streamlined design has a 3D Fit Print for necessary structure without any added bulk which can be restrictive. With the reliable rubber outsole, you can gain maximum traction on any surface.
Pros
Available in 27 colors
Soft cushioning
Adapts to movement
Breathable uppers
Lightweight
Grippy rubber outsole
Cons
Some may find the toe box to be narrow
Price at the time of publication: $91
Gravity Defyer's best running shoes for arthritic knees use the unique VersoShockPatented Technology for pain relief in your joints. With the roomy toe box and good forefoot cushioning, you can ensure a constant blood flow in the forefoot while the Front Rolling Design reduces stress in the forefoot. For flexibility and airflow, you have mesh uppers and an EVA sole that absorbs impact during your runs. You can avail a pair of free orthotics with this purchase that have a lightweight PU core for cushioning. The antimicrobial-treated cover keeps bacteria away while the perforated finish is a must for breathability.
Pros
Available in 7 colors
Aids pain relief
Keeps blood and airflow constant
Reduces stress
Improves joint support
Extra impact protection
Antimicrobial insole lining
Toe box roominess
Cons
Some might find them to be bulky
Price at the time of publication: $145
Saucony offers the best cushioned running shoes for bad knees that are both lightweight and affordable. The mesh upper extends comfort even if you happen to be on your feet for long hours and most people can enjoy its benefits without a break-in period. With reflective elements, low-light running is possible and also enjoyable, which adds to the stylish look of the shoe. With 14 color options available, you can pick your favorite for your next marathon.
Pros
Reflective elements
Breathable
Available in 14 colors
Lightweight
Flexible
Cons
Some may find the outsole to not provide much traction on wet surfaces
Price at the time of publication: $46.95
Orthofeet's running shoes for knee support feature a soft non-binding upper body and a seamless interior to alleviate aches. On the inside, the foam is gentle on the feet and eliminates pressure points for maximum comfort. The insoles have an anatomical arch support, helping with alignment. They also have a contoured heel seat and multilayer cushioning to reduce fatigue in your legs. To wick away perspiration and keep you dry, the DryPlex anti-odor fabric combines with PolyU foam to ward off odor.
Pros
Breathable
Anti-odor
Moisture-wicking
High-arch support
Available in 5 colors
Multilayer cushioning
Helps with foot alignment
Cons
Price at the time of publication: $134.95
One of ASICS' best running shoes for knee and back pain, you can fulfil your foot's biomechanical needs with this knee-friendly footwear. They are expertly engineered with a jacquard mesh exterior that has more room between each fiber to enhance breathability and reduce weight. An External Heel Counter is used to hold your heel securely while providing stability with the Gender-Specific Trusstic System. In the outsole, Gel Technology is present in a deformable shape to evenly absorb and disperse shock during landing. Softer and extra FLYTEFOAM gives great bedding and plenty of cushioning to your feet, so you feel like you're walking on clouds!
Pros
Available in 15 colors
Stability shoe with mesh uppers
Lightweight and breathable
Keeps heels secure and stable
Absorbs and disperses shock evenly throughout
Soft foam cushioning
Cons
Price at the time of publication: $67.87
New Balance brings to you one of the best running shoes for bad knees made of 75% leather and 25% mesh. With a streetwear-inspired design, this pair looks extremely stylish paired with any outfit. Flexible overlays added in strategic places makes these shoes lightweight to wear. Walking Strike Path Technology stabilizes and guides your feet with extra support for your gait. With a padded tongue and foam collar, you can stay extremely comfortable on your runs.
Pros
Available in 7 colors
Lightweight and flexible sole
Ultra-soft cushioning
Adds support and stability
Padded tongue
Foam collar
Cons
Some might find the arch support to be insufficient
Price at the time of publication: $27.99
Nike's shoes for runner's knees have perforations on the upper body that help with breathability. For a smooth and responsive ride the full-length Zoom Air unit comes into play along with a slimmer design that conforms to your foot shape. In the midfoot, Exposed Flywire cables give you a snug fit when you're running at high speed. The Cushion ST Foam combines with a high-resiliency sockliner for padding and support. On the outsole, waffle pistons absorb impact with multi-surface traction. With reduced tongue weight and a heel collar that tapers away from your Achilles tendon you can move with ease. They also promote impact reduction.
Pros
Available in 26 colors
Perforations for breathability
Conforms to foot shape
Foam cushion and sockliner for padding
Multi-surface traction outsole
Reduced tongue weight
Cons
Some might find the heel to be bulky
Price at the time of publication: $68.84
Mizuno brings to you the best running shoe for knee pain with a dual compound midsole. Using U4ic and U4icX technologies, you can enjoy greater responsiveness. With the Mizuno Wave Cushioning Technology your feet can rest softly in comfort. The breathable and lightweight mesh upper body controls temperatures to keep you cool and dry during your performance.
Pros
Available in 6 colors
Soft cushioning
Breathable
Lightweight
Temperature-controlling
Shock-absorbing
Cons
Might have a narrow toe box
Price at the time of publication: $85.32
With HOKA ONE ONE's best shoes for knee pain, running can be comfortable as they have a thick sole with rubber inserts for traction. The well-engineered textile mesh exterior combines with seamless synthetic overlays to give you a breathable and stylish-looking shoe. A cloth-lined and foam padded insole extends both support and cushioning and the low-profile construction helps with ankle mobility. So, that your feet can rest in an abrasion-free environment, the inner lining is kind to your skin.
Pros
Available in 6 colors
Sole with rubber inserts
Breathable
Soft lining
Improves ankle stability
Helps ankle mobility
Anti-abrasion
Cons
Some might find the toe area to be too big
Price at the time of publication: $189
Under Armour's best shoes for runner's knee have an ultra-light mesh upper body featuring 3-color digital prints for full breathability. The durable leather overlays keep you stable and help lock in the midfoot. For a soft and step-in comfort, an EVA sockliner comes into play. The Charged Cushioning midsole makes use of compression-molded foam that gives you responsiveness. With the durable rubber outsole you can cover high-impact zones with lesser weight.
Pros
Available in 13 colors
Breathable
Aids stability
Soft sockliner
Improved midsole technology
Rubber outsole for traction
Made with lightweight materials
Cons
Some might find it to lack needed arch support
Price at the time of publication: $70
Adidas's running shoes for runner's knee are lightweight with a breathable feeling. These Adidas running shoes for bad knees are engineered with a mesh upper body combined with a padded heel and collar for optimum comfort during your runs. A TPU rubber outsole with multi-depth flex grooves is present to give you good traction on any surface. With the bounce and energized cushioning midsole you feel like you're running on clouds.
Pros
Available in 4 colors
Lightweight
Breathable
Padded heel and collar
Good traction
Soft inner lining
Cons
Might need a long time to break into
Price at the time of publication: $51.4
ALTRA offers good running shoes for bad knees and uses FootShape to allow your feet to remain in their natural state. The Balanced Cushioning platform keeps the heel and forefoot at an equal distance from the floor for better alignment and form, which also helps with low-impact landing. This brand's Altra EGO foam gives energy return with a soft and responsive feeling. Mapping the bones and tendons of your feet for natural underfoot movement the FootPod outsole technology proves useful. Additionally, the StabiliPod enhances 3 stability zones in your feet to eliminate pronation or foot collapse.
Pros
Roomy toe box
Aids foot alignment and form
Helps with low-impact landing
Improves pronation control
Soft foam cushioning
Enhances stability zones
Keeps gait and movement natural
Cons
Some may find the tongue to be stiff
Price at the time of publication: $86.15
With Reebok's running shoes, knee pain will be a thing of the past as they have a supportive heel cradle contoured to reduce irritation. The Floatride Foam technology gives both lightweight and soft bedding for a responsive feeling. With the help of the stabilizing EVA foam your feet are centered throughout the gait cycle. The upper mesh extends constant airflow while the rubber outsole secures your footing for long-distance running.
Pros
Available in 6 colors
Breathable
Anti-slip design
Lightweight
Soft foam cushioning
Grippy outsole
Reduces heel irritation
Cons
Some may find the top material to bunch up
Price at the time of publication: $119.99
Now that we've looked at the best running shoes for knee problems, it's time to learn how you can pick out the best pair for yourself.
How To Choose The Right Running Shoes For Bad Knees
To best protect your feet when running you need footwear that absorbs the shock from your feet landing on the ground. This is helpful with an ample amount of cushioning that also provides support to reduce stress on your feet and eliminate fatigue. Memory foam padding with soft sock liners can help feel soft under and around your feet for maximum comfort.
Thick rubber outsoles with grip inserts are ideal for you to remain stable during your runs. This helps with traction no matter what kind of terrain you're performing on. Good outsoles also protect your heels and absorb impact.
One thing to look out for is a shoe that has a wide toe box, so that you can easily flex and stretch your toes without any constriction as this can reduce blood flow. Doctors recommend footwear that requires no break-in period as this guarantees instant comfort without any blisters. Additionally, the shoe should fit just right without being too loose or too tight as there are dangers of slippage mid-performance.
High-quality materials play a key role in extending the lifespan of your footwear. You also need to look out for breathable materials such as mesh or perforated uppers for proper ventilation. Soft inner linings that are made of antimicrobial fabric can help eliminate odor-causing bacteria while also wicking away sweat.
Why Trust StyleCraze?
The author, Priyam Gupta, is a fashion enthusiast who experiments with different styles. She went through numerous reviews and feedback available on multiple forums and websites to curate a list of the best running shoes for bad knees. These running shoes provide a cushioning effect, remove pressure from the knees, and protect your feet from injuries.
Frequently Asked Questions
Why do I have knee pain when I run?
You may be facing knee pain because the lining or soft tissues present in your knees can be irritated. This could also be due to cartilage that is worn and torn or even tendons that have been strained. If you have a history of knee pain, consult your doctor regularly.
Does overpronation cause knee pain?
Yes, if you have excessive foot pronation which leads to inner leg rotation, this can cause inflammation around the kneecaps.
How can I run with bad knees?
It is advised to perform low-impact activities if you feel like you are losing cartilage in your knees. This is because intense exercise such as running can weaken knees further. You must discuss this matter with your doctor and proceed with runs only if they give you the green signal.
Can running shoes affect your knees?
Yes, well-engineered running shoes provide ample support, cushioning, and padding which can help with foot alignment, arch support, and pain reduction. On the flipside, ill-fitting, or non-supportive shoes can lead to injuries.
Is running on a treadmill bad for knees?
If you have weak knees or are losing cartilage, any kind of high-intensity activity must be brought to the notice of your doctor.
Recommended Articles