6 Best Running Shoes For Treadmills To Avoid Injuries – 2023
These footwears help you get your position right while running on the ever-moving plates.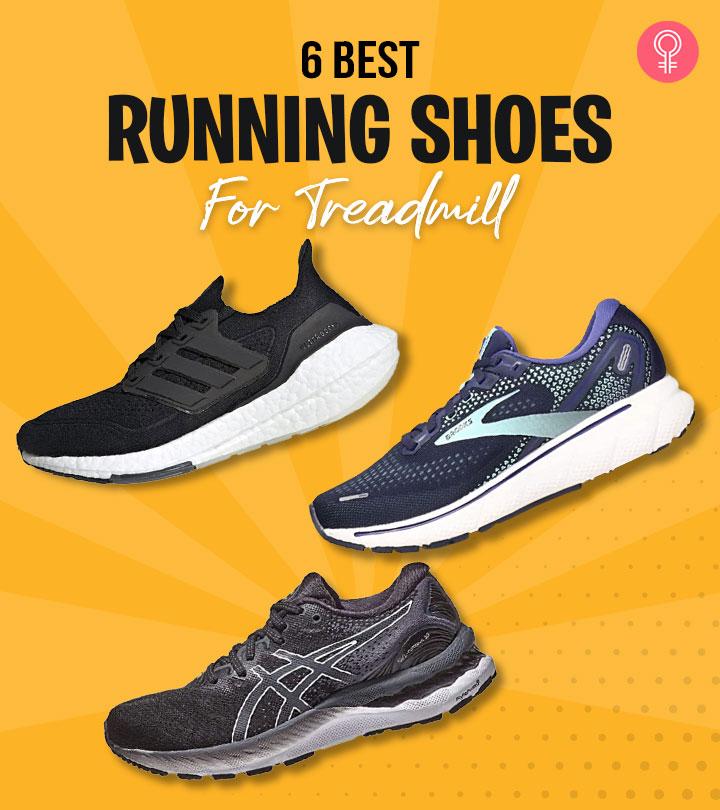 Spending an hour at the treadmill can be highly effective in keeping health ailments and extra calories at bay. But if you're not using the best running shoes for treadmill sessions, an enormous amount of pressure can be created on your feet. Using the treadmill running shoes, which are equipped with features that help protect your feet, is a good idea. In fact, these shoes also offer great flexibility and arch, which again enables you to keep working out without causing any hurt to your feet.
We've compiled a list of some of the best running shoes that you can use on your treadmills. Read on to see our curated list, some important considerations before buying these shoes, and reasons why women's running shoes are different.
Why Are Running Shoes For Women Different?
The design and features of running shoes are different for men and women. Women's running shoes are designed to accommodate smaller, narrow feet, wide hips, and less muscle mass density. As a result, women's running shoes are lighter, have thinner midsoles, and provide proper arch support.
Our list of the best running shoes for a treadmill covers all these features to ensure a safe and comfortable workout session. Read the reviews below.
6 Best Running Shoes For Treadmill – 2023 Update
Pros
Breathable
Good shock absorption
Lightweight
High-elasticity
Lace-up design
Multi-purpose wear
Cons
Price at the time of publication: $99.95
The Ultraboost 21 Running Shoes from Adidas are made with 100% textile synthetics that are extremely breathable. These shoes are built for maximum comfort and energy-return for all types of runs. Their sock build effectively hugs your foot to adapt to all its curves. Moreover, the precision-cut and seamless zones of the shoes are ideal for increased strength and performance. In addition, their new LEP torsion system enhances forefoot bending stiffness by 15%, resulting in a more active run. The shoes also have capsules that give you an extra 6% bounce.
The heels of these Adidas shoes are S-curved to increase ground coverage and avoid slippage. The classic Adidas prime-knit upper is extremely breathable for long wear. The outsole is constructed out of continental rubber for superior traction and grip. It also provides excellent ankle support. The stretchable uppers of these shoes are constructed with 50% textile and 75% prime blue yarn textile. Finally, these shoes are eco-friendly as they are made with Prime blue, a high-performance recycled material that is extracted from parley ocean plastic. You may check more about this productin this video.
Specifications
Material: Textile Synthetic upper and rubber sole
Color: Black/Black/Gray
Pros
Breathable
Sock fit
Lace-up closure
Good shock absorption
High-elasticity
Lightweight
Upper extends with every step
Virgin polyester-free
Cons
Price at the time of publication: $92.46
The Brooks Ghost 14 Women's Neutral Running Shoes come with a cushioned midsole construction that provides seamless transition from heel to toe. The upper is constructed with a fine 3D fit print technology that is engineered to hug every curve of your feet. The cushioning at the bottom of the shoes provides a bounce and energy-packed step every time. Its unique BioMoGo and DNA cushioning offer the appropriate softness underfoot with durability. The breathable upper is constructed with mesh for ventilation and a dry, comfortable feeling all day long.
Moreover, the DNA Loft streamlined cushioning technology in the midsole section of the shoes also makes them smoother for women. Their first-in-class segmented crash pad comes with shock absorbers that give your feet cushioning during landing. This also facilitates the smooth heel-to-toe transition. Finally, these are certified PDAC A5500 diabetic shoes and have been presented with the APMA seal of acceptance. Check out this video to learn more.
Specifications
Material: Mesh upper and rubber sole
Color: Peacoat/Yucca/Navy
Pros
Breathable
Lace-up design
Carbon neutral
High-elasticity
Lightweight
Durable
Multi-purpose wear
Cons
Price at the time of publication: $99.95
The Women's Fitness Shoes by Nike are the perfect addition to your sportswear closet. The shoes are made of soft material under the heels to efficiently absorb shocks and are equipped with back gel technology cushioning. The small foam beads in two pods under the heel and the midfoot effectively mold themselves to the shape of your feet to provide you with squishy comfort. The rubber outsole of the shoes provides excellent traction even in wet conditions. Their ankle arch is well padded for additional comfort.
The springy midsole is another advantage of these shoes. Their engineered mesh top is sewn in multi-directional patterns to provide good ventilation for all-day wear. In addition, the shoes have a mid-foot strap that hugs your feet from beneath to promote flexibility.
Specifications
Material: Mesh upper and rubber sole
Color: Black/White
Pros
Lace-up design
Breathable
Lightweight
Medium ankle support
Durable
Cons
None
Price at the time of publication: $37.94
The Saucony Women's Endorphin Speed Shoes are designed with composite nylon plates that are more flexible than carbon fiber. It effectively increases your speed and stride. These colorful printed shoes have a mesh upper that is extremely breathable and keeps your feet dry and comfortable. In addition, their unique and super-light PeBax-based PWRRUN PB cushioning provides excellent support to your feet, helping you perform better.
Moreover, the cushioned outsole of the shoes springs back with every step to provide you with the necessary bounce and protects your feet from fatigue. These shoes are designed to be super lightweight and comfortable on your feet even for an entire day's wear. The soft material under the heels efficiently absorbs shocks. Finally, the first-in-class XT-900 outsole has reinforced high-abrasion zones for maximum grip and durability.
Specifications
Material: Mesh upper and rubber sole
Color: Black/Multi
Pros
Lace-up design
Lightweight
Multi-purpose wear
Cons
Price at the time of publication: $129
The Women's Gel-Kayano 28 Running Shoes by Asics are truly all-in-one shoes. They are designed for comfort and performance. The external heel counters of these shoes are designed to help stabilize the feet by giving them more ground coverage for a comfortable stride. The use of the duo max support system reduces the weight of the body, thus increasing the stability and the platform support. The shoes also feature a rearfoot and forefoot gel technology cushioning system targeted to comfort specific parts of the feet.
Another benefit of these shoes is the bouncy midsole, which is designed for a secure cushion under your foot. Their engineered mesh upper is sown in multi-directional methods to effectively enhance ventilation. The shoes also come with a mid-foot panel that hugs your feet from beneath to improve flexibility.
Specifications
Material: Synthetic and mesh
Color: French Blue/Thunder Blue
Pros
Breathable
Gender-specific design
Extra midsole padding
Good shock absorption
Wider ground coverage
Lightweight
Cons
Price at the time of publication: $88
Picking the right running shoes for treadmill exercises is crucial for your feet and overall well-being. There are multiple factors to consider before you buy a pair of running shoes. We have listed them below.
How To Choose The Best Running Shoes For Treadmill? – A Buying Guide
Lightweight running shoes ensure proper flexibility during intense workout sessions. This also means that you do not have to exert a lot of force to move your feet, hence conserving energy for the movements and exercises. All the shoes mentioned in our list are extremely lightweight and, therefore, can offer you maximum comfort.
You must select a shoe that fits your feet properly. Make sure your running shoes offer good arch support and are curved in strategic areas to mold to your skin. For this specific reason, running shoes that provide a sock-fit are preferred.
Shoes with targeted cushioning under the heels and forefoot provide better shock protection and absorption as compared to other shoes. It is always advisable to choose shoes with cushioned outsoles to ensure superior shock absorption.
A feature that is usually looked over is the arch support in a shoe. Opting for shoes without proper arch support can lead to foot pain in the long run.
Breathability and comfort are imperative while choosing a shoe. We intend to stay in our sports shoes for at least a couple of hours. Therefore, it is necessary to choose a material that will not make your feet sweaty. Shoes with a breathable mesh upper that promotes ventilation are the way to go.
Why Trust StyleCraze?
The author of this article, Aditi Naskar, has a diploma in health and wellness. Her interest and zeal for fitness motivate her to conduct a thorough investigation on some of the top running shoes for treadmills available on the market. This list of the best running shoes is affordable and offers great flexibility that allows one to run on the treadmill without injuring themselves.
Frequently Asked Questions
Do running shoes work on the treadmill?
Yes, running shoes enable you to run longer on the treadmill, providing your feet with ample support and comfort.
Is it okay to walk on a treadmill with Converse?
No. Converse shoes do not provide good arch support to the feet, making them unsuitable for treadmill walking.
Is it OK to use a treadmill barefoot?
No. Using a treadmill barefoot might increase the risk of bruises and burns at the bottom of your feet due to increased friction. Therefore, it is advisable to use good running shoes to perform exercises on a treadmill.
How long do running shoes last on a treadmill?
Good-quality running shoes will last about 600-800kms on a treadmill.
Can I use flip-flops on the treadmill?
No. Flip-flops will not provide comfort or balance while running on a treadmill and might make you fall due to improper support.