9 Best Running Shorts For Women Available In India From a pro athlete to a casual runner, everyone knows the pain of wearing sweaty tights on a hot summer morning. Finding the perfect pair of running shorts that do not roll up or slip down as you run is quite a task! Be it a short jog or a long lap across the beach, the ideal running shorts should be breathable, restrictive, and most importantly, allow you to be sweat-free.
To help you find the perfect pair of pants, we have rounded up a list of the 9 best running shorts for women available in India. Scroll down to find the one for yourself!
9 Best Running Shorts For Women In India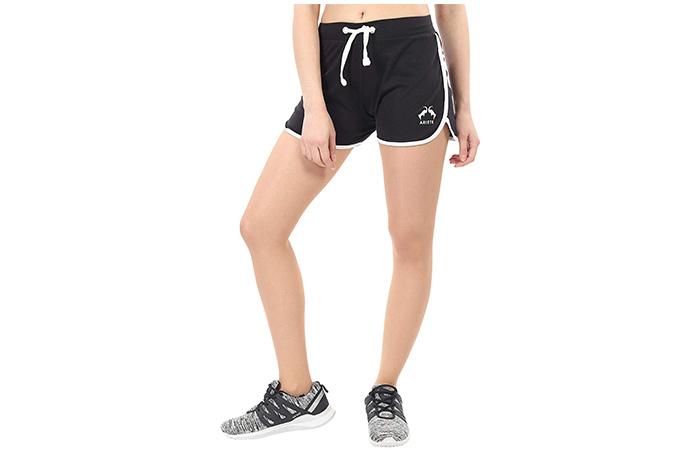 These super soft and versatile running shorts by Ariete are ideal for gym workouts, running, and training. The side slits ensure comfortable wear and do not pull on while running. The shorts are available in a wide range of colors like black, red, white, pink, yellow, gray, and more! These affordable and chic running shorts are super breathable and have wider armholes for optimal comfort and elegance. The added plus waist string provides a snug and comfortable fit while running.
Pros
Soft fabric
Value for money
Stretches well
Premium finish
Cons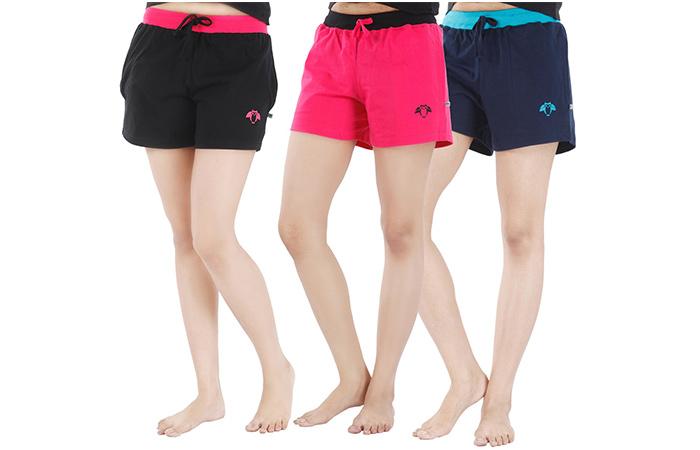 This value-added pack of 3 running shorts by NITE FLITEhas medium length and comes in 3 different colors. It has a loosely fitted finish and is made with 100% cotton derived from certified premium yarn. The drawstrings provide a comfortable fit, while the side pockets offer convenient storage. These shorts can be used while running and training or as sleepwear. The classy finish and soft-to-touch shorts have a bold texture and come in a wide variety of designs and prints to choose from.
Pros
Perfect Stitching
Soft to touch
Superior comfort
Stretches well
Breathable fabric
Cons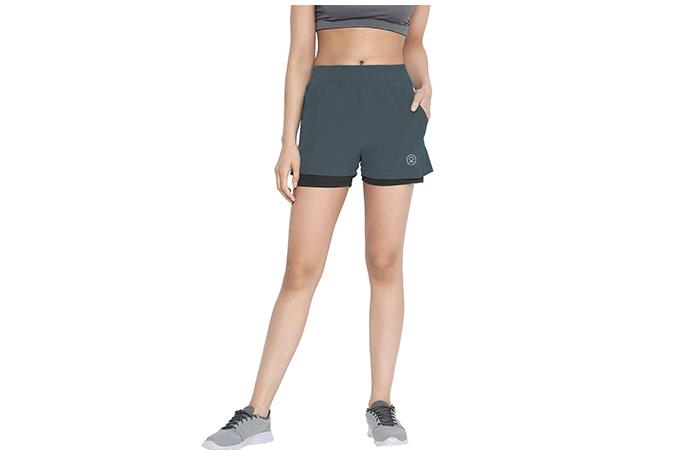 The Running Shorts by CHKOKKO is designed with a 2-in-1 layered material that offersa premium finish and touch. It is made with 95% quality polyester and 5% elastane for smooth and stretchable wear. These workout shorts are super breathable and are ideal foroutdoor and indoor workouts. The inner compression layer prevents unwanted friction, and the loose outer layer provides optimal comfort. The inner shorts have a secured pocket for your mobile phone, allowing you to run without worries. They come in a wide range of colors to choose from, one for each day of the week!
Pros
Perfect fitting
Good-quality
Vibrant colors
No resistance while walking
Long-lasting
Stylish design
Cons
Smaller than standard size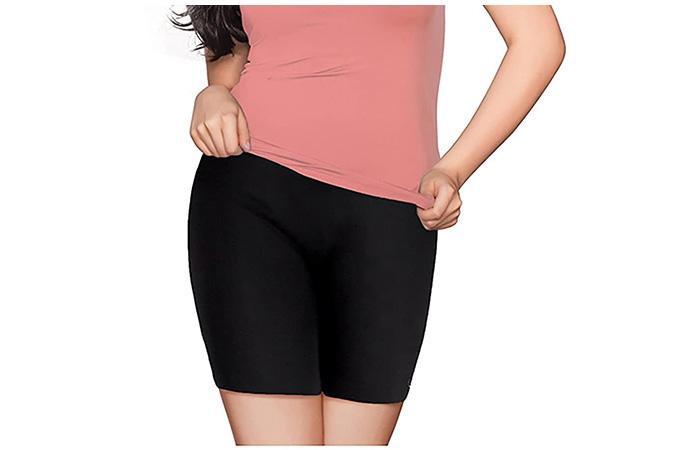 These tight-fit running shorts by Enamor come in four standard color options – beige, black, white, and grey. They are made of high-quality woven cotton material that is breathable and super soft. These shorts accentuate your curves and offer you a stretchable and comfortable fit during the workout sessions. The solid colors make it ideal for wearing beneath any T-shirt design for a photo-ready finish.
Pros
Super soft
Comfortable to wear
Thigh-level coverage
Snug fit
Good-quality elastic
Decent fabric
Cons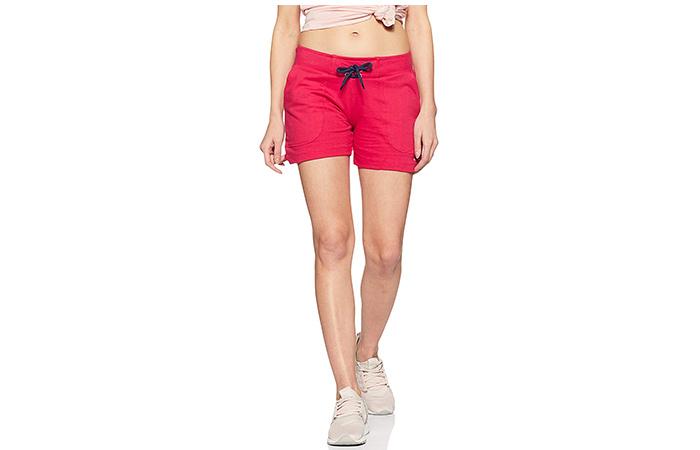 The lovely pair of shorts from Fruit Of The Loom made with 100% French terry cotton is a must-buy. It is available in 5 spot-on shades that include medieval blue, grey melange, love potion, charcoal melange, and black beauty. The quality shorts are equipped with dual pockets for added utility and are designed to provide a comfortable fit. The waistband is surrounded by ribbed fabric and a fashionable drawstring for a trendy finish and easy securing. The moisture-wicking fabric dries quickly and absorbs sweat easily.
Pros
Perfect fit
Good-quality material
Comfortable fitting
Stretches very well
Value for money
Cons
You never have to worry about your phone jumping out of the pocket while running if you have these unique pair of shorts by TRUEVERO. These have a phone pocket on the inner side that is accessible through an outer opening. They also have a zipper pocket on the back that allows you to store your keys, money, or cards. The quality material of these shorts is anti-stink, antibacterial, and super stretchy for optimal performance. Late evening or night runs are safer with these shorts due to the reflective detailing. These inner tight-fit pants provide comfort against friction, and the super stretchable outer fabric is lightweight. It comes in 6 gorgeous colors, which include white, navy, black, yellow, red, and graphite.
Pros
Super comfortable to wear
Good stretch quality
Chic prints
Anti-stink
Antibacterial
Lightweight
Cons
Bigger than the standard size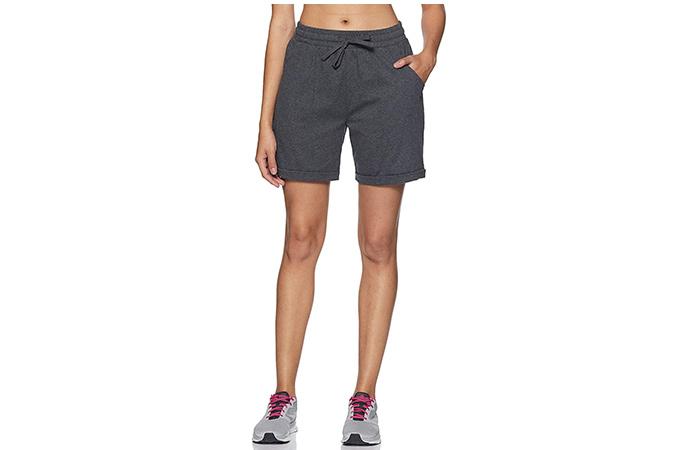 These running shorts from the reputed sports brand Jockey provide comfort and elegance. These are made of 80% high-quality cotton and 20% polyester for extended durability. The shorts are equipped with an easy-to-wear waistband and drawstrings for a snug fit while running. The convenient pockets provide easy storage for your phones and other belongings for a care-free run. They offer a relaxed and seamless fit for all-day comfort.
Pros
Comfortable loose fitting
Super soft
Long fitting
Convenient storage pockets
Added durability
Cons
Color fades after a while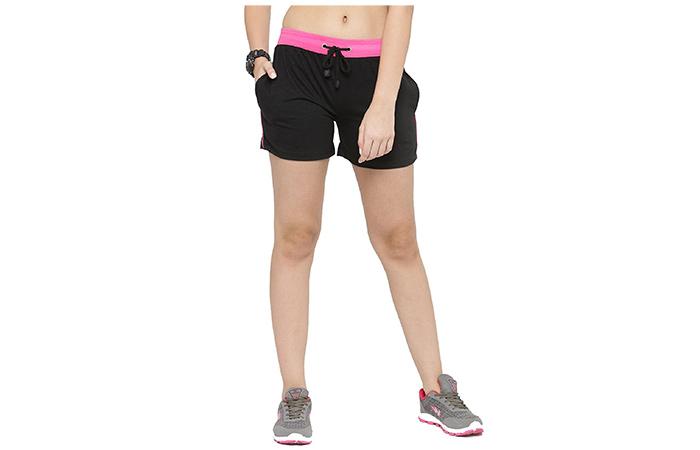 These super affordable yet premium shorts by UZARUSare made with 100% superior-quality cotton fabric. They can be styled with almost any top and provide an excellent fit that is super comfortable all day long. The fabric is very soft and does not cause any friction or irritation to your skin while running. The shorts come in 4 colors to choose from – sea green, black, grey, and charcoal grey.
Pros
Value for money
Soft to touch
All-day comfort
Super stretchable
Cons
None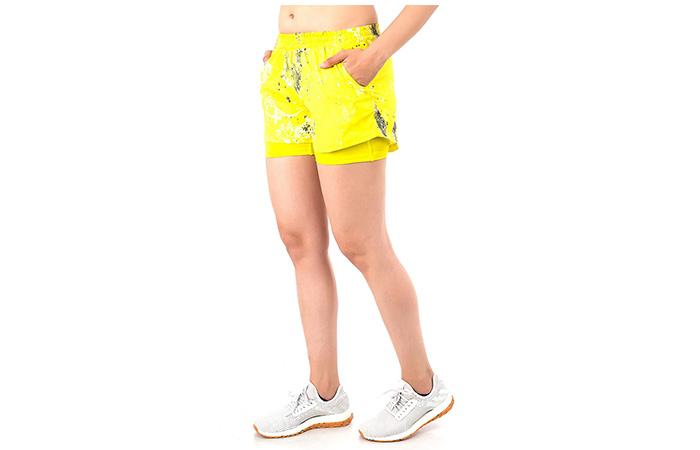 Indulge in some intense workout sessions any time of the day with this chic pair of running shorts by Revo. These shorts stretch well and have a super comfortable 2-in-1 layer finish for added comfort. The material has a reflective mechanism that makes runs in the dark much safer. The fabric has printed designs for a modern look and is available in 4 different colors to choose from – red, yellow, navy blue, and black. The shorts have a pocket for storing phones in the inner side that can be accessed by an outer opening. The pants are also equipped with a secured zipper pocket in the back to store your valuables, keys, or money. The fabric is antibacterial and extremely lightweight, making it an ideal choice for long-distance runs.
Pros
Aesthetically pleasing
Comfortable for daily wear
Value for money
Antibacterial
Lightweight
Secure zipper pockets
Reflective mechanism
Cons
These are the top 9 running shorts available online. But before you pick one, go through the following buying guide – consider the factors mentioned for an effective purchase.
 How To Choose The Best Running Shorts For Women
 3-InchShorts: These shorts provide thigh-up coverage and are the ideal options for those blazing hot summer days. They are super lightweight, provide enough ventilation, and are the most preferred short lengths by professional runners.
 5-InchShorts: This short length is well-balanced and is ideal for outdoor training, workouts, or a simple jog. They cover up to the mid-thigh area and are super comfy to wear.
 7-InchShorts: The 7-inch shorts cover right up to your knees. If you are someone who loves to run outdoors, like in parks, the woods, or the lakeside, these shorts are the ideal choices. They protect you from shrubs, insects, debris, and are great companions for long-distance runs.
Choosing a pair of shorts with an inner lining is a must. Wearing an undergarment under your shorts while going on a long run can cause friction and painful chafing. The build-up of sweat, along with constant rubbing, will wear you down faster too. Shorts with an inner lining keep you ventilated, fresh, and reduce any compression.
If you carry your phone, wallet, or iPod during your running sessions, choose a pair of shorts with a zip closure pocket to avoid losing your belongings on the way.
If you prefer challenging yourself by running over uneven surfaces or stairs, choose a pair of shorts with side slits. These split shorts allow better motion and better blood circulation and don't give a tight feeling during your run.
Your activewear needs to have comfortable material to offer a perfect fit. Following are a few popular choices and their features:
 Nylon: Nylon is sweat-wicking and super-stretchy. It moves along with you as you run.
 Polyester: Polyester is a plastic-based fabric that is breathable, lightweight, non-absorbent, and durable. It also repels UV rays.
 Spandex: Spandex is super flexible and stretchy. This synthetic material retains its shape efficiently while providing a comfortable movement.
 Polypropylene: Polypropylene is the most preferred material as it does not absorb moisture and remains dry to touch no matter how sweaty you get.
It is important to invest in running shorts that are breathable and wick sweat. Choosing the suitable material that minimizes chafing and gives you maximum comfort is an added plus. Think wisely and choose your pick from our list of the 13 best running shorts for women. It is time you started acing your workout sessions in style!

Recommended Articles
The following two tabs change content below.