The 12 Best Running Skorts For Women To Sprint With Style
Neither shorts nor skirts, it is time to add skorts to your daily workout wardrobe.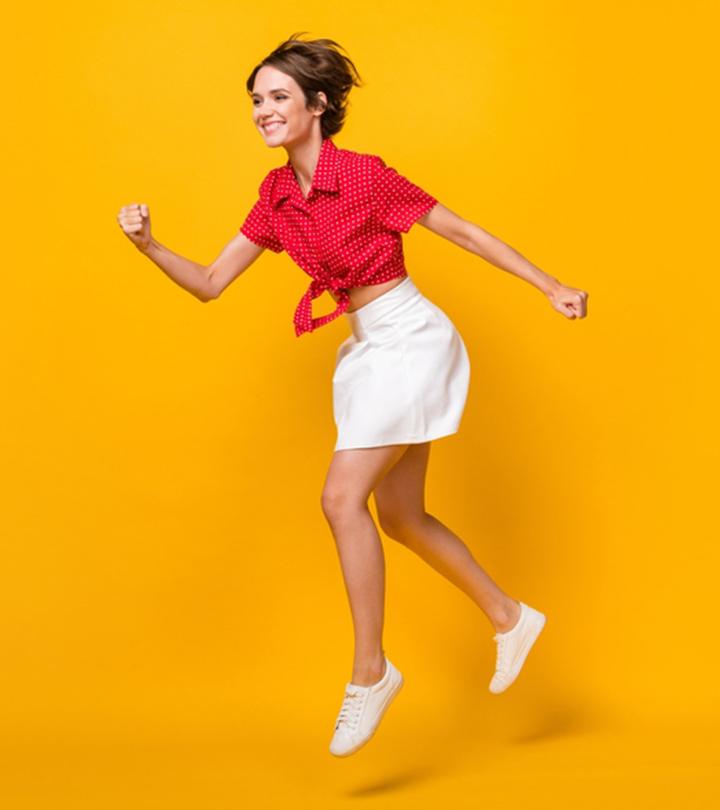 An hour of running is almost similar to an hour of workout session at the gym. Be it a part of a regular fitness regimen or a leisurely activity, the best running skorts for women are essential to enjoy the experience. So, add one to your clothing collecting and ensure comfort for the entire year. Leggings are not ideal for the summer season as they can make you sweaty and overheated during the hotter days. But skorts ensure that your skin can breathe properly and allow you to enjoy your running sessions without any worries.
A good skort offers you the freedom of shorts and the gorgeous flowiness of a skirt. This versatile clothing item is perfect for various physical activities including, yoga, Pilates, running, high-intensity training, or hiking. The best part about skorts is that they keep you from sweating and therefore, keep you focused on your fitness regimen. They feature functional pockets, allowing the athlete to carry her essentials. So, if you want to try a skort for your next gym session, our list has got you covered. Scroll down to choose from a wide variety of colors and designs.
The 12 Best Running Skorts To Make Every Stride Comfortable
These women's running skorts from BALEAF are composed of polyester and spandex to ensure optimum stretchability, which is a basic need for any workout attire. They also feature an inner mesh lining that endeavors to keep you cool throughout runs and enhance overall breathability. The unique Moisture Transport System works to wick away sweat, while the double-layered, triangle-shaped gusset crotch widens your range of motion. Connecting the outer skirt and inner shorts, the wide elasticated waistband is supplemented with an internal drawstring, so you can adjust the fit. With reflective details to remain alert in low-light conditions, you'll be safe during early morning or late night runs. More than anything else, though, athletes love this pair for the sizeable mesh pockets that stash everything from phone and cash to house keys and earbuds.
Pros
Available in 13 colors
Inner mesh lining
Gusseted crotch
Wicks away moisture
Breathable fabric
2 side stash pockets
Cons
The shorts might ride up periodically.
Price at the time of publication: $27.99
These women's running skorts from Jack Smith are lightweight, breathable, moisture-wicking, and quick-drying — everything you need to run without a bother. Made of 90% polyester and 10% spandex, the pair comes with 2 layers added for security so you can perform any exercise in comfort. The skorts are odor-resistant, ensuring you stay fresh and confident throughout your workout. They also feature enhanced circulation properties, promoting better blood flow during your activities. The zippered pockets on the front will help you stay hands-free, while the pockets on the shorts are ideal for stowing away stuff that's more valuable. Hidden away in the waistband is a mini-compartment perfect for little things like keys or cards.
Pros
Available in 7 colors
Ultra-lightweight
Soft and breathable
Moisture-wicking
Dries quickly
Multiple pockets
Cons
The color might be slightly lighter than expected.
Price at the time of publication: $29.99
This crowd-favorite pair of women's running skort features a pleated hem at the rear that looks wonderfully flattering and fashionable. There are 3 pockets sewn in, 1 of which is deep enough to store tennis balls and another hidden in the waistband to keep your valuables secure. The inner shorts are great at providing coverage, and since they are crafted with polyester and spandex, keeping sweat at bay. With a wide elastic waistband, the skorts will help you perform at your best while offering tummy compression.
Pros
Available in 21 colors
Flowy, pleated hems
Comes with 3 pockets
Moisture-wicking fabric
Tummy-controlling
Increases range of motion
Cons
Price at the time of publication: $26.99
Featuring 92% polyester and 8% spandex, these skorts sit pretty and high-waisted with 2 split pleats on the front and back. The waistband has an inner drawcord, which ensures that the skirt remains secure with no slippage. If you happen to play tennis or golf, you can take advantage of the upside-down pocket to store your balls. Opaque with another deep side pocket, this pair offers versatility and flexibility, making it suitable to wear both on and off the court.
Pros
High-waisted
Adjustable drawcord
Deep side pockets
Non-see-through
Lightweight fabric
Moisture-wicking
Cons
Price at the time of publication: $15.99
RBX's skort for running is a durable blend of polyester and spandex that gives you all the freedom you need to move around. The inner shorts provide you with optimum coverage and offer zippered pockets on the side for easy storage. With a flat-front elastic waistband, you can customize the fit so that the skirt doesn't slide down while you are walking, running, or working out. As the fabric is stretch knit, it remains lightweight and keeps you unencumbered.
Pros
Available in 5 color options
Has sizeable pockets
Flat-front waistband
Super-soft and lightweight
Moisture-wicking fabric
Breathable materials
Cons
Might be slightly short for some
Price at the time of publication: $39.49
Wearing HDLUSIA's running skorts with shorts, you can accomplish every goal from full-fledged marathons to light jogs around the block with total ease. The double-layered design keeps your confidence up and the smooth, lightweight fabric clings to the skin for a snug fit. The polyester and spandex fabrics have been blended with a UV-protection coating to protect your legs from the blistering heat, making them weather-resistant, sweat-resistant, and ideal for outdoor activities. The 4-way stretch ensures easy movement, while absorbing sweat and aiding breathability, keeping you comfortable in various weather conditions. These anti-pill shorts are a must-have for every active woman.
Pros
Breathable fabric
Smooth texture
UV-protection coating
4-way stretch
Anti-pill design
Available in 5 colors
Cons
Might be slightly prone to creasing
Price at the time of publication: $25.99
If you are searching for skorts with an endurance athletic design that performs as well as you do, look no further than this pair from CRZ Yoga. The skorts for running are constructed with polyester and elastane with some polyamide mixed into the lining for abrasion resistance and durability. Their Feathery-Fit fabric is soft-to-the-touch, wrinkle-resistant, sweat-wicking, and fast-drying, ensuring effective moisture management for maximum comfort and convenience. That's not all! The elasticated waistband features a built-in drawcord that keeps the fit snug. With a 3-stage splicing design, the skirt looks super-cute while the rear and hidden zipper pockets make room for on-the-go storage.
Pros
Available in 6 colors
Moisture-wicking
Breathable
Quick-drying
Wrinkle-resistant
Multiple pocket storage
Cons
Might ride up slightly while running
Price at the time of publication: $35
CHICHO's running skort with pockets is high-waisted with a pleated design at the rear. The 2 generous inner side pockets can be used to hold tennis or golf balls, and at the same time, the hidden pocket in your waistband is ideal for safeguarding valuables like keys and cash. Made of polyester and spandex, this sport skirt comes with a mesh lining to keep you breathing as well as moving around with no limitation. Additionally, these fabrics are known for their durability and longevity, making them perfect for long-lasting performance. The waistband is wide enough to secure the bottoms and compressive enough for a quick tummy tuck, making this pair suitable even for casual days out.
Pros
Has 3 pockets
High-quality mesh
Breathable
Lightweight fabric
Wicks away sweat
Secure fit
Available in 8 colors
Cons
You might have to order up a size.
Price at the time of publication: $18.89
Ekouaer's long skorts for running serve you all year-round with a lightweight and breathable composition of polyester and spandex. Keeping wrinkles and creases at bay, this fabric also repels sweat and allows you to stay dry no matter how intense your run. Stretching optimally without weighing your legs down, the skirt comes in a plethora of beautiful colors and patterns that will pep up your morning workouts even more.
Pros
Wrinkle-resistant
Repels moisture
Breathable
Lightweight
High-coverage
Available in 34 colors
Cons
Price at the time of publication: $25.49
The best part about Willit's running skort with phone pockets is that the fabric is equipped with UPF50+ protection to shield you from the harmful rays of the sun. Made with 90% polyester and 10% spandex, the skorts are able to keep things nice and airy, thanks to the high-quality inner mesh lining. Pulling sweat away from the skin, this pair features 2 inner pockets so you can run hands-free. High-waisted and boasting a flat, stretchable band, the fabric lets you keep moving without worrying about accumulating moisture since it also dries in a flash.
Pros
Available in 9 colors
Resists moisture
Quick-drying fabric
Breathable lining
2 inner side pockets
UPF 50+ protection
Cons
The inner shorts might be slightly sheer.
Price at the time of publication: $22.99
If you want to change things up and infuse some color into your athleisure wardrobe, go for these printed plus-size running skorts that give off happy, beachy vibes. Composed of 85% polyester and 15% spandex, they are designed to remain stretchable and allow complete freedom over your movements. The wide waistband sits gently against the skin with an internal string so you can control how tight or loose the fit is. There are pleated hems that offer an elegant look as the outside pockets create functional spaces for you to store much-needed essentials.
Pros
Wide waistband
Pleated hems
Outside pockets
Quick-drying
Breathable
Available in 20 colors
Cons
The fabric might bunch up a little sometimes.
Price at the time of publication: $23.99
EAST HONG's run skort uses a fabric blend of polyester and Lycra to wick away sweat, keeping you dry and cool all the way to the finish line. The side pockets are wide and deep enough to store a water bottle, which is essential for serious runners and athletes. With the 2-layer design offering optimum coverage and a highly elastic waistband providing stability and comfort without digging into your skin or rolling down, this skort ensures a cooling and comfortable experience for every fitness activity.
Pros
Available in 43 colors
Moisture-wicking fabric
Breathable and ultra-soft
Side pockets for essentials
Quick-drying layers
Suitable for casual wear
Cons
Might ride up the legs sometimes
Price at the time of publication: $25.99
Having looked at some of the best running skorts out there, it's time to see how you can choose the right one for yourself. Here are all the factors you need to consider before pulling the trigger.
How To Choose The Right Running Skorts
Skorts made of polyester blended with spandex, elastane, or Lycra are ideal for activities that involve sweating. This is because their properties repel moisture instead of absorbing it, dry quickly, and are cool and breathable. These fabrics also offer minimal friction against the skin, reducing the risk of irritation and discomfort during physical activities. While you're at it, look for inner linings of mesh so that ventilation is constant and you don't overheat or feel discomfort. The inner layer of shorts must have a crotch gusset sewn in for chafe-free movement and maximum comfort. If you exercise during the day in the hot sun, you can also keep an eye out for fabrics that have a sun protection coating. Additionally, reflective details aid in visibility in low-light areas or if you happen to run at nighttime.
Unlike regular leggings, skorts come fitted with multiple pockets on the skirt or inside on the shorts. For security, zippered pockets are the best. If you happen to carry valuables such as keys, cards, or cash, hidden zippered pockets on the waistband are a good option.
A wide elasticated waistband stays put without budging, providing a non-restrictive fit. An internal drawstring helps you control the fit so that the skorts don't slide down or restrict movement. Some waistbands even come with tummy control features, creating a streamlined silhouette that transitions well from the court or track to casual days out.
Why Trust StyleCraze?
Priyam Gupta, the author of this article, loves all things fashion and here, she has reviewed best running skorts you can get for yourself. Skorts are super stylish and functional. The author carefully checked the parameters like design, functionality, and comfort to shortlist the products. She also checked user reviews and specifications on the brand website to curate this list.
Frequently Asked Questions
Are skorts good for running?
Yes, skorts are good to run in as they are made of stretchable and moisture-wicking materials. With a crotch gusset and lining, you can remain extra-comfortable throughout your run.
Can you wear tennis skorts for running?
Yes, tennis skorts also have 2 layers with shorts on the inside and a skirt on the outside. This provides optimum coverage and the pockets make running all the more convenient.
Can you exercise in skorts?
Skorts are a great addition to your workout gear as they wick away sweat, dry quickly, and allow constant airflow. They also give you enough coverage and have pockets for essential storage.
Recommended Articles: