13 Best Running Water Bottles To Stay Hydrated On A Run – 2023
Easy-to-clean and user-friendly bottles come with leak-proof and stylish designs.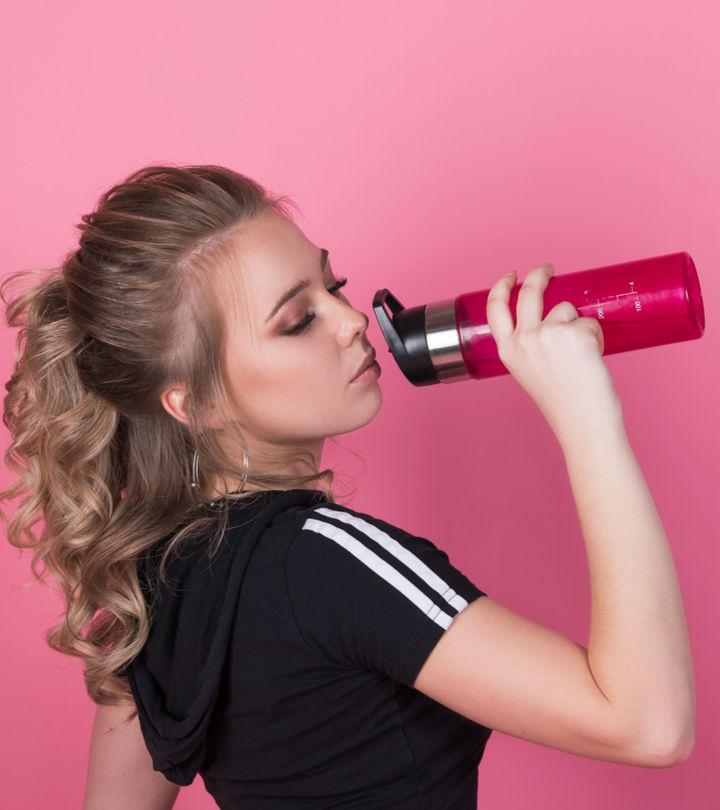 If you are looking for the best running water bottle, you don't need to look any further. We have it all on our list. Portable, handheld, or insulated tumblers, you are spoiled for choice. Imagine running a marathon and you feel thirsty. Here is where the importance of a water bottle comes into play. While running is one the best cardio out there, running without a water bottle at your side can do you more harm than good. Without water, your body can cause muscle cramps and reduce your heart rate. So the key to keeping yourself from reaching this position is to hydrate. Drinking lots of water is not only essential in keeping your body temperature under control but it also gives you glowing and smooth skin. While the thought of carrying a water bottle for outdoor activities may seem uncomfortable, don't worry, we have got you covered. With our curated list of easy-to-clean running water bottles at your disposal, you can pick the best one that suits your needs!
13 Best Running Water Bottles To Keep You Hydrated While Running
Run a few extra miles and keep sipping water from the Science In Sport Handheld Running Water Bottle. This running water bottle comes with a narrow neck for you to easily hold and run. You can fill 800 ml of water and stay hydrated throughout the way. You can also monitor how much water you are drinking during your fitness session with the measurement markings given on the body. The bottle comes with a leak-proof sipper and you can carry it along with you for cycling or marathons without worrying about leakage.
Pros
 BPA-free plastic
 Lightweight and durable
 Easy to clean
 Easy to hold
 Fits easily in hydration vests
Cons
 Some may find the spout slightly small
Price at the time of publication: $3.73
Whether you're out for a run or on a walk to clear your mind, this stylish runner water bottle will have your back. Made of high-quality Tritan plastic, the bottle boasts a 500 ml capacity. You can slip your hand into its side strap and hold it firmly while crossing your milestones. The cap is a leak-proof design and you just need to push a button to open and close it. And if you're not a fan of grey, you can also try the bottle in pink, blue, and white. Learn more about the product in this video.
Pros
 Tough hand belt
 Fast-flowing sipper
 Easy to clean
 Impact-resistant
Cons
 The bottle has a chemical smell that stays after washing.
Price at the time of publication: $19.95
Call it a bottle or rather a membrane, the Katadyn BeFree Water Holder For Runners is an ideal choice if you are looking for something that is easy to carry. Made with durable materials, this water membrane can hold 0.6 liters of water and comes with a sipper nozzle. These membranes are good for runners who are participating in a marathon near streams and springs. The empty membrane can fit your pocket and a full one can easily be held in your hand. Drink pure water and no dirt during your trekking expeditions or marathons with this membrane. This video gives you more information about the product.
Pros
 Membrane with filter
 Foldable
 Lightweight
Cons
 Some may find it slightly tough to clean
Price at the time of publication: $39.95
Do you run uncomfortably with a backpack that holds your water bottle, keys, cash, and phone? Now you can carry them all in a super compatible water bottle holder for running. The LX LERMX Water Bottle For Running comes with a case that fits the bottle perfectly in the front. The back of the case has another pouch that can carry a 5.5-inch phone along with keys, cards, and cash. The adjustable belt of the case makes holding the collapsible running water bottle an easy feat.
Pros
 Sleek design
 Lightweight
 Super compatible
 Expandable zip pockets
Cons
Some may find the size of the belted running water bottle too small
Price at the time of publication: $23.99
Walk, run, or climb and have your water bottle to back you up all through the way. This 500 ml flexible running water bottle comes with a bottle holder to make you smile as you run with ease. You can stack your keys and phone along with some money in the same case. This running water bottle with storage, commonly called a water pack, is soft and gets deflated when the water is over, making it easier to carry as you run. Enjoy your jogs and expeditions with this super-compatible water bottle set.
Pros
 Soft and flexible flask
 Best grip case
 Lightweight
 Expandable storage
Cons
 May not accommodate large smartphones
Price at the time of publication: $17.68
Wouldn't it be simply amazing to sip on some cold refreshing water after an hour-long run? Nathan Running Bottles can make this wish come true with its exceptional insulated design that can keep your water cold on long runs. This multi-functional running water bottle features a pull-up sipper and a race cap that pushes the water into your mouth to quench your thirst quickly. You can put your thumb into the belt and adjust it to the size of your hand.
Pros
 Easy to hold
 Adjustable straps
 Insulated running water bottle
 Extra case to hold phone and keys
Cons
 Some may find the case bulky
Price at the time of publication: $32.59
While some prefer running with a water bottle in their hand to stay hydrated, others prefer holding their smartphones to track the calories burnt or simply to listen to some great workout tracks. How about holding both your water bottle and your smartphone in one hand? The Gear Bear Running Bottle Holder With Touchscreen Pouch is designed to hold the water bottle and any smartphone easily. The other side of the zippered pouch is the bottle holder. The case is not the only thing you're going to love, it comes with a 500 ml BPA-free, versatile running water bottle too!
Pros
 Comfortable fit
 Designed to carry all kinds of phones
 BPA-free bottle
 Adjustable cinch strap
Cons
 No plug-in slot for headphones
Price at the time of publication: $19.02
Running with a water bottle in your hand can make your hands ache after a certain time. Your hands can get extremely hot and sweaty too. The Amphipod Hydraform Water Bottle Holder For Runners is designed keeping in mind all the requirements of runners. The ergonomic running water bottle grip design makes it easily graspable, and the perforated foamy holder keeps the skin breathing and less sweaty. You can adjust the strap of the bottle to make it a great fit around your hand. Run with this lightweight running water bottle and keep your hands free of muscle cramps.
Pros
 Small and sleek
 Hydrofoam holder
 Adjustable straps
 Machine washable
Cons
 The bottle may give off a pungent smell initially
Price at the time of publication: $34.95
Some of us need motivation for everything – motivation to drink water too. The KEEPTO Motivational Water Bottle is one of the best water bottles for running as the quotes on it will remind you to keep yourself hydrated throughout the day. It is as good as a personalized running water bottle and comes with a wide mouth that makes it easy for you to add some ice cubes, lemon pieces, and even fresh mint leaves. Sip it with the removable straw or simply keep the straw aside and quench your thirst by drinking it from the opening. The flip-top running water bottle has a closed lid with a one-hand open lock to keep dust away. There is a plastic holder attached to the bottle for a better grip.
Pros
 Quotes for motivation
 Replaceable straw
 Wide opening to add fruits and ice
 BPA-free hydration bottles for runners
Cons
 May not be dishwasher-friendly
Price at the time of publication: $12.99
Soft water bags and pouches make the best water bottles for runners as they reduce in size when the water is consumed. These 250 ml soft flasks are BPA and PVC-free and they shrink as you drink water from them. The soft-bite mouthpiece is leakproof and there is a smooth and even flow of water through it. There is no liquid bounce nor any sort of taste and smell from the flask. Anyone above 13 years of age can drink from this squeeze water bottle for running.
Pros
 BPA-free
 Easy to carry
 No leakage
 Soft-bite mouthpiece
Cons
 Some may not be impressed with the capacity
Price at the time of publication: $13
The HydraPak Soft Flask Water Carrier For Running is the best water carrier pouches that can fit any pocket while running. They are very compact and can be easily carried to the riverside or on some mountain running expeditions. As sleek as they are, these long-lasting running water bottles are durable and can withstand wear and tear. You can fill some nutritional gels, juices, or just plain water and it will hold them without any leakage.
Pros
 BPA-free
 Tough and durable
 No leakage
 Lifetime warranty
Cons
 Less water storage capacity
Price at the time of publication: $13.76
Do you avoid carrying a water bottle while running because your hands ache after a while? This mini, reflective running water bottle can be fastened around your wrist like a watch, and you will still feel your hands very light with it. The BPA-free material of the plastic running water bottle holder comes with a fluorescent green bottle holder and an adjustable hand strap to keep the bottle strapped around your wrist. The push-on cap keeps the water from leaking and you can run without any hand pain or cramps.
Pros
 Wrist water bottle
 BPA-free material
 Adjustable fastening straps
 Leak-proof opening
Cons
 Some may find the capacity inadequate
Price at the time of publication: $15.99
An ultra-light body, a great holding grip, and a 500-ml water capacity. The HydraPak SkyFlask Running Handheld Water Bottle is made of durable BPA-free plastic and promises zero leakage. It comes with a unique design and an adjustable strap where you can insert your hand and hold the bottle firmly. The bottle is wide enough to be easily cleaned and you can add some ice cubes to it for a relishing sip of water after a tiring run.
Pros
 Lightweight design
 Highly durable
 No-leakage cap
 Easy to clean
Cons
 Does not have a dust cover
Price at the time of publication: $22
These are some of the running water bottles that have the best reviews by loyal customers and users. If you are planning to get a running water bottle, here are some of the water bottle key features that you can consider.
How To Choose The Right Running Water Bottle
As a runner, you must be well-aware of how weary and thirsty you become. Many runners make a blunder of buying a 1 L water bottle and end up having severe hand pain and muscle cramps. The best water bottle for runners always comes in small sizes with a capacity of 200-500 ml of water. It's best not to choose a bottle bigger than this.
The grip of the running water bottle is very important. An easy grip running water bottle comes with a friction design to withstand sweaty hands. To choose better, you can pick a bottle that comes with a case or fastening straps to offer a better grip.
While some bottles are very sturdy and hard, you can choose hydration packs or soft flasks that can easily fit into your back pockets and make your running very easy. Plastic ones also have a little flexible design to increase the water flow and this can also be a good pick for you.
Athletes and fitness enthusiasts generally prefer sipper bottles as they are leak-proof and convenient to carry around while running. With sipper bottles, you can monitor the flow of water and keep a track of how much you consume. Get a bottle that comes with a sipper and have a spill-free relishing drink when you are dehydrated.
Running with a plastic or metal running water bottle can make your hands sweaty and slippery. The best solution for this issue is to get a running water bottle that comes with a phone holder, case, or key pocket. Bottle cases hold the bottle firmly and make it easy for you to carry it. Some of them come with handles for your fingers and thumb for an enhanced grip. Bottle cases that have an ambidextrous design and come with Velcro straps can be adjusted around your wrist or waistline to keep your palms free as you run.
As a runner, you need to know when and how to consume water while running. Before you start, drink 2 glasses of water. As you run, keep sipping little amounts of water that you carry in one of these running water bottles. Do not drink too much water while running as you can feel bloated and also go breathless too. Make it a point to sip on a glass of water 10 minutes after you finish your running. The right water bottle carrier makes a huge impact on your running sessions. Choose wisely and have the best fitness sessions henceforth.
Frequently Asked Questions
Is it important to carry a water bottle while running?
When you run, your body heats up and you sweat a lot. In this process, a lot of liquid is lost and you feel dehydrated. Sipping some water while running keeps you hydrated and less tired. So, it is essential to carry a running water bottle with you.
Should I discard the soft water flasks after use?
No. If you have a reusable water bag/flask with you, make sure you wash it properly with a flexible cleaning brush. Some flasks stay good for over 4-5 years.
What size water bottle should I get?
Get water bottles that fill up to 500-800 ml. They are easy to carry and will keep you hydrated. Bottles like the Science In Sport Handheld Running Water Bottle that carries 800 ml of water, the Embrava Handheld Running Bottle can be among some smart choices.
Where should I put my water bottle while running?
You can keep your bottle at the center of your back while running because it will distribute the weight equally. The Embrava Handheld Running Bottle comes with a strap that you can hold on to while running. The LX LERMX Water Bottle For Running comes with a backpack that has an adjustable belt.
What are the benefits of having water bottles for running?
Carry a water bottle while running to ensure that you are keeping yourself hydrated to prevent accidents resulting from dehydration.
How do I clean running water bottles?
First, wash the bottle with mild soap and warm water. Then scrub it with a brush from the inside and rinse the bottle and the cap. Finally turn it upside down and let it air dry. Clean your water bottles frequently to maintain hygiene and prevent the buildup of mold and dirt.
Recommended Articles