The 13 Best Safari Hats For Your Next Wilderness Adventure
Protect your skin and eyes from the sun with these accessories when you are outdoor.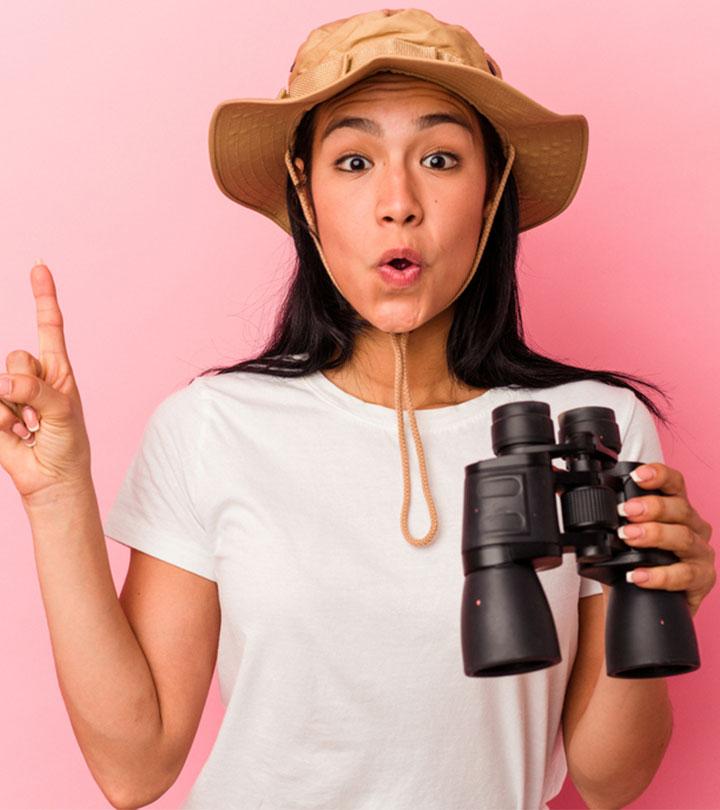 How do you like to spend your leisure time? While some love being couch potatoes, others lose themselves in nature and the outdoors. If you happen to belong to the latter group, you know just how important the right gear is. Be it trekking or camping, the elements are ever-present and we need to safeguard ourselves. One of the most essential accessories for this purpose has to be a top-notch safari hat. Offered in neutral colors or prints, it pairs well with any outfit for fun outdoor activities. Not only are they super-comfortable, but they are also your best bet to avoid the sun's glare from hindering your view.
Before we dive into our top 13 picks for the best safari hat, let's learn exactly how a hat like this can enhance your experiences in the outdoors. Ahead, you can also find the factors you need to keep in mind while choosing your hat.
What Is A Safari Hat?
Safari hats have been around for ages to help explorers stay safe in excessively hot, desert-like conditions. They can be composed of any material ranging from natural ones like cotton or leather to synthetics like polyester and nylon, each having its own benefits. Sitting on your head with adjustable features, these hats can also come down to your neck to prevent sunburns. Mesh panels or patches inside and outside can aid in superior ventilation to keep sweat from pooling in. Some are also coated with a water-repellent finish to keep rain and hail from getting absorbed.
13 Best Safari Hats To Wear Before Setting Out For The Woods
With a cotton and polyester blend, Kolumb's African safari hat is stitched in a durable manner for a long shelf life. The wide brim works to protect your eyes and skin from harmful UV rays, and the camo print complements any outfit from your wardrobe. This jungle safari hat also has an adjustable chin strap for a secure fit along with pop-in buttons if you want to transform into a confident and stylish cowgirl!
Pros
Available in 13 colors
Adjustable chinstrap
Wide brim for UV protection
Anti-fade colors
Practical pop-in button
Breathable materials
Cons
Might lose some shape after multiple uses
With Sun Cube's safari hat, women's skin is safeguarded from the sun, which can prevent the early onset of wrinkles. Composed of quick-dry nylon, the hat is supplemented with mesh panels on the top sides to aid in breathability. Both the brim and the neck flap in this women's safari hat provide UPF 50+ sun protection from all angles. Adjustable straps on the head and the chin extend security while the hat folds easily and packs down compactly for travel.
Pros
Available in 11 colors
Neck flap and wide brim
UPF 50+ protection
Moisture-wicking
Quick-drying fabric
Lightweight and breathable
Cons
Some might find it a bit stiff.
Fordicher's safari hat for women will be your new favorite as it has a slot especially for your ponytail to come through, which also helps keep hair off your neck. The exterior is made of breathable and quick-drying polyester while a mesh layer on the inside keeps you cool. With the adjustable chin strap on this wide-brimmed safari hat, you won't have to fear the wind or the sun ever again.
Pros
Available in 6 colors
Ponytail slit on the rear
Inner mesh layer
Quick-drying fabric
Adjustable chin strap
Breathable
Cons
Might have an initial chemical odor
Tough Headwear has made this sun safari hat in collaboration with The Skin Cancer Foundation to ensure that it's the best protection for your skin. Both UVA and UVB rays are effectively blocked with the help of the UPF 50+ coating. At the same time, you won't need to deal with sweat on hot summer days as the fabric wicks it away to keep you fresh. This British safari hat dries super quickly and can be customized to fit your head with the adjustable chin strap.
Pros
Available in 7 colors
Moisture-wicking
Quick-drying
UPF 50+ protection
Lightweight and breathable
Adjustable chin strap
Cons
Made with 100% cotton, these khaki safari hats by The Hat Depot are trendy and pack down tiny so you can carry them anywhere in the world. Brass-toned eyelets keep ventilation constant while the thick strap helps you adjust the fit according to your comfort. This wide brim safari hat does a fantastic job of keeping you in the shade and protects sensitive scalps from damage.
Pros
Available in 22 colors
Breathable materials
Adjustable chin strap
Lightweight fabric
Easy to wear and pack
Cons
Some might find the brim slightly flimsy.
The LLmoway lightweight safari hat features a wide brim that extends UPF protection well down to your neck. Composed of 100% polyester, this material naturally blocks out the sun and is also known to be quick-drying in cases of sweat and after a wash. The 4 eyelets help with breathability while the foldable and packable design allows for easy traveling. LLmoway's safari hats for women can be adjusted at the back and the chin for windproof gear.
Pros
Available in 9 colors
Wide brim
Adjustable head and chin straps
4 ventilation eyelets
Quick-drying
Moisture-wicking
Cons
Might be slightly stiff for some
Phaiy's olive green safari hat can be styled with any of your neutral pieces for a day out in the desert. The 100% cotton make boasts a UPF 50+ sun protection coating with a double-fabric design for better sweat absorption. Ultralight with a foldable and portable feature, you wouldn't want to leave this ladies' safari hat when you set out for your next trip. You can easily pin the brim up if it gets in your way with the press buttons on the side.
Pros
Available in 16 colors
UPF 50+ protection
Foldable and lightweight
Inner band for sweat absorption
Adjustable chin strap
Multipurpose wear
Cons
WMCaps' safari hat with neck flap is all you need before stepping foot on the soil as it ensures sunburns are a thing of the past. The wide frontal brim combines with the rear neck flap to give you all-around safety for all the fun outdoor activities. Moisture-wicking nylon is used for this model that is aided by mesh panels on the sides to keep you fresh and going even after long hours in the sun.
Pros
Available in 8 colors
Long neck flap
Wide brim
Inner moisture-wicking sweatband
Adjustable chin and head strap
Side mesh panels
Cons
Lightweight to both wear and carry, Boao's cheap safari hat is foldable and fits easily into any nook and cranny in your luggage. With optimum sun protection owing to the brim, the sides can be pinned up if you find them to be causing too much hassle. The chin strap is adjustable for a fit that doesn't flap around in the wind or constantly keeps slipping off your head when you're having fun.
Pros
Pack of 2 hats
Foldable
Wide brim
Adjustable chin strap
Air vent design
Double insulation
Cons
Might be slightly snug on people with thick hair
With Gelante's high-quality safari hat, women can effectively keep the sunlight out of their eyes for a distraction-free time in the desert. The front visor is super-wide to keep the sun's ultraviolet rays far away from your skin, which can also reduce sweating. This 100% cotton brown safari hat is soft and stays put even if the wind is strong as you can adjust the chin strap for a fit that doesn't fail.
Pros
Available in 24 colors
Soft and lightweight
Adjustable drawstring
Brass eyelets for ventilation
Snap-up sides
Cons
The brim might lose stiffness with use.
Composed of 100% nylon, iColor's cute safari hat features removable flaps for all-around sun protection during the daytime. Water-resistant and quick-drying, this gear is also windproof and keeps sweat at bay so you can enjoy your time outdoors to the max. The windbreaker belt allows for easy adjustment so that the crushable safari hat stays securely put and serves you well.
Pros
Available in 4 colors
Removable neck and face flaps
Wide brim
Adjustable drawstring
Moisture-wicking
Quick-drying
Cons
Might not be ideal for people with larger heads
TZ Promise offers ladies' safari hats that are ultralight owing to their 100% cotton composition. The wide brim keeps you in the shade while it can be snapped up on the sides for a unique style as well. This Aussie safari hat is so compressible that it saves you a ton of space in your suitcase and the ventilation holes prevent sweat from pooling up and weighing it down. Come wind or sun, the customizable chin strap keeps the hat from budging.
Pros
Available in 13 colors
Breathable
Lightweight and compressible
Adjustable chin strap
Snap-up sides
Cons
The brim might be slightly loose.
It's not exactly news that every kind of bug resides in the wilderness, and Jackell's versatile hat is your savior from unknown elements. To keep mosquitoes away, you can simply let down the mesh net that can be pinned up when not necessary. Equipped with a wide brim for sun protection and a chin strap for security, this hat is a must-have for those who love spending time in nature.
Pros
3 color options
Frontal mesh layer
Wide brims
Adjustable chin strap
4 breathable vents
Quick-drying fabric
Cons
Now that we've looked at some of the best safari hats for fun-laden adventures, let's dive into how you can pick the right one.
How To Choose The Right Safari Hat
Your safari hat should have a wide brim in the front and back to keep the sun's rays fully blocked.
As you will be sweating a bucket when out in the sun, this feature repels any moisture to keep you dry. Also for days when it rains, you can keep fresh and prevent the water from causing you any discomfort.
Cotton, polyester, and nylon are great at keeping you dry and cool owing to their moisture-wicking and breathable properties while also being lightweight. You can also invest in a leather safari hat that requires maintenance but will last you a long time.
As you don't want a hat so loose that it disappears with a gust of l=wind, look for adjustable straps at the chin and the head. This allows you to tighten the fit and loosen it when you please.
If you happen to have sensitive skin or are going to a place with especially harsh sunshine, you would do well to look for hats with added coverage. Neck and face flaps are a good choice as they give you 360° protection and prevent sunburns. Some hats make these features removable so you don't have to walk around with the bulk all the time.
The hat you choose should be super light, foldable, and packable so it doesn't take up too much space in your luggage.
Hats that are resistant to stains and wrinkles are the best as it is inevitable that they will get dirty in the wilderness. They must also be able to retain their shape when washed.
After you've bagged a safari hat that's ready to be worn, let's learn how it must be used to give you the best results.
How To Wear A Safari Hat
Place the safari hat on your head and customize it to your head size. For this, you can pull the toggles on the adjustable drawstring present at the back of the head and the long strap on the chin. This will keep the hat from moving around when it is windy outside. If you like, you can also use the side snaps for a different look. Some hats have a face flap that is helpful in preventing insect bites. You can adjust it if you happen to wander into an area with a lot of bugs. Despite the sun protection these hats offer, we suggest you don't skip on sunscreen!
Why Trust StyleCraze?
Priyam Gupta, the author of this article, is a fashion and makeup enthusiast who likes to explore and recommend styles that will endure the test of trends. Her opinion is based on her research and several user reviews on various online platforms. This carefully curated list of safari hats pair with almost all outfits that help you prevent sunburns and provide proper ventilation.
Frequently Asked Questions
When should you wear a safari hat?
Safari hats are best worn when you're spending a lot of time out in the sun. This gear is crucial in the summer daytime if you're out in the wilderness.
Why do safari hats have one side up?
Centuries ago, one side of the safari hat was folded up to allow better visibility when a rifle was propped on the shoulder.