13 Best Salicylic Acid Body Washes For Clear, Beautiful Skin
Keep your body clean, smooth, supple, and healthy with salicylic acid body wash.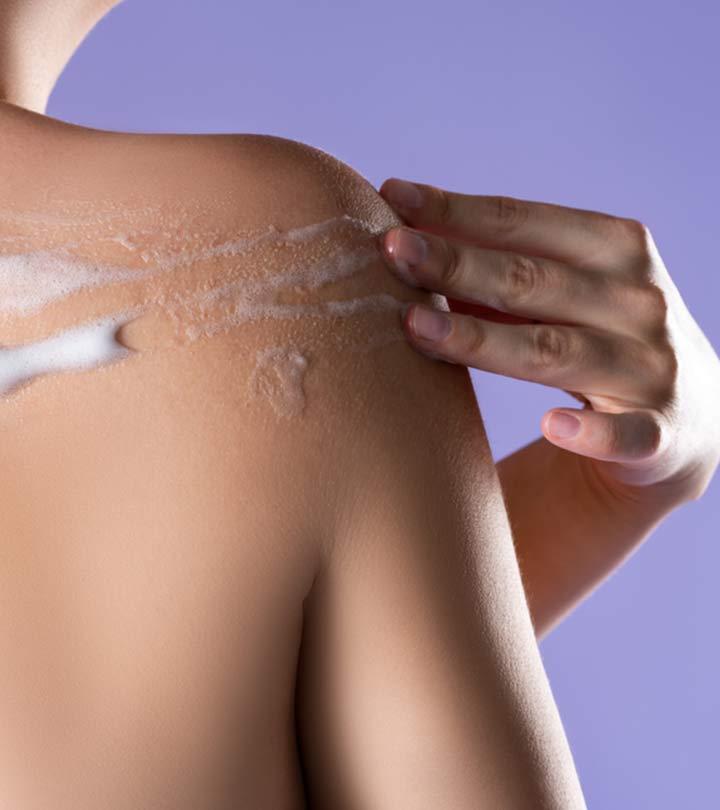 Zits can appear anywhere on the body and not just on the face. If these breakouts are not addressed, they can grow in size and cause excruciating discomfort. Fortunately, you can use the best salicylic acid body washes to deal with body breakouts. Salicylic acid promotes the natural exfoliation process of the skin and helps clear the dead skin cells and dirt from the skin pores. Apart from that, these body washes contain other potent ingredients that may help to keep your skin healthy, soft, and smooth. As a result, your skin stays clean, free of extra sebum, dirt, dead skin cells, and debris.
If you are struggling with breakouts on your body, it is time you should try salicylic acid body washes. To help you out, we have prepared a list of the best salicylic acid body washes for clear and flawless skin. Scroll down to check them out.
Top 13 Salicylic Acid Body Washes For Acne-Free Skin
If you wish to rid your skin of bumps and acne, this CeraVe body wash with salicylic acid is the perfect one for you! It is filled with zit-zapping key ingredients like hyaluronic acid and niacinamide that fight breakouts by cleansing the pores and treating your acne scars for clear skin. Plus, they combat dryness and keep the skin moisturized, leaving it soft and supple. The formula is free of parabens and fragrances. If you want to know more about the benefits of CeraVe SA Body Wash For Rough And Bumpy Skin, check out this YouTube review.
Pros
Moisturizing and hydrating formula
Fragrance and paraben-free
Deep cleansing properties
No harsh microbeads
Cons
May not be ideal for extremely sensitive skin

Pro Tip
If you are new to using salicylic acid, start with skin care formulations with a 1% concentration to soothe your skin.
Price at the time of publication: $13.99
The Naturium The Perfector Salicylic Acid Body Wash is encapsulated with time-released salicylic acid that gently exfoliates your skin, cleanses clogged pores, and leaves your skin soft and smooth. This skin-friendly body wash maintains your skin's natural pH level and prevents dryness and irritation. It is also infused with glycerin that boosts moisture in your skin and safflower seed and olive fruit oil that nourish and replenish your skin barrier. This dermatologist-tested body wash is suitable for all skin types and ideal for daily use. Additionally, you can use it as a facial cleanser.
Pros
Suitable for daily use
Safe for all skin types
Cruelty-free
Paraben-free
Gluten-free
Fragrance-free
Cons
Price at the time of publication: $13.99
The Pacifica Acne Warrior Body Wash is a medicated body acne treatment. It is formulated with 2% salicylic acid that fights acne-causing bacteria and inhibits their growth. It is also infused with niacinamide that cleans the pores and minimizes their appearance while controlling oil production. This hydrating formula also contains aloe and cucumber that delivers soothing and moisturizing benefits to your skin. The body wash releases a watermelon and minty fragrance that calms and refreshes your senses.
Pros
Dermatologist-tested
Suitable for all skin types
Refreshing scent
Value for money
Vegan
Paraben-free
Phthalate-free
SLS-free
Mineral oil-free
Talc-free
Cons

Pro Tip
After using salicylic acid body wash, moisturize your damp skin instantly and apply sunscreen with SPF 30 to protect your exfoliated skin from sun damage.
Price at the time of publication: $16
The Neutrogena salicylic acid body wash is a beauty staple in every skin care closet for many years, and for the right reasons. It contains active acne-fighting ingredients like vitamin C, and pink grapefruit extract that treat pimples at the base and unclogs pores to prevent them from ever coming back. It also contains beta-hydroxy acid (BHA) that removes excess oil and dead skin cells from the surface for cleaner and smoother skin. The hydrating formula has glycerin and aloe vera, which prevents over-drying too. Check out this video on YouTube for a detailed understanding of the Neutrogena Clear Body Wash With Pink Grapefruit.
Pros
Hydrating formula
Suitable for oily skin
Dermatologist-recommended
Treats and prevents body acne
Cons
Price at the time of publication: $22.41
One wash is all it takes to get you hooked to this salicylic acid body wash! The soothing formula is filled with potent ingredients like vitamin E, aloe, and chamomile, which gently cleanse and calm the skin. The body wash lathers up beautifully and rinses off without leaving any sticky residue behind. Oil-free, soap-free, and dye-free, we can't find a single reason for you not to grab this product immediately!
Pros
Oil-free
Soap-free
Dye-free
Refreshing scent
Suitable for combination and oily skin
Cons
Some find this product to be over-drying on the skin.

Pro Tip
Let the product sit on your skin for 2-4 minutes before rinsing to achieve the best results from salicylic acid.
Price at the time of publication: $5.79
The benefits of salicylic acid body washes are endless! They help in clearing existing breakouts, exfoliating the skin, and prevent future breakouts. This hydrating body wash is sulfate-free and includes 15% glycolic acid to exfoliate clogged pores and cleanse skin effectively. It also has potent ingredients like BHAs, AHAs, aloe vera, vitamin E, and gotu kola. Together, they prevent inflammation, treat acne, stimulate collagen production, improve skin texture, and reduce hyperpigmentation.
Pros
Oil-free
Cruelty-free
Sulfate-free
Paraben-free
Phthalate-free
Non-comedogenic
Suitable for all skin types
Cons
May cause irritation and redness, in rare cases. It is advisable to do a patch test before application.
Price at the time of publication: $29.95
This salicylic acid body wash for sensitive skin is great for clearing pores and treating body breakouts long after rinsing. It contains a powerhouse of ingredients like tea tree extract, jojoba extract, camellia extract, and date seed powder, which combat skin inflammation and kill acne-causing bacteria with its antibacterial properties. This body wash is excellent for combination, oily, and sensitive skin types and is completely cruelty-free. If you need further convincing, check out this YouTuber's video.
Pros
Prevents and treats body acne
Suitable for all skin types
Provides gentle exfoliation
Cruelty-free
Cons
May contain added fragrances and colors
Price at the time of publication: $39.1
If you want to have acne-free skin and prevent breakouts in the future, reach out for this cruelty-free salicylic acid body wash. It has acne-fighting ingredients like tea tree oil, and glycolic acid for exfoliated, clean skin. Along with this, it has aloe vera and collagen to promote soft and healthy skin. Rich in antioxidants and antibacterial properties, it gently exfoliates the skin from any dead skin cells without triggering inflammation.
Pros
Sulfate-free
Cruelty-free
Moisturizing formula
Suitable for all skin types
Free of parabens, dyes, phthalates, sulfates, and drying alcohols
Cons
May not be effective on body acne.
Price at the time of publication: $24.9
This body wash containing salicylic acid is a crowd favorite because of its gentle formula and potent acne-combatting ingredients. Lactic and glycolic acid, work together to exfoliate and cleanse acne-prone skin. Filled with AHAs, this product promotes blood flow to the skin with its anti-inflammatory properties to ensure skin is left feeling soft and smooth with a radiant complexion. It also contains lavender that helps soothe skin and offers an even skin tone.
Pros
Effective against keratosis pilaris
Reduces inflammation
Prevents breakouts
Free of parabens and sulfates
Provides exfoliation for acne-prone skin
Cons
Some may find the consistency to be a bit too thin
Price at the time of publication: $28.77
This vegan salicylic acid body wash is clinically effective for skin that suffers from constant breakouts and psoriasis. It contains powerful ingredients like jojoba oil, aloe vera, and carrot oil, that prevents body acne and hydrates your skin. You will experience healthy-looking and feeling skin, after every wash. Free of gluten and parabens, this vegan and cruelty-free formula is suitable for sensitive skin.
Pros
Vegan
Gluten-free
Cruelty-free
Clinically effective
Gentle cleansing
Cons
May not be best suited for extremely dry skin
Price at the time of publication: $31.99
This advanced fragrance-free salicylic acid body wash clears impurities and unclogs pores for soft, smooth skin and even skin tone. It's filled with glycolic acid and tea tree extract, which fight acne-causing bacteria and control oil production in the skin. It also contains moisturizing ingredients like glycerin and aloe vera gel that prevent the skin from over-drying. This professional-grade formula has no dyes and irritating ingredients, making it suitable for oily to combination skin.
Pros
Unscented
Provides gentle exfoliation
Professional-grade formulation
Suitable for combination and oily skin
Cons
Contains sulfates and parabens
Price at the time of publication: $29
Use the Alba Botanica Acne Dote Pore Wash and let your pores breathe freely. This powerful botanical formula is infused with willow bark extract and 2% salicylic acid that unclogs your pores and treats the existing acne and zits. It continues to fight breakouts even after you rinse it out. This lathering cleanser also contains parsley extract and witch hazel that soothe your skin and prevent irritation.
Pros
Dermatologist-tested
Non-comedogenic
Lightweight
Gentle
Cruelty-free
Paraben-free
Phthalate-free
Artificial colors and fragrances-free
Sulfate-free
Cons
None
Price at the time of publication: $7.98
This new and improved Neutrogena salicylic acid body wash is perfect for fighting body breakouts without over-drying your skin. This body wash is filled with skin-friendly ingredients like glycerin that make it ideal for sensitive acne-prone skin. It clears pores of dirt, grime, and excess oil for skin that feels soft and refreshed. You can pair this shower gel with any salicylic acid body lotion for best results.
Pros
Fights breakouts on the chest, back, and shoulders
Suitable for sensitive skin
Refreshing fragrance
Dermatologist-recommended
Cons
In rare cases, it may cause an allergic reaction
Price at the time of publication: $28.84
Now that you know about the top salicylic acid body washes available on the market. Here is an easy buying guide you can follow, when looking for the best one for your skin.
How To Choose The Best Salicylic Acid Body Wash For You?
Oily and combination skin types are more prone to breakouts. For these unique skin types, pick a body wash that is non-comedogenic and oil-free. This will help clear the pores without blocking them or adding excess oil that leads to more breakouts. Besides using salicylic acid, normal skin types can also benefit from using body washes with ingredients like aloe vera and tea tree oil for gentle cleansing. For sensitive skin types, be sure to avoid body washes that contain irritating ingredients.
Salicylic acid is essential to clear breakouts, but you can achieve better and faster results when mixed with other potent components. The combination of salicylic acid and glycolic acid is unbeatable. Together they unclog pores, prevent new acne from forming, and treat the existing zits. Also, look for ingredients like tea tree oil and zinc because they are known to kill bacteria and speed up the skin healing process.
As always, you must stay clear of harmful chemicals and harsh ingredients. Chemicals like parabens and sulfates are put in beauty products to deter bacteria and cleanse skin artificially. These do more harm than good and strip away your skin of its natural oils, making it dry, dull, and lifeless.
Infographic: Salicylic Acid Body Wash – Benefits And How It Works
Salicylic acid is a potent ingredient that provides relief from acne-related skin issues. Therefore, using a salicylic acid body wash is the best bet for people with oily and acne-prone skin types. Check out the following infographic to know how the ingredient functions to give you clear skin. In addition, learn about the various ways the acid benefits the skin. Keep scrolling!


Pimples can pop up anywhere other than your face. One of the best ways to treat them is to use the best salicylic acid body washes to give you clear and beautiful skin. Salicylic acid helps promote the natural exfoliation process of the skin and removes the dead skin cells and dirt from the skin pores. Your skin stays clear from dirt, dead skin cells, excess sebum, and debris with these body washes. Consider your skin type, check the ingredients list, and ensure that the body wash is free from harsh chemicals before getting your hands on the best salicylic body washes.
Why Trust StyleCraze?
Kirtana Divaka, the author of this article, is a skincare enthusiast and is often found helping her readers purchase the right skincare products through her articles. She embarked on a journey to make a list of the best salicylic acid body washes with the help of extensive research. These listed items will treat your breakouts and give you super flawless skin.
Frequently Asked Questions
Is salicylic acid good for body wash?
Yes, especially if you are experiencing superficial bouts of acne like whiteheads or blackheads. A combination of salicylic and glycolic acid can be used on your body (in the form of body wash) to prevent new breakouts from forming. However, if your acne is severe you must consult a dermatologist.
What's better for acne, salicylic acid or glycolic acid?
Both are potent ingredients that are useful in treating body acne, but it's recommended that you don't use them all the time as you can risk over-exfoliating your skin.
Can you use salicylic acid body wash every day?
You can use it twice or thrice a week, depending on your skin type. If you have sensitive skin with a minimal breakout, then twice a week should be fine.
Is salicylic acid safe to use during pregnancy?
No, it's not. Use of any salicylic acid product may increase the risk of intracranial bleeding. Please speak to your doctor before using any product during pregnancy.
Can you use salicylic acid body wash on the face?
If you have dry or sensitive facial skin, it is better to avoid salicylic body wash on the face. Use face washes for acne instead, as they have gentler formulas.
What's more effective for acne – salicylic acid cream or salicylic acid body?
Salicylic acid body washes and creams are both equally good for reducing body acne. A concentration of 2% of salicylic acid prevents the accumulation of dirt in the pores and treats and prevents acne.
Is it okay to use salicylic acid body wash every day?
Yes, it is okay to use a salicylic acid body wash every day. However, ideally, it is recommended to use it thrice a week for oily and combination skin for the best results. Salicylic acid is drying in nature; so, people with dry and sensitive skin must avoid using this acid as far as possible.