13 Best Oil-Free Salicylic Acid Cleansers To Reduce Acne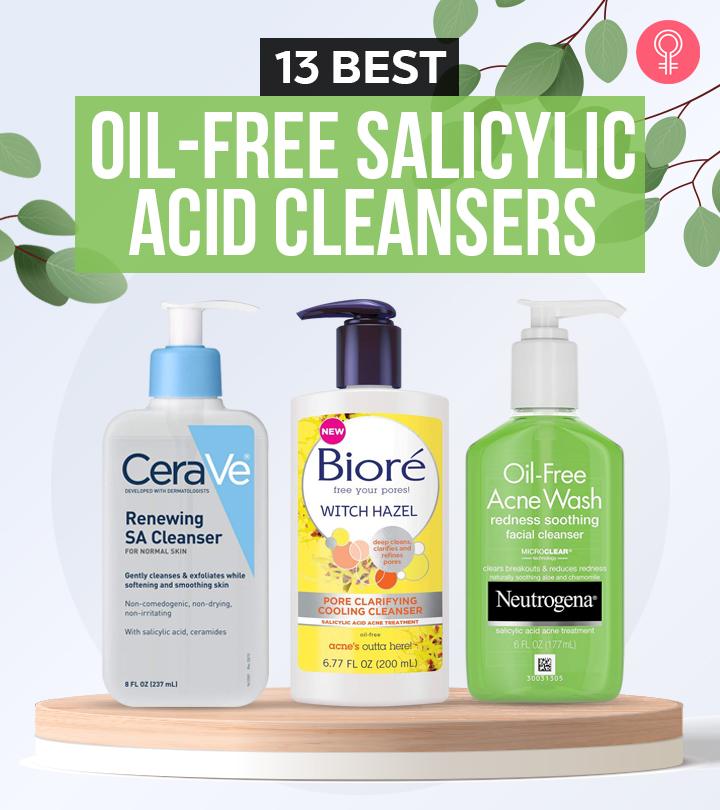 Clear, acne-free skin is a result of proper cleansing that reduces excess sebum formation. A salicylic acid (or beta hydroxy acid) face wash is the go-to solution for acne breakouts. It is an oil-soluble acid that penetrates the skin to remove excess oil, grime, and impurities. The comedolytic properties of salicylic acid unclog pores and soothe irritated skin.
Here, we have listed the 13 best salicylic acid face washes that help reduce acne breakouts. Check them out!
13 Best Salicylic Acid Face Washes Of 2021
The CeraVe Renewing SA (salicylic acid) cleanser offers gentle exfoliation and deep cleansing. It helps remove oil, dirt, grime, and buffs away dead skin cells. It leaves skin feeling fresh and softens rough, dry skin. Unlike other exfoliants, it does not contain harsh beads and is gentle on the skin.
Along with salicylic acid, this gentle, no-microbead formula contains vitamin D, ceramides, and hyaluronic acid that restore one's youthful radiance. Ceramide is a fatty acid that acts as a protective barrier to seal moisture. It also prevents skin dryness and irritation. Hyaluronic acid is a humectant that hydrates and softens the skin. It helps blur the appearance of fine lines and wrinkles and creates a plumping effect.
Vitamin D protects the skin from oxidative damage and environmental aggressors. Nicotinamide helps repair a compromised skin barrier while improving skin appearance. This non-comedogenic formula is fragrance-free and dermatologically-tested to provide relief from skin roughness.
Skin Type: Normal to oily skin, acne-prone skin
Pros
Gentle on the skin
Deep cleanser
Reduces skin dryness
Skin barrier-strengthening ingredients
Seals moisture
Non-comedogenic
Dermatologically-tested
Fragrance-free
Antioxidant protection
Can be used both on skin and body
Cons
Defective pump
Salicylic acid percentage unknown
May cause a burning sensation
The Bioré Witch Hazel Pore Clarifying Cleanser is a cooling formula that casts a spell over acne-prone pores. This formula with gentle salicylic acid helps clear blemishes and reduces the appearance of blackheads. It removes 99% pore-clogging impurities and deeply cleanses the excess sebum, leaving skin fresh and rejuvenated.
Its witch hazel is rich in tannins and antioxidants that protect the skin from environmental aggressors and oxidative damage. The elixir blend of eucalyptus and lavender oils soothes skin and reduces the pain from acne breakouts. The face washis hypoallergenic, gentle on the skin, and can be used daily to restore skin radiance.
Skin Type: Oily skin
Pros
Hypoallergenic
Non-comedogenic
Oil-free
Reduces excess sebum
Dermatologically-tested
Suited for daily use
Gentle on skin
Tightens pores
Protects from sun damage
Reduces inflammation
Cons
Could be harsh on dry skin
The Neutrogena Oil-Free Acne Wash provides deep cleansing without drying the skin out. Its signature ingredient, 2% salicylic acid, penetrates the skin, unclogs pores, and absorbs excess oil, dirt, and grime.
The patented micro clear technology helps break through the clogged pores and dissolves excess sebum. It makes salicylic acid easily available for the skin. The combined action of the micro clear technology with salicylic acid reduces the acne-causing bacteria and even halts their growth.
This gentle pore cleansing face wash is formulated with naturally derived aloe and chamomile extract that calm and soothe irritated skin and reduce skin inflammation. The soothing fragrance of chamomile uplifts the mood. The face wash is dermatologically-tested and hypoallergenic. It is gentle on the skin and suitable for regular use.
Skin Type: Acne-prone skin
Pros
Reduces redness
Fights acne-breakouts
Boosts salicylic acid function
Calms skin irritation
Unclogs pores
No dryness
Dermatologically-tested
Hypoallergenic
Refreshing aroma
Cons
May not suit sensitive skin
The Murad Acne Control Clarifying Cleanser has a rich, creamy texture. It is a gentle chemical exfoliant that reveals clearer looking skin. The 1.5% salicylic acid helps dissolve excess oil, purifies pores, and clears acne breakouts. The salicylic acid starts immediately acting on the pores. It unclogs pores to absorb excess oil and clears existing blemishes.
It is also formulated with green tea extract that is antibacterial, anti-inflammatory, and antioxidative. It soothes skin and calms irritation to rejuvenate and restore healthier-looking skin. The apricot kernel oil is a natural moisturizer that penetrates the skin and makes it softer in minutes.
Skin Type: Acne-prone skin
Pros
Paraben-free
Sulfate-free
Phthalate-free
Gluten-free
No formaldehyde
No mineral oil
Cruelty-free
Petrolatum-free
Deeply moisturizes the skin
Dermatologically-tested
Heals skin blemishes
Clarifies skin
Correct spots 
Cons
May contain comedogenic oils
The La Roche-Posay Effaclar Medicated Gel Cleanser removes excess oils and impurities by unclogging the pores. It is infused with 2% salicylic acid that helps target oil-glands, pimples, blackheads, and whiteheads for clear skin. It contains micro-exfoliating lipo-hydroxy acids and a gentle exfoliator that decongest pores, buff away dead skin cells, and smoothen skin texture. The face washal so helps blur the premature signs of aging like fine lines and wrinkles.
Skin Type: Oily and sensitive skin
Pros
Clinically-tested
Paraben-free
Fragrance-free
Oil-free
Targets excess oil
Removes blackheads and whiteheads
Gentle exfoliator
Allergy-tested
Cons
May dry the skin out
May cause a burning sensation
The Paula's Choice Clear Pore Normalizing Cleanser contains 0.5% salicylic acid that imparts a natural glow to the skin. The non-irritating formula dissolves pore-clogging impurities for clean and fresh-looking skin. The soothing gel removes skin cell debris, prevents acne breakouts, and reduces the appearance of blackheads and skin redness. The gel texture refreshes and calms the skin.
Arginine in the cleanser is an amino acid that increases blood circulation to soothe skin redness. The provitamin helps keep the skin soft, smooth, and healthy. The anti-inflammatory properties of the cleanser heal skin irritation. The hydrogenated castor oil acts as a protective barrier to seal skin moisture and restore natural radiance. This gentle and effective cleansing formula can be used daily, both morning and evening.
Skin Type: All skin types
Pros
Paraben-free
Fragrance-free
Lightweight
Gentle on all skin types
Non-irritating
Non-comedogenic
Tightens pores
Soothes redness
Can be used day and night
Cons
None
The Vichy Laboratories Normaderm Daily Deep Cleansing Gel visibly removes dirt, excess oil, and impurities. Its signature ingredient, the 0.5% salicylic acid, improves skin tone and reduces pore size. This gentle facewash also contains a power boost of minerals, including zinc and copper, which renew cell surfaces, absorb excess sebum, and leave skin feeling rejuvenated.
The Vichy volcanic water is charged with 15 different minerals that strengthen the skin's moisture barrier and protect it from environmental aggressors. The refreshing blend of moisture-rich ingredients leaves visibly glowing skin after a few uses.
Skin Type: Oily, acne-prone, and sensitive skin
Pros
Paraben-free
Soap-free
Sulfate-free
Dermatologically tested
Oil-free
Alcohol-free
SLS-free
Light fragrance
Allergy-tested
Improves skin tone
Reduces acne blemishes
Cons
None
The Peter Thomas Roth Acne Clearing Wash provides visibly clean and glowy skin tone in just a few washes. It contains maximum strength 2% salicylic acid that removes excess oil from the open skin pores. It also contains allantoin and provitamin B5 that nourish and rejuvenate skin and restore skin glow.
It helps soothe and condition the skin and leaves it thoroughly clean and residue-free. This paraben-free formula has a refreshing citrus smell.
Skin Type: Oily, acne-prone skin
Pros
No dryness
Absorbs excess oil, dirt
No residue
Paraben-free
Smoothens skin tone
Moisturizes deeply
Cons
None
The LAVO Clarifying Facial Cleanser has the combined effect of both soluble beta hydroxy acids and alpha hydroxy acids. It helps cleanse the pores deeply. It leaves the skin feeling refreshed, firm, and nourished. The salicylic acid and lactic acid are the beta hydroxy acids that are oil-soluble. They peel away the outer skin layer and aid in skin regeneration. They also help unclog pores and remove excess sebum, oil, grime, and impurities.
The alpha-hydroxy acid (glycolic acid) is a holy grail for gentle exfoliation. It is a water-soluble acid that increases the luminosity of the skin, reflects light from clear skin, and restores the glow and radiance. It is also infused with pineapple and papaya enzymes that melt and buff away dead skin cell debris.
The lavender and vitamin B complex help regulate excess sebum secretion, fight against acne-causing bacteria, and reduce redness and inflammation. The soapwort extract forms a mild lather and dissolves excess oil. The refreshing and soothing methanol fragrance leaves a refreshing feel.
Skin Type: All skin types
Pros
Non-irritating
Lightweight
Non-greasy
Removes heavy-duty makeup
Perfect for daily use
No harmful chemicals
Cruelty-free
Non-comedogenic
Reduces blemishes
Cons
May not suit those with hormonal cystic acne
The Solimo Oil-Free Acne Face Wash is a deep cleansing formula with maximum strength 2% salicylic acid. It deeply cleanses the pore blockages, removes excess oil, and fights acne breakouts. The refreshing infusion of chamomile flower extract and aloe vera leaf extract reduces inflammation and redness and soothes the burning sensation.
Skin Type: Acne-prone skin
Pros
Dermatologically-tested
Reduces redness and irritation
Oil-free
Cruelty-free
Non-comedogenic
Gentle on the skin
Cons
Unpleasant smell
May leave skin dry
The Glytone Acne Self-Foaming Cleanser purifies pores and provides gentle exfoliation to clear up acne breakouts. This innovative self-foaming technology with maximum strength 2% salicylic acid gives better efficacy in blemish control. It gently removes pore-clogging impurities and cleanses the surface debris. It also heals existing acne, pimples, blackheads, and whiteheads.
The cinnamon oil acts as an astringent to help shrink the pores. Its antibacterial properties kill the acne-producing bacteria. The hydro-gel matrix provides long-term hydration and keeps skin soft, smooth, and supple. It produces a gentle lather with luxurious foam to cleanse the skin deeply. This soft, rich, creamy foam can be effectively used both mornings and night for visibly clearer looking skin tone.
Skin type: Normal to oily skin
Pros
Fragrance-free
Non-comedogenic
Oil-free
Unclogs pores
Reduces blemishes
Removes dead skin cells
Can be used day and night
Cons
None
The Clean & Clear Oil Absorbing Cream Cleanser helps control shine without leaving any flakes ordrying your skin out. This daily cream face wash with oil-soluble beta-hydroxy acid (salicylic acid) washes away 85% of the heavy makeup build-up. It is made of unique powder particles that absorb excess oil and restores skin glow. It is specifically designed for acne-prone skin and does not clog the pores.
Skin Type: Normal, oily, combination skin
Pros
Non-comedogenic
Not over-drying
Oil-free
Instantly absorbs oil
Gentle for daily use
Affordable
Cons
None
The InstaNatural Acne Cleanser comes with the combination of salicylic acid and natural botanical extracts that deeply cleanse large pores and tighten them. The maximum strength salicylic acid dissolves the pore-blocking cells, removes blackheads, and reduces acne breakouts. It also helps reduce blemishes without drying the skin.
The invigorating blend of witch hazel and willow bark extract reduces inflammation, halts the growth of acne-causing bacteria, and restores the natural skin barrier. The specialized blend of botanical ingredients soothes skin and restores skin health.
Skin Type: Acne-prone skin
Pros
Paraben-free
Phthalate-free
Sulfate-free
No mineral oil
No preservatives
Cruelty-free
Non-comedogenic
Minimizes pore size
Absorbs excess oil
Gentle for daily use
Cons
None
These are the 13 best salicylic acid face washes to buy online. But how does salicylic acid work to treat acne? We have discussed it below.
How Does Salicylic Acid Work?
Salicylic Acid (SA) is a type of oil-soluble beta-hydroxy acid often used topically to treat pimples. It has a keratolytic and comedolytic effect. It decreases the secretion of excess sebum to reduce acne breakouts. It penetrates the skin and peels the skin lipid film to halt acne-causing bacteria (1).
As salicylic acid is keratolytic, it breaks down the keratin protein to shed the scaly and flaky skin cells. It is lipophilic and breaks down the lipids that make the dead skin cells stick together. The detachment of covalent bonds and chemical exfoliation remove the dead skin cells, thereby reducing acne and pimples (2).
Now that you are aware of how salicylic acid works on skin, take a look at its benefits. 
Benefits Of Salicylic Acid
The topical application of salicylic acid also heals other skin issues like eczema, seborrheic dermatitis, and psoriasis (3).
5% and 2% salicylic acid is used to reduce local irritation and remove blackheads and whiteheads (4).
It is a great exfoliating agent for sensitive skin.
It reduces hyperpigmentation and helps treat post-acne erythema (1).
It has anti-inflammatory and antiseptic properties. It helps soothe skin and reduces redness.
Though salicylic acid is beneficial, too much of it can harm the skin. It may cause certain side effects, as briefed in the following section.
Side Effects Of Salicylic Acid
It may develop allergic symptoms.
It may cause a burning sensation.
It could dry the skin out and, in turn, cause redness.
Before applying salicylic acid you should consult a dermatologist. Also, make sure you wear a sunscreen after applying SA. The compound could make your skin sensitive to sunlight.
Salicylic acid is invaluable if you want a clearer skin tone. It is a gentle chemical exfoliant that deeply cleanses the pores and removes excess oil and impurities. Picking a product with the correct concentration of SA can be tricky. But we hope this article has made your job easier. Select the right product for your skin type and start using it today!
Expert's Answers for Readers Questions
Can I use salicylic acid everyday?
Yes, salicylic acid with a concentration of 0.5% and 2% can be used everyday without any side effects.
Can salicylic acid make acne worse?
Proper concentration of salicylic acid is specifically designed to reduce acne breakouts and halt the growth of acne-producing bacteria. Hence, it does not make acne worse.
Can salicylic acid cause purging?
No, salicylic acid does not cause purging. It helps in rapid cell renewal and clears acne breakouts.
Recommended Articles