7 Best Selling Salicylic Acid Lotions Of 2022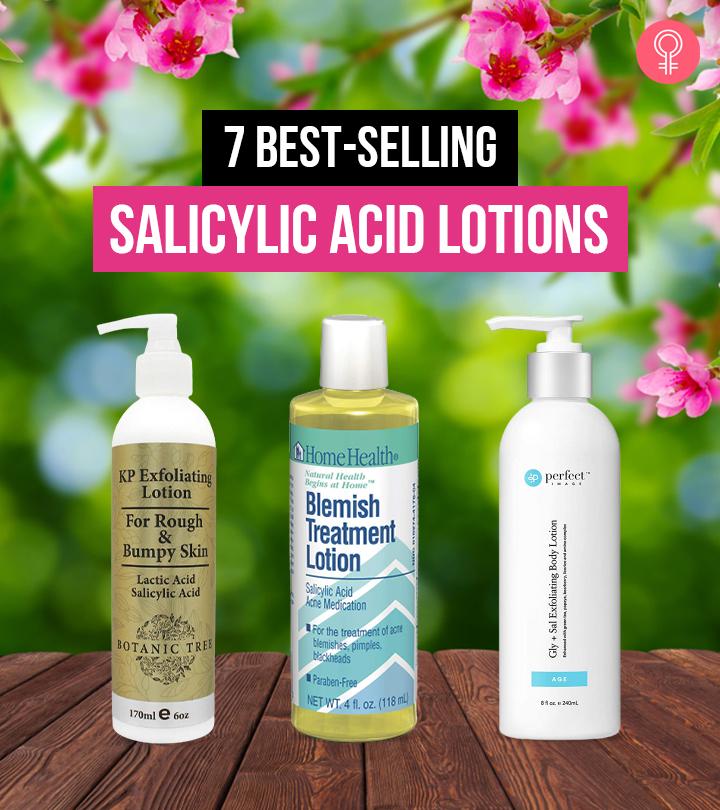 Acne, blackheads, and pimples are things that plague our skin daily. Pollution, climate, and dust further add to our misery. To help combat this problem, you need the best salicylic acid body lotion, which is the only way to deal with this menace. Salicylic acid has been used in several products for decades for skin-related issues. It helps clear your pores out by removing grime and dead skin. Its anti-inflammatory properties make it perfect for treating acne, pimples, and blemishes on your body. Check out our carefully curated list of the top salicylic acid body lotions for smooth and supple skin. Scroll down to know more!
7 Best-Selling Salicylic Acid Lotions
CeraVe SA lotion is infused with ingredients that make the skin healthy and bump-free. Vitamin D protects the skin from environmental aggressors while salicylic acid exfoliates the skin. It is crafted with MVE technology that continuously releases moisturizing ingredients into the skin and provides 24-hour hydration. Essential ceramides (1, 3, 6 II) strengthen the skin's natural barrier, while niacinamide repairs and improves skin quality. Hyaluronic acid helps to retain moisture and keep the skin soft and supple. This formula is ideal for extremely rough, dry, bumpy, and psoriasis-prone skin. The CeraVE SA Lotion For Rough & Bumpy Skin shows great results. For more information, check out this video.
Pros
Rich texture
Fragrance-free
Gentle formula
Dye-free
Hypoallergenic
Non-comedogenic
Cons
Perfect Image Gly + Sal Exfoliating Body Lotion is a nourishing lotion infused with the goodness of natural fruit extracts. It is blended with green tea, papaya, licorice, bearberry, and an amino acid complex that provide essential nutrients to the skin. The cucumber extract in the lotion is a rich source of natural antioxidants, minerals, vitamins, and enzymes. It works as an anti-inflammatory agent to soothe irritation and inflammation. Glycolic acid and salicylic acid stimulate collagen production to fade wrinkles and fine lines. The formula exfoliates dead skin cells, improves tissue health, and offers hydration to dry and damaged skin. This ultra-light product replenishes moisture and makes the skin smooth and refined.
Pros
Anti-aging formula
Mild exfoliant
Improves hydration
Stimulates collagen production
Ultra-light formula
Cons
Home Health brings you the Blemish Treatment Lotion infused with 5% salicylic acid, valerian root, and other botanical extracts. While the salicylic acid gently exfoliates the skin, the essential oils hydrate and nourish it. This formula helps to reduce blackheads and pimples, clear acne scars, and remove blemishes. This product is natural and safe for the skin.
Pros
Mild exfoliant
Vegan
Paraben-free
Gluten-free
Cruelty-free
Artificial fragrance-free
Phthalates-free
Petroleum-free
Artificial color-free
Non-GMO
Cons
Watery texture
May dry out the skin
This body lotion from Botanic Tree is has a gentle formula specially created for people with Keratosis Pilaris. It is an effective acne treatment that leaves the skin clear and bump-free. The formula contains both salicylic acid and lactic acid, which exfoliate the dead cells, sebum, and impurities from the skin surface and promote cell regeneration. The active ingredients unclog the pores and make the skin smoother. Alpha Hydroxy Acid (AHA) restores moisture levels and hydrates the skin, keeping away dullness and wrinkles. The herbal ingredients like shea butter and glycerin hydrate the skin and keep it soft.
Pros
Improves skin texture
Herbal formula
Hydrates the skin
Non-greasy
Anti-aging formula
Fragrance-free
Paraben-free
Sulfate-free
Cruelty-free
Quick-absorbing formula
Non-irritating
Cons
Eau Thermale Avene Akerat is a nourishing cream especially developed for rough and dry skin. Apart from salicylic acid, this formula contains lactic acid that softens dry, flaky skin. The urea in this formula exfoliates dead cells and keeps the skin moisturized. It provides hydration and nourishment to the skin and leaves it feeling baby soft.
Pros
Non-comedogenic
Dermatologist-recommended
Hypoallergenic
Softens hard skin
Gluten-free
Paraben-free
Fragrance-free
Cons
ReTone Exfoliating Lotion is formulated with 2% salicylic acid and lactic acid, which are gentle yet effective exfoliants. The urea in this formula moisturizes the skin, while hemp oil reduces inflammation. Chamomile and licorice neutralize irritants and minimize redness. The gentle formula evens out bumpy, rough, and dry skin, giving it a soft, clear, and healthy texture.
Pros
Natural exfoliant
Moisturizing formula
Protects the skin's natural barrier
Reduces body acne
Mild minty fragrance
Cons
None
This Neutrogena facial moisturizer is infused with pink grapefruit extracts that nourish the skin from within. These ingredients are easily absorbed by the skin and provide hydration. Salicylic acid deep-cleanses the pores and effectively removes dirt and grime. It is a water-based formula that does not make your skin feel sticky or greasy. In this YouTube video, you will learn more about the nuances of the Neutrogena Oil Free Acne Facial Moisturizer.
Pros
Lightweight
Dermatologist-recommended
Oil-free formula
Non-greasy
Non-comedogenic
Cons
Why Trust StyleCraze?
The author of this article, Shiboli Chakraborti, is a certified skin care coach. After thorough research and reviewing customer feedback on trusted sources and brand websites, she has curated the best salicylic acid lotions. These lotions are a must-have to maintain skin health and are the best way to combat skin issues like acne, pimples, and blackheads.
Frequently Asked Questions
Can I use salicylic acid lotion every day?
When you start using salicylic acid lotion, it is recommended to use it every alternate day to see how your skin responds to it. If your skin responds well after two weeks, you can use it daily.
Recommended Articles