7 Best Salicylic Acid Serums Of 2023 That Nourish Your Skin
Transform acne-prone skin from the inside out with the power of this wonder ingredient.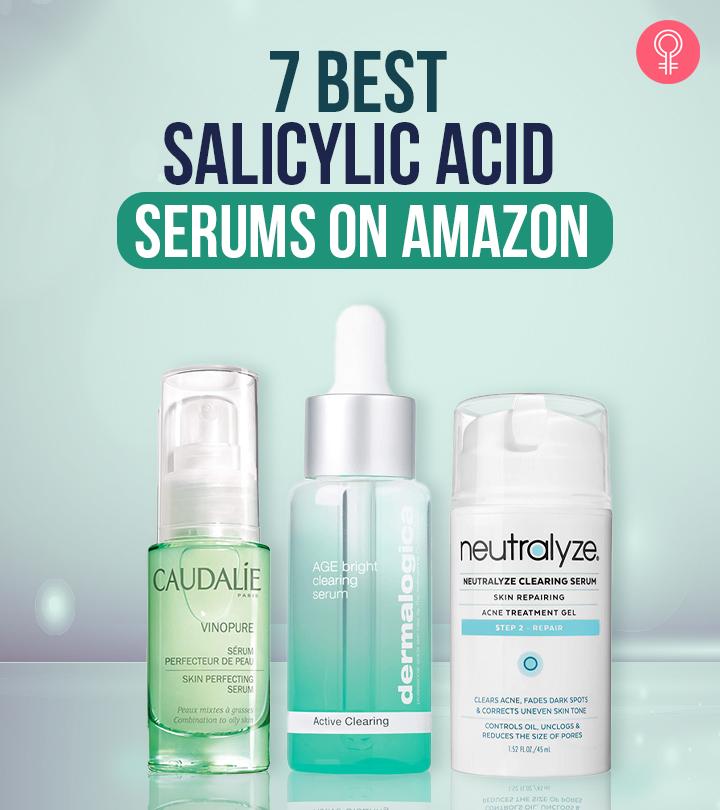 A salicylic acid serum helps prevent acne, minimize the appearance of blemishes, and reduce dark spots. Thus, the best salicylic acid serum exfoliates your skin, cleanses the pores, removes blackheads, whiteheads, and prevents further breakout.
Salicylic acid or BHA is derived from plant-based sources like willow tree bark and wintergreen leaves that prevent clogging of pores. In addition, it penetrates your skin and eliminates oil buildup. Salicylic acid is a common ingredient in creams, face washes, and other formulae that are crafted for acne-prone skin. However, you can enjoy its true benefits only through serums.
Picking the right salicylic acid serums that nourish your skin can be challenging. So, in this article, we bring you the 7 best salicylic acid serums. Read on.
7 Best Salicylic Acid Serums With Different Concentrations
This serum from Cos De BAHA is an effective solution for multiple skin conditions. It contains 4% salicylic acid with niacinamide, which help reduce blemishes, acne, dullness, and uneven skin tone. The serum also exfoliates the skin to improve clarity.
The salicylic acid in the formula eliminates dead skin cells and unclogs pores to clear congestion. It penetrates deep into the walls of the pores to repair the skin. This serum reduces blackheads, breakouts, and redness by dissolving pore-clogging impurities and gently removing makeup, excess oil, and dirt. It also rejuvenates the skin and contains lipid-soluble and keratolytic peeling agents that help oily, sensitive, and rosacea-prone skin types.
Pros
Non-irritating
A little goes a long way
Fragrance-free
Oil-free
Paraben-free
Alcohol-free
Nut-free
Formaldehyde-free
Cruelty-free
Cons
Price at the time of publication: $11.99
The Neutralyze Clearing Serum contains 2% salicylic acid, nitrogen, and 1% mandelic acid to boost the health of your skin. The clinically proven formula is highly effective and delivers noticeable results from the first day of application. It visibly reduces redness and irritation and improves the skin tone.
This salicylic acid serum uses the multi-patented Nitrogen Boost skin care technology to prevent acne and heal the skin. It also prevents future breakouts and corrects uneven skin tone through gentle exfoliation. This serum diminishes dark spots, wrinkles, and fine lines to reveal a youthful glow. It is also effective for pimples, cystic acne, whiteheads, blemishes, blackheads, dermatitis, psoriasis, rosacea, and eczema.
Pros
Non-comedogenic
Dermatologically tested
Suitable for teens and adults
Can also be used on the body
Dermatologist-recommended
Fragrance-free
Cruelty-free
Cons
Contains alcohol
Overpowering scent
Price at the time of publication: $19.95
The Caudalie Vinopure Skin Perfecting Serum is the best for tightening pores. The clinically tested formula fades imperfections and makes your skin clean and clear. It contains natural salicylic acid that unclogs and tightens the pores and an essential oil complex that purifies and tones the skin. The antioxidant-rich grape seed in the serum moisturizes and soothes the skin. This lightweight serum absorbs excess oil and prevents blackheads.
Pros
Smells good
Paraben-free
SLS-free
Formaldehyde-free
Phthalate-free
Mineral oil-free
Phenoxyethanol-free
No animal-based ingredients
Cons
Price at the time of publication: $49
This 7% salicylic acid serum exfoliates dead skin cells, unclogs pores, and fades wrinkles and fine lines to reveal bright and even-toned skin. It is suitable for all skin types and imparts softness and smoothness to the skin by refining its texture. The BHA or salicylic acid has natural skin-calming properties that soothe rosacea and redness. It deeply penetrates the pores to get rid of uneven texture and blackheads.
Pros
Non-abrasive
Lightweight
No pH-disturbing chemicals
Non-comedogenic
Sulfate-free
Paraben-free
Fragrance-free
Oil-free
Cons
Price at the time of publication: $17.95
The Derma E Acne Blemish Control Treatment Serum has a lightweight formula with 0.5% salicylic acid for mild exfoliation. It also contains a unique Anti-Blemish Complex that features tea tree oil, lavender, chamomile, aloe vera, and willow bark extract to fade blemishes and prevent their formation. These ingredients deeply penetrate and unclog the pores to prevent acne formation and give a healthy appearance to your skin.
Pros
Lightweight
Dermatologist-recommended
Artificial color-free
Artificial scent-free
Paraben-free
Phthalate-free
Formaldehyde-free
Sulfate-free
Mineral oil-free
Petroleum-free
Cons
Leaves residue
Strong scent
Price at the time of publication: $16.67
This serum from Dermalogica helps fade aging signs and acne to reveal bright and even-toned skin. The salicylic acid in it exfoliates the skin and prevents acne and breakouts. This serum also increases cell turnover. The Age Bright Complex in the formula works with the natural microbiome in the skin to make it appear clear and radiant. The serum also contains phyto actives derived from the resurrection plant to keep the skin hydrated and smooth. The niacinamide and white shiitake mushrooms in the formula even out the skin tone.
Pros
Mild scent
Absorbed quickly
A little goes a long way
Non-greasy
Cons
Price at the time of publication: $69
This serum from Pure Organic Ingredients contains 5% salicylic acid and can be used to deal with acne, hyperpigmentation, and premature aging. It exfoliates the inside walls of the pores and clarifies the skin with regular use. The formula is especially effective on under-eye bags, wrinkles, large pores, breakouts, and uneven skin tone. The antioxidants in the serum neutralize free radicals and prevent wrinkles and fine lines.
Pros
Gentle
Cruelty-free
Paraben-free
Cons
Price at the time of publication: $14.99
Why Trust StyleCraze?
Shiboli Chakraborti, the author, is a certified skin care coach with a deep affinity for finding products that aid and improve skin health and prevent skin issues like acne. In this article, she lists out various salicylic acid serums with different concentrations. She studied and researched each of these products and their reviews on multiple forums. She selected these products based on skin-friendly ingredients, the absence of harsh elements, skin care benefits, and more.
Frequently Asked Questions
Will salicylic acid lighten the skin?
No, salicylic acid doesn't lighten the skin tone.
Does salicylic acid fade dark spots?
Yes, salicylic acid can help fade dark spots.
Can I use a salicylic acid serum every day?
Yes, you can use a salicylic acid serum every day. However, if you experience skin irritation, make sure to consult your doctor and reduce its usage.
Should I moisturize after using salicylic acid serum?
Yes, but wait 20 minutes before moisturizing your skin after using a salicylic acid serum.
How long does salicylic acid serum take to work?
A salicylic acid serum takes six to eight weeks to work.
Is it okay if I use vitamin C serum in the morning and salicylic acid serum at night?
No, combining vitamin C and salicylic acid in your serum routine may disturb the pH-balance of your skin.
Can you use 2% salicylic acid daily as a serum on teenage acne-prone skin?
Yes, you can use 2% salicylic acid serum daily on teenage acne-prone skin. Salicylic acid prevents breakouts and controls sebum production. However, consult your doctor before using if your skin is hypersensitive.
Recommended Articles