10 Best Salicylic Acid Shampoos
Get your hands on these hair care essentials for healthy, shiny, and smooth locks.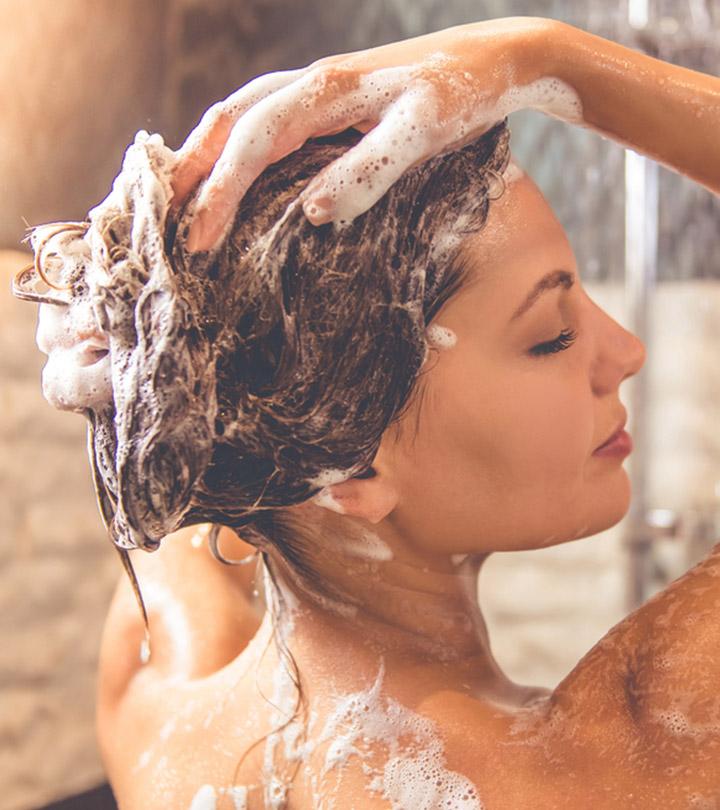 Different shampoos suit different hair textures, and if you have been looking for the best salicylic acid shampoo, we have everything you need. The market is full of shampoos that promise to make your hair silky smooth and bring back the gorgeous shine. While it is natural to fall prey to such promises, you must have realized that not all of them work for you. Haircare has a lot to do with getting the proper nutrition, nurturing your hair, and cleansing it. Genetic factors also make a big difference in how your hair grows. Here is a list of 10 shampoos that will fight the common hair foes like dandruff, itching, and hair loss and help you flaunt gorgeous hair.

What Is Salicylic Acid
Salicylic acid falls is keratolytic that helps soften keratin in the skin. It is similar to medicines like aspirin. It dissolves the substance that causes skin clogging by alleviating the moisture content in the skin, thereby aiding in the shedding of excessive build-up. It is used as a key ingredient in various skin-care products to help in the treatment of conditions like psoriasis and seborrheic dermatitis.
What Does Salicylic Acid Do
 Salicylic acid is used to treat skin and scalp conditions. It performs multiple functions of which treatment of psoriasis, seborrheic dermatitis, elimination of dandruff, flakes, and redness are some of the most useful ones. Salicylic acid hydrates and helps in the shedding of dead cells by penetrating deep into the skin, leaving it feeling soft and fresh. It also helps to reduce the occurrence of facial and scalp acne, thereby reducing itchiness, irritation, and build-up
10 Best Salicylic Acid Shampoos
This 2-in-1 shampoo-conditioner, recommended by doctors, is formulated using salicylic acid, chamomile extract, and panthenol to remove flakes. It softens the hair and protects it from damage. It helps prevent the recurrence of itchy-scalp by avoiding build-up after every wash. Those who have psoriasis and seborrheic dermatitis can find relief by using this shampoo regularly, and The National Psoriasis Foundation has approved it as well.
Pros
Natural extracts formula
Prevents scale build-up
Contains 3% salicylic acid
Cons
Does not ship to some parts of the world
This shampoo by Neutrogena is hailed as the best option to treat any scalp issue. It contains salicylic acid, which helps get rid of crusty, flaky scales on the scalp, thereby reducing itchiness, irritation, and redness. Wet your hair and leave a small amount of the shampoo on the scalp for a few minutes after gently massaging it throughout the hair. For best results, use the shampoo twice a week after consulting with the doctor. Here's a review video to help you get a better understanding of the product.
Pros
Color-free formula
Preservatives-free
Fragrance-free
Contains clinically proven salicylic acid.
Cons
Check with a doctor if you are using topical acne treatment as both treatment options cannot be used simultaneously.
DHS SAL Shampoo is a treatment recommended by doctors to tackle scalp conditions arising from psoriasis, seborrheic dermatitis, and dandruff. It helps get rid of crusty scales, itching, and related irritations. Composed of clinically-approved salicylic acid, which helps treat various scalp conditions, has an effect that lasts hours after shampooing. Apply a generous amount on the scalp, lather, and leave it on for a few minutes. It is recommended to use this formula twice a week for best results.
Pros
Paraben-free
Contains clinically proven salicylic acid
Cons
This medicated shampoo plus conditioner is formulated using a zinc complex to treat those who have psoriasis and also moisturizes the scalp. This non-greasy formula helps relieve symptoms like itchiness, scalp irritation, redness, flaking, etc. and prevents recurrence too. It is made using natural ingredients like green tea extract, safflower extract, kukui nut oil, anti-oxidants, and pro-vitamin B5. It is recommended to use this unique formula twice a week for best results. Click here to check out a detailed personal review of this product.
Pros
Fragrance-free formula
Recognized by the National Psoriasis Foundation
Contains 3% Salicylic Acid
Cons
This anti-dandruff shampoo is formulated using organic ingredients derived from nature. Some of the key ingredients include aloe vera, chamomile oil, tea tree oil, which, when combined with 2% salicylic acid, provides ultimate relief from symptoms that arise with conditions like psoriasis, scalp-redness, and itching. This product ensures to protect the hair as well as render it looking shiny and healthy for a long time.
Pros
Contains organic ingredients
Paraben-free
GMO-free
Vegan
Biodegradable
No preservatives or synthetic colors
Cruelty-free
Cons
Those suffering from symptoms of seborrheic dermatitis and psoriasis will find this shampoo most beneficial to their skin irritation and related issues. This specially formulated shampoo helps control, manage, and reduce scaling of the scalp, redness, and itchiness and fights the recurrence of these skin conditions. It also helps to eliminate the greasiness from the regular P&S Liquid, leaving your hair feeling soft, fresh and healthy.
Pros
Contains salicylic acid
Helps fight psoriasis, seborrheic dermatitis
Safe on color-treated hair
Cons
Effects might show after a long period for some people
This shampoo is ideal for treating your dandruff problems effectively. It helps reduce itchiness, redness, and ensures that flaky skin on your scalp doesn't come back. This specially formulated anti-dandruff solution promotes the regrowth of healthy hair and leaves it feeling shiny and fresh.
Pros
Contains 3% salicylic acid
Controls itch and scales
Gets rid of dandruff
Cons
This formula containing satin oil helps restore the 5 important signs of healthy hair. It is a gentle cleansing formula that cleanses and transforms the strands, reduces flakiness, and prevents scales build-up. It is suitable for dry hair and promotes shine and growth. Apply a generous amount onto your hair, and gently massage to produce lather, rinse off with cold water. For best results, use this shampoo thrice a week.
Pros
Contains satin oil
Restores 5 signs of healthy hair
Suitable for dry hair
Cons
Might not help detangle hair
This range of shampoo is exceptionally effective in fighting symptoms of psoriasis and seborrheic dermatitis. It also helps prevent the recurrence of dandruff and related skin issues. Formulated with 1% coal tar and 3% salicylic acid, it is suitable for all hair types. It aids in getting rid of scalp irritation and itching. For the best results, it is recommended to use this product weekly once.
Pros
Contains 1% coal tar and 3% salicylic acid
Avoids dandruff recurrence
Gets rid of psoriasis and seborrheic dermatitis
Cons
Highly runny consistency
No refunds if not returned within 30 days.
This shampoo by L'Oreal is suitable for flat hair and fine hair. It helps add volume and bounce to your hair, and the anti-gravity formula doesn't weigh hair down. It is one of the best available shampoos that aids in removing build-up on the scalp leaving it clean, healthy, and refreshed. It also makes the hair strands soft, smooth, and silky. For best results, clean your hair using this shampoo often. Lather the shampoo onto wet hair and rinse thoroughly for shiny, bouncy hair.
Pros
Contains salicylic acid
Gives hair shine and bounce
Removes build-up
Adds volume
Cons
Now that we have taken a look at the 10 best salicylic acid shampoos, let us know more about using them.
How Often Should I Wash My Hair With A Salicylic Acid Shampoo
Shampoos containing salicylic acid contain a small concentration of the substance in them. Therefore, regular usage of such shampoos to treat one's scalp conditions will not adversely affect the hair. In fact, it will help add shine, volume, cleanse hair, as well as make it look healthier and more nourished than before.
Is Salicylic Acid Safe To Use
Yes, salicylic acid is safe to use provided the below-mentioned points are adhered to:
Run an allergy test by using a small amount initially.
Then slowly use it every other day and wait for skin reactions.
Skincare products containing salicylic acid can be used regularly until the skin condition has been treated if no reaction/skin irritation occurs.
It is recommended by doctors to use products containing salicylic acid, in moderation.
Since it penetrates deep into the skin to remove build-up and bacterial growth, don't over-use the product.
Follow directions carefully, as mentioned on the leaflets.
Consult a doctor before trying out any treatment options to get relief from psoriasis, dandruff problems, etc.
Why Trust StyleCraze?
The author of this article, Kirtana Divakar, is a haircare buff and loves experimenting with different hair care products. She browsed multiple forums to check user feedback and researched the products in detail to compile this list of the best salicylic acid shampoos for her readers. These products can remove product build-ups, and impart shine and bounce to the hair.
Frequently Asked Questions
Can salicylic acid shampoo be used daily?
Yes, salicylic acid shampoos can be used daily. But if you have sensitive skin, these shampoos can aggravate your scalp and develop irritations. In such cases, wash your hair with salicylic acid shampoos twice a week.
Does salicylic acid help with dandruff?
Yes, salicylic acid effectively eliminates scaly, flaky, and hyperkeratotic skin. It also moisturizes dry scalp and improves its health.
Does salicylic acid help with hair loss?
Yes. Salicylic acid does not directly promote hair growth, but it reduces the amount of DHT, a hormone that restricts the growth and development of hair follicles. A low DHT means less hair fall and salicylic acid somewhat contributes to reducing hair fall.
How long should I leave salicylic acid on my hair?
You should leave salicylic acid for a minimum of five minutes on your scalp. This is enough time for the acid to get rid of your flaky skin and moisturize the scalp. Remember to wet your hair with lukewarm water and lather the shampoo gently to avoid irritating your affected scalp.
What happens if you leave salicylic acid on too long?
Leaving salicylic acid on for too long can have adverse effects. It can penetrate the pores and start drying out your scalp further.
What should you not use with salicylic acid?
Vitamin C should not be used with salicylic acid. The layering of these ingredients can disturb the pH level of the scalp and damage your hair health. Also, skip using salicylic acid with retinol to prevent excessive skin sensitivity and redness.
Recommended Articles