15 Best Sandals For Women That Are Comfortable To Walk In – 2023
For feet that feel like they are walking on a cushioned mattress all day long.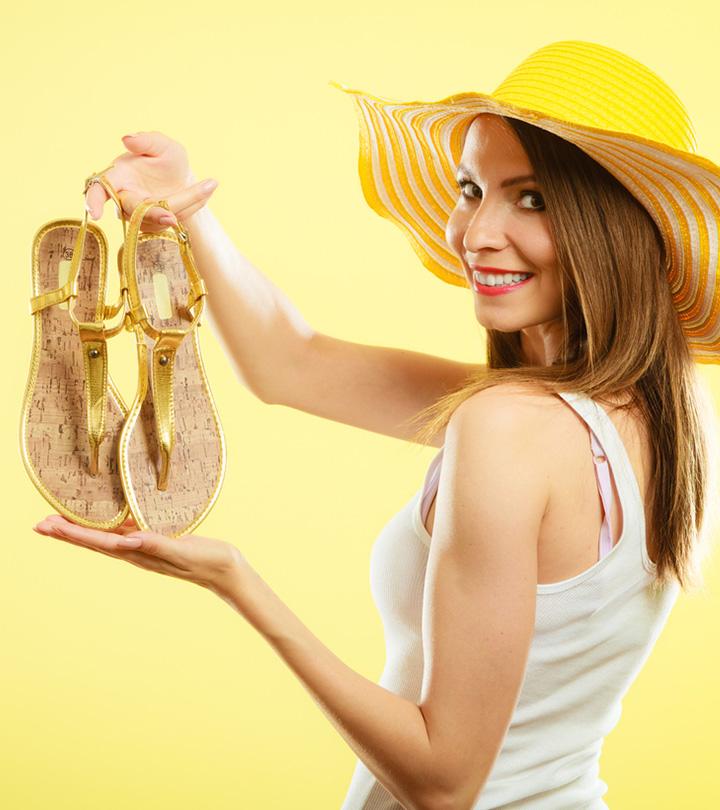 A comfortable and supportive pair of sandals is all you need to keep your feet happy and relaxed. The best pair of sandals for women prevent your shoes from feeling stuffy, uncomfortable, and sweaty. They help break the sweat away and make you feel comfortable and look fashionable. A lightweight and ergonomically-designed pair of sandals feel heavenly for your sole and soul. It also supports your feet and keeps them secure all day.
Are you looking for the best sandals for women to walk your pet, take a stroll around the city, run miles, or hit the beach? We have the best options to satisfy all your walking needs. Here is our list of the 15 best sandals for women. Check them out, and let a good pair of sandals be your perfect companion for a comfortable walk this season. Say goodbye to socks and laces, and let's dive straight into the list!
15 Best Sandals For Women You Need In 2023!
Your summer just got funkier, girls! Not only are these FunkyMonkey slides available in a wide variety of colors and designs, but they are also highly functional and comfortable for pretty much any occasion. The upper sole features adjustable straps that have a durable exterior and offer a custom fit for your feet. With a fresh, on-trend look and high-quality EVA construction, these slides are made to be flaunted at the beach or brunch with your favorite OOTDs. If you're planning to walk, the padded and contoured footbed will keep your arches well-supported and reduce fatigue, so you can go about your day freely!
Pros
Durable and comfy
Waterproof and washable
Soles are highly flexible
Adjustable straps for a custom fit
Lightweight and easy to pack
Cons
Might make a slight squeaking sound
Look trendy without compromising on comfort with this pair from Birkenstock. These comfortable sandals for women do not lie when they guarantee the utmost care for your feet. Anatomically designed with four arches, it ensures optimal weight distribution and will not affect your posture while walking. More on the design; it has a deep heel cup to cushion your heels and a raised toe bar to stimulate circulation while you walk. And as for the material, it's made of rubber EVA, which is ultra-light and ideal for wearing all day. Goodbye, achy feet!
Pros
Flexible and durable
Washable and waterproof
Ensures optimal balance
Exercises the legs while walking
Designed with two adjustable straps
Roomy toe area ideal for wide feet
Cons
They may be prone to slipping when wet
Price at the time of publication: $67.09
Like walking on feathers! Cushionaire's comfy sandals for women are so soft that your feet will feel at ease all the time. It comes with a cork-made cushioned footbed, which is optimally-cushioned, has a cushioned heel cup and arch support to keep your feet comfortable and happy with every use. Also, the adjustable straps are made of soft, vegan material, and the outer sole is made of EVA material to ensure many, many long trips with you. That's right, no more achy soles or painful heels with this gem!
Pros
Flexible construction
Ensures all-day comfort
Features 1.25-inch platform
The padded foot bed is anatomically-shaped
The 100% suede insole
Cons
May not be ideal for wide feet
Price at the time of publication: $29.99
You don't have to be brand conscious to pick a pair of crocs! These activity-friendly sport sandals for women will make you a fan with their high functionality and optimal comfort. A must-have for active souls and those who are always on-the-toes, these sandals are lightweight and adventure-friendly. Besides this, crocs are widely known for their water-friendly function, and this pair is no different. So, if you are planning a trip to the beach or looking for rain-proof sandals, this one claims to dry off quickly and keep your feet fresh too. Crocs are a must-try, we think!
Pros
Minimal design
Flexible synthetic sole
Easy to wear and slip off
The outer sole is anti-skid and flexible
Cons
Not ideal if you prefer a snug fit
Unlike traditional foam sandals, Ooofs sandals use OOFoam recovery technology to absorb 37% more impact while walking. Whether you want to wear it post-workout or give your feet a break after a long and tiring day, these walking sandals will not disappoint and ensure ultimate relief. Yup, calling it the most comfortable women's sandals for walking will not be totally wrong. Also, they support the arches to alleviate discomfort and pain in the ankle, knees, and lower back. Give it a try to get rid of chronic feet aches forever!
Pros
Made of 100% synthetic foam sole
Ensures relief and natural motion of feet
Machine washable
Easy to slip on/off
Cons
Not ideal for running or hiking
Price at the time of publication: $59.95
When it comes to comfort, Adidas can never go wrong. These sandals with bandage-styled uppers are topping trends this season because of their easy slip-on and off function. So yes, you get to stay on trend without compromising on comfort with these wonders! Besides this, these sandals have a 100% synthetic padded insole and outsole and ultra-lush cushioning in the footbed, making them one of the best women's sandals for indoor and outdoor use. Grab them already!
Pros
Regular fit
Quick-drying sandals
Features 0.5 inches platform
Ensures long-lasting durability
Cons
Not ideal for intense walks or running
Price at the time of publication: $17.99
Summer without wedges is incomplete. And these platform sandals for women are a great option to pair with all your summer OOTDs! Be it jeans, skirts, or spring dresses, these elevated platforms will amp up your style while keeping your feet comfortable and secure effortlessly. Also, considering the ankle-straps, they'll stay put in place no matter how you stride. Go on, add these to your bucket list for summer right away!
Pros
Comfortable footbed
Ensures a snug fit
Suitable for long wear
The straps are adjustable and sturdy
Cons
The ankle-straps may give your blisters
Price at the time of publication: $28.55
If boho is your style, these sandals by Plaka are a must-try for you. It's just the pair you need to chic up your fashion game, as these unique sandals for women are also handmade. And it gets better — it has a high-quality and vegan-friendly rubber sole, and the straps are made of anti-blister and anti-rubbing nylon. Also, did you notice the stunning weaving design? Add this pair to your vacation essentials to flaunt your gorgeous feet to go with that expensive pedicure. Hurry!
Pros
Flexible and durable
Suitable for narrow to medium-size feet
Available in multiple colors and patterns
The straps are stretchy and ensure a snug fit.
Cons
The straps may feel uncomfortable for some
Price at the time of publication: $34.95
Flip flop with a classier take! If minimalism is your thing, this pair of thong sandals will make you fall in love with your feet. Don't believe us? Paint up those nails and wear these sandals on a beach trip or to a brunch and get ready to be showered with compliments! Besides this, they'll keep your feet cradled and comfortable with its latex foam padding. Moreover, this 100% synthetic pair by Amazon Essentials is durable enough for daily wear too. Trust us when we say you don't want to skip these supportive sandals for women!
Pros
Lightweight
Ensures a snug fit
Easy to slip on and off
Ideal to pair with beach dresses, shorts, and jeans
Cons
The color may transfer on to the feet when wet
Price at the time of publication: $13.8
Finding the right size and shape for wide feet can be a task, which is why we have this option on the list. Rekayla's Sandals are designed with an elastic ankle strap, making them ideal for all feet shapes. Also, no more sweaty toes! With an open-toe bar to let easy airflow, these low-heeled sandals are a great option for warm weather. And as for the design, the brand believes in being simply classy. Still, want to skip these comfortable women's sandals?
Pros
Adjustable straps
Snug and secure fit
Flexible and anti-skid
Prevents footwear from slipping forward
Suitable to wear with all outfits
Cons
Not ideal if you need an ultra-soft sole
Price at the time of publication: $25.95
Are you planning a vacation or a beach trip? Because we have the right pair of sandals that you can flaunt along with your vacay OOTDs! Their outer sole are designed with braided nylon straps (which are handmade) and are made of rubber. The EVA-made middle sole is high-quality and ultra-comfortable. Plus, they are so soft that it feels like you are walking on air! Also, it's high on functionality, with the arch support reducing chances of discomfort and the heel cups ensuring posture support while you walk.
Pros
 Ultra-lightweight
 Washable and waterproof
 Skin-friendly, flexible, and skip-proof
 Ideal for distance walking and hiking
 The adjustable straps ensure a secure and snug fit
Cons
Price at the time of publication: $39.79
Heels are comfortable, and here's a pair proving it right! This season, set the temperature soaring with this ultra-chic and elegant pair designed with a latex padding insole to deliver the utmost comfort. Also, it has a rubber sole and an ankle strap with a buckle closure for a secure fit. Moreover, the straps are made of vegan-friendly suede-leather material that feels soft and comfortable on the skin. Also, the open-toe design of these cushioned sandals for womens will prevent sweaty toes too!
Pros
Adjustable ankle straps
Features 3-inch chunky heel
Suitable to wear for long hours
Available in multiple colors and patterns
Cons
May not be comfortable for wide feet
Price at the time of publication: $34.49
Taking comfort to a whole new level with a high-rebound insole. You don't have to worry about achy feet with Skechers athletic sandals for women! Wear them for running errands, walking the dog, or touring the city if you like. They ensure an out-and-out comfortable experience only. Plus, it has an ankle strap, which is adjustable and made of soft heathered fabric that you'll barely feel on your feet. Add these sports sandals for women to your daily wear ASAP and upgrade your on-the-go experiences.
Pros
Lightweight sandals
Features 1.25-inch platforms
Ensures a secure and snug fit
The sole is 100% synthetic
The cushioned sole is highly responsive
Cons
Price at the time of publication: $65
Your footwear for high fashion and comfort this season! If you don't mind loosening your purse strings a little, these wedges by Steve Madden will boost your style meter while comforting your feet with every use. Just the wedges your feet deserve to make a fashion statement, it features a cork and jute sole, and the camouflage-printed strap is stretchy to provide a secure fit. Also, these comfortable, stylish sandals are flaunt-worthy, and how! Do you think you can handle all the envy stares?
Pros
Features 1.5-inch heels
Prevents feet from slipping forward
Suitable for long-distance walking
The straps are thick and durable
Cons
Lastly, these comfortable womens wedges by Skechers! Quit compromising on your love for heels to prevent achy soles. These wedges are 2.75 inches and are ideal for wearing all day without making your feet feel uncomfortable. Additionally, it has a luxe foam for added comfort and a rubber sole for long-lasting durability. And that's not all; the stretchy straps ensure a snug and cozy fit too. For the love of heels, do not miss it!
Pros
Lightweight sandals
Ensures no sweaty toes
Suitable for all feet shapes
Easy to slip on and slip off
Cons
Price at the time of publication: $34.99
There you go, those were the 15 best sandals for women that are too comfortable to be ignored. Do you need more assistance with buying the best pair? Check out our buying guide below.
Features To Consider Before Buying Women's Sandals
No feet deserve discomfort after walking and running all day, which is why you must pick the right pair! Look out for the following features:
Choosing the right size is essential; however, there are several other areas that you must consider too. For example, the toe area should be roomy enough to prevent cramping or sweaty toes. Also, the shape of your feet matter, too. Sandals made for narrow or medium feet may be slightly uncomfortable for those with wide feet. Therefore, you must inspect both the size and shape before buying.
Comfort is imperative, but your feet need more than just a comfortable sole to stay pain-free. Sandals with arch support ensure optimum weight division and distribute pressure evenly to the sole to prevent discomfort. Besides this, choose sandals with heel cups as they curb the tension that may affect your plantar fascia. Simply put, roomy toe areas, arch support, and heel cups are some of the functions you must inspect, especially if you have chronic foot pain.
Choose sandals with cushioned insoles for superior comfort. However, those with luxe foam or latex are also good options if you are not looking for excessively cushioned sandals.
Choose sandals that are always prepared for slippery floors. Yup, sandals with an anti-skid outsole will never disappoint.
The straps, besides being easy-to-adjust should ensure a snug fit to prevent your feet from slipping forward. Also, sandals with ankle straps are highly-preferred as they keep your feet secure and restrict the sandals from slipping out from the feet.
Lastly, water-resistant sandals dry quicker compared to other sandals. Also, the washable option means no smelly sandals whatsoever!
Why Trust StyleCraze?
The author, Chaitra Krishnan, has a deep interest in fashion and loves reviewing different products for her readers. She conducted thorough research to curate this list of the best sandals for women. She sifted through numerous user reviews and feedback on trusted online forums and brand websites to shortlist the products. The sandals support your feet and keep them secure all day.
Frequently Asked Questions
Are sandals better than shoes?
Yes. Sandals provide better comfort than shoes when it comes to cushioning and maintenance.
Can sandals cause foot pain?
Sandals only cause foot pain when overused and feature an uncomfortable sole or fitting.
Should sandals have arch support?
Yes. Sandals should have arch support to prevent underlying injuries like ligament tears.
How do you wear sandals with blisters?
Your sandals will fit more easily over your skin if you apply baby oil or talcum powder to your feet before slipping into them.
What sandals do orthopedic doctors recommend?
The Cushionaire Women's Luna Cork Footbed Sandal is recommended by many orthopedics as it is the best for arch support and denser cushioning, which offers your feet a comfortable experience.
What are the most comfortable sandals for standing all day?
The FunkyMonkey Women's Comfort Flat Slides are the most comfortable sandals for standing all day. They are waterproof and come with high-quality cushioning.