9 Best Selling Sandalwood Body Lotions – 2023 Update
Relax with the rich, woody tones of this classic scent to stay refreshed all day.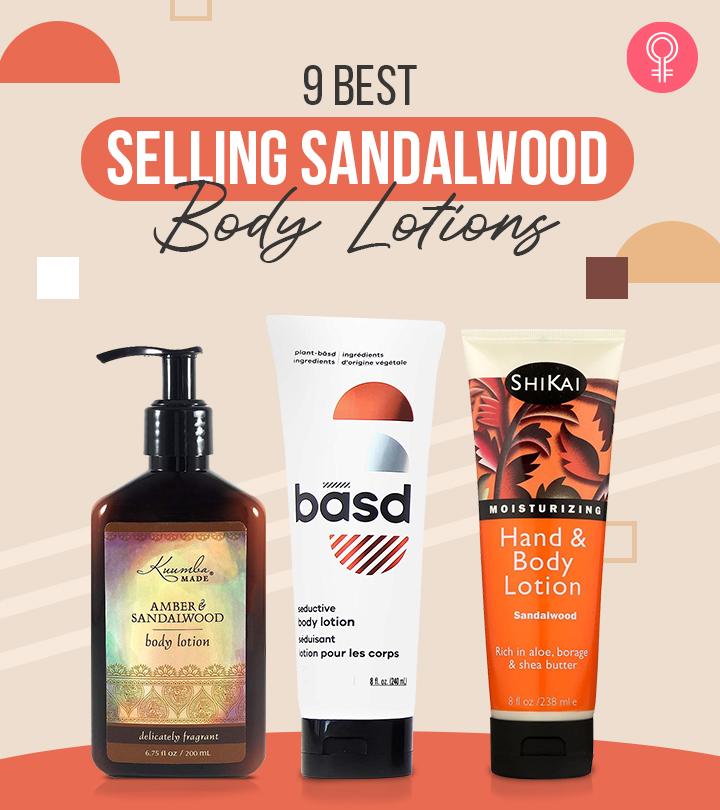 Sandalwood is one of the most expensive woods known for its distinctive fragrance. It has been praised for its medicinal values and is infused in many skin care products like lotions and oils. Including the best sandalwood body lotion in your skin care regimen can do your skin a lot good. It possesses antiseptic and anti-inflammatory properties, removes tan, reduces inflammation, soothes irritation, and tightens the skin pores. It also makes your skin glow and improves skin health. In addition, its aroma can reduce stress through the limbic system (which controls a variety of functions like emotions, memory, and behavior).
The lotion also may help ease sleeping disorders like insomnia or anxiety. In this article, we have listed the 9 bestselling sandalwood body lotions available online. Check them out.
9 Best Sandalwood Body Lotions For Women
This super-hydrating Seductive Body Lotion by Basd is just the perfect product for withered and sensitive skin. It is non-greasy and lightweight, and soaks in effectively, and repairs your skin from within. It is fortified with aloe vera juice and vitamin E that work together to soothe irritation, hydrate your skin, and tackle breakouts. The organic coconut oil seals hydration and leaves your skin super soft to the touch. The lotion also contains caffeine that targets skin ailments like cellulite, stretch marks, and fights signs of aging. The sandalwood and bergamot oils infused in this lotion leave an alluring and calming scent.
Pros
Naturally scented
Non-greasy
Vegan
Non-GMO
Paraben-free
Cruelty-free
Cons
None
Price at the time of publication: $16.99
Indulge in luxury and elegance with this moisturizing body lotion by Caswell-Massey. The formula is plant-based and is enriched with essential oils that fortify your skin. This hydrating cream also nourishes your skin and leaves it super soft and supple. The lush shea butter plumps your skin and seals hydration, while the refreshing aloe vera extracts replenish the lost moisture. The vitamin E-rich sweet almond oil tones and renews your skin. This all-natural formula has a clean and uplifting scent of sandalwood, vetiver, and cypriol that lasts all day.
Pros
Non-greasy
Pleasant smell
Paraben-free
Sulphate-free
Phthalate-free
Cruelty-free
Gluten-free
Cons
None
Price at the time of publication: $15
If you are looking for a body lotion that is super effective yet gentle, this moisturizer by Kuumba Made is the product for you. This hydrating lotion is formulated with delicate and luxurious ingredients that balance your skin's natural moisture, leaving it super soft, plump, and revived. The formula is super lightweight and melts into your skin with ease. It also contains essential oils of passion fruit, jojoba, sunflower, and acai that keep your skin nourished. The lavender flower water rejuvenates the mind and soothes irritation. Moreover, the sandalwood and amber in the lotion leave a pleasant smell to rejuvenate your senses.
Pros
Vegan
Lightweight
Pleasant smell
Paraben-free
Cons
Price at the time of publication: $11
This Sandalwood Moisturizing Hand & Body Lotion by Shikai is the ideal choice for dry skin. It consists of a botanical formula that contains aloe vera, borage, and shea butter. The aloe vera extracts relieve redness and irritation while locking in hydration. Borage oil effectively prevents inflammation, eczema, dermatitis, psoriasis, and rosacea.  The vitamin-rich shea butter conditions your skin and reverses skin damages. The sandalwood scent invigorates your senses and mood. Regular use of this lotion will make your skin feel super nourished, ultra-hydrated, and healthy.
Pros
Clinically proven
Non-greasy
Absorbed quickly
Ideal for everyday use
Cons
Price at the time of publication: $8.99
Dani's Hydrating Lotion is a nourishing formula that is free of chemicals and perfect for dry skin. It is enriched with hydrating ingredients like aloe vera, shea butter, and other that soothe and protect the skin while promoting collagen production. It is formulated with 100% vegetable oil like sunflower, soybean oil, flaxseed oil, and borage oil, which seals moisture and protects the skin from further damage. It also has citric acid to slough off dead skin cells and give you soft skin. The lotion has a beautiful blend of sandalwood and vanilla fragrance which invigorates your senses and uplifts the mood.
Pros
Hydrating
Non-greasy
Quick absorbing
Ideal for dry skin
Natural fragrance
Anti-inflammatory
Paraben-free
Sulfate-free
Phthalate-free
Cruelty-free
Vegan
pH Balanced
Non-Toxic
Eco Friendly
Cons
None
Price at the time of publication: $25
This 100% pure Indonesian patchouli oil and sandalwood-infused body lotion is a product to die for! The formula is enriched with cocoa and shea butters that leave your skin silky smooth and moisturized. The essential extracts like sage, lemon, and fennel, help fight signs of aging and eliminate skin irritations. The aloe vera extract hydrates and soothes your skin, while vitamin E protects it from free radical damage.
Pros
Pleasant smell
Non-greasy
Cons
None
Price at the time of publication: $14.99
This hydrating body lotion by Bath & Body Works is super creamy and absorbs into your skin with ease. The soothing and aromatic blend of magnolia petals and sandalwood gives you a luxurious feel. The lavender oil rejuvenates your senses, relieves stress, soothes muscle pain, and calms your mind to induce sound sleep.
Pros
Lightweight
24-hour moisturization
Little goes a long way
Cons
Price at the time of publication: $49.99
This Moisturizing Hand & Body Lotion by The Naked Bee is made with over 70% natural and organic ingredients and is a must-have in your vanity! The super lush lotion is ideal for dry and damaged skin. It contains sunflower oil and aloe vera extract that moisturize and nourish your skin, while honey acts as a natural emollient to seal skin moisture. The hyaluronic acid in this lotion provides thorough hydration and leaves your skin super soft and supple.
Pros
Paraben-free
Sulfate-free
Propylene glycol-free
Gluten-free
Fragrance-free
Phthalate-free
Laurel-free
Dye-free
Cruelty-free
Cons
Price at the time of publication: $20
This therapeutic body lotion by Hempz contains 100% pure hemp seed oil that is rich in fatty acids and antioxidants. It helps retain lost moisture and keeps your skin soft and supple. It also helps reduce oiliness and inflammation, thus leaving your skin clean and balanced. The lotion contains sandalwood extract that soothes skin irritation and leaves a heavenly scent. The apple fruit extracts in the formula help induce cell regeneration and keep your skin well-conditioned. Regular use of this moisturizer will make your skin smooth and healthy.
Pros
Vegan
THC-free
Dye-free
Gluten-free
Paraben-free
Cons
Price at the time of publication: $17.12
Why Trust StyleCraze?
Shiboli Chakraborti is a certified skincare coach who digs deep into product descriptions and user reviews to compile unbiased product lists. Here, she brings you a list of the best sandalwood lotions made of 100% natural ingredients that will nourish, hydrate, and repair your skin, leaving it soft and supple. These products are lightweight, moisturizing, and are ideal for daily use. Besides, they come in enticing fragrances that will make you feel refreshed. Shiboli recommends that her readers read through each product's pros and cons to pick a suitable lotion according to their skin type.
Frequently Asked Questions
Is sandalwood seductive?
Yes. Sandalwood is a natural aphrodisiac that boosts mental acuity. Also, its intense aroma rejuvenates the senses and energizes people with its intoxicating smell.
Should I use sandalwood body lotion every day?
Yes. Use sandalwood body lotion daily to increase cell turnover, boost moisture in the skin, and improve its elasticity.
What is the best time to apply body lotion?
Apply body lotion after a hot shower when your skin is slightly damp.
Can I apply sandalwood body lotion on my face?
No. Do not apply sandalwood body lotion to your face to prevent looking overly greasy. Instead, use a sandalwood cream for facial skin to gain a fresh glow.
Does sandalwood lotion smell good?
Yes. Sandalwood lotion has an intense, mood-lifting aroma that rejuvenates the senses.
Does sandalwood body lotion lighten the skin?
Yes. Sandalwood body lotions contain a high concentration of sandalwood oil with multiple skin-lightening properties. Therefore, sandalwood body lotions help effectively lighten and brighten your skin.
Recommended Articles