11 Best Sandwich Makers + A Buying Guide
Kitchen accessories that can help satisfy your hunger pangs quickly and easily.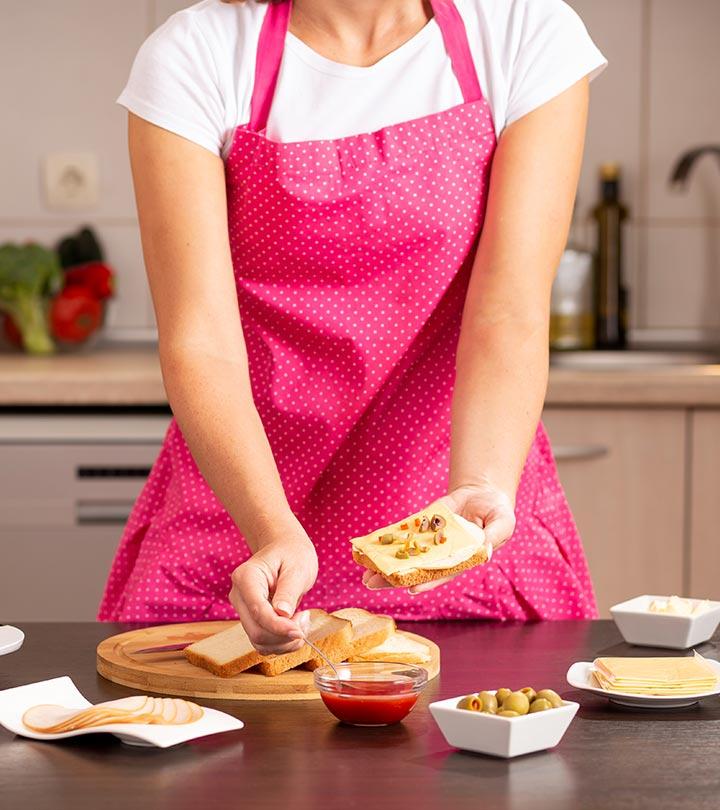 One of the easiest ways to satisfy your hunger is to grab a sandwich. To easily make a crispy sandwich at home, you need the best sandwich maker. Then, simply stuff two slices of bread with your favorite veggies, eggs, or chicken, grease them, and heat. And voila! You have a sumptuous sandwich ready. This snack is also the best option if you are health-conscious and like multigrain bread with healthy stuffings inside. Moreover, sandwiches are a popular lunch option for office workers and students.
These at-home sandwich makers can prepare sandwiches on the go as they don't need to stew for long. It might be a little overwhelming for you to choose a product as multiple options are available. But, fret not. We have listed the best sandwich makers to help you make the right choice. Read on!
Best Sandwich Makers – Top 11 Picks Of 2023
Pros
Made of plastic and metal
Fast service
User-friendly
Easily washable
Surface covered with non-stick cooking
Durable
Cons
Only works with electricity
Price at the time of publication: $29.98
French toast, omelet, or sandwiches; take your pick with Proctor Silex's Sandwich Toaster. The sandwich toaster has won the hearts of many by preparing food in mere minutes. It's compact and space-saving design is best suited for small pantries. The indicator lights, as an added feature with its alert signals, is an advantage for customers. Simply throw in some stuffed bread or egg-washed slices into the toaster and close the appliance. Once it's done you have a plate full of warm and toasty bread slices with a sumptuous filling.
Pros
3.08 pounds weight
4.59 x 10.42 x 11 inches dimension
Compact design
Plates are made of non-stick material.
Has indicator lights to guide the customer
Easy-to-clean
Cons
The closure isn't too sturdy
Price at the time of publication: $24.3
Pros
Made of stainless steel and plastic
Grills 2 sandwiches at once
Non-stick baking plates
Comes with a lock-down lid
Evenly grills from both sides
Indicator lights in two different colors for guidance
Cons
The design is too shallow to fit in large-sized sandwiches.
Price at the time of publication: $42.01
From hot sandwiches to crispy waffles, this gives you everything with just the press of a button. T-Fal EZ Clean Waffle and Sandwich Maker comes with two interchangeable plates designed for making Belgian waffles and pocket-sized sandwiches. It has two indicator lights that signal twice—once when the power is on and once when the food is ready. And the design is as customer-friendly as it can get. So now, don't fret much over the cleaning and can make both savory and sweet dishes with this non-stick sandwich maker.
Pros
Non-stick plates
Comes with 2 sets of interchangeable plates
Waffle plates also available
On/ready indicator lights
Dishwasher-safe plates
Easy-to-clean
Easy-to-use
Cons
Sandwich plate large enough for pocket sandwiches only
Price at the time of publication: $63
This sandwich toaster is different from the rest, as the press isn't flat or ridged but has triangular wells to give the sandwiches a pocket-like shape. One of the best sandwich makers, this is best known for preparing sandwiches and toasts, but can also be used to make an omelet or grill fish and chicken. The grilling surface is an ultimate non-stick area coated with ceramic and titanium so that the food comes off easily. What's more? The cool touch locking handle keeps your hands safe from excessive heat.
Pros
Cooking time less than 5 minutes
Ultra non-stick cooking surface
Cooking plates made of ceramic and titanium
Indicator lights to announce the completion
Cool-touch locking handle
Compact and portable
Cons
Not too easy to clean the sides where gooey substance drips off
Price at the time of publication: $19.49
The best quality of this sandwich toaster is that it does not need any electricity to run. A stovetop sandwich toaster can be used in three simple steps; put the sandwich into the toaster, press and lock the lid from both sides, and put it over a stove burner for toasting. The toaster is also lightweight and easily portable, making it a great option for camping and cookouts. Enjoy a hot, freshly-grilled sandwich somewhere in the outskirts with this unbeatable Yoshikawa Atsu-Atsu Sandwich Maker.
Pros
Dimension: 350 x 150 x 32 mm
Weighs 350 g
Works on both gas and electric stove
Easy-to-clean
User-friendly
Cons
Price at the time of publication: $20.98
There is nothing better than a multi-purpose sandwich maker, especially when there is very little time to spare in the kitchen. Plates designed with ridges in the shape of waffles, grills, and pocket sandwiches can be used for all of your breakfast and snack needs. It is also designed in such a way that the plates have channels for excess grease to run-off making the sandwich healthy and fit to be consumed by people of all ages. Made of stainless steel, this one is non-stick for easy scrape-off of food sediments. Black+Decker grill is your go-to sandwich maker when you are looking for a 3-in-1 breakfast appliance.
Pros
3-in-1 compact design
Interchangeable plates
Non-stick plates for easy cleanup
Accents made of stainless steel
Temperature control indicator lights
Dishwasher-safe
Cons
Edges of the plates too sharp
Price at the time of publication: $33
Pros
Lightweight
Compact
Cool handles
Indicator lights
Quick preheat
Inbuilt lock
Easy to clean
Cons
Price at the time of publication: $19.99
This one is for those who love hot, toasty, and juicy sandwiches without too much fuss. Chefman's Electric Panini press is your go-to sandwich maker and grill for a firm and moist panini. With a cooking surface of 5.5" x 8.75", the grill can make sandwiches for up to 2 people. This one also has an adjustable hinge that can fit in sandwiches and hamburgers of any size. Fulfill that sandwich craving by getting yourself a nicely toasted chicken sandwich for lunch or any big meal.
Pros
Compact size
Non-stick grill plates
Designed for oil-free cooking
Adjustable floating hinge
Removable drip tray
Opens at 180 degrees
Cons
Does not fit more than one large size sandwich
Price at the time of publication: $27.3
Not just sandwiches, but this one will fulfill all your barbeque, grilling needs. Compact to store, yet 70 inches big to fit in a delectable hamburger, this one serves meals for up to 4 people. The floating lid is a plus as it helps press, cook, or grill food to any thickness. And how do you clean the sandwich maker at home? The removable plates are dishwasher-safe and their non-stick surface wipes completely, making the washing process effortless.
Pros
Cooking time less than 10 minutes
Has a 70 sq inch surface
Compact storage
Easy-to-clean
Tested to meet safety standards
Cons
Doesn't have a power button
Power cord is extremely short
Price at the time of publication: $29.99
Start the very first meal of the day with Ovente's Electric Sandwich and Waffle Maker. The sandwich maker is time-saving and comes with 3 options for breakfast— grills, sandwiches, and waffles. The detachable plates are easily washable and the design is such that cooking a variety of dishes is child's play. Be it a tempting grilled sandwich or a yummy waffle with ice-cream, this high-power sandwich maker is ready to serve you in minutes.
Pros
3-in-1 switchable plates
Powered by 120V and 750W
Cooks fast
LED indicator lights for signal
Non-stick detachable plates
Hassle-free cleaning
Cons
Not free of Polytetrafluoroethylene and Perfluorooctanoic acid
Price at the time of publication: $24.99
While it's very important to know about all the features a sandwich maker boasts of while buying, one must also be aware of what features suit their preferences. Let's explore a bit more about the important features of a sandwich maker.
Important Features To Consider
Everyone loves their sandwiches to have enough stuffing to fill them for an entire meal. Therefore, a sandwich maker must be big enough to fit in sandwiches and burgers of even large sizes. Some sandwich makers can take up to 4 sandwiches depending on the size of your family. So go for a sandwich that is big enough to cook hassle-free meals for everyone in one go.
Sandwich makers that have detachable plates are dishwasher-safe and easiest to clean are the ones you must look for. The material used to coat the cooking surface also plays a big factor in the cleaning process. Just take a warm, damp cloth soaked in soap water and wipe off oil or any other food sediments from the cooking surface every time you use it.
An appliance like a sandwich maker might take up a lot of space in any kitchen. Storing a hugely built toaster or sandwich maker might lead to a space crunch. Therefore, look for an appliance that is compact to store in kitchens of all sizes.
Every sandwich lover wants their sandwich to be evenly crisp from the outside and well-cooked from the inside. If the press of the sandwich maker isn't well manufactured, then the sandwich might come out burnt from one side and half-cooked from the other. Always check the press before a purchase.
Check if the sandwich maker is multi-functional or not. It must have the ability to grill more than just sandwiches. A sandwich maker is only considered useful when you can use it for grilling slices of bread as well as other food items like meat, fish, or patties.
The above factors make us want to discuss more on how a sandwich maker works
How Does A Sandwich Maker Work And How To Use It?
Different kinds of sandwich makers work differently. Some run with electricity, while some are used on stovetops. The basic method is very easy where you have to stuff the press with bread slices and some filling. Then you toast the sandwiches according to the sandwich maker's functioning. Plug-in the electric one to switch on the sandwich maker and use the stovetop one with the help of the gas burner.
This brings us to the discussion about the various types of sandwich makers that are available either online or in the market.
Different Type Of Sandwich Makers
There are mainly two types of sandwich makers. The first one runs with electricity while the other one is more like a pan that is used on a stovetop. Both the sandwich makers have their advantages and disadvantages. An electric sandwich maker uses high voltage and cooks the sandwich faster whereas a stovetop sandwich maker takes more time to cook a sandwich but cooks the filling from deep within. The major disadvantage is that an electric sandwich maker does not run without electricity while a stovetop sandwich toaster only needs a gas burner. Both sandwich makers must be used according to your preferences.
Why Trust StyleCraze?
A Sandwich maker has come as a blessing in the world of sandwich lovers. It has made the life of a sandwich lover easier as they no longer have to run to the nearest sandwich store to enjoy the taste of crispy bread stuffed with fillings. All sandwich craving can now be met by getting one of the best sandwich makers from the market. So hurry up and get yourself some best grill sandwich makers to satisfy all those sandwich cravings.
The author, Shreya Vishwanathan, finds her passion in reviewing and recommending the best home and kitchen products to users based on their genuine merits. Here, she has extensively researched sandwich makers and closely examined the reviews posted on different online forums to come up with the best recommendations. The products listed above are not only durable and compact but also easy to use and clean.
Is a sandwich maker a healthy way of making sandwiches?
A sandwich maker usually has a non-stick ceramic coating that cooks or grills sandwiches with little to no oil. The sandwiches can be made as healthy as possible by stuffing it with a good choice of vegetables. Use a sandwich maker for a fat-free and healthy breakfast or tea-time snack.
What is the difference between a toaster and a sandwich press?
The basic difference between a toaster and a sandwich press is the function that they perform. A toaster is used to heat single slices of bread from both sides turning it into a crisp toast while a sandwich maker uses lever action to press together and heat two slices of bread with some filling.
Can you cook eggs in a sandwich press?
A press with a flat base can be used for grilling more than just sandwiches. You can use it to make poached eggs, grilled vegetables, grilled bacon, steak, and fishes.
Can we use oil in a sandwich maker?
With some sandwich makers, little oil is greased over the plates that help the sandwich to come off easily. There are a few high-quality sandwich makers with non-stick plates also available in the market that do not require a single drop of oil to grill sandwiches evenly.
Can we grill chicken in a sandwich maker?
One can easily grill chicken, fish, or any other kind of meat in a sandwich maker. Though it will take more time for any meat to cook as compared to a sandwich, the results are absolutely marvelous.
Can we cook pancakes on a sandwich press?
Just like meat, a sandwich maker can also be used for cooking pancakes and waffles provided appropriate plates are available.
Recommended Articles:
Healthy Breakfast Recipes For Weight Loss