10 Best Sanitizer Test Strips – Reviews
Don't trust your sanitizer blindly and assess its efficacy with these kits.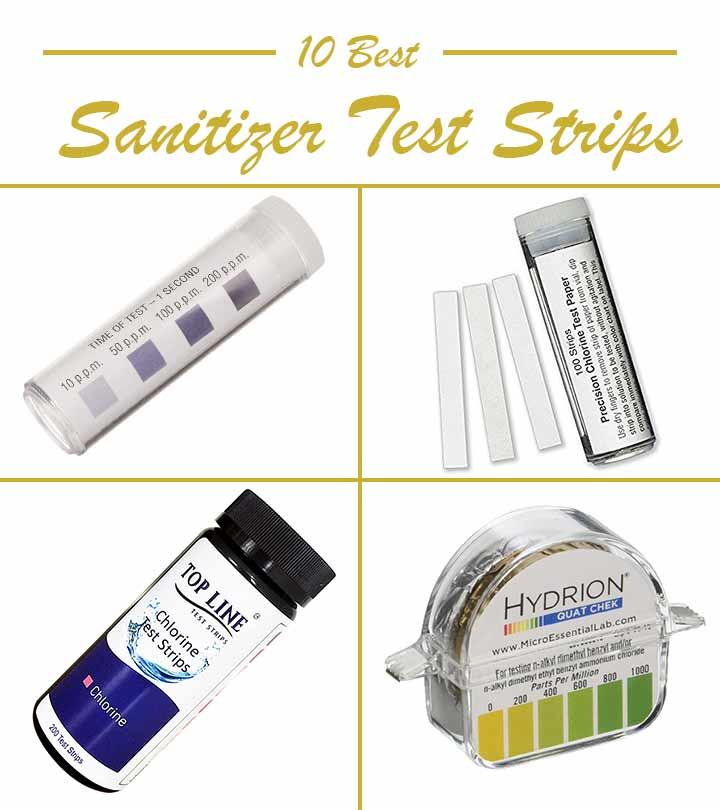 Sanitization eliminates 99.999% of bacteria and other microorganisms from a surface (1). The best sanitizer test strips tell you how effective the product used for the sanitization process was. Sanitization is typically done using chemicals, and certain parameters must be met to ensure that the majority of germs are eliminated.
One approach to guarantee that these standards are satisfied is to use sanitizer test strips. They indicate whether the chemical sanitizing solution is sufficiently concentrated. To defend yourself from sicknesses, you must reach a certain level of sanitization. An assessment using sanitizer test strips is required by local health department standards for every commercial sanitizer. If you are looking for the sanitizer test strip, take a look at the 10 options listed below.
Why Is Sanitization Important?
Sanitizers are designed to kill 99.9 % of certain germs and bacterial microorganisms. Sanitizing a surface reduces the number of microbes on it quickly.
People spend most of their time at workplaces, schools, hospitals, and other commercial settings. Such areas with high populations have higher chances of playing host to microorganisms and bacteria. This can cause sickness, infection, and viral outbreaks in places where people are in contact with each other constantly. No matter what kind of setting it may be, it is important to ensure that all common surfaces and objects are 100% clean and germ-free.
While cleaning the surfaces with soap and water is effective in the removal of dirt, dust, and grime, sanitizing will reduce the number of microbes on surfaces to make them more hygienic.
Here are a few reasons testing sanitizers is mandatory.
Why Is It Important To Test Sanitizers?
1. Chemicals Deteriorate
Sometimes, you may not realize that the chemicals in the sanitizers can deteriorate over time. This is especially true if you have a large amount of sanitizers stored for months. Sanitizers deteriorate faster if you store them in warm environments. If the chemicals degrade, sanitizers will not have the same strength they originally did.
2. Food Particles Can Adulterate The Solution
If any food particles get into the sanitizer, it will affect the active ingredients present in the solution. This means you need to use test strips to ensure that the sanitizer remains at the perfect concentration.
3. Dishwashers May Not Be Effective
Not all dishwashers that use sanitizers may work. When they don't work efficiently, equipment and utensils are not sanitized thoroughly. Therefore, it is essential to check not only the dishwasher but also its sanitizer concentration.
Here are three ways to use a sanitizer test strip, depending on the nature of the solution.
How Do You Use Sanitizer Test Strips?
Chlorine-Based Sanitizers: Dip the strip into the sanitizing solution. Remove it immediately and compare to the color chart. If it reads between 50 ppm-200 ppm, the concentration is perfect.
Quaternary Ammonia (QA) Sanitizers: Dip the strip into the sanitizing solution for 10 seconds. Remove it immediately and compare it to the color chart. If it reads between 100 ppm-400 ppm, the concentration is fine.
Iodine-Based Sanitizers: Dip the strip into the sanitizing solution for 60 seconds. Remove and compare it to the color chart. If it reads between 12.5 ppm and 25 ppm, the concentration is fine.
If the concentration is either too low or high, add more sanitizer or dilute as needed to achieve the equilibrated concentration. Let us now look at the 10 best sanitizer test strips you can buy.
10 Best Sanitizer Test Strips
1. Bartovation Restaurant Sanitizer Chlorine Test Paper
This chlorine test paper provides a simple, accurate, reliable, and economical source of testing the concentration of chlorine in sanitizers. It calculates the total available chlorine from 10-200ppm and provides results in seconds. The total available chlorine is calculated as the sum of free available chlorine and the combined available chlorine. This chlorine test paper is used to test the strength of solutions used to sanitize large surfaces and objects, like in restaurants.
Pros
Measures accurately
Cost-friendly
Easy to use
Cons
None
2. LaMotte 4250-BJ Chlorine Test Strips
The LaMotte 4250-BJ Chlorine Test Strips are chemically treated to indicate sanitizer levels. The kit includes sanitizer test strips and color charts. Its range and sensitivity are 10, 50, 100, 200 ppm (200 strips).
Pros
Delivers quick results
Affordable
Easy-to-read results
Cons
None
3. Home Brew Ohio Chlorine Test Papers
The Home Brew Ohio Chlorine Test Strips measure total available chlorine from 0-200 ppm and give results in just seconds. These strips are used to test the strength of solutions used for sanitation in the food department. They are pocket-sized and lightweight, making them easy to carry. 
Pros
Good quality strips
Accurate measurements
Affordable
Cons
None
4. Top Line Sanitizer Test Strips
These chlorine sanitizer test strips ensure that your chlorine/bleach sanitizer solution preparation supports the rules and regulations specified by your local sanitation department. They range in test parameters between 0 and 500 ppm (0, 10, 25, 50, 100, 200, 400, 500) in an easy to read the color chart. Each bottle contains a print of the lot number, manufacturing date, and expiry date. The test strips are packed in a waterproof vial with a water-resistant label for increased durability and protection.
Pros
200 strips per bottle
Very accurate
Easy to use
The strips don't stick together.
Cons
None
5. Industrial Test Systems WaterWorks Chlorine Test Strip
The Industrial Test Systems WaterWorks Chlorine Test Strips measure the total number of free chlorine in the sanitizing solution. Each bottle contains 50 test strips. Their patented strip technology makes these strips reliable for measuring the amount of free chlorine in sanitizers or disinfecting solutions. It doesn't require any extra chemicals to perform these tests, and they are also designed to restrict interference from monochloramines. This will help provide accurate results.
Pros
Easy to use
Includes a complete kit
Accurate and reliable
High-quality strips
Cons
None
6. FryOil Saver Quaternary Ammonia Sanitizer Strips
The FryOil QAC Test Strips are manufactured in the USA by Precision Labs. They provide quick results in just 1 second. The kit includes a color chart and 100 test strips. They are litmus paper-based to ensure accurate readings. The color chart is calibrated at 0, 100, 200, and 400ppm and will detect the concentration level of your sanitizers.
Pros
Meets the requirements of health regulations.
Provides quick and accurate results.
Easy to use
Cons
None
7. VersaPro Chlorine Test Strips
The VersPro Chlorine Test Strips are formulated to measure the strength of sanitizers. Their range and sensitivity is 0, 50, 100, 200 ppm. These strips provide results in less than 5 seconds. The kit is compact, lightweight, and travel-friendly.
Pros
Durable
Easy to use
100% reliable
Cons
8. Franklin Machine Quat Ammonia Sanitizer Test Strip Tape
The Franklin Machine 142-1363 Quaternary Sanitizer Test Strip is a litmus paper formulated to ensure accurate readings. This strip is perfect for testing ammonia sanitizers. It provides results within 10 seconds.
Pros
Meets the regulations of health inspection
Accurate readings
Easy to use
Cons
None
9. Steramine Quaternary Sanitizer Test kit
The Steramine Quaternary Sanitizer Test Kit contains 32 test strips and 2 matching color charts. The results are shown within 10 seconds. It comes with a travel-friendly envelope for storage. It provides accurate results and meets the requirements of the health department regulations.
Pros
Lightweight
Easy to use
Affordable
Cons
None
10. Micro Essential Lab QK-1000 Plastic Hydrion Quat Check Test
The Micro Essential QK-1000 Hydrion Quat Check Test Strip provides a simple, reliable, and accurate means to measure the concentration of quaternary sanitizers, including n-alkyldimethylbenzyl and n-alkyl dimethyl ethyl benzyl ammonium chloride, and rocall II. The test paper measures concentrations between 0-400ppm. When the color matches 0-100-200-300-400ppm (parts per million), these strips detect the exhaustion of the solutions that should be replaced to avoid wastage. Each pack contains 10 kits, a 15-foot roll of test paper, and matching color charts.
Pros
100% reliable
Helps avoid using excess amounts of sanitizing agents
Cons
Frequently Asked Questions
What is the correct PPM for a sanitizer solution?
The concentration for a sanitizer solution is 50-200 parts per million (PPM).
What pH should sanitizer be?
The pH range is 6.5 to 7.5 for a sanitizer.
How long do sanitizer test strips last?
Sanitizer strips last for two to three years.
How long do sanitizer test strips need to be submerged before removing them from sanitizers?
Submerge the sanitizer strips for 12 to 15 minutes for the best results on the effectiveness of sanitizers.
Why do sanitizer test strips expire?
Sanitizer strips expire if they are unopened for a long time as the ingredients dry up.
Recommended Articles