10 Best Sanskar Bharti Rangoli Designs To Try In 2019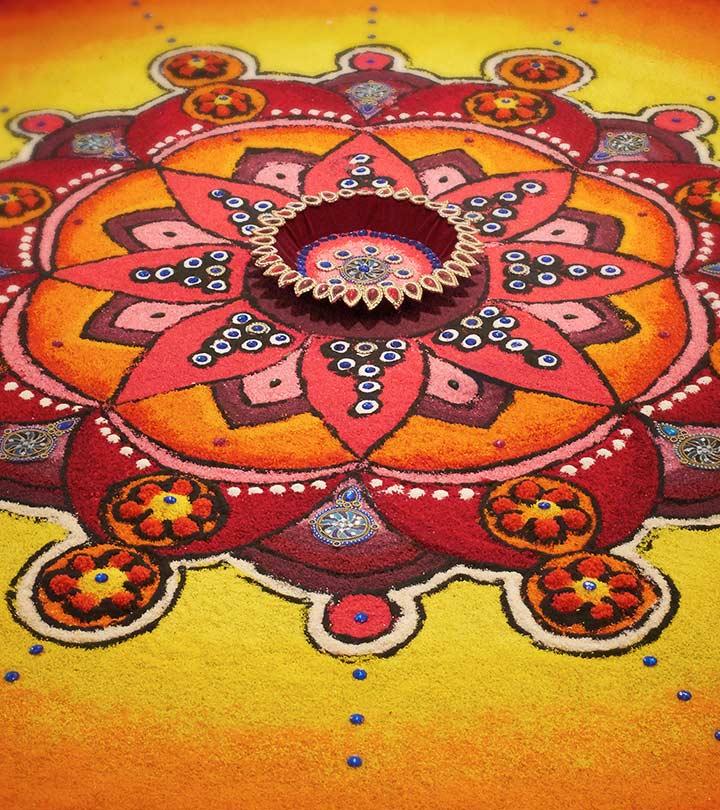 Rangoli making is a unique art work popularly followed in every nook and corner of India. Generally made in living rooms and courtyards, this decorative art work beautifies homes and workplaces especially during festivals and special occasions.
To choose the right design from the thousands available can be a daunting task. Today, we present to you a unique and popular rangoli design – Sanskar Bharati – for this Diwali. Bring on the festivities with this colourful design.
Splash Of Colour
Sanskar Bharati rangoli is a popular rangoli making style from Maharashtra. These rangolis are made using a special technique wherein three or five fingers are used to make the pattern.
The technique where five fingers are used is called 'paach boti' in Marathi. Even the fist is used at times to make these designs. Nowadays special rangoli making funnel or pens are also being used.
The Best Of Sanskar Bharti Rangoli Designs To Try In 2108
1. Round shaped Sanskar Bharti rangoli is a common design. This rangoli design is dedicated to the festival of lights and colours – Diwali. The holy 'Om' sign in the middle is done using three vibrant colours – yellow, red and blue. White colour is used to make the intricate designs and to make the diya designs.
2. This Sanskar Bharti rangoli design is quite complex for beginners. The multitude of colours used in making this makes it a perfect choice for any occasion. An 'Om' design adorns the middle section. The palette of bright colours like green, blue, red and pink makes this rangoli a vibrant and beautiful choice for special occasions.
3. This design is bright and colourful. The main colours used here are yellow, red and blue. The details around the design are made with white coloured powder.
4. This is a complex design and needs years of expertise to make one. Not meant for beginners. The colours used here are not separated like in the previous design, but applied in a haphazard manner. Intricate designs using white coloured powder are made to make this rangoli look prominent and beautiful.
5. This design has many concentric circles in the outer layer. The use of green, red and dark blue colours makes it look vibrant and bright. Also, the colours complement each other perfectly. The centre has been decorated with flowers.
6. This round Sanskar Bharati rangoli looks simply stunning with striking hues of bright purple and pink. The yellow colour used in the middle creates a beautiful contrast with the rest being cool colours. The centre is filled with a dull green shade. White colour is used for intricate patterns within the design.
7. This is  huge and complex rangoli design. It is obvious that it needs expert. The vibrant and bright palettes of colours used here are carefully chosen. The use of green, red purple, pink, yellow and black is dealt with expertise. The white designs add beauty to it.
8. This will be a perfect choice for those who want to make a corner rangoli. This design is a quarter of a circle and hence requires less time and effort when compared to a full circular shaped rangoli. The colours used here are striking and bright like purple, pink, yellow and orange.
[ Read: Indian Rangoli Patterns ]
9. Here is a rangoli in a circular floral pattern. Each petal is filled with different colours. Bright orange, red and blue are used to make the petals. The centre is decorated with yellow, orange, red and blue coloured small circular shapes.
10. This rangoli design looks quite sober as it is made with colours that are easy on eyes. The plum colour perfectly complements the purple, green and yellow shades. The circular shape is common. There is less intricate pattern work. The rings of each colour in the rangoli have a special design drawn upon it.
We hope these designs caught your fancy. We will be back with more such beautiful designs. Do keep visiting Stylecraze.com. Don't forget to leave us a comment below.
The following two tabs change content below.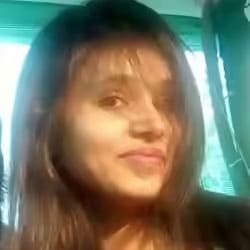 Jyotsana Rao is an engineering graduate from NIT, Nagpur, who discovered her love for writing during her undergraduate days. She is passionate about writing about everything related to beauty - makeup, fashion, hairstyles, skin care, or hair care. When this social media junkie isn't stalking the world of fashion and glamour, she loves spending her time traveling.