Best Santoor Soaps – Our Top Picks for 2021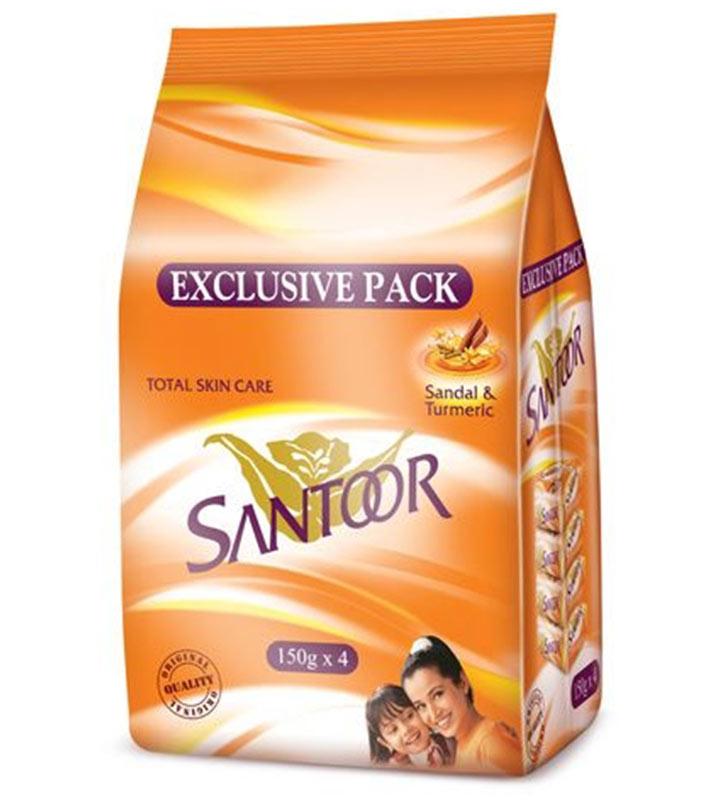 Wish you could use homemade remedies for beautiful and glowing skin? But unable to invest your precious time to make your own beauty masks using natural ingredients? Don't worry! Your have come to the right place!
Santoor offers a range of beauty soaps that contains natural ingredients found in India such as sandal and turmeric. It makes you look beautiful sans any harsh chemicals. These soaps are designed to be affordable and at the same time be effective. Read on to discover the top 10 best Santoor soaps.
Here are the Top 10 Santoor Soaps in India:
1. Santoor White Soap:
Santoor White is a traditional South Indian soap for women that suit all skin types found in this country. One of the first Santoor soap products to ever come out, it's good for all ages.
This is a new version of Santoor White. It has skin moisturizers that contain the goodness of sandal and almond milk. This hydrates and moisturizes your skin to give it a healthy glow. This also cleanses your skin, and has an active ingredient that gently nourishes your skin.
Quantity: (4x105g)
A new range of Santoor White soap this comes with skin softener. It has goodness of sandal and turmeric that soften your skin to give it a healthy glow. This also cleanses your body with its active ingredients. They are required to gently nourish your skin and make you feel fresh and look beautiful.
Quantity: (4x110g)
4. Santoor Skin Softener soap:
Santoor Skin Softener soap contains sandal and turmeric that have been the most essential part of Indian women's skin care regimen for ages.
Even today haldi ubtans made from sandal and turmeric are preferred beauty mixture for a bride on her important day. It makes her skin look fairer and younger.
The soap also contains chandan that enhances your skin, making it smoother and more beautiful.
Quantity: 65 gms x 8 pieces
5. Santoor Chandan soap:
This one is especially designed for the modern Indian woman; a housewife and a career-oriented woman who likes to achieve her dreams and at the same time can take care of her beauty. Every woman will admire a perfect skin care product that can prevent skin damage. Santoor Chandan soap is best suited for the new age Indian beauties. The product is inspired by the empowerment of Indian women to make her look perfect and young.
Chandan in this soap cures many skin problems, which are generally faced by women all over the world. It also seals in the moisture to avoid dry skin by balancing the water in your body cells. This also fights and prevents the appearance of fine lines and wrinkles. Regular use will give you a healthy and glowing skin.
Quantity: Pack of 4
Santoor Glycerin bathing bar contains Vitamin E and glycerine which gently nourishes and moisturizes your skin to give it a healthy glow. This contains ingredients such as castor oil glycerin, coco amido propyl betaine, perfume, coco di-ethanol amide, stearic acid, sucrose, coconut oil, alpha olefin sulphonate, aqua, sodium hydroxide, lauric acid, sodium chloride, di-sodiyum edta propan- 2- ol, burylated hydroxy toulene, tocopherol, sandalwood extract, and color Cl no: 1215, 12740, 47000.
Quantity: 125 gms carton Pack of 3
[ Also Try: Santoor Gold Soap ]
7. Santoor Fairness Face Wash:
Santoor Fairness Face Wash gel contains ingredients such as glyceryl cocoate, saffron, Sles, sodium pca, peg 7 and sandal extract. This is a good face wash for those who have sensitive skin. It helps in getting rid of oily blemish-prone skin for those staying in humid areas.
Santoor fairness face wash gives you a fairer skin. This comes in a soft orange coloured gel form. It mildly lathers i and gives you an even complexion, lending glow and sheen to your skin. This also lightens skin pigmentation without leaving any layer of stickiness. It does not dry your skin and gives a silky and smooth feel. It is ideal for both dry and oily skin.
8. Santoor Moisturizing face wash:
This contains ingredients such as peg 7, glyceryl cocoate, Sles, glycerin, almond milk and sandal extract. This is an herbal face wash best suited for oily skin. It makes skin smooth and cleanses it to remove excess oil. Its milky creamy texture lathers into soft foam without blocking your pores. This makes your skin soft and glowing by lightening it. This is very gentle but cleanses really well.
Santoor Hand Wash is specially formulated with a double protection formula. It fights germs and maintains pH balance of the hands.
Weight: 250 ml

10. Santoor Hand Wash with Extra Moisturization:
This Santoor liquid hand wash cleans your hands and maintains good skin as well. This contains a blend of natural ingredients like sandal and extra moisturizers for hydrated and soft hands. It also gives a positive effect on dull and damaged skin.
It maintains clear skin as well as suppleness and elasticity of the skin. It gives double protection to fight germs and maintains pH balance. This also has a very pleasant smell.
*Subject to Availability
Have you tried any of the Santoor soaps and other products? Do leave us your comments below.
Recommended Articles:
Best Sandalwood Soaps In India
Best Soaps For Summer Available In India
Best Soaps Available in India
Best Soaps For Oily Skin For Summers In India
Best Soaps For Dry Skin Available In India
Best Glycerin Soaps Available In India
The following two tabs change content below.