10 Best Sarah Chapman Products To Try Now
Improve the quality and texture of your skin with these healthifying skincare products.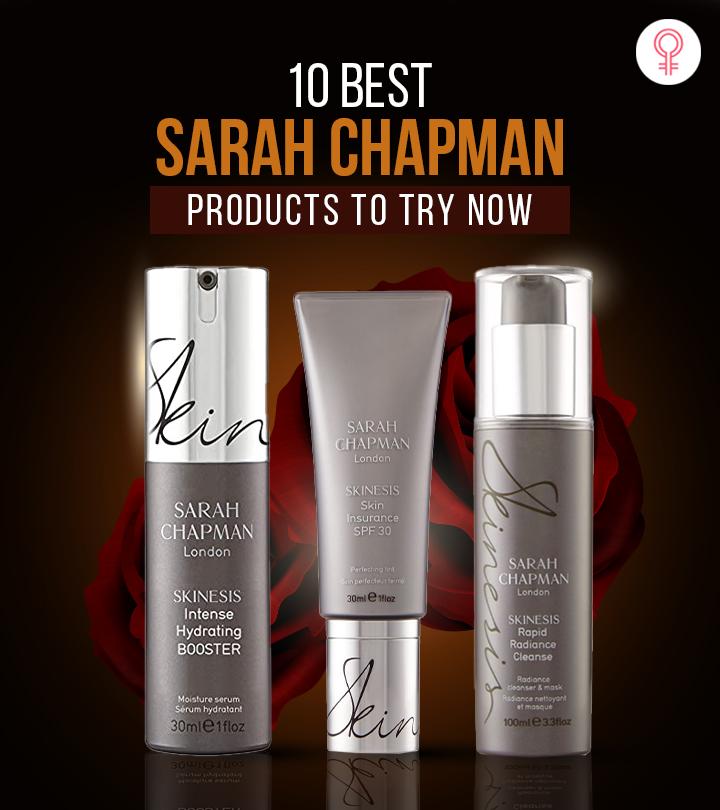 Sarah Chapman is a big name in the skincare industry. She is the founder of Skinesis and one of the leading facialists in London with more than 20 years of experience. Adding the best Sarah Chapman products to your skincare routine can save you from several skin concerns. This brand develops personalized products (concoctions) based on individual needs and formulates products with highly potent active ingredients. The use of science in these formulations can effectively target real skin issues.
Sarah Chapman is the pioneer in this beauty industry with a number of loyal clients from A-list celebrities to Royal family members. All these Sarah Chapman products are carefully packed in air-tight pumps to protect the quality of air-sensitive ingredients. In this article, we have listed the 10 best Sarah Chapman products that best suit your needs. Scroll down and check them out.
Top 10 Sarah Chapman Products Of 2021
The Sarah Chapman Skinesis Overnight Facial Night Elixir is a power-packed cosmeceutical serum with efficient actives and anti-inflammatory omegas. The scintillating silky texture provides a feeling of an overnight facial. Dermaxyl and vitamin A are the anti-aging ingredients that boost collagen production. Lipobrite helps in giving the skin a fresh, bright, and calm look. The serum is rich in omega oils that will shield your skin with antioxidant vitamins, coenzyme Q10, and lipoic acid. The advanced peptide technology rejuvenates the skin and Renovage increases the lifespan of younger skin cells. The soothing fragrances of essential oils of rose, jasmine, frangipani, and tuberose induce sleep and destress the skin. One or two pumps of this overnight facial every night will do wonders to your skin.
Active Ingredients
Vitamin A
Vitamin C
Vitamin E
Renovage
Abyssinian oil
Meadowfoam Seed oil
Hemp Seed oil
Melon oil
Baobab oil
Jojoba oil
Pros
Suits all skin types
Fades fine lines
Soothing fragrance
Cons
Price at the time of publication: $79.95
The Skinesis Ultimate Cleanse from the bouquet of Sarah Chapman products is a multi-purpose cleanser for face and eye makeup. The antioxidants exfoliate the skin and act as a protective shield, while the peptides stimulate collagen production. Vitamin A brings your skin back to its normal balance. This Ultimate Cleanser is soft on the skin even while removing deep makeup and cleaning clogged pores. The omega oils act as anti-aging agents, keeping the skin baby-soft and supple. This balm can be emulsified into light milk by adding water for a quick cleanse. It leaves your skin rejuvenated, decongested, and radiant. Clean your face with the cleanser and follow up with a moisturizer or serum of your requirement.
Active Ingredients
Omega
Collagen stimulating peptides
Vitamin A
Antioxidants
Pros
Fights aging signs
Pleasant fragrance
Easy to use
Cons
None
Price at the time of publication: $65.19
The Skinesis Skin Insurance is a light active formula that works more than just as a sunscreen. Its technology protects the skin from thermal and infrared radiation, including UVB and UVA rays. Along with being a broad-spectrum SPF 30 sunscreen, it is power-packed with imperfection-blurring and anti-aging ingredients like celligent, vederine, and photosomes-V. Skin Insurance is a great skin conditioner that shields your skin from pollution and other environmental aggressors. It has strong antioxidants that repair stressed skin and its cell and DNA renewal technology boosts your skin with a youthful glow.
The elastin regenerators in the product reduce wrinkles and firm the facial skin. The bioactive complexes reduce pigmentation and scars. This formula is non-sticky and dries fast. It has smart light-scattering powders, optical-blurring technology, and intelligent adaptive tints that give you an even skin tone and a long-lasting glow. The Sarah Chapman Skin Insurance has a subtle floral scent of hyacinth, rose, and jasmine essential oils.
Active Ingredients
Melanostatine®5
Celligent
PhytoCellTec™ Solar Vitis
Vederine
Buddleja Davidii
Photosomes-V
Elix-ir
Skinergium® 2
Pentavitin
BeauPlex® VH
Cyclopeptide-5
O.D.A White
Uniprotect PT-3
Lipolight® OAP/PVA
Pros
Lightweight
Non-sticky
Pleasant fragrance
Cons
May not be appropriate for dry skin types
Price at the time of publication: $119.88
The Sarah Chapman's 3D Moisture Infusion – Bio-Cellulose Hydrating Mask almost instantly makes your skin feel hydrated and plump. It is fast-absorbing and the high-quality serum infuses the skin with moisture after the mask is peeled off. The soothing mask, with its complex composition, retains skin moisture and gives you a radiant glow. The mask immediately gives you a facelift of a fresh complexion. Copper, zinc, and magnesium optimize the advantages of active ingredients and protect the skin from glycation and increase cell respiration. The mask relieves any kind of skin redness or inflammation. The mask has a fragrance of subtle damask rose water. It comes in single-use sachets along with an after-massage serum.
The mask has to be applied to a clean face. Once removed from the sachet and unfolded, you will see 3 layers. The outer protective layers need to be removed. The mask layer then needs to be smoothened on the skin and left on for 10 to 15 minutes. After peeling off the mask, the given serum needs to be massaged on the skin. If you need more convincing, feel free to take a look at this YouTuber's video on the merits and demerits of the product.
Active Ingredients
Rose Water
Sepitonic™M3
Defensil®-Plus
Hyaluronic acid
Pentavitin®
Skinasensyl™ Tetrapeptide
Pros
Reduces fine lines
Soothes inflammation
Cons
None
Price at the time of publication: $45.5
The Sarah Chapman Skinesis Intense Hydrating Booster is a moisturizing serum. Dry, uncared skin can attract bacteria and cause irritation. This serum can prevent that by hydrating dry, parched skin. The oil-free, lightweight serum soothes unbalanced skin by combining hyaluronic acid, rose water, and other moisture-attracting magnets. These reduce fine lines and give your face plumper, refreshed look.
The bioecolia beta glucan and alistin defend the skin from environmental aggressors like airborne bacteria and irritants by activating the skin's natural defense mechanism. On application, the serum instantly gives your face a soft, radiant glow. This serum has a subtle rose scent.
Active Ingredients
Plerasan Equilibra IGLSB
Bioecolia
Hyaluronic acid LMW
Rose extract
Pheohydrane P
Alistin P5
Pros
Lightweight
Reduces fine lines
Repairs damaged skin
Cons
Price at the time of publication: $70.6
The Skinesis Rapid Radiance Cleanse uses the magic of clay as a detoxifying mask to enhance skin radiance. It has a creamy texture and a cooling and relaxing effect on the face. It cleans, illuminates, and brightens your skin immediately with expert formulae and concoctions of active ingredients. The lactic and salicylic acids detoxify the skin; the rare variety of clays and vitamin C absorb the excess oil and freshen your complexion; the vitamin oils and fatty acids prevent loss of moisture and rehabilitate the epidermal barrier; the essential oils of geranium, neroli, and petitgrain reinstate suppleness and healthy skin.
Massage 2 to 3 pumps on a dry, washed face, avoiding the eyes. Rinse for a fresh look. If using as a mask, leave it on for 2 minutes before washing.
Active Ingredients
PoreAway
Vitamin C
Lactic acid
Pracaxi seed oil
French green clay
Safflower oil
Neroli
Detoxophane
Kaolin
Geranium
Sweet Almond oil
Salicylic acid
Petitgrain
Fatty acids
Pros
Unclogs pores
Reduces pigmentation
Cons
None
Price at the time of publication: $31.65
The Sarah Chapman Skinesis Instant Miracle Mask permeates your skin with the miraculous properties of Moroccan lava clay, vitamin C, hyaluronic acid, and protein skin tighteners. This mask is formulated to give you a professionally-done facial look. The mask also lifts and smoothens the skin, making pores appear smaller and skin firmer. It comes in single-use sachets and is activated only on adding 60 ml of cold water to it just before use. This ensures its clinical potency and maximizes the effect on your skin. The mask needs to be kept on the face for 15 minutes before peeling off. This mask sets on your face into a rubbery texture while you can feel your skin lifting. Once peeled off, it leaves behind a fresh, radiant look.
Active Ingredients
Vitamin C
Argan
Moroccan lava clay
Rose
Hyaluronic acid
Argatensyl
Pros
Cons
Price at the time of publication: $115
No products found.
The Sarah Chapman Skinesis Eye Recovery is your magic potion to remove dark circles, puffiness, and fine lines around the eyes. It is the most extraordinary blend of light-diffusing technology with antioxidants, peptides, and vitamins. The cosmeceutical actives reduce signs of tiredness and aging. This is a unique blend of Haloxyl, Eyeliss, Syn-coll, Matrixyl, and Syn-Ake that stimulates collagen to give a botox-like effect to the contours of your eyes. Renovage increases cell life and activity and immediately plumps the eyes, reducing age lines. This peptide-packed formula and line-smoothing action acts as makeup too. Tired eyes become lively and radiant with optical diffusers that give them a smooth effect. The eye cream comes in a 15 ml airtight pump to protect the ingredients, keeping the product fresh and effective. Only half a pump needs to be massaged lightly around the eye area.
Active Ingredients
Eyeliss™ Tetrapeptide
Unirepair T43
Coenzyme Q10
Syn-Ake
Alpha Lipoic acid
Matrixy
Renovage
Vitamin A Palmitate
Hyaluronic filling spheres
DMAE
Vitamin C
Pentavitin
L-Carnosine
Vitamin E
Syn-col
Iris
Aloe leaf juice
Mushroom
Pros
Easy to use
Little amount goes a long way
Cons
None
Sarah Chapman's Age-Repair Serum is lightweight and helps make the skin firm and plump. It is a combination of many high-performance actives, potent antioxidants, botanicals, and power vitamins like vitamin E, L-carnosine, coenzyme Q10, and alpha lipoic acid. It also contains peptides like Syn-Ake, Syn-Coll, and Matrixyl that increase collagen and boost skin firmness. This formula has been scientifically formulated to clear dark pigmentation, reduce wrinkles and fine lines, and fight signs of aging. It has a subtle fragrance of hyacinth, rose, and jasmine essential oils. Apply 1 or 2 pumps of this serum twice a day to a clean dry face and neck. Follow this up with our moisturizer or Skinesis Facial Elixir.
Active Ingredients
Vitamin A
Coenzyme Q10
Vitamin E
VCIP Vitamin C
Matrixyl
Hyaluronic acid
Phospholipids
DMAE
Synovea™-HR
Syn-Ake
Pentavitin®
alpha lipoic acid
Syn-Coll
L-carnosine
Rose
Jasmine
Mushroom
Lily
Alpha leaf juice
Pros
Hydrates skin
Smoothens uneven skin tone
Cons
May cause allergies in those with sensitive skin
Price at the time of publication: $125
The Sarah Chapman Morning Facial is a daytime power-packed elixir packed with botanical oils, cosmeceutical technology, and filling spheres. These not only make skin bright but also plump lines and hydrate the skin. Collageneer fights wrinkles while Juvinity helps diminish the signs of skin damage and aging. The day elixir boosts collagen production, renewing cell generation and increasing skin elasticity.
The kalpariane and vitamin A in the elixir protect the skin from UV damage. The day elixir is easily absorbed by the skin, making it comfortable for all-day use. It leaves a desirable glow without looking shiny. The aroma of neroli and jasmine are soothing. One or two pumps of this elixir before your moisturizer can do wonders for your skin every morning.
Active Ingredients
Vitamin A Palmitate
Hydrasourcing (AM+PS)
Collageneer
Gatuline intense
Kalpariane
Baobab oil
Timecode
Antileukine
Sea buckthorn
Rosehip oil
Nyamplung oil
Borage oil
Argan
Passionflower oil
Pros
Boosts collagen production
UV protection
Reduces fine lines
Cons
May cause allergies in those with sensitive skin
Price at the time of publication: $95
Why Trust Stylecraze
Shiboli Chakraborti is a certified skin care coach who loves experimenting with new products and recommending the best ones to her readers. She has a keen eye for quality ingredients, which helps her identify products based on consumer preferences. Her review process involves extensive research into the features, benefits, and consumer feedback aggregated across various e-commerce sites. Here, she highlights the best Sarah Chapman products that can truly enhance your skincare routine and shield you against several skin concerns.
Frequently Asked Questions
Are Sarah Chapman products tested on animals?
No, Sarah Chapman products have never been tested on animals.
How long do Sarah Chapman products last?
It depends on your beauty regimen and how many times you use them.
In what order should I apply the products?
You can start with cleansing your face. Try to apply the thinnest formula first. Start with skin prep, like a facial resurfacer. Next, apply the eye cream, then the serum, and finally the moisturizer. Do follow the instructions of application given on the package.
What is the shelf life of Sarah Chapman products?
Sarah Chapman products last for 2 years from the date of packaging. However, once the pack is open, please look for an open jar symbol with a timeline within to know the date of expiry. You can usually use a product up to 6 to 12 months after opening.
Do Sarah Chapman products contain parabens?
No, Sarah Chapman Skinesis products do not contain parabens.
Are the products suitable for sensitive skin?
Sarah Chapman products are formulated keeping all skin types in mind, from normal to sensitive. However, certain ingredients in some products may cause allergies on sensitive skin. We recommend you do a patch test before you begin using the product. Apply behind the ear for 3 days continuously. If you experience any rashes, redness, or irritation, avoid using the product and look for an alternative.
Recommended Articles