15 Best Scar Removal Creams Of 2023 – Reviews & Buying Guide
Treat affected areas and keep stubborn marks away with hydrating skin care products.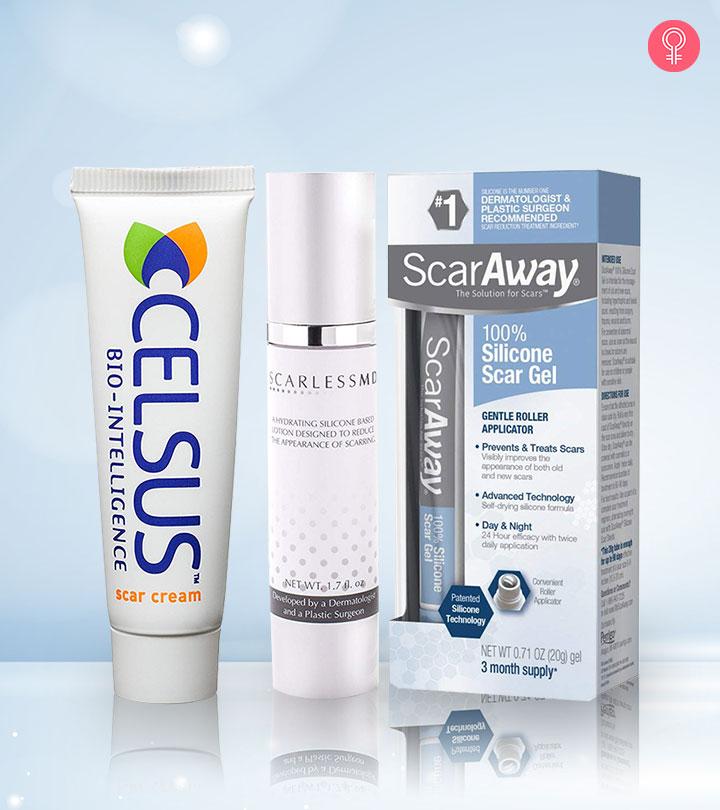 Some may hide their scars, while others like to flaunt them. But each mark has its own story to tell. For scars that can not disappear fully, you can reduce their appearance by using topical creams. Using the best scar removal creams can help minimize those frustrating visible scars on your skin. Dermatological procedures like laser treatments offer the best results in diminishing scars. However, scar removal creams are the best option for the ones who do not want to undergo any laser treatments. They are formulated with active ingredients, and using them on the affected area can diminish the look of scars by promoting cell growth.
Dr. Enrizza Factor, dermatologist, Philippine Dermatological Society, says, "To reduce the appearance of scars, creams and other products, hydrate and smooth the area to reduce redness and even out the skin. Excellent results can be achieved with scar creams and you will see improvement in your scar. However, total elimination is unlikely. You can begin using silicone gel for your scar as soon as your wound is fully healed and there is no more bleeding or scabbing. Generally, it takes about 3 weeks for a wound to fully heal, but this can vary from patient to patient."
However, finding the best scar removal cream that suits your skin type can be a daunting task. But don't worry. To help you out, we have curated a list of the best scar removal creams that work on all your skin types. In this article, you will find 15 of the best creams along with a buying guide to help you make an informed choice. Scroll down to check them out!
15 Best Scar Removal Creams Available Right Now
Honeydew Natural Scar Cream is a natural scar cream for the face. It is formulated for sensitive skin. It is loaded with ingredients like shea butter, vitamins A and E, avocado oil, jojoba oil, and rosehip oil that diminish scars and stretch marks. Shea butter is rich in antioxidants and omega-3 fatty acids, while coconut oil repairs the skin and prevents keloid scar tissue from forming. Other ingredients like avocado oil and rosehip oil boost collagen and elastin production to give you firm skin. The kokum butter and vitamin E in this cream help regenerate new skin cells, while jojoba oil moisturizes and neutralizes the natural sebum production to give you glowing skin. This skin-repairing cream also reduces dark spots and wrinkles and leaves your skin feeling soft and smooth.
Pros
Hydrates the skin
Anti-aging formula
Diminishes stretch marks
Reduces dark spots and wrinkles
Suitable for sensitive skin
Non-sticky
Non-greasy
Hypoallergenic
Paraben-free
Cruelty-free
Cons
None
Price at the time of publication: $11.95
Mederma PM Intensive Overnight Scar Cream is formulated with tripeptol, a skin-nourishing complex with peptides, collagen, and antioxidants that help fight free radical damage and promote healthy-looking skin. It makes your scars smaller and less visible. It works with the skin's nighttime regenerative activity and shows results in as little as 14 nights.
Pros
Fights against free radical damage
Promotes healthy-looking skin
Reduces the appearance of old and new scars
Moisturizes the skin
Works on all types of scars
Non-greasy
Gets absorbed quickly
Hypoallergenic
Paraben-free
Cons
Greasy formula
Not suitable for oily skin
Price at the time of publication: $27.9
Mederma Scar Cream + SPF 30 is a doctor-recommended scar cream and sunscreen. It reduces the overall appearance, color, and texture of old and new scars. This cream also prevents sunburn while making your scar less noticeable. It reduces discoloration and improves the overall appearance and texture of scars. It works on many types of scars, including acne scars, surgery scars, and scars from burns, cuts, and other injuries.
Pros
Prevents sunburn
SPF 30
Suitable for old and new scars
Reduces discoloration
Cons
May cause an allergic reaction
Greasy formula
Price at the time of publication: $16.69
Vibrant Glamour Crocodile Acne Scar Removal Cream is a dermatologist-tested scar removal cream. It contains herbal extracts and tea tree oil that decompose pigments, reduce scars, and balance skin color. The natural ingredients in this scar removal cream can penetrate your skin to accelerate metabolism, thereby promoting skin cell turnover and diminishing old and new scars. Also, this skin repair cream removes dirt and dead skin cells from the pores and leaves your skin free of freckles, stretch marks, and acne scars.
Pros
Dermatologist-tested
Anti-aging formula
Removes old and new scars
Smoothens the skin
Restores skin elasticity
Imparts a youthful appearance
Hydrates the skin
Cons
Greasy formula
Unsatisfactory packaging
Price at the time of publication: $9.99
Tetyana Naturals Advanced Scar Removal Cream is a skin-loving and soothing scar removal cream for old and new scars. This powerful scar removal cream fades away old and new scars caused by stretch marks, C-section, cuts, and surgeries. It is infused with herbal extracts and natural ingredients that work deeply to heal and lighten scars. The soothing and nourishing formula of this hydrating scar removal cream renews and moisturizes the skin while fading the appearance, texture, and color of scars. It is suitable for all skin types.
Pros
Advanced skin repair formula
Reduces the appearance of both old and new scars
Moisturizes the skin
Vegan
Non-GMO
No artificial colors
No preservatives
Suitable for all skin types
Cons
Unpleasant fragrance
May cause skin burns
Price at the time of publication: $99.99
Scarless MD Advanced Silicone Scar Removal Cream is a clinically proven scar removal cream created by an award-winning plastic surgeon. It contains silicone gel combined with hydrating oils, vitamin E, and antioxidants that create a wound-healing environment for all skin types. This advanced scar removal cream may improve the appearance of surgical, acne, and traumatic scars. It regulates fibroblast production and reduces collagen production, which results in a minimized and less visible scar.
Pros
Minimizes the appearance of scars
Non-greasy
No odor
Hydrates the skin
Clear formula
Suitable for all skin types
Cons
Scar Away 100% Medical-Grade Silicone Scar Gel is a water-resistant scar removal gel. It forms a protective yet breathable barrier on your skin. This scar removal gel contains silicone and is excellent for fading keloid, hypertrophic, burn, and surgery-related scars. It is also beneficial in reducing acne scars and claims to show results in just two weeks. It works on both old and new scars. Also, the convenient roller applies the scar gel gently.
Pros
Recommended by dermatologists and plastic surgeons
Water-resistant
Reduces redness, itching, and discomfort
Easy to use
Fragrance-free
Non-greasy
Cons
Price at the time of publication: $22.99
Xshows Scar Removal Cream is a natural and 100% organic scar removal cream meant for all skin types. The cream is infused with premium ingredients like camellia japonica flower extract, aloe leaf juice, and Recutita chamomilla flower extract. It moisturizes the skin, restores skin elasticity, and improves the natural texture and appearance. It targets old and new scar tissues and works effectively for scars from surgeries, cuts, burns, stretch marks, and C-sections. The non-greasy formula also nourishes and smoothes the skin, making it appear youthful and healthy.
Pros
100% organic
Suitable for all skin types
Non-greasy
Odorless
Suitable for all age groups
Cons
None
Skinuva Next Generation Scar Cream is an advanced scar removal cream. It is formulated with selective growth factors, hyaluronic acid, aloe, Centellaasiatica, vitamin C, and silicone that reduce the appearance of scars by up to 70%. This highly effective scar healing cream is ideal for large scars that are bigger than 6 inches. It works well on facelift, breast lift, breast reduction, abdominoplasty, body lift, and brachioplasty scars.
Pros
Suitable for large scars
Reduces redness and discoloration
Relieves the itching and discomfort caused by scar drying
Works well on post-surgery scars
Cons
None
Price at the time of publication: $80
Keeva Organics Intensive Acne Scar Removal Cream is a moisturizing scar removal cream. It is specially developed to heal acne scars. It contains tea tree oil that prevents not only acne scars and blemishes caused by previous breakouts but also the recurrence of acne. It claims to give results within just a few applications.
Pros
Moisturizes the skin
No harsh chemicals
Cruelty-free
Suitable for all skin types
FDA-approved formula
Cons
Not effective on old scars
May cause irritation
Price at the time of publication: $21.96
Scar Zone Advanced Skin Care Scar Cream is formulated with clinically effective ingredients to reduce the appearance of scars and stretch marks. This scar-healing cream contains silicone and moisturizers that keep your skin hydrated, which is essential for proper healing. This cream restores the elasticity of the scar tissue, plumps it up to fill the depth, and makes it smooth and less visible. It works on both old and new scars.
Pros
Contains clinically-effective ingredients
Softens and smoothes scar tissue
Hydrates the skin
Restores skin elasticity
Reduces skin inflammation
Easy to use
Works on all types of scars
Cons
Contains DMDM (though in a small quantity)
Price at the time of publication: $15
CELSUS Bio-Intelligence Scar Cream works on all types of scars, acne scars, stretch marks, and wrinkles. This cream also claims to work on blemishes and wrinkles and make them less pronounced. It contains a blend of 22 active ingredients along with anti-aging peptides, antioxidants, and essential phytonutrients that not only fade scars and wrinkles but also soften your skin and improve its texture. It is best suited for those who are looking for natural options rather than silicone creams.
Pros
Contains certified organic extracts
Reduces stretch marks, blemishes, and wrinkles
Softens and improves the skin texture
No preservatives
Fragrance-free
Paraben-free
Petroleum-free
Cruelty-free
Cons
Price at the time of publication: $17.42
SmoothRx Fierce Stretch Mark + Scar Cream is a high-quality scar and stretch marks removal cream. It is infused with natural ingredients such as shea butter, cocoa butter, aloe vera, organic olive oil, jojoba oil, and other natural oils. This scar cream reduces the appearance of old and new scars caused by surgery, pregnancy, burns, keloid, and spider veins. It deeply moisturizes and improves the elasticity of the skin.
Pros
High-quality ingredients
Diminishes the appearance of stretch marks
Moisturizes the skin
Reduces redness
Soothing and non-irritating formula
Improves skin elasticity
Imparts a healthy and glowing complexion
Suitable for all skin types
Cons
St. Mege Scar Repair Cream is an intensive scar removal cream for the face and body, made with natural ingredients. It repairs your skin and reduces the appearance of old and new scars for bright and clear skin. This cream is effective for scars caused by acne, surgery, stretch marks, C-sections, burns, cuts, and other injuries. It is a nourishing cream that improves skin's elasticity and firmness, making it smooth and supple. Men and women with all skin types can use this cream.
Pros
Natural ingredients
Works for both old and new scars
Suitable for all skin types
Easy to use
Cons
None
Price at the time of publication: $14.99
Aliver Scar Reduce And Repair Cream is a 100% medical-grade silicone-infused scar removal cream. It minimizes the look of scars while repairing the skin to prevent abnormal scarring. This cream is infused with natural ingredients that have been clinically proven to work on old and new scars resulting from surgery, trauma, C-section, burns, cosmetic procedures, acne, and stretch marks. It also diminishes redness and relieves itching and discomfort.
Pros
Prevents abnormal scarring
Works on both new and old scars
Diminishes redness and itchiness
Suitable for all ages and skin types
Cons
Price at the time of publication: $10.99
Now that we know all about the best scar removal creams on the market, let's talk about how these creams actually work. 
How Do Scar Removal Creams Work?
Scar creams flatten the scars by hydrating them. The ingredients in scar removal creams soften and smoothen your skin. Some creams contain exfoliants that work on the top layer of the skin to remove dead skin cells. How effectively the scar removal cream works on your skin depends on your skin type and body chemistry.
Here are a few things you need to keep in mind while buying a scar removal cream.
Things To Keep In Mind When Buying A Scar Removal Cream
Type Of Scar: This is one of the most important factors to consider while buying a scar removal cream. Scars vary in type and severity and can be caused by acne, surgery, cuts, and burns. Mild scars fade away on their own over time, while severe scars require some medical treatments like cryosurgery, laser therapy, injections, or radiation. Scars that fall between mild and severe can be treated with scar removal creams.
If your scar is a result of an injury, it's most likely a keloid scar. If your scar spreads beyond the affected area, then it is a hypertrophic scar. If you suffer from severe burn and it leaves a scar on your skin, it's a contracture scar.
Ingredients: There are very few natural products that give you decent results quickly. Most natural products take time to show results. Most products use a blend of natural and synthetic ingredients that work to reduce scars. However, these might contain certain ingredients that may cause an allergic reaction. So, do an allergy test and look out for those ingredients before picking a product. Double-check the full list of ingredients and consider creams with ingredients that are effective at reducing the appearance of scars. Always look for active ingredients like silicone, aloe, green tea, and onion extract in the cream.
Know The Brand: Always purchase products from trusted brands for good results. While choosing a scar cream, look for the brand information on the label. If you are not able to find information about the company, then you can make a decision based on reviews of the product.
Price: Effective scar removal creams are available in different price ranges. So, when buying a scar cream, don't think the most expensive cream is the best one.
Day/Night Cream: Night creams usually show faster results as they facilitate the healing process of your skin and help in repairing it while you sleep. Day creams typically take longer to show results.
Now, let's answer the question that is on everybody's mind.
How To Use Scar Removal Cream?
When using a scar removal cream, you should follow the instructions given by the manufacturer. Some scar creams are meant to be used once a day or twice a day. Using them more often than instructed won't make your scar heal faster. Also, talk to your doctor once before you start using scar creams. If he recommends any ancillary treatments – like wearing compression garments or massaging –  do follow them for better results. Here are step-by-step instructions on how to use scar removal cream:
Wash and dry your skin where the scar removal cream will be applied.
Apply a generous amount of cream on the area and massage it in for a few seconds.
Do not wash off the cream.
Follow this routine the number of times in a day prescribed the brand.
Scar creams may take around 2 to 6 months before you begin to see some significant results. So, have some patience and use them as directed for the amount of time indicated.
Scars don't disappear overnight. They will take some time to change, and trying to reduce the scar before your skin has fully healed can make the situation even worse.
Why Trust StyleCraze?
Oyendrila Kanjilal, the author of this article, is a certified skin care coach. She understands that scars may make you conscious. So, she browsed hundreds of reviews online and conducted in-depth research to provide you with the best scar removal cream to fade the marks. She checked uder reviews and feedback on various online forums to shortlist the best products.
Frequently Asked Questions
Do scar removal creams work?
Yes. Scar removal creams contain active ingredients that increase cell turnover, treat skin tissues, and diminish the appearance of scars.
Do vitamin E creams work for scars?
No. Although vitamin E creams aid the generation of new cells and play an integral part in treating scars, they are not so effective in diminishing them.
Do any scars ever go away?
No. Minor scars fade over time, but they never completely disappear. Therefore, skin treatments and creams effectively remove the marks permanently.
Can Vaseline get rid of scars?
No. Vaseline may seal moisture and turn the skin soft and smooth, improving the appearance of scars, but it does not eliminate them.
Can aloe vera remove scars?
Yes. Aloe vera boosts cell turnover and stimulates collagen production. Therefore, it helps diminish scars, but takes a lot of time to show visible results.
How long do scars take to fade?
Scars take between 12 to 18 months to fade completely.
Why do scars turn dark?
Scars turn dark due to excessive exposure to sunlight. Severe scar inflammation and improper healing processes are some other causes.