15 Best Schwarzkopf Hair Color Products To Try In 2023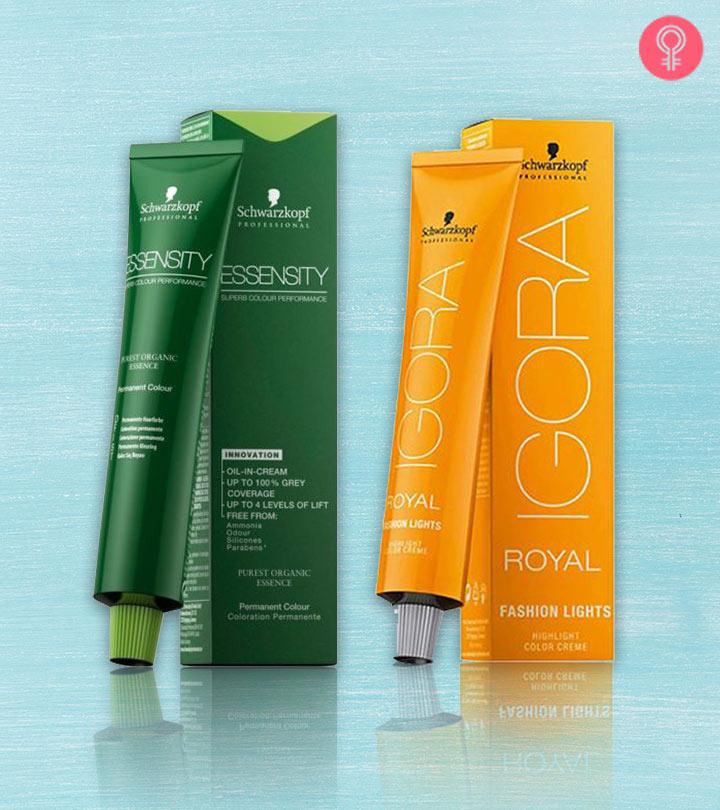 "Life is too short to have boring hair."
Are you bored with your hair? Are you inspired by the current hair color trends? Then, what are you waiting for? Here's one brand that promises to grab your attention and trust with its high-quality hair color products – Schwarzkopf.
This brand offers an array of natural looking hair colors that make you look younger. A group of experts joined in to create a palette of shades that suit every skin tone. If choosing a product from hundreds of shades is too overwhelming, worry not. I have compiled a list of 15 best shades offered by Schwarzkopf. Read on to know more.
15 Best Schwarzkopf Hair Color Products
Schwarzkopf Keratin Color – Intense Caring Color
This anti-age hair color with keratin care complex and skin flattering pigments gives you younger looking hair in 30 minutes. It comes with a protective pre-color serum that conditions your hair before coloring. This color cream offers long-lasting color with 100% gray coverage. It is formulated with K-Bond-Plex that repairs your inner hair structure and coats the hair surface after the coloring process for strong and healthy-looking hair.
Pros
Extensive choices of shades available for every skin tone
Conditions your hair while coloring it
Comes with a developer, pre-treatment serum, and keratin complex conditioner
Reduces breakage up to 80%
Imparts shine to your hair
Cons
Expensive
Availability issues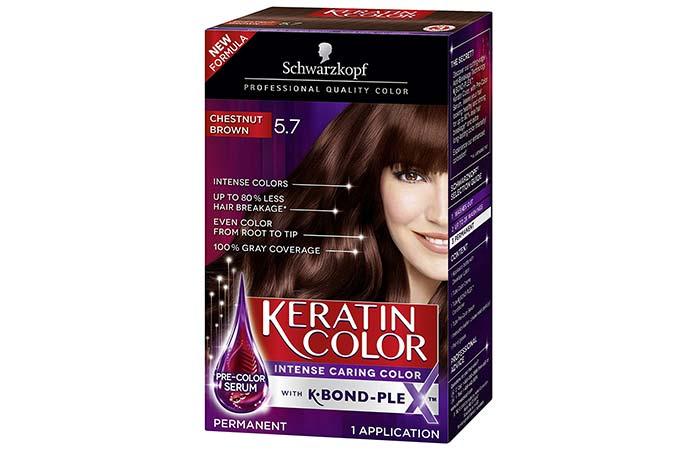 Add a tinge of glossy brown to your black locks with this gorgeous chestnut brown shade. This shade allows to highlight your skin tone and features and gives your hair a natural look.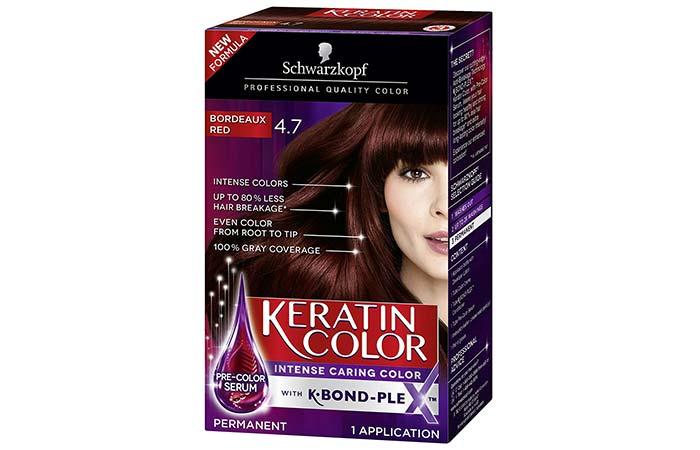 Are you looking for a striking and radiant color? Then, check this out! This fiery shade can transform dull hair to make it look bold and ravishing. Also, this is the perfect shade to bring out your fun side. This indulgent red tone is ideal for natural brown to black hair.
Price at the time of publication: ₹8.79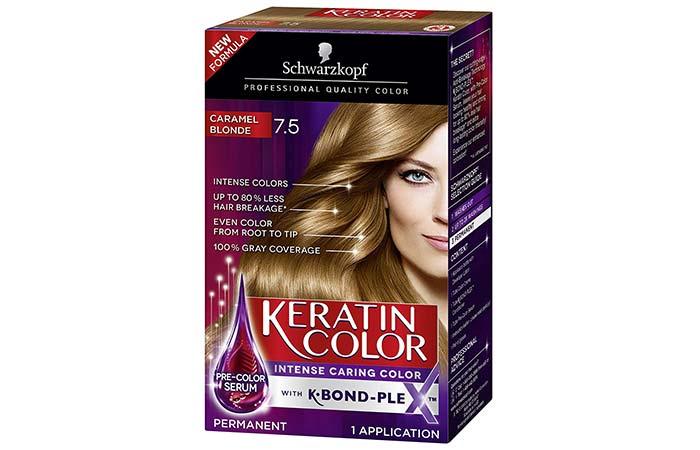 Want to look young and vibrant? Then, revive your locks with this dazzling hair color that can make you look stunning and drop-dead gorgeous. This shade will give your hair a noticeable lift and promises to add an extra edge to your natural hair color.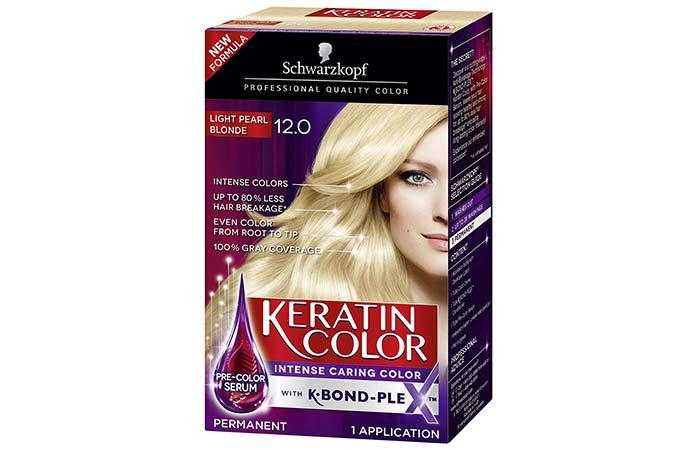 Look dapper with this charming color that can make you look like a diva on a red carpet! With a hint of gold and gloss, your hair can look incredibly gorgeous. This shade is suitable for light blonde to light brown hair.
Price at the time of publication: ₹17.99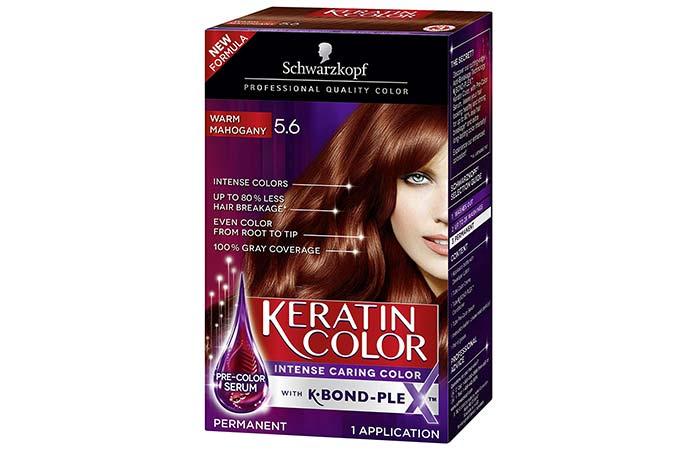 Add a funky twist to your regular hair color with this deep plum shade that is bound to make you look red-hot instantly. This vibrant shade promises to add dimension to your hair. Mahogany goes well with medium to dark brown hair.
Schwarzkopf Color ULTIME Permanent Hair Color
This conditioning hair color is infused with diamond brilliance serum for an extensive level of gloss. It contains UV filters to provide protection, and it imparts a noticeable shine to your hair. This formula offers 20 vibrant colors that last long. It is fade-resistant and keeps your hair color from fading for up to 9 weeks. This hair color is formulated with intensive care elixir with pearl essence for luxuriously soft and shiny hair.
Pros
Complements every skin tone
Fades gracefully
Drip-resistant
Highly-pigmented
Cons
Takes time to deposit color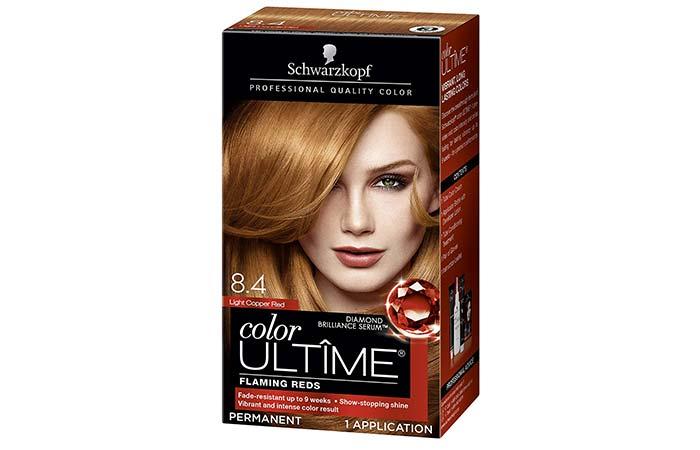 Look blazing hot with this intense shade that can instantly lift your hair color. This vivacious color promises to make you look dynamic and full of life by adding a luminous glow to your hair. It is best suited for medium to light brown hair.
Price at the time of publication: ₹31.99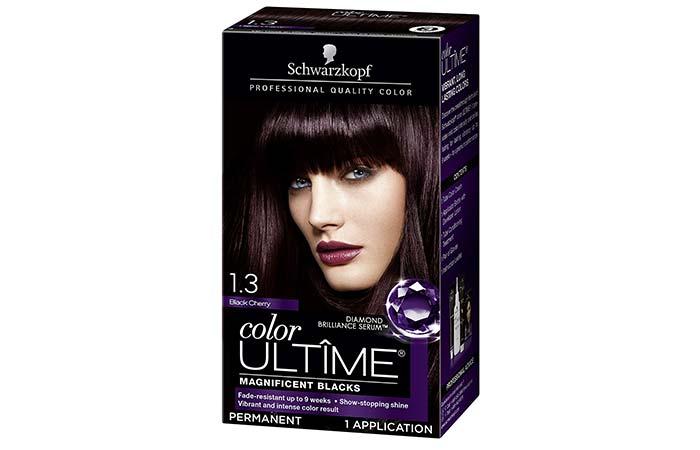 Worried about gray hair? Fret not, here's a perfect shade to cover up your grays and retain your natural color. This highly pigmented color claims to cover any type of discolored hair. It is ideal for natural dark colors.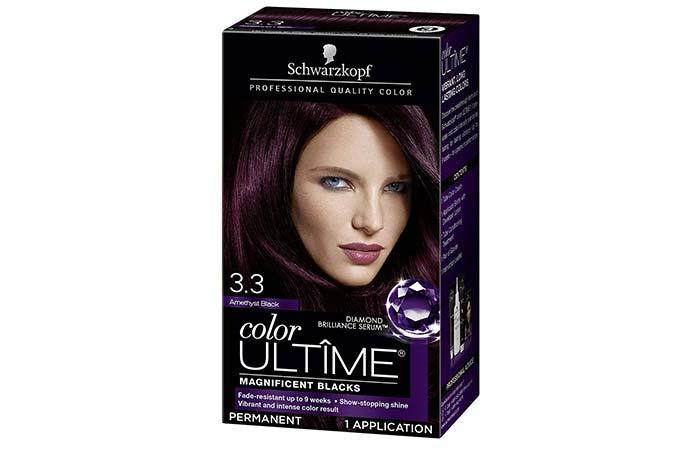 Want to banish the grays and flaunt perfect black hair? Then, check out this raven black shade with a hint of plum tone. It instantly transforms dull and gray hair into reflective tones. This unique shade is suitable for natural brown to black hair.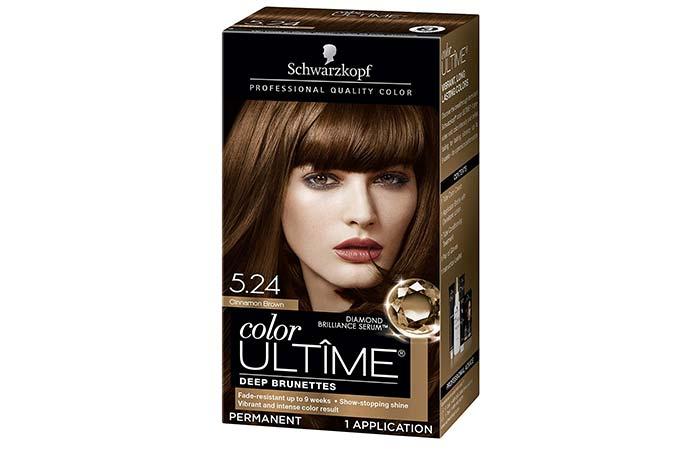 This one is made especially for Indian beauties to add extra glam to your regular hair. Add this tinge of natural brown and get an ever-ready sophisticated look. It screams elegance and ensures to bring out your best features. It is suitable for natural brown to black hair.
Schwarzkopf Palette Deluxe Intex Oil-Care Color
This product is enriched with nourishing micro-oils for rich and luxurious color. It contains highly effective color pigments that penetrate each hair strand to give you vibrant and long-lasting color. It deeply conditions your hair while coloring it. It provides a smooth and silky finish to your hair. This nourishing hair cream claims to be anti-fade resistant for six weeks. It offers a wide range of shades to cover gray hair perfectly.
Pros
Comes with an application bottle
Non-drip formula
Smoothes dry strands
Imparts long-lasting shine to your hair
Cons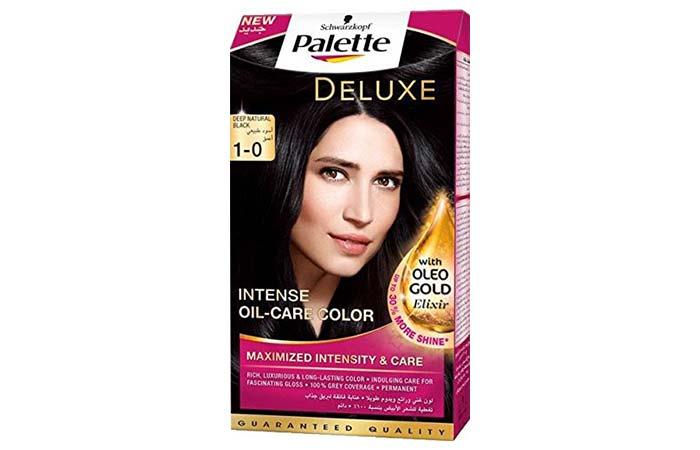 Do you have gray hair popping out now and then? Want to get back to having 100% dark hair? Then, Deep Natural Black is the best product to lay your money on. It claims to cover gray hair and rejuvenate your locks instantly.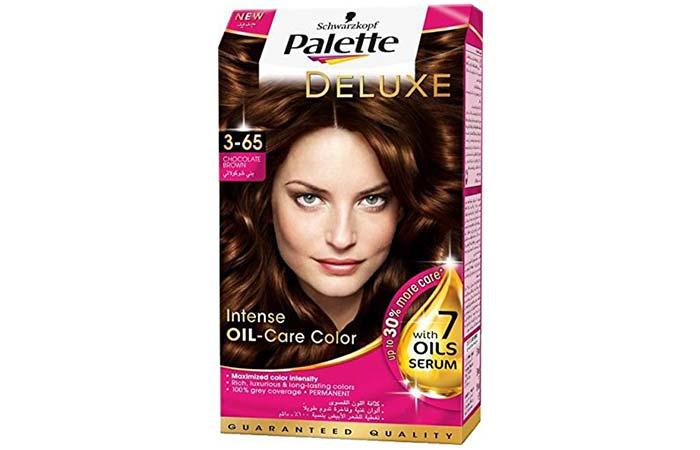 Anything looks good in chocolate! Like this rich and loaded hair color that adds a deep brown shade with golden undertones to your hair to make you look sharp and chic. This color looks great on Indian skin tones as it creates a contrast in your highlights and gives a salon-like glossy finish.
Schwarzkopf Essensity Ammonia-Free Permanent Color
This permanent ammonia-free oil color is formulated with Phytolipid Technology, which helps the color reflect on multiple skin tones. It provides 100% gray and white hair coverage. It comes in 58 shades to provide you with a natural, rich, and multidimensional color from root to tip. It claims to lift your color by four levels. It contains special color pigments mixed with plant-based oils that contain lipids to give you healthy-looking hair with maximum color performance. It comes with a Color Melter palette for multi-tonal coloring.
Pros
Softens your hair
Gives your hair a natural finish
Free of mineral oils and artificial fragrance
Offers maximum coverage
Cons
Does not come with a developer( you need to purchase it separately)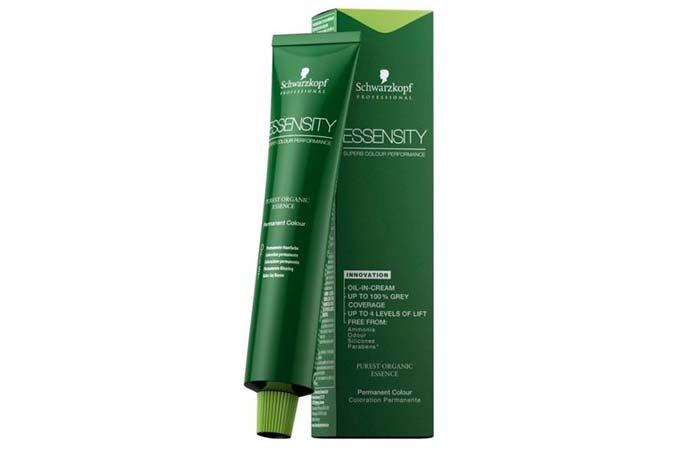 Want to flaunt gorgeous hair with the perfect shade that suits your skin tone? Check this out! This subtle yet luxurious hair color can make you look stunning with its multidimensional toning. It delivers excellent coverage and remains reflective for days. It is best suited for natural black to brown hair.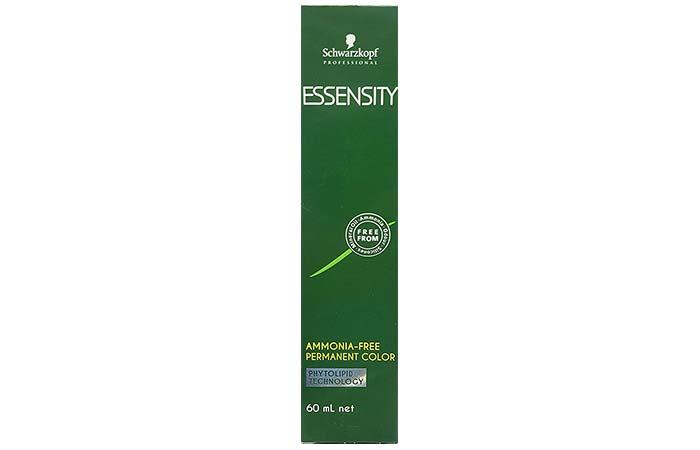 Soak in this rich and exotic hair color with luminescent glow and transform your hair instantly. It claims to add tons of depth to your hair to make it look radiant and youthful. It promises to lift your glamor quotient by several notches and helps you look your best with a salon-like glossy hair.
Schwarzkopf Igora Royal Permanent Color Creme
IGORA ROYAL delivers high-definition color on any hair type. It features color pigments that amplify the color intensity. It contains lipid compounds that helps lock the color into your hair cuticles. It covers 100% gray hair and delivers long-lasting vibrancy. This formula claims to boost the color and provide you with natural, healthy, and shiny hair. It helps in the even distribution of color.
Pros
Results are true to its claim
Color fades gracefully without leaving any brassiness behind
Delivers multi-tonal coloring
Great for sensitive scalp
Gives your hair a salon-smooth finish
Cons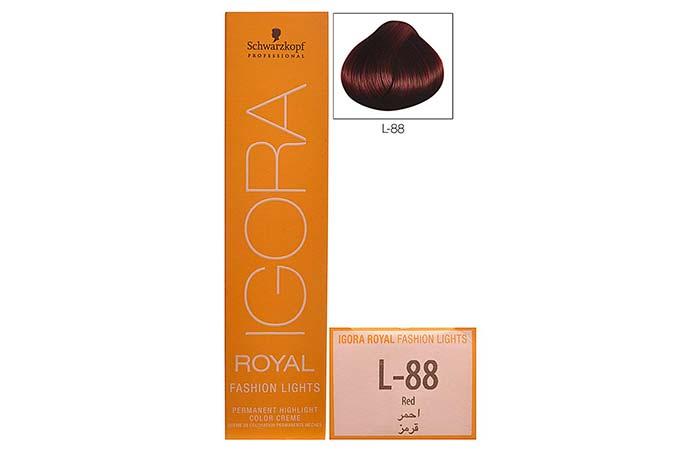 When in doubt wear red! This electrifying color will make you look like a fiery dame with its high-end reflective tone. It can elevate your entire look by adding oodles of dimension to your regular hair. It is ideal for dark to light brown hair.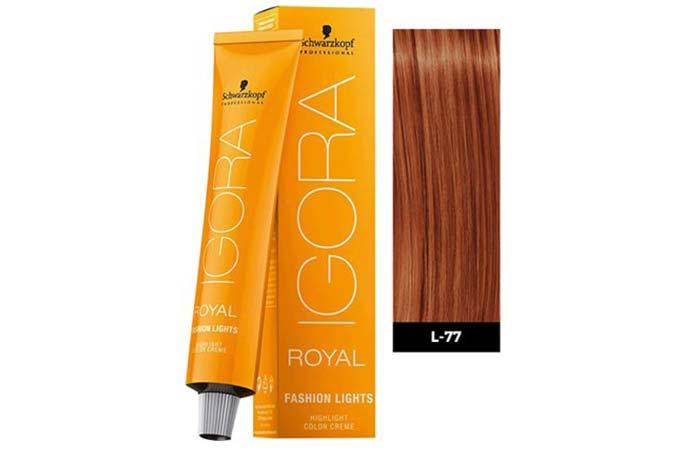 Look sexy, look cool with this light copper shade that adds an extra oomph to your regular hair. It promises to make you look young and vibrant with a subtle yet fancy look. It also helps to adjust the brassy tones in colored hair.
That's all folks! That was our round-up of the best Schwarzkopf hair color products you can try out right now. Pick your favorite product that caught your eye and comment below to tell us about your experience.
Recommended Articles