Best Scorpio Tattoo Designs – Our Top 10
All those born between October 24 and November 22 belong to the Scorpio zodiac sign. The sign is symbolized by a scorpion and is ruled jointly by the planets Pluto and Mars. Scorpions are loyal, passionate and observant but can be overcome by fits of jealousy and possessiveness. They are however very independent and are able to accomplish goals they set their minds to. Here are tattoo ideas for those considering getting their Scorpio zodiac sign tattooed on themselves.
The Best Scorpio Tattoo Designs
Here are 10 of the best scorpio tattoos.
1. A scorpion entangled in the zodiac sign:
A tattoo is a form of body art. Tattoos are an appreciation of art and are a way to decorate one's body. In ancient times, tribes used colours to differentiate their body. Tattooing is just another way to make one's body unique and different from others. a scorpion entangled in the Scorpio zodiac sign would be a very innovative tattoo idea.
[ Read: Aries Tattoo ]
2. An unconnected Scorpion outline:
Tattooing is all about art, something that pleases the eye. Art cannot be bounded or defined by lines. It encompasses creativity and innovation.  A scorpion outline may be made with unconnected lines. This outline will look best in black or in any other singe shade.
[ Read: Dolphin Tattoo Meaning ]
3. Scorpio holding a sword:
A Scorpio sting is as painful as a sword passing through the body. That is why a tattoo design of a scorpion holding a sword would be one that would represent the tiny creature's dreadful power.  It symbolizes that there is potential in even people who are deemed inferior by society or crowds primarily because of their outer features.
[ Read: Lip Tattoo ]
4. The constellation:
Since the Scorpio zodiac is an astronomical sign, the Scorpio constellation would make an appropriate tattoo. The stars could be represented by tiny circular objects to make the tattoo look lifelike or by the five point stars. Colours like dark blue and silver may be added to the tattoo.
[ Read: Owl Tattoo ]
5. A 3D scorpion tattoo:
A scorpion can be tattooed and made to look like a real image with the help of art techniques like shadows and colour shading.
6. A coloured scorpion tattoo:
A scorpion is generally black but while tattooing, it can be livened up with lots of colour like red, yellow, green and blue.
7. Tribal scorpion tattoo:
The tattoo may be made with a tribal design, especially with black. It may be inked on any part of the body- the lower back, the arms, the thighs or the torso.
8. The zodiac sign:
The Scorpio zodiac sign looks somewhat like a lower case 'm'. This looks great when done in black but touches of colour may be added to make it livelier. The tattoo may be made on a small scale of may be blown up to cover a larger space.
9. Combined with another zodiac:
The Scorpio zodiac sign may be combined with that of another zodiac like Leo or Sagittarius. The combining sign might be that of a person very special to you.
10. A completely black scorpion:
Scorpions are deadly creatures that are black in colour. A scorpion tattoo can thus be made completely black in colour. It could be just an outline or the full body of the scorpion. The size can also be adjusted to fit smaller parts of the body like the wrist or the ankle.
So which of these scorpio tattoo images caught your attention? Leave us a comment!
Find more fascinating tattoo art and pick the best idea for you.
Image Source: 1 , 2 , 3 , 4 , 5 ,6 , 7 , 8 , 9, 10

The following two tabs change content below.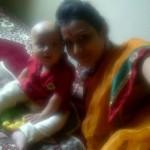 Latest posts by Khushboo Mehta (see all)