13 Best Scrub Caps For Women That Protect Your Hair At Work
Keep yourself comfy and stylish all day with these caps made of the softest fabrics.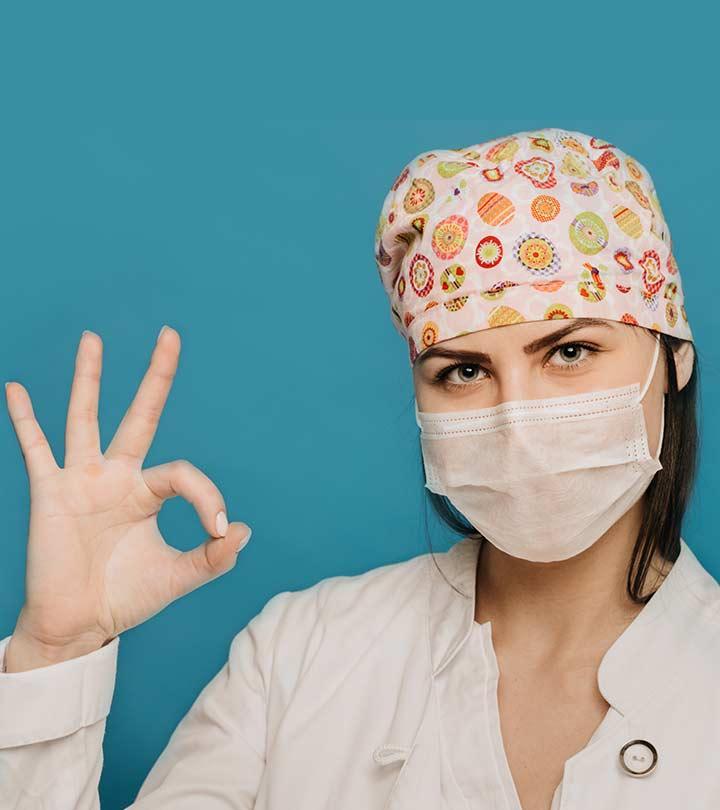 The best scrub caps for women are made of soft fabrics and have adjustable ties. They keep you cool and comfortable while you take on the day headfirst. Certain professions, especially the healthcare and food industry, require one's hair to be covered at work. If you belong to either of these industries or any other field that requires your hair to be out of your way, a scrub cap is your uniform!
No matter what length hair you have — short, medium, or long — a scrub cap can hold them back nicely in place without destroying your hairstyle. These head accessories are super functional, but it is important to ensure that they do not come in the way of your hair or scalp health. They are available in various prints and colors — pastels or bright ones — to add a touch of vibrancy to your daily wear. Who says you cannot have a little fun incorporated into your uniform? Here, in this article, we have listed some of the bestselling scrub caps for women, keeping in mind different hair types and a variety of aesthetics. These choices are tested, trusted, and recommended by several reviewers as well. So, go on and check them out now!
What Are Scrub Caps Useful For?
There are a large number of professions that require your hair to be tucked away neatly both for hygiene purposes and so that you can concentrate on the task at hand. Doctors, nurses, hairstylists, chefs, and massage therapists are just a few of those who need to wear scrub caps at work. A good scrub cap holds your hair back, keeps sweat at bay, and protects your locks so that you can flaunt your lovely waves after work without having to rush home to style them.
The 13 Best Scrub Caps For Women To Stay Hygenic At Work
Do your tresses a favor and keep your long, voluminous hair clean and tidy with this convenient scrub cap designed especially for working women with ponytails. These unique caps come with a ponytail pouch and easy-to-use ribbon ties to keep your hair out of the way as you go about your busy day. Choose the solid and floral design options and incorporate your personal style into your uniform. Suitable for use by doctors, nurses, dentists, and chefs, these surgical scrub caps have a cute print to add just a bit of fun and spunk to your work outfit, so that you can tackle your serious job with a spring in your step.
Pros
Convenient ponytail pouch with ribbon ties
Attractive neutral print
Suitable for use by healthcare professionals
Ideal for long hair
Cons
Here's a fuss-free working scrub cap for women, thoughtfully designed to keep you cool and comfortable as you work in high-stress situations. Made of 100% lightweight cotton, this breathable scrub cap has a semi-open design and features an elastic lace-up band, which allows you to adjust this cap to any size. Easy to wash and maintain, reviewers consider this versatile cap as an essential must-have for those hot summer months. And there's more! The neutral and understated solid color allows you to pair it with almost any outfit or scrub uniform while staying stylish and professional.
Pros
Made of 100% high-quality cotton fabric
Comfortable and durable
Moisture-wicking
Breathable design
Adjustable lace-up elastic band
Cons
Might not be very ponytail-friendly
Give your wardrobe a much-needed upgrade with this ultra-cute and functional scrub cap that is sure to keep you looking fresh and gorgeous as you plow through your workday. Ideal for ladies who work in beauty parlors, spas, and hair salons, this close-fitting scrub cap features an oversized design and an adjustable band that keeps everything snug and comfortable all day long. A major factor why this cotton scrub cap is popular among reviewers — the 2 thoughtfully-placed buttons on each side allow you to wear your mask over this attractive quick-drying scrub cap so that your ears can always stay covered without compromising on protection against viruses.
Pros
Mask-friendly design
Built-in sweatband
Made of 100% lightweight cotton
Elastic string and toggle for size adjustment
Cons
Might fade slightly after a few washes
Add some oomph to your work outfit and get your hands on this pretty scrub cap that's sure to make dressing up for work a bit more fun. Skin-friendly and oh-so-comfortable, this ponytail scrub cap features a moisture-absorbent design that keeps sweat at bay and an adjustable lace-up that allows you to wear this with almost any hairstyle. The cotton scrub cap has a sweat-absorbent design that helps you focus on your work all day long. The beautiful vibrant colors, snug and comfortable fit, and lightweight fabric are just some of the reasons this versatile cap is a hot favorite amongst working women everywhere.
Pros
Versatile semi-open design
Attractive, vibrant print
Skin-friendly and breathable
Suitable for all-day wear
Cons
Fabric might be a bit thin for some
You no longer have to deal with hair on your face or sweat on your forehead disturbing your concentration when performing delicate procedures. Made of a high quality cotton-polyester blend, this well-designed scrub cap is just the accessory you need for a successful workday. The adjustable tie-backs allow a contoured fit, while the terry cloth sweatband is sure to keep you cool and comfortable. Easy to wash and available in multiple practical colors, this simple yet functional scrub cap has numerous positive reviews online.
Pros
Unisex design
Interior terry cloth sweatband
Contoured fit
Adjustable and comfortable design
Cons
Whether your hair is long or short, straight or curly, this surgical scrub cap will keep you feeling fresh and comfortable while maintaining a clean and sanitary workstation. Made of 100% cotton, this breathable and comfortable multipurpose cap has a bouffant-style design with elastic tie-backs for a relaxed, easy fit. Say hello to style and functionality with attractive prints in bright colors that are sure to bring your work outfit to life. Suitable for use by medical professionals, this bouffant scrub cap can be trusted by professional women to keep their hair tucked and tidy while working in clinics and hospitals.
Pros
Made of high-quality cotton material
Durable and functional
Comfortable and sweat-absorbent
Suitable for use by doctors and nurses
Cons
Might shrink slightly after the first wash
If you're looking for a solution to keep your thick, wavy locks clean and tucked away, you are going to love this gorgeous scrub cap specially designed for long hair. Whether you are a hairstylist, doctor, nurse, dentist, or chef, this stretchy scrub cap will keep you looking and feeling fresh and comfortable as you tackle your busy day. Made of 100% high-quality cotton, this surgical scrub cap has a highly absorbent built-in sweatband and adjustable tie-backs, which allow you to sport any hairstyle underneath- a feature much appreciated by several reviewers on Amazon.
Pros
Made of 100% cotton
Built-in absorbent sweatband
Easy to wash and maintain
Durable and comfortable
Cons
You might have to size up.
Want to switch things up and sport a different pretty scrub cap every day of the week? Mix and match your outfits and make any uniform stand out with these functional and versatile scrub caps that add a bit of color to your workday. Whether you wear your hair in a bun, ponytail, or with clips, this scrub cap will ensure that not a single stray hair is out of place while you're hard at work. Made of comfortable cotton fabric, they feature tie-back ribbons, a sweat-absorbing band, and a convenient size that fits most.
Pros
Comfortable and breathable
Mask-friendly design
Washable and reusable
Suitable for all hair lengths
Cons
Fabric might be slightly thin
Here's a skin-friendly and comfortable scrub cap that is not only suitable for all-day wear, but it also elevates your work outfit with its unique print and an amazing fit. Made of 100% pure cotton and featuring a sweat-absorbing band, this all-purpose scrub cap is designed to help working women navigate their jobs while maintaining their pretty hair without compromising on hygiene. The perfect gift for the workaholic in your circle, these unisex scrub caps have adjustable tie-backs and can be easily washed and reused multiple times without losing shape or color.
Pros
Made of 100% cotton
Suitable for all-day wear
Adjustable elastic bands
Washable and reusable
Cons
Whether you're the chef at your own fun weekend food truck or a hairdresser at a salon, you'll definitely find one of these pretty scrub caps very useful for keeping your hair neatly tucked away. Featuring adjustable lace tie-backs and ultra-chic designs, this cool scrub cap can be finished with a stylish knot or a cute bow and work well with almost any hairstyle. Many online reviews confirm that its breathable and moisture-absorbent fabric keeps your precious locks free of sweat and grime so that you can just take off your cotton scrub cap and get ready for a night out in the town without worrying about styling your hair again!
Pros
Made of 100% pure cotton fabric
Breathable and quick-drying
Comfortable and durable
Comes in 6 eye-catching prints
Cons
Buttons on the side might be slightly difficult to use
If you're looking for a classic, durable scrub cap with an extra stretch, that does the job without any extra frills, you're going to love this well-fitting workplace essential. Made with a blend of polyester and spandex, this scrub cap has an all-around drawstring that allows a great fit and a terry cloth sweatband across the forehead to keep you cool and dry. Soft and stretchable, these caps are machine washable and will outlast even your most grueling work shifts. Low-maintenance, functional, and versatile, these are the ideal pick for minimalist women who like high-performing, fuss-free options.
Pros
Modern, classic fit
Adjustable drawstring tie
Soft and absorbent terry cloth sweatband
Stretchable and durable
Cons
You might have to size down.
Whether you're dressing up as your favorite Grey's Anatomy star for Halloween or got inspired to get into the medical field after binge-watching the show, this comfortable and stylish scrub cap with fun patterns and elastic closure will definitely help you look the part. Made with a blend of polyester and rayon, this unique nursing scrub cap ensures a snug fit and will last you the entire day without requiring frequent adjustments. Breathable, quick-drying, and easy to maintain, this user-tested wardrobe essential ticks all the right boxes. The cute logo on the side makes it absolutely worth it for true fans of the long-running sitcom.
Pros
Stylish logo on the side
Quick-drying and easy-to-maintain
One size fits most
Comfortable and durable
Cons
Some might find the fitting around the ear loops a bit tight.
Amp up the style quotient of your uniform and add a cute pop of color with this mask-friendly scrub cap, which comes with inspirational messages woven into the print. Made of soft and breathable cotton fabric, this cap is designed to keep you cool and comfortable throughout the day. It comes with an absorbent built-in sweatband and is big enough to hold your hair bun. Reviewers admire its bouffant-style design as it makes this cap suitable for both long and short hair and will keep your blow-dry intact for evening cocktails after your work shift. Give this classy printed scrub cap a try, and you'll definitely thank us later.
Pros
Mask-friendly design
Attractive print with inspirational messages
Suitable for all hair lengths
Built-in sweatband
Cons
Some might find the fit of this scrub cap a bit loose.
*The prices provided in this article are based on the latest available information. However, they may vary due to changes in pricing by the seller and/or promotional offers.
Now that we've had a look at our pick of the 13 best scrub caps for women in 2021, let us look at some things to consider when picking the perfect fit for your unique requirements.
How To Choose The Best Scrub Cap
Pick a scrub cap that suits your unique and individual style, whether it is minimalist and understated, or fun and chic. While a plain, fitted scrub cap might be best suited for someone looking for a simple and neutral design, a vibrant and colorful bouffant-style cap with a fashionable design would be more appropriate for those looking to add a pop of color to their look.
Depending on the length of your hair and the hairstyle you like to sport at work, pick a scrub cap that protects your tresses while keeping them out of your face. While some caps come with adjustable tie-backs, others have an elastic band that goes all the way around for a snug and comfortable fit. Don't hesitate to try a few before you find one that fits you perfectly and meets all your requirements.
Dr. Allen Conrad, a chiropractic care and massage therapist, says, "Knowing what size is right for you is important. Many people wear a hat or cap too tight and start to develop headaches as a result. You want a working cap to fit you comfortably, not cut off circulation, and be tight enough so that if you move around it won't fall off. This way you can do your job and feel comfortable while doing it."
There are a wide range of fabrics and materials available when it comes to scrub caps. While cotton is great when you want a comfortable, soft, and breathable fabric, a blend of polyester and spandex will keep you cool and dry with its sweat-absorbing quality. Also, these high-quality scrub caps are a better alternative to disposable scrub caps and undergo rigorous testing to check their durability. So, pick a fabric that is made of good materials, is easy to wash and maintain, and gives you all-day comfort.
Why Trust StyleCraze?
Priyam Gupta is a fashion enthusiast who has plenty of experience when it comes to making a compilation of informative content and reviews about personal care and beauty. Scrub caps are an absolute necessity for professionals who must secure their hair for hygiene purposes. She conducted extensive research to pick the best scrub caps made of the finest quality materials and suited for all hair types.
Frequently Asked Questions
What is the purpose of scrub caps?
Scrub caps are designed to protect your hair from damage while maintaining a good standard of hygiene at your workstation. They help keep hair and sweat out of your face while you're hard at work.
Are scrub caps only for surgeons?
Not at all! Scrub caps can be worn while you're at any job and are not just restricted to doctors and surgeons. Nurses, dentists, hair stylists, massage therapists, and chefs amongst others are big fans of this simple yet effective accessory.
Are cloth scrub caps a source of infection?
Not if you take proper care of them. Make sure you wash your scrub caps daily to get rid of any sweat and dirt that may have accumulated. With good care and proper maintenance, cloth scrub caps are completely safe to use.
Are scrub caps bad for your hair?
Not at all! Just make sure you don't have them on too tight and scrub caps will work well to protect your hair against damage.
How do you wash scrub caps?
Wash scrub caps in the washing machine with cold water and tumble dry on low heat. However, for the best maintenance of the scrub hats, it is recommended to hand wash them in cold water and air dry.
How often should I wash my scrub cap?
Wash your scrub caps daily to clean the accumulated sweat and dirt.