12 Best Scrubs For Dry Skin Available In India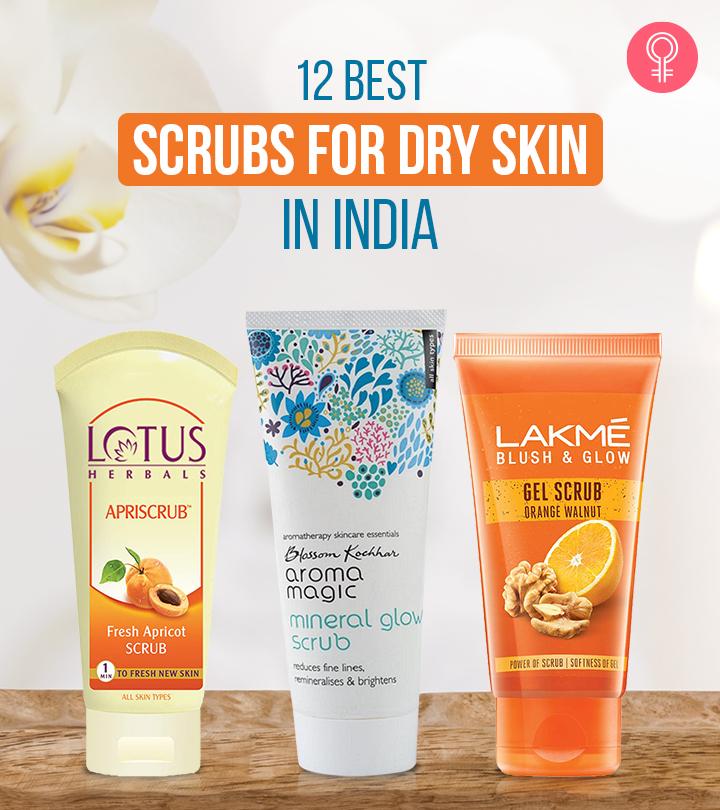 Exfoliating your skin every once in a while is important. It removes dirt, impurities, and dead skin cells to reveal a smooth and clear complexion. If you have dry skin, scrubbing becomes even more essential as it is prone to flaking. This prevents the penetration of products into your skin and makes it look dull. You should always use a dependable and trusted range of products that offer mild exfoliation and are gentle on the skin. Here are 12 best scrubs for dry skin available in India that are guaranteed to help eliminate dead skin cells and leave your skin feeling healthy and rejuvenated. Scroll down to check them out!
12 Best Scrubs For Dry Skin Available In India
The Fresh Apricot Scrub from Lotus Herbals is infused with walnut shell powder that deeply cleanses and exfoliates the skin and glycerin that keeps the skin moisturized. It also contains corn to nourish the skin, while calendula oil moisturizes and heals it. The cetyl alcohol lends a creamy texture to the formula. This scrub eliminates blackheads to reveal bright and glowing skin.
Key Ingredients: Walnut shell powder, Corn, Calendula oil, and Glycerin
Pros
Non-irritating
Oil-free
Pleasant fragrance
Non-drying
Cons
The Khadi Mauri Apricot Face Scrub has an effective and natural formula that eliminates dead skin cells and fades pigmentation and blemishes. This Ayurvedic facial scrub helps in revitalizing the skin and makes it soft and supple. It is formulated with natural extracts of apricot that nourish the skin and protect it from itching, dullness, and dryness.
This scrub also clears blackheads, reduces pore size, and minimizes blemishes, fine lines, and scars to reveal bright skin. The gentle exfoliating agents in the scrub eliminate excess oil and impurities to keep the skin clean and moisturized. The walnut extracts in the scrub make the skin smooth and supple by rejuvenating the skin cells and promoting blood circulation.
Key Ingredients: Apricot and Walnut extracts
Pros
Gentle
Pleasant fragrance
No harsh chemicals
Cons
The Mineral Glow Scrub from Aroma Magic uses a triple-action formula to lift dead skin cells and reveal fresh and clean skin. It is formulated using natural exfoliants derived from corn flour and almond grains to gently eliminate dead skin cells and impurities and leave the skin energized and revived.
This scrub for dry skin also contains rice bran oil and remineralized aqua minerals that nourish the skin by fading fine lines. It is infused with essential oils of rose, lavender, and green tea to regulate sebum levels and protect the skin. The scrub also has moisturizing agents, such as glycerin and beeswax, that make the skin smooth and glowing.
Key Ingredients: Rice bran oil, Essential oils, Beeswax, and Glycerin
Pros
Mild
Great smell
Non-drying
Cons
Wow's Activated Charcoal Face Scrub eliminates dead skin cells and tightens enlarged pores. It contains activated charcoal that lifts toxins, dirt, and pollutants from the pores of the skin. The walnut shell powder in the formula gently exfoliates the skin while retaining moisture and makes it soft and smooth.
This scrub also contains extra virgin olive oil that gives a boost of hydration to the skin. The licorice extract reduces discoloration, pigmentation, and age spots, while the vitamins B3 and B5 nourish the skin and fight aging signs. This scrub makes your skin look brighter and smoother.
Key Ingredients: Activated charcoal, Walnut shell, Extra virgin olive oil, and Licorice
Pros
Gentle
Non-drying
Paraben-free
Sulfate-free
Mineral oil-free
Synthetic color-free
Vegan
Cruelty-free
Cons
The Biotique Bio Walnut Purifying and Polishing Scrub eliminates dead skin cells and impurities to make your skin clear and young-looking. It features a blend of pure botanical extracts that purify your skin and refine its texture. The formula is enriched with walnut oil, neem extracts, mint, red sandalwood, and fenugreek that reduce dryness, fade the signs of early aging, and leave your skin soft and smooth. The gentle exfoliants in the scrub enhance blood circulation to drain the lymphatic nodes to refresh your skin.
Key Ingredients: Walnut oil, Neem, Mint, Red sandalwood, and Fenugreek
Pros
Organic formula
No harsh preservatives
No harsh chemicals
Mild exfoliants
Light fragrance
Cons
This scrub from Lakme has a gel-based formula infused with the goodness of orange and walnut. It gently lifts dead skin cells and impurities and deeply cleanses the skin without drying it out. This exfoliating scrub also helps eliminate blackheads to reveal bright and clear skin.
Key Ingredients: Orange and Walnut extracts
Pros
Mild
Foamy texture
Non-drying
Subtle citrus scent
Cons
mCaffeine's Naked Detox Green Tea Face Scrub helps detoxify the skin by removing dirt, blackheads, dead skin, and impurities. It also reduces pore size and is infused with natural skin-loving ingredients that improve the skin texture. This refreshing face scrub for dry skin contains antioxidant-rich green tea, which has anti-inflammatory properties and fights free radicals responsible for early aging. It also contains vitamin C to soothe irritated skin and offer sun protection, while hyaluronic acid provides a boost of hydration to condition the skin. This facial scrub also contains caffeine that soothes and tones the skin. The walnut extracts in the formula offer gentle exfoliating benefits.
Key Ingredients: Green tea, Walnut, Vitamin C, Hyaluronic acid, and Caffeine
Pros
Pleasant fragrance
Dermatologically tested
SLS-free
Paraben-free
Mineral oil-free
No animal testing
Cons
Kama Ayurveda's Kumkumadi Face Scrub is made from a blend of 12 skin nourishing ingredients that eliminate dead skin cells and smoothen fine lines to reveal clear and radiant skin. It is infused with kumkumadi that helps polish, brighten, and moisturize the skin. The green cardamom in the formula soothes the skin, and sweet flag clears acne with its antiseptic, anti-inflammatory, antiviral and antibacterial properties.
This scrub also contains saffron that enhances the skin tone, lightens pigmentation and dark circles, and reduces acne. The sunflower seed oil in the scrub soothes irritation, improves hydration, and protects the skin. This face scrub is also enriched with linoleic acid that strengthens the skin barrier, prevents moisture loss, and boosts hydration. The vitamin E in the scrub neutralizes free radicals and prevents early aging, while the almonds replenish and moisturize the skin to make it healthy and glowing.
Key Ingredients: Kumkumadi, Almonds, Sunflower seed oil, Saffron, Cardamon, and Sweet flag
Pros
Gentle
Imparts glow
Easy to use
Smells good
Cons
Expensive
May cause breakouts.
The Pilgrim Volcanic Lava Ash Face Scrub is ideal for removing dead skin, tanning, and blackheads. Its refreshing formula promotes blood flow to boost collagen production and reveal healthy and vibrant skin. This scrub gently polishes the skin and leaves it soft, clean, and youthful-looking. It also buffs dirt, pollutants, toxins, and impurities that settle on the skin to make it clear and radiating.
This detoxifying scrub uses volcanic lava for exfoliation and deep cleansing. It also contains yugdugu that fades pigmentation and white lotus that enhances elasticity to rejuvenate the skin. It contains high levels of minerals that prevent wrinkles and fine lines by renewing the skin and initiating natural peeling. The mild exfoliants in the formula are skin-friendly and work well on dry skin.
Key Ingredients: Volcanic ash, White lotus, and Yugdugu
Pros
Mild
Paraben-free
Sulfate-free
Mineral oil-free
Cruelty-free
Vegan
Cons
The O3+ Milk Scrub helps exfoliate the skin and remove dead skin, blackheads, and blackheads. It is enriched with the goodness of real milk that moisturizes the skin. The macadamia nut extract in the formula prevents blockage and cleanses the pores. The effective yet gentle formula helps prevent sun damage, improve texture, and fade fine lines so that your skin looks smooth, bright, and glowing.
Key Ingredients: Milk and Macadamia nut extract
Pros
Mild
Moisturizing
Paraben-free
Sulfate-free
Vegan
Cruelty-free
Cons
A bit greasy
Overpowering fragrance
The Moha Herbal Scrub is an effective solution for eliminating dead skin cells caused due to pollutants and sun exposure. It contains walnut shell powder to exfoliate the skin and citrusy orange peel to brighten the skin and combat acne. The herbal formula also contains olive oil that soothes and nourishes the skin. While nutmeg oil prevents breakouts, rosehip oil adds moisture to the skin so that it stays healthy and glowing.
Key Ingredients: Walnut shell, Orange peel, Nutmeg oil, Rosehip oil
Pros
Gentle
Non-irritating
Mild exfoliants
Moisturizing formula
Cons
This scrub from Plum is packed with antioxidants that heal and cleanse the skin by getting rid of dead skin cells. It features cellulose beads that gently buff away impurities and debris, leaving your skin fresh and clean. The scrub contains grape seed oil enriched with essential fatty acids that protect the skin membrane by supplying essential vitamins and antioxidants to it. It also protects the skin from pollutants and sun rays that cause early aging due to the impact of free radicals. The sea buckthorn oil in the scrub is rich in omega-7 fatty acids that hydrate dull and dry skin.
Key Ingredients: Grapeseed oil, Sea buckthorn oil, and Cellulose beads
Pros
Gentle
Paraben-free
SLS-free
Phthalate-free
Cruelty-free
Vegan
Cons
Now that you know about the best scrubs for dry skin, keep scrolling to learn how to use them.
How To Use Scrubs For Dry Skin
Step 1: Take the desired quantity of scrub in your palm and apply it with your fingertips onto your face.
Step 2: Massage in a circular motion.
Step 3: Rinse with lukewarm water.
To choose the best scrub for dry skin, keep the following points in mind.
How To Choose The Best Scrub For Dry Skin
Always opt for a moisturizing or creamy formula for dry skin. This helps in locking in moisture, boosting hydration, and preventing dryness.
Look for a scrub with moisturizing ingredients like hyaluronic acid, honey, and milk protein for your dry skin.
Checking the user experience and feedback before buying any product always helps you in making the right choice. Therefore, remember to carefully browse through reviews before you settle in on a scrub.
These are some of the best face scrubs for dry skin. They are gentle, non-drying, and help replenish and restore your skin texture. So, wait no more! Pick your favorite from the list and say goodbye to dry lines and dull skin.
Frequently Asked Questions
Is it okay to scrub dry skin every day?
No. It is not recommended to scrub your dry skin daily.
Are there any side effects of scrubbing dry skin?
Excessive scrubbing can lead to dryness, itching, irritation, burning, and scarring.
Recommended Articles
The following two tabs change content below.