11 Best Face Scrubs For Oily Skin
Must-try exfoliating solutions to get unclogged pores and rejuvenated, clear skin.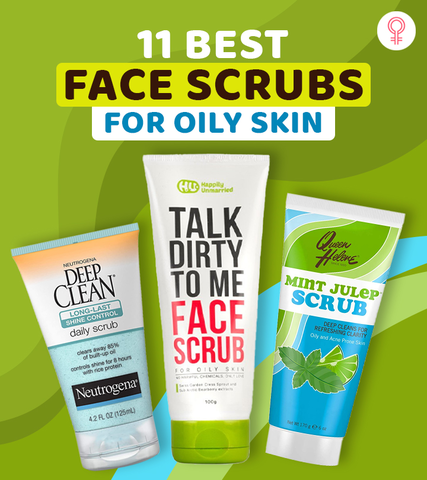 If you have oily skin, you must already be aware that it needs a lot of patience, love, and care to maintain its glow and health. Oily skin requires exfoliation, moisturization, hydration, and oil control steps. Since exfoliation is indispensable for this skin type, you must opt for the best face scrubs for oily skin to reap maximum benefits.
Using an exfoliation scrub will prevent pimples, dullness, and breakouts and help control oiliness and excess shine. In addition, they help prevent clogged pores and remove dead skin cells from the skin surface. To keep your skin refreshed and oil-free, we have curated a list of the best face scrubs that you can try. Keep scrolling and pick the one that suits your needs now!
11 Refreshing Face Scrubs Your Oily Skin Will Love
Neutrogena's DEEP CLEAN Gentle Scrub is one of the best and gentle face scrubs for oily skin. The scrub deep cleans the skin pores to remove skin impurities and dead skin cells and reveal a glowing face. The richly foaming and creamy lather rinses the skin clean, leaving it healthy-looking and soft. Its patented Rice Protein Technology absorbs excess oil to reveal a shine-free face for up to 8 hours.
Key Ingredients: Jojoba esters, Salicylic acid, Titanium dioxide, and Agar
Pros
Dermatologist-tested
Paraben-free
Lathers well
Petrochemical-free
Oil-free formula
Non-comedogenic
Mildly scented
Cons
May dry out your skin.
May cause itching.
The Mint Julep Facial Scrub from Queen Helene is an ideal exfoliant for oily and acne-prone skin. It contains a mix of exfoliating and hydrating ingredients that cleanse the skin while nourishing it from within. While walnut shell powder reduces oil buildup, grime, and dead skin cells, kaolin and glycerin help in deep cleansing and moisturizing. This gentle scrub is best for daily use as it does not over-dry the skin and keeps it supple. The cool minty scent leaves you feeling refreshed for a long time.
Key Ingredients: Walnut shell powder, Kaolin, Glycerin, and Mint
Pros
Cruelty-free
Petrochemical-free
Refreshing scent
Affordable
Easy to rinse
Cons
Grainy exfoliating particles
Messy application
This 100% vegan face scrub from Garnier gently exfoliates the skin to reduce the appearance of pores. It contains green tea and peppermint extracts to hydrate the skin and give it a healthy glow. Argan seed kernel powder and salicylic acid remove oil and grime from the skin surface to prevent breakouts. This scrub's coarse gel-like consistency makes it easy to apply and wash. It leaves your skin feeling smoother and healthier after every use.
Key Ingredients: Argan seed kernel powder, Salicylic acid, Green tea leaf extract, Peppermint extract
Pros
Paraben-free
Silicone-free
Subtle scent
Doesn't over-dry skin
Sulfate-free
No artificial dyes
Vegan
Spreads well
Easy to rinse
Refreshing fragrance
Cons
May cause redness and breakouts.
The Watermelon & Tea Tree Face Scrubbie is specially formulated for acne-prone and oily skin. A tub contains 12 small square exfoliants that can be used 2-3 times for cleaning the skin. They tighten and tone sensitive skin. The watermelon extract, tea tree oil, and fruit seeds mildly exfoliate the skin without causing tears. With every use, the scrubbie removes dead skin cells, grime, and oil that clog pores.
Key Ingredients: Glycerin, Watermelon powder, Tea tree oil, and Fruit seeds
Pros
Refreshing smell
Long-lasting
Reusable
Paraben-free
Mess-free application
Cruelty-free
Aluminum-free
Cons
May over-dry the skin.
Causes redness post exfoliation.
The UpCircle Coffee Face Scrub is one of the most effective natural face scrubs for oily and combination skin. It is made with top-quality Arabica coffee grounds and tea tree oil.
Coffee buffs away dead and dry skin cells to leave your skin smooth. Tea tree oil helps fight spots, acne, and breakouts. Shea butter, rosehip oil, patchouli oil, geranium oil, and chamomile oil help nourish and deeply moisturize the scrubbed skin. These oils also have anti-inflammatory properties and can soothe rosacea, acne, and psoriasis.
Key Ingredients: Shea butter, Coffee seed powder, Rosehip oil, Apricot kernel oil, Jojoba oil, Sucrose, Coconut oil, Orange peel oil, Geranium flower oil, Rosemary leaf oil, Bergamot fruit oil, Patchouli leaf oil, Bitter orange leaf oil, and Chamomile flower oil
Pros
Cruelty-free
Vegan
Spreads well
Non-drying
Cons
Overpowering fragrance
Can cause redness.
This gentle exfoliating face scrub from Natura Siberica is packed with natural Siberian herbs. It contains Sophora japonica and Arctic raspberry that delicately exfoliate, renew, and restore the skin, making it smooth and firm. These wild-harvested botanicals are 30% composed of Rutin (a biomolecule) that stimulates skin regeneration and regulates lipid balance in the outermost layer of your skin. This natural scrub features apricot seeds and micro granules that exfoliate, nourish, and pamper oily skin.
Key Ingredients: Armenian plum seed powder, Huaihua flower extract, Siberian pine nut seed oil, Apricot seed extract, and Soapweed root extract
Pros
Paraben-free
Spreads well
Silicone-free
Pleasant fragrance
Cons
None
The Talk Dirty To Me Face Scrub by Happily Unmarried is a gel-based exfoliating formula that effectively controls sebum secretion. It prevents your face from getting oily and shiny with the help of fine scrubbing granules and tea tree oil. Regular exfoliation with this scrub can help erase blackheads, whiteheads, acne, and dead skin. The Swiss garden cress sprout extract keeps your face clean, fresh, and bright and clears tanning.
Key Ingredients: Swiss garden cress sprout extract, Tea tree oil, and Menthol
Pros
SLS-free
Paraben-free
Gentle
Imparts a cooling sensation
Affordable
Cons
This face scrub from Oriental Botanics gently buffs away dead skin, impurities, tan, blemishes, blackheads, and whiteheads without irritating your skin. It contains mild exfoliants that restore your skin's natural radiance.
The active extracts of holy basil, turmeric, neem, cucumber, rosemary, aloe vera, and tea tree oil are packed with antioxidants and vitamins to unclog the pores, lighten dark spots, and condition oily skin. They penetrate deep into the skin layers to moisturize your skin and actively fight damaging agents. This nutrient-rich face scrub for acne-prone and oily skin leaves your face feeling smooth and supple.
Key Ingredients: Holy basil, Jojoba oil, Aloe vera extract, Hyaluronic acid, Neem extract, Vitamin B5, and Cucumber extract
Pros
Refreshing scent
Vegan
Paraben-free
Cruelty-free
Phthalate-free
Sulfate-free
Silicone-free
Mineral oil-free
Cons
None
This face scrub with Indian ginseng (ashwagandha) is the best natural solution to keep acne and breakouts at bay, especially for oily skin types. It contains clarifying and brightening agents like ashwagandha, lemongrass, kelp, and witch hazel.
This scrub uses sugar as a natural exfoliant, which is relatively gentle on all skin types. Tea tree oil, peppermint, and aloe vera help soothing exfoliated skin. When used with the right cleansing, toning, and moisturizing products, this face scrub softens and brightens your skin.
Key Ingredients: Indian ginseng, Kelp, Oregano, Sugar, Lime, Lemongrass, Aloe, Witch hazel, Tea tree oil, and Peppermint
Pros
Hypoallergenic
Paraben-free
Cruelty-free
Easy to remove
Cons
The InstaNatural Brightening Vitamin C Scrub is a gentle exfoliator suitable for oily, dry, and normal skin types. It is formulated with quartz crystals, strawberry seeds, and jojoba beads, making its texture creamy and non-abrasive.
It also contains green tea, aloe vera, coconut water, and lactic acid that removes dead skin cells and increases cell turnover for healthy skin. It nourishes the skin, hydrates it, and protects it against environmental damage. It also reduces various signs of aging while revealing improved skin texture and a brighter skin tone. Moreover, its ingredients also help in minimizing enlarged pores and fading scars and blemishes.
Key Ingredients: Vitamin C, Aloe vera, Green tea, Coconut water, Lactic Acid
Pros
 Lightweight
 Creamy consistency
 Smooth application
 Paraben-free
 Sulfate-free
 Cruelty-free
 Mineral oil-free
 Petroleum-free
 Suits all skin types
Cons
None
This exfoliating facial scrub is made with gentle, perfectly round micro granules that refine your skin's texture and tone. The ultra-moisturizing scrub base keeps the skin supple and comfortable throughout the exfoliation process. The micro granules buff away oily shine, dirt, and dead skin from the large open pores without being abrasive. This scrub's formula reduces fine lines, visibly diminishes enlarged pores, and helps slow signs of aging on the face and neck.
Key Ingredients: Glycerin and Salicylic acid
Pros
Gentle micro granules
Fast-acting formula
Cons
Why Trust StyleCraze?
The author of this article, Oyendrila Kanjilal, is a certified skin care coach. She curated this list of the best face scrubs for oily skin after carefully researching multiple products and browsing online user reviews for her readers. Her selection comprises face scrubs that help control pimples, dullness, and breakouts. Not only do these face scrubs reduce oiliness and excess shine, but they also prevent clogged pores and help remove dead skin cells.
Frequently Asked Questions
Is it good to scrub oily skin?
Yes, it is good to scrub oily skin as it helps remove dirt, sebum, blackheads, and other impurities and unclogs the pores.
Which scrub I can use daily if I have oily skin?
The Neutrogena DEEP CLEAN Long-Last Shine Control Daily Scrub is a dermatologist-tested and -recommended product that you can use for oily skin. If you are looking for an affordable option, the Queen Helene Mint Julep Facial Scrub is a good choice. You can also try the DIVA STUFF All Natural Indian Ginseng Acne Scrub and Wash if you have sensitive skin. All three work well on oily skin and offer fresh, well-exfoliated skin.
Is a salt scrub good for oily skin?
Yes, a sea salt scrub is good for exfoliating oily skin. It leaves a lasting glow. However, do not rub it too harshly on the skin as it will cause reactions.
Can I use a scrub on pimples too?
Yes, you can use gentle scrubs on minor bumps. But, scrubbing on acne or bigger pimples will cause inflammation and redness, and hence, it is better to avoid doing that.
Can I use a face scrub every day?
No, ideally you should use a face scrub only twice or thrice a week.
Is coffee scrub good for oily skin?
Yes, coffee scrub is good for oily skin as it gently exfoliates and cleanses the skin while its antioxidants help reduce inflammation and redness caused by physical scrubbing.
Recommended Articles