15 Best Scrubs For Oily Skin Available In India
Whisk away impurities from your face with these meticulours cleansers.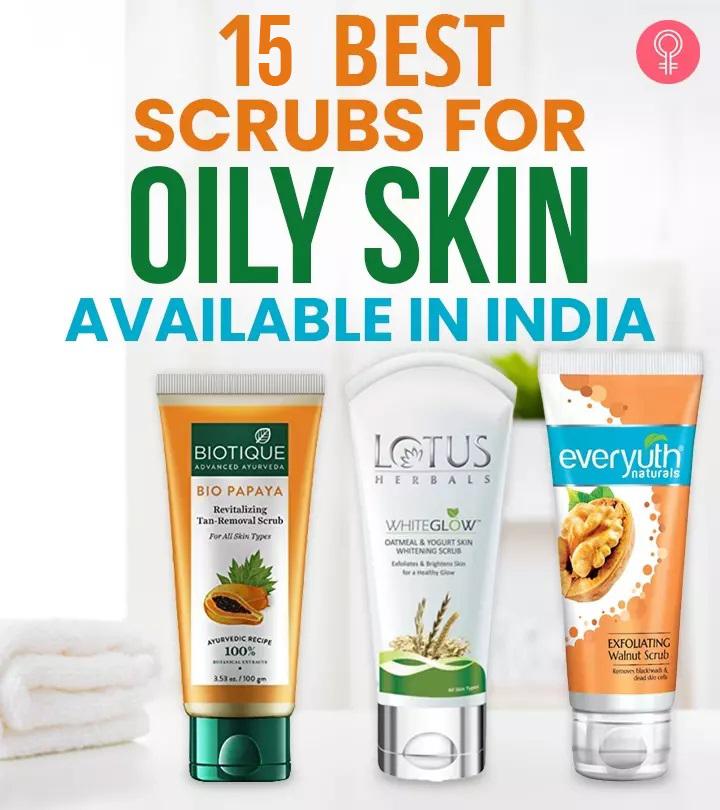 People with oily skin assume that getting clear, smooth, glass-like complexion is an impossible dream. If you share similar thoughts, well, you do have a point. Oily skin comes with its own share of issues, including blackheads, whiteheads, acne, dullness, enlarged pores, etc.
But do not lose hope. There is one miracle product that can help. It is a good quality scrub. Keeping your skin exfoliated is the first step to getting a radiant complexion. It will not only allow other skincare products to absorb better, but also will eliminate the dead skin cells that otherwise make your face uneven and patchy.
However, choosing the right scrub is crucial. Hence, we have listed the best face scrubs for oily skin in India. Check them out!
15 Best Scrubs For Oily Skin Available In India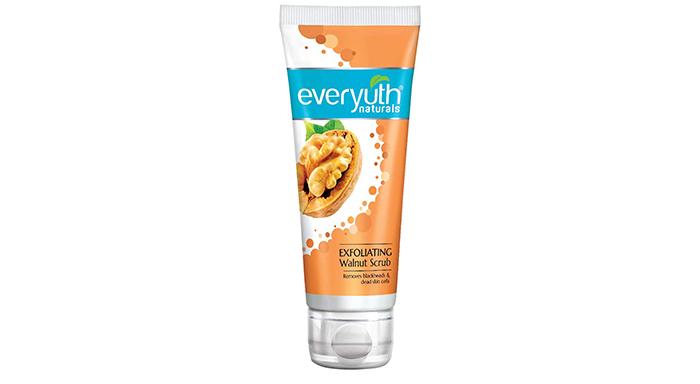 This exfoliating walnut scrub by Everyuth Naturals is one thebest for oily skin. It contains Nano Multi-Vita and natural walnut shell particles. These shell particles gently exfoliate the skin. They remove any impurities that may be blocking your pores and causing blackheads and whiteheads. The Nano Multi-Vita deeply nourishes and revitalizes the skin, leaving it squeaky clean, clear, velvety, and beautiful. This scrub is suitable for all skin types. Those with oily skin can equally benefit from it.
Key Ingredients: Walnut shell powder, apricot kernel oil, and diatomaceous earth
Pros
Reasonably priced
Quick results
Little amount required
Cons
None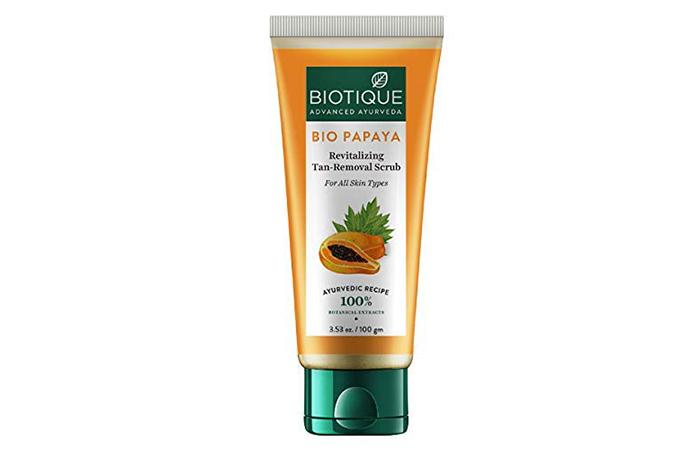 The Biotique Bio Papaya Revitalizing Tan-Removal Scrub contains papaya fruit that helps dissolve the dead skin cells. It unclogs pores and smoothens the skin. It gently exfoliates the skin for a younger-looking complexion. It also contains morning nectar that visibly brightens the skin and helps prevent and eliminate dark spots, blackheads, and blemishes. Regular use of this product reduces fine lines and leaves your skin feeling visibly cleaner and fresher.
Key Ingredients: Papita (Carica papaya), kela (Musa sapientum), khajoor (Phoenix dactylifera), neem (Melia azadiradrachita), methi (Trgonelia foenum graecum), yasad bhasm (Zincum), and ban heldi (Curcuma aromatica)
Pros
Paraben-free
Sulfate-free
Reduces fine lines
Cons
None
Exfoliate your skin with the Plum Green Tea Gentle Revival Face Scrub. This naturally exfoliating scrub is infused with green tea extracts and glycolic acid that give you clear and glowing skin. The green tea extracts are rich in antioxidants that help clear acne and acne marks. The glycolic acid, cellulose beads, and walnut shell granules exfoliate the skin and eliminate dirt, impurities, and grime from the pores. This scrub also contains licorice extracts that brighten the skin and even out the skin tone. The aloe and hibiscus extracts hydrate and soften your skin.
Pros
Cruelty-free
Vegan
Paraben-free
Mineral oil-free
SLS free
Non-oily
Cons
None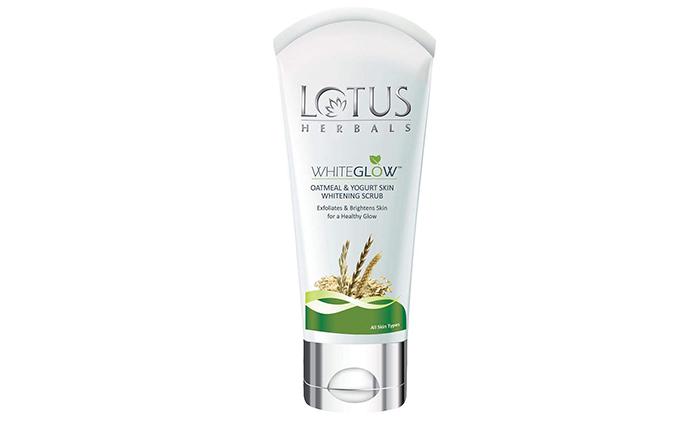 This highly effective face scrub by Lotus Herbals removes impurities, dirt, blackheads, and whiteheads and makes your skin bright and radiant. It contains oatmeal and yogurt enzymes that gently exfoliate your skin and remove all impurities from the pores. Oatmeal also deeply moisturizes your skin and seals hydration. Yogurt prevents tanning and delays the appearance of the aging signs. Regular use of this product leaves the skin clear, clean, and spotless. It evens out your skin tone and gives you bright, radiant skin.
Key Ingredients: Avena sativa meal (oatmeal) powder and yogurt powder
Pros
Quick results
Reasonably priced
Fights signs of aging
Seals skin hydration
Cons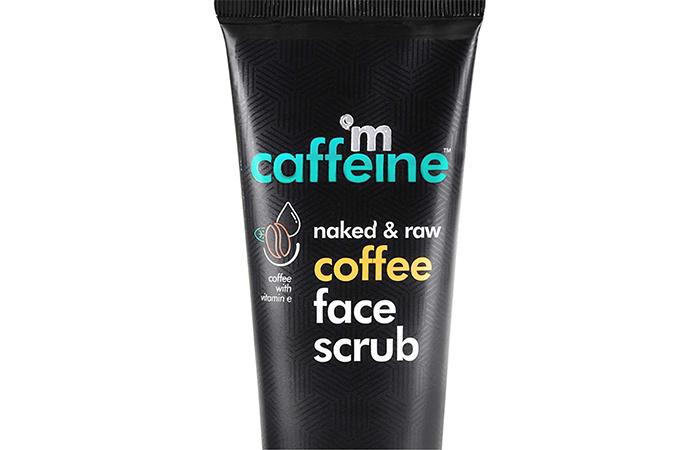 The mCaffeine Naked & Raw Coffee Face Scrub contains coffee and walnut grains that gently exfoliate delicate facial skin. It also contains hibiscus, argan oil, caramel, and vitamin E that work together to nourish, heal, and moisturize skin and improve skin elasticity. The coffee in this product boosts collagen production, helps reduce cellulite, tones the skin, and reduces inflammation. This scrub effectively strips away the gunk and impurities from your skin and reveals a clear, glowing, and youthful complexion. This product is free of parabens and SLS. It also is clinically-tested and FDA-approved. It is cruelty-free and vegan as well.
Key Ingredients: Pure Arabica coffee, walnut, hibiscus, vitamin E, and argan oil
Pros
FDA-approved
SLS-free
Paraben-free
Clinically Tested
Cruelty-free
Vegan
Cons
The Lotus Herbals Apriscrub Fresh Apricot Scrub is enriched with walnut shells that act as exfoliating agents. They remove dead skin cells and deeply cleanse the skin. The scrub also contains corn that nourishes and cleanses the skin, glycerin that restores skin moisture, and calendula oil that moisturizes and heals the skin. The elderflower extracts and cetyl alcohol further boost skin radiance.
This scrub effectively brightens skin by removing dirt, impurities, blackheads, and whiteheads. It also cleanses clogged pores.
Key Ingredient: Prunus Armenlaca (apricot kernel) powder
Pros
Quick results
Little amount required
Reasonably priced
Seals skin moisture
Cons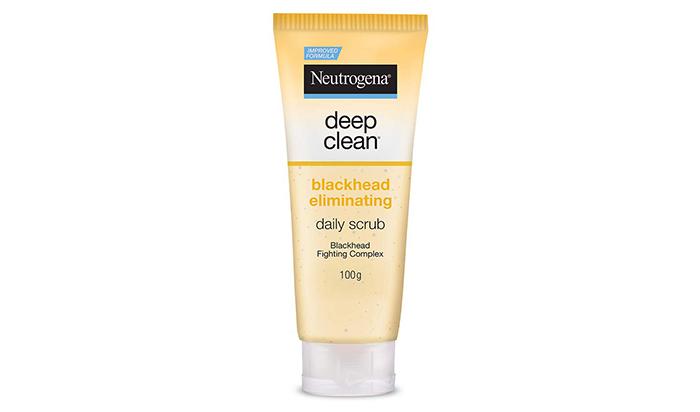 The Neutrogena Deep Clean Blackhead Eliminating Daily Scrub effectively eliminates blackheads from the very first use and keeps new ones from forming. It penetrates your skin pores to remove dead skin cells, dirt, and excess oils. It contains cedarwood extract and moisturizer that help balance the skin's natural water and oil levels.
However, it can cause dryness if used too often (hence, try it twice a week initially and adjust according to your skin's requirements). With regular use, you will see your skin getting radiant and smooth. This product is suitable for all skin types. It is dermatologically-tested, oil-free, and non-comedogenic.
Key Ingredients: Cetyl alcohol, cedarwood extract, glyceryl oleate, and coco glucoside
Pros
Non-comedogenic
Oil-free
Dermatologist-tested
Quick results
Cons
May dry skin out if used in excess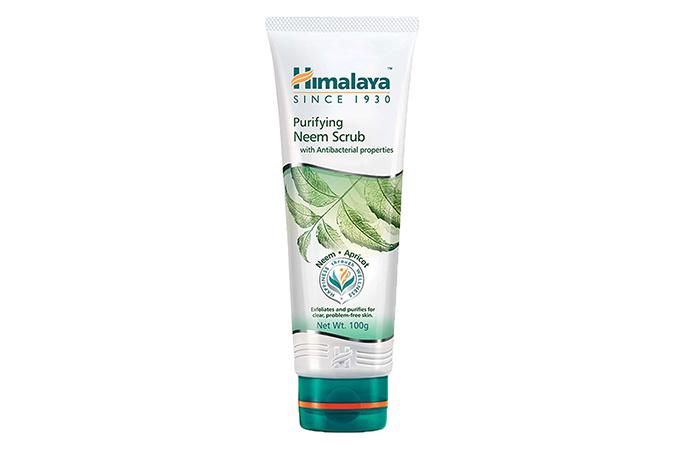 The Himalaya Herbals Purifying Neem Scrub not only eliminates pimples but also prevents the recurrence of acne. It provides a complete skin treatment and makes your skin smooth and soft. This scrub contains neem and apricot that work great together as exfoliators and purifiers. The apricot granules gently remove the dead skin cells while the purifying properties of neem prevent acne and dark spots. This scrub also removes excess oil from the skin.
Key Ingredients: Apricot granules and creamy neem paste
Pros
Quick results
Reasonably priced
Cons
None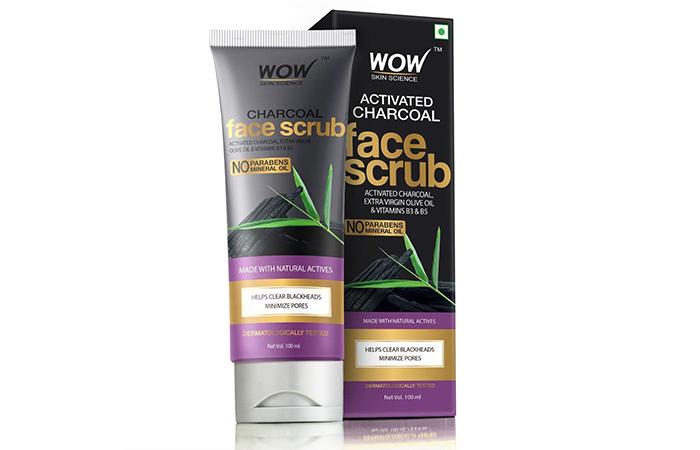 The WOW Activated Charcoal Face Scrub is powerful enough to exfoliate your skin deeply. The charcoal in this product has antioxidant and anti-inflammatory properties that soothe your skin and make it more youthful. You can also use this scrub for exfoliating your entire body and not just the face. It also can be used as a skin lightening product.
The scrub contains activated charcoal powder that removes deep-seated toxins, impurities, and excess oil from the skin. Its extra virgin olive oil nourishes and hydrates the skin, licorice extract lightens the skin tone and combats discoloration, pigmentation, and age spots, walnut shell powder removes dead skin cells and blackheads, and vitamins B3 and B5 help fade acne marks and pigmentation. This product is free of parabens and mineral oil.
Key Ingredients: Activated charcoal, tea tree essential oil, coconut oil, orange peel oil, and aloe vera gel
Pros
Mineral oil-free
Paraben-free
No synthetic colors
Versatile
Cons
May dry the skin out in some
Price at the time of publication: ₹337.0
This mild scrub by Mamaearth contains walnut beads and activated charcoal that gently unclog pores and leave your skin feeling supple, soft, and clear. This scrub removes dirt, toxins, and acne-causing bacteria that grow in the skin pores. The scrub works without altering the natural skin pH.
Its activated charcoal also absorbs excess oil and deep cleanses your pores. Its walnut is rich in vitamin B and removes dead skin and tan. Its tea tree has antimicrobial and anti-inflammatory properties that prevent acne. The product is dermatologically-tested. It also is free of parabens, sulfates, phthalates, and artificial colors.
Key Ingredients: Charcoal, walnut beads, coffee extract, and cedarwood essential oil
Pros
Dermatologically-tested
Sulfate-free
Phthalate-free
Paraben-free
No artificial colors
Cons
None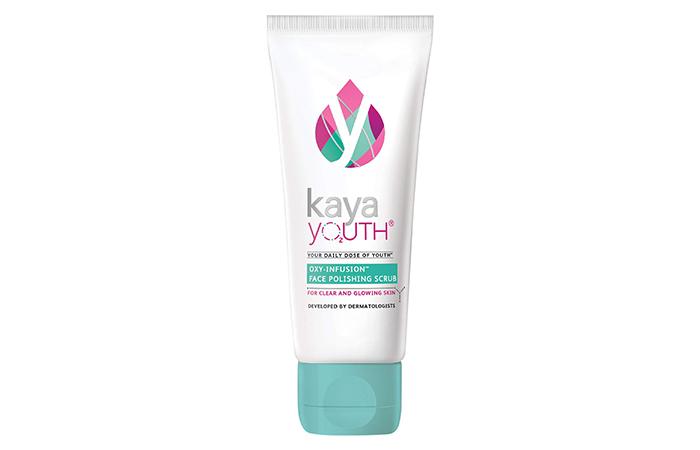 The Kaya Yo2uth Oxy-Infusion Face Scrub claims to improve your skin in just seven days. It gently removes dead skin cells from your skin and helps unclog pores. It contains walnut shell granules that remove dirt and grit from your skin, aloe vera that hydrates your skin, and vitamin E that moisturizes your skin. Even though this scrub is suitable for all skin types, it is particularly beneficial for those with oily skin as it is gentle on the skin and preserves the natural oils.
Key Ingredients: Walnut shell granules, aloe vera, and vitamin E
Pros
Developed by dermatologists
Quick results
Little amount required
Cons
None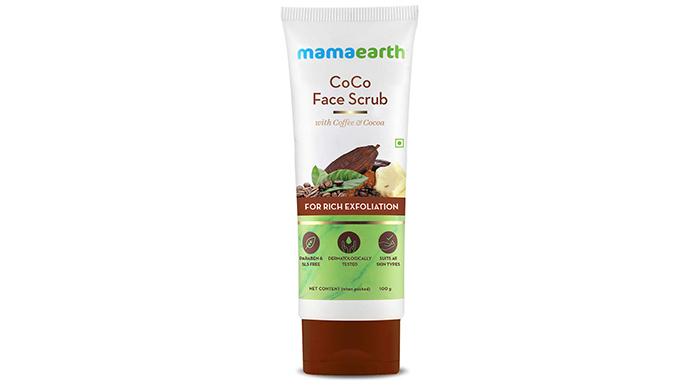 The Mamaearth CoCo Face Scrub gently exfoliates your skin while unclogging pores. It also maintains your skin pH balance. This scrub gets rid of tan, toxins, dirt, and acne-causing bacteria. It contains cocoa that is loaded with antioxidants. These slow down the aging process and improve skin elasticity. The coffee in the scrub removes impurities and dead skin cells, and the shea butter moisturizes and nourishes dry skin. The butter also has anti-inflammatory and skin-healing properties. Using the scrub regularly will leave your skin looking smooth, supple, and fresh.
Key Ingredients: Coffee, cocoa, and shea butter
Pros
Dermatologically-tested
Paraben-free
Silicone-free
Sulfate-free
Petroleum-free
No artificial preservatives
No artificial colors
Cons
None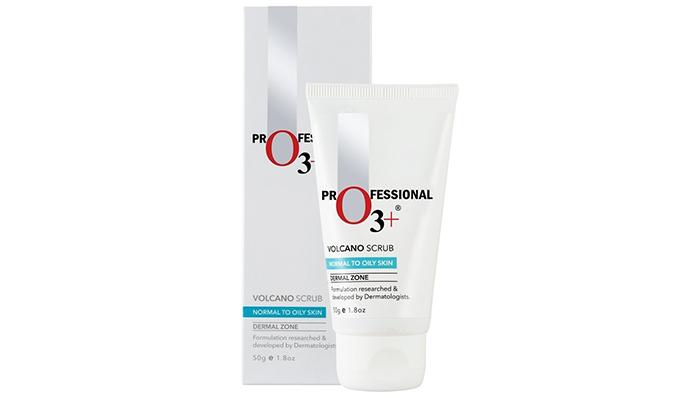 The O3+ Volcano Scrub exfoliates the skin effectively while reducing excess oil. It removes blackheads and whiteheads and protects your skin with an anti-bacterial shield. It contains activated carbon that draws out dirt and excess oil. It deeply nourishes the skin with its restorative minerals and vitamins. It smoothens and tightens the pores. The scrub is gentle enough for everyday use. Regular use of this product will make your skin supple, clear, and radiant.
Key Ingredient: Activated carbon
Pros
Quick results
Little amount required
Cons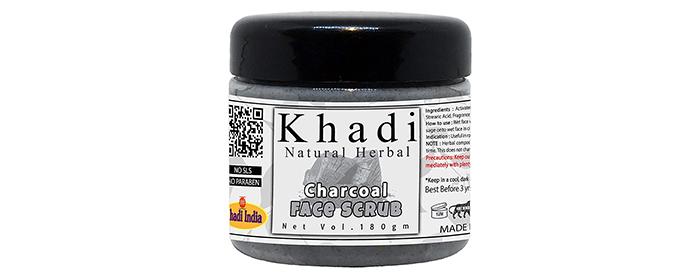 This scrub by Khadi Natural contains activated charcoal that deep cleanses your skin and makes it clean, clear, and fresh. It also helps treat acne and uneven skin tone. This scrub removes dirt and impurities without stripping the skin of its natural oils. It is particularly suitable for those who want a deep clean once a week.
However, it could dry your skin out if used too often. Hence, you may use it once or twice a week. Also, avoid using the scrub on pimples or broken skin.
Key Ingredients: Charcoal powder, apricot seed powder, and glycerin
Pros
Quick results
Little amount required
Cons
May dry the skin out in some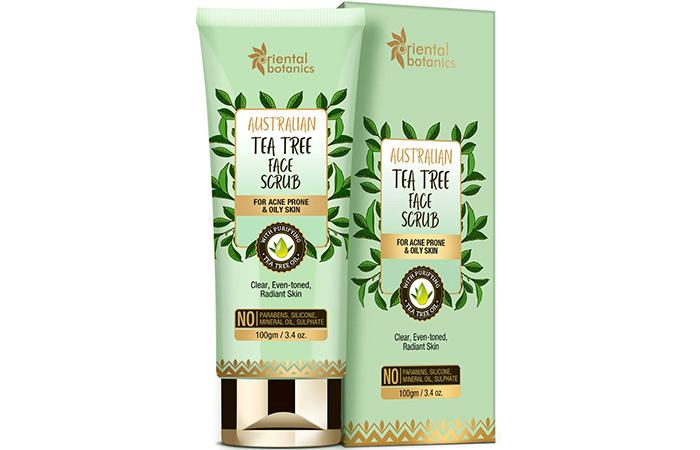 The Oriental Botanics Australian Tea Tree Face Scrub helps soothe irritated skin. It contains tea tree whose anti-inflammatory properties soothe and nourish the skin from within. Its aloe vera has moisturizing properties that deeply hydrate the skin. Aloe vera also treats acne scars and blemishes. The scrub's cucumber soothes red, irritated skin and also improves skin texture.
Regular use of this face scrub will give you clear, even-toned, and glowing skin. This scrub is free of parabens, sulfates, silicones, phthalates, mineral oil, and added fragrances. It also is cruelty-free and vegan.
The scrub is also enriched with acnebusters (actives that fight acne). Its antiseptic properties help kill microbes that cause acne. It also has antioxidant properties that protect the skin from environmental damage.
Key Ingredients: Tea tree extract, aloe vera, and cucumber
Pros
Paraben-free
Sulfate-free
Phthalate-free
Silicone-free
Mineral oil-free
Cruelty-free
Vegan
No added fragrances
Cons
None
Price at the time of publication: ₹17.09
These are the top 14 scrubs for oily skin available in India. But how can you use one the right way? We have discussed the same in the following section.
How To Use A Scrub For Oily Skin?
Take a pea-sized amount of the product into your hands.
Massage it all over your face in a circular motion.
Continue the massage for about five minutes.
Gently wash your face with warm water.
Pat your face dry with a soft towel.
The following section helps you make a better purchase decision. Take a look.
How To Choose The Best Scrub For Oily Skin?
Look for a scrub with small particles and fruit or flower extracts, such as apricot, magnolia, or pineapple. For example, magnolia extract opens up your pores and prevents blemishes, while its exfoliating particles leave your skin feeling soft and smooth. Other such extracts offer similar benefits. Ensure you go through the ingredients list carefully.
However, never over-exfoliate. Doing so can make your skin produce even more oil.
Conclusion
Managing oily skin can be tricky. But it is not impossible. There are plenty of options on the market catering to oily skin. The scrubs listed in this post, if used the right way, can help you well maintain your oily skin. They also can help resolve the issues that come with excess oiliness. We believe these reviews have helped you make an informed choice. Make your purchase today.
Frequently Asked Questions
Does scrubbing really help oily skin?
Scrubbing is essential for removing dead skin build-up. If you have oily skin, it is even more important to eliminate the dead cells and the extra oil from your skin. If not regularly exfoliated, the accumulation of dead cells and oil will lead to the formation of acne, pimples, and other related issues.
Recommended Articles