10 Best Scrubs For Sensitive Skin In India – 2023 Update
Gentle care for your delicate skin - because your skin deserves the best.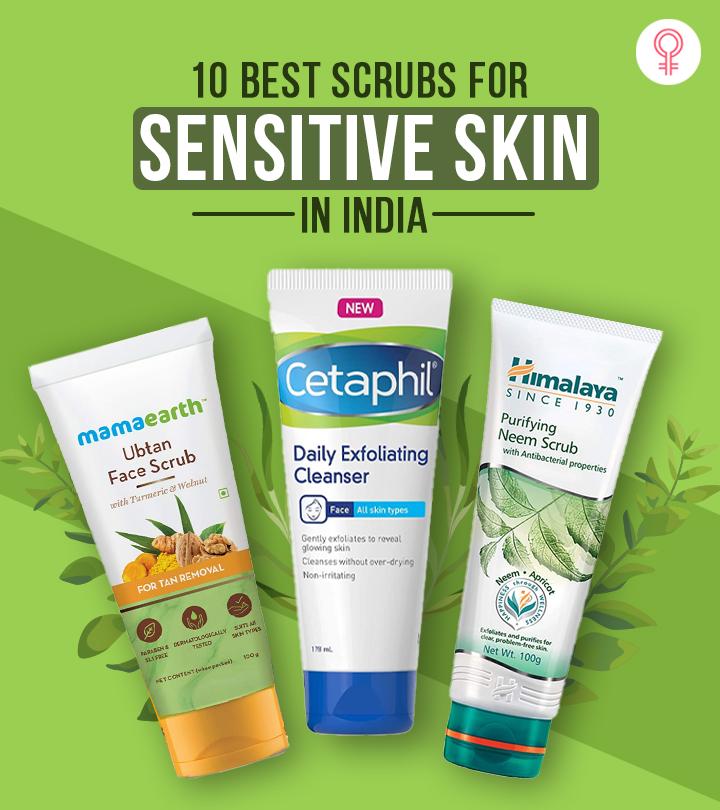 Are you apprehensive of using scrubs on your sensitive skin? Well, you don't have to be worried anymore! Many brands have launched scrubs with gentle formulas that do not irritate your skin. They get rid of the dead skin cells and dirt on the skin surface without drying it out or causing redness. Scroll down to check out the 10 best exfoliating scrubs for sensitive skin available in India.
Top Picks
10 Best Scrubs For Sensitive Skin In India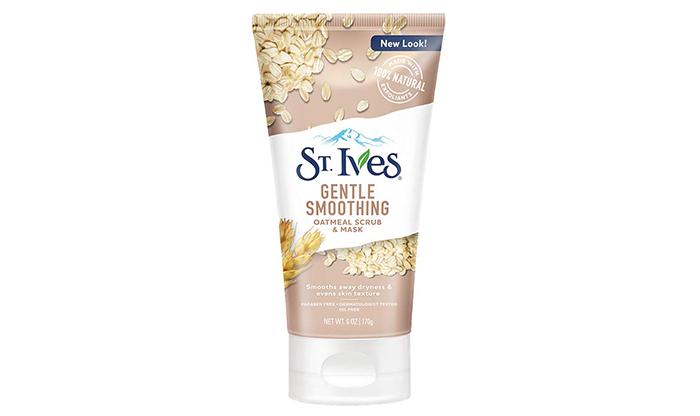 The Gentle Smoothing Oatmeal Scrub & Mask by St. Ives is formulated to replenish dry skin and keep it fresh all day long. This extra-mild formula gently exfoliates dull surface cells to reveal smooth and radiant skin. It contains more than 95% naturally derived ingredients, including Swiss glacial water and Swiss botanicals. This scrub also contains rich shea butter and soothing almond oil. It uses effective ingredients for younger-looking skin.
Key Ingredients: Oatmeal, Shea butter, and Almond oil
Pros
Smells good Dermatologist-tested
Gentle
Paraben-free
Oil-free
Cruelty-free
Phthalate-free
Cons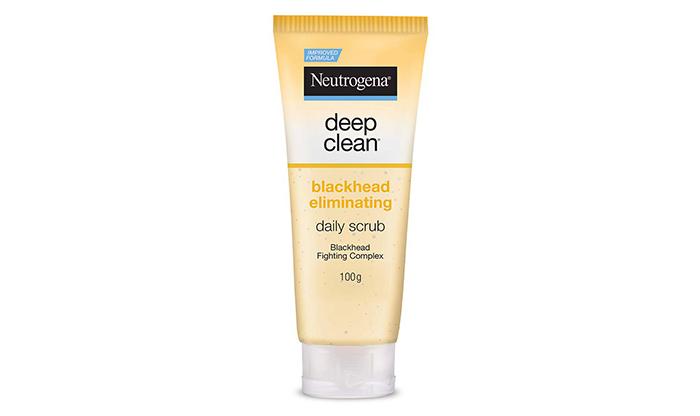 This scrub from Neutrogena removes blackheads from the very first use. It also prevents the formation of new blackheads, leaving your skin clear. The scrub penetrates deep into the pores to remove dead skin cells and minimize blackheads, clean dirt, and get rid of excessive oil. It contains cedarwood extracts that strengthen the skin's natural water and oil balance, while salicylic acid evens out the skin tone.
Key Ingredients: Cedarwood extract and Salicylic acid
Pros
Non-comedogenic
Gentle
Dermatologist-tested
Oil-free
Smells good
Cons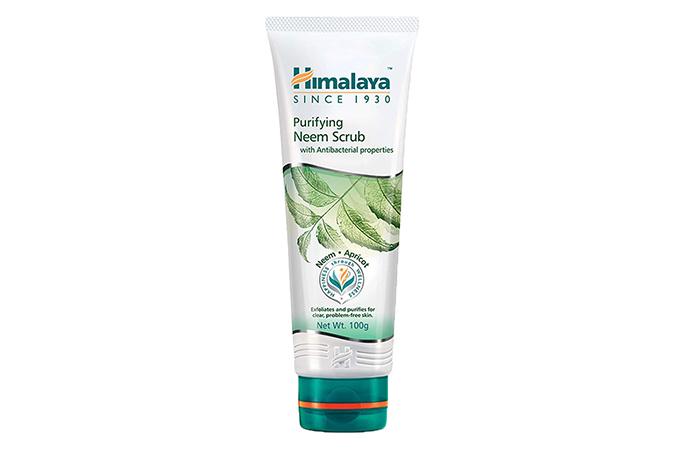 The Himalaya Purifying Neem Scrub is made from neem and apricot that exfoliate and purify the skin, respectively. While the apricot granules remove dead skin cells, dirt, pollutants, and blackheads from the skin, neem prevents acne and reduces the appearance of dark spots. This facial scrub also controls excess oil in the skin, which is the root cause of stubborn acne and blackheads.
Key Ingredients: Neem and Apricot
Pros
Gentle
A little goes a long way
Value for money
Cons
Unpleasant fragrance
Contains parabens
Price at the time of publication: ₹6.99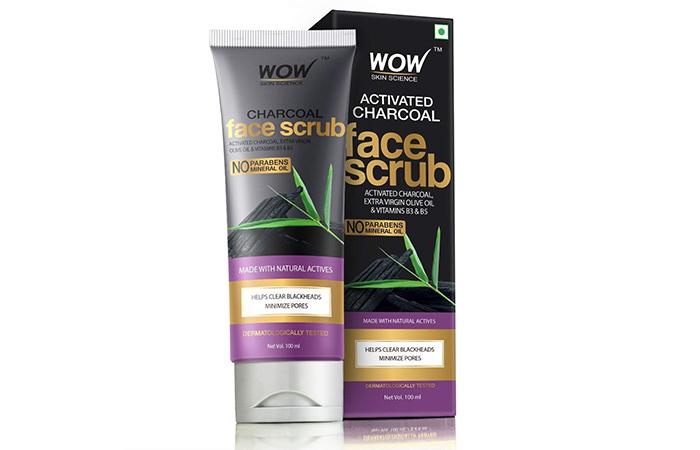 This massaging charcoal scrub from WOW is easy to use, made with natural actives, and offers a skin-friendly exfoliating process. It contains charcoal, a popular skincare ingredient with antioxidant and anti-inflammatory properties that draws out dirt and excess oil from the pores. The walnut shell powder exfoliates the skin and helps it retain moisture, making it soft and supple.
The extra virgin olive oil nourishes the skin and keeps it hydrated, while the licorice extract and vitamins B3 and B5 lighten pigmentation and age spots and even out the skin tone. The chemical-free scrub is gentle on your skin yet powerful enough to get rid of dead cells. It also helps increase the skin's blood circulation and collagen production. Regular use of this scrub makes your skin soft, healthy, and radiant.
Key Ingredients: Activated charcoal, Walnut shell powder, Extra virgin olive oil, Vitamins B3 and B5
Pros
Gentle
Dermatologically tested
Paraben-free
Mineral oil-free
No synthetic colors
Value for money
Cons
Price at the time of publication: ₹337.0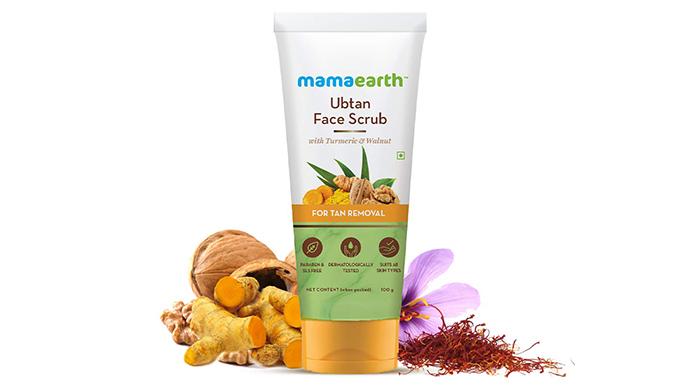 This Ubtan Face Scrub from mama earth removes sun tan and restores the skin's natural glow. It contains walnut that gently exfoliates dead skin cells and removes impurities that routine cleansing cannot tackle. It also scrubs away dirt and visible blackheads. Turmeric is rich in antioxidants and protects the skin cells from free radical damage It also lightens the skin tone while improving complexion.
Key Ingredients: Walnut and Turmeric
Pros
Dermatologically tested
Non-greasy
Silicone-free
Paraben-free
Sulfate-free Petroleum-free
Artificial color-free
Cons
The granules may feel harsh on the skin.
The Blue NectarSHUBHR Kumkumadi Face Scrub is a gentle exfoliator. Ayurvedic ingredients like saffron, almonds, turmeric, and kumkumadi nourish, exfoliate, and brighten the skin naturally. This scrub contains genuine essential oils and herbs that are blended carefully to help you achieve soft, supple, and glowing skin. Regular exfoliation with this scrub fights dark circles, hyperpigmentation, and aging signs. It removes sun tan and dead skin through gentle action while improving skin texture by promoting new skin cells.
Key Ingredients: Saffron, Almond oil, Turmeric, Hibiscus Flower, Rose, Lotus, and Kumkum adi oil
Pros
All-natural ingredients
Gentle
Non-greasy
Smells good
Creamy texture
Value for money
Cons
None
Price at the time of publication: ₹19.95

This brightening scrub from GOOD VIBES is crafted with fresh ingredients to refresh your skin and enhance your skin tone. It contains pomegranates, rich in vitamin C, a skin-friendly nutrient that boosts protection against the sun. It has anti-aging properties and gently removes dirt and impurities. It lightens dark spots, treats pigmentation, and brightens the skin naturally. This scrub diminishes acne scars, dark spots, and dark circles.
Key Ingredients: Pomegranate
Pros
Gentle
Sulfate-free
Paraben-free
Cruelty-free
Value for money
Cons
Can make your face greasy.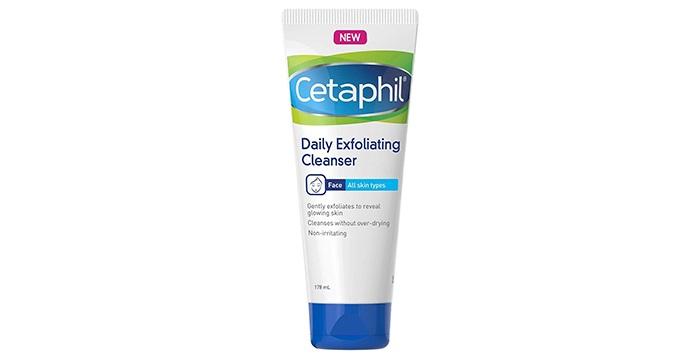 This gentle daily cleanser removes dirt and impurities from the skin while its micro-fine beads buff away dry and dull skin to support natural surface cell turnover. This formula is infused with skin conditioners and vitamin complexes that leave the skin feeling soft and smooth. The gentle formula is suitable for daily use and exfoliates the skin without irritating or over-drying it.
Key Ingredients: Vitamin B5 and Vitamin E
Pros
Hypoallergenic
Non-comedogenic
Dermatologist-testedNon-drying
Refreshing scent
Cons
Expensive for the quantity.
The carefully designed EnQ Orange Gel Face Scrub soothes the skin with a cooling effect while scrubbing away all the impurities. It is formulated with orange, rich in vitamin C, which increases collagen production, fights free radicals, and slows down the appearance of wrinkles. This scrub also contains finely-ground walnut beads to cleanse the skin without causing any irritation or damage. Its hydrating properties make the skin soft and supple. The scrub helps reduce sun tan by deflecting the harmful UV rays from the skin cells.
Key Ingredients: Orange extract and Walnut granules
Pros
Hypoallergenic
Mild
Refreshing scent
Vegan
Sulfate-free
Paraben-free
Cruelty-free
Emulsifying wax-free
PEG-free
Mineral oil-free
Cons
None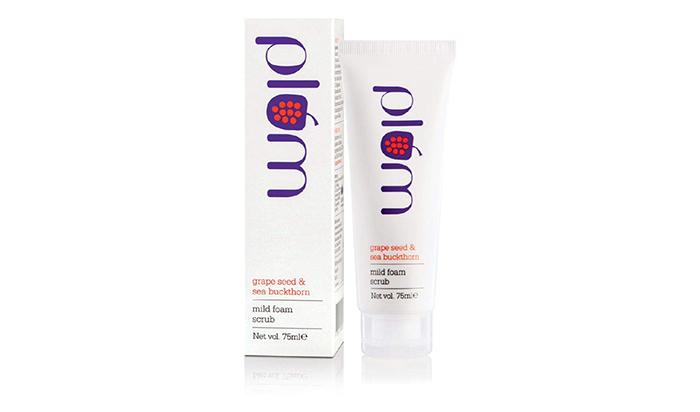 This gentle foaming face scrub is filled with the goodness of grapeseed oil, which protects the skin against pollutants, sun damage, and free radicals. It also contains sea buckthorn oil, which is rich in omega 7 fatty acids that nourish and heal the skin. It also removes dead cells and promotes the natural skin renewal process. The 100% biodegradable and skin-friendly cellulose beads gently buff away impurities and dead cells, leaving your skin refreshed and healthy-looking.
Key Ingredients: Grape seed oil and Buckthorn oil
Pros
Mild
Smells good
Vegan
Cruelty-free
Paraben-free
Phthalate-free
Silicone-free
Value for money
Cons
None
If you are wondering about the key considerations to keep in mind before investing in a scrub for sensitive skin, read the next section.
How To Choose The Best Scrubs For Sensitive Skin
Check For 'Hypoallergenic' On The Label
When choosing any product for sensitive skin, check if it is hypoallergenic. People with sensitive skin tend to have negative reactions to various chemicals and substances present in products. A hypoallergenic formula ensures that its ingredients will not cause any irritation.
Check If It Is Dermatologically Tested
A dermatologist-tested product is always better than any well-advertised product. It undergoes a series of tests and evaluations to avoid harsh skin reactions.
Ensure There Are No Harsh Chemicals
Pick products free of harsh chemicals, such as sulfates and parabens. Chemicals like parabens can elevate cellular level damage caused by UV exposure, leading to skin damage and even skin cancer. Sulfates may clog pores and cause acne and skin irritation.
Steer Clear Of Strong Scents
Products with powerful fragrances can irritate sensitive skin as it causes itching and redness. Therefore, fragrance-free products are more effective and milder for regular use.
Facial scrubs not only clean the excess dirt and oil from your face but also even out the skin tone and even boost the skin's collagen production in some cases. Pick your favorite from our list of the best exfoliating scrubs for sensitive skin in India to pamper your skin!

Recommended Articles
The following two tabs change content below.