7 Best Scrubs For Tall Nurses To Buy In 2023
Attend your patients without losing your patience by wearing skin-friendly clothes.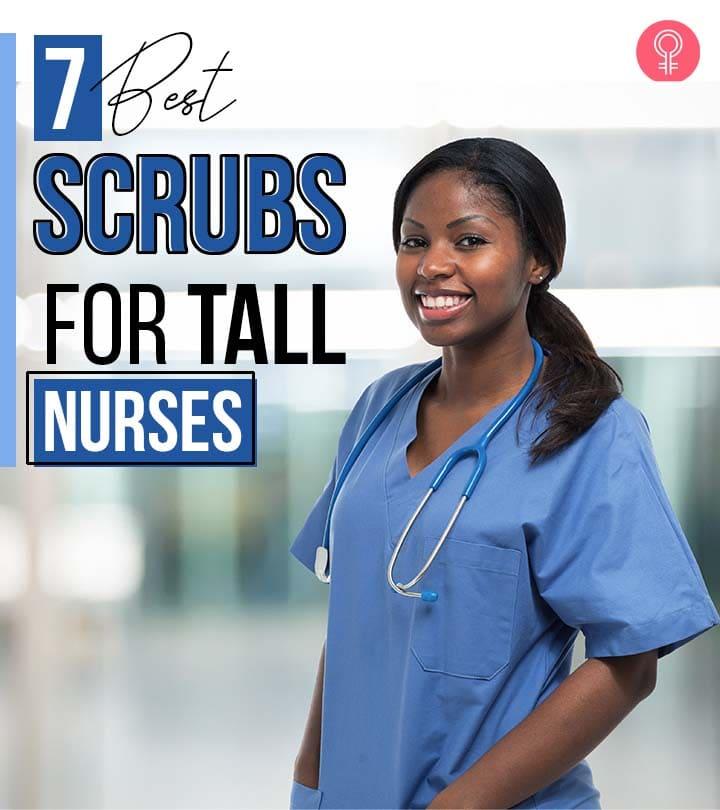 Scrubs are worn by nurses, doctors, and other healthcare professionals. And they spend long hours in them. The best scrubs for tall nurses come as a blessing for those with tall figures. They are breathable and comfortable.
Finding the right scrub is no less than a struggle for tall people. Unfortunately, regular fit scrub tops make your belly visible, and regular fit pants might look like capris or ankle-length pants.
Being a healthcare professional can be challenging as you will be on your feet all day to provide better services. Especially during rush hours, it might seem even more hectic, and you get exhausted with a lot of sweat and feel sticky. These special scrubs are moisture-wicking and keep you damp-free. The tops come with multi-pockets that are roomy, and the pants are wrinkle-resistant, providing you with all-day comfort.
In this article, we bring you a list of the best scrubs for tall nurses that provide a customized fit, are comfortable to wear, and are soft to touch. Keep scrolling!
7 Best Scrubs For Tall Nurses
The Cherokee scrub top for tall nurses has a mock wrap design and is made of 78% polyester, 20% rayon, and 2% spandex. The ultra-soft, two-way stretch material provides a snug fit. The spandex facilitates increased mobility, while the soft rayon provides moisture absorption and comfort. It is designed with front shoulder yokes, two roomy pockets, hidden loops for instruments, back and front princess seams, and a bungee loop for the ID card. It also features a heat transfer neck label which provides tagless comfort. The modern fit is extremely durable, machine washable, and easy to maintain.
Pros
Ultra-soft
Two-way stretch
Easy care
Durable
Comfortable for all-day wear
Cons
Price at the time of publication: $22.98
These athletic medical scrub pants for tall women from Barco have a drawcord elasticized waistband and three pockets. It is made of 77% polyester and 23% rayon material, which is luxuriously soft. It offers a modern fit with moisture-wicking properties and makes the pants comfortable to wear all day. The pants have large pockets, functional and roomy. The flared legs and side vents on the legs make these extremely breathable and odor-resistant. An adjustable waistband allows you to get a perfect snug fit on these low-rise pants. These medical scrub pants are fashionable yet practical and functional. They are machine washable and easy to care for too.
Pros
Elastic waistband
Breathable
Soft
Three pocket design
Comfortable
Moisture-wicking
Machine washable
Cons
None
Price at the time of publication: $27.99
The Adar Pro Breakthrough Plus scrubs are 74% polyester, 23% rayon, and 3% spandex. The stretchable top has a V-neck, two top patch pockets, and one mini zippered pocket. The pants feature a waistband, which is flat in the front with an elastic back and a drawstring closure. They have a mid-rise waistline with tapered legs for a sleek and comfortable fit and appearance. There are two belt loops at the back and front, and the multiple pockets have tonal snap button closures. The pants feature two front slash pockets, two cargo pockets, and two back pockets. This super-soft fabric is wrinkle-free and odor-resistant.
Pros
Super soft
Stretchable
Odor-resistant
Wrinkle-free
Multiple pockets
Easy care
Budget-friendly
Cons
None
Price at the time of publication: $57.99
Go through your hectic day in extreme comfort with the Wonder Wink WonderFLEX Verity scrubs. It is made of 52% cotton, 45% polyester, and 3% spandex material. The V-neck top is designed with two lower tilted pockets and a signature triple pocket. This 'lady' fit scrub top is crafted with two front body darts for optimal shaping and triple-needle stitching at the shoulder. The side vents and stretchable fabric offers ventilation and ease of movement. These stylish scrubs for tall nurses sport a modern, functional design without compromising on a professional look.
Pros
Stretchable fabric
Triple-needle stitching
Superior shaping
Side vents
Available in multiple larger sizes
Budget-friendly
Cons
None

Price at the time of publication: $17.56
This scrub top by Koi Lite brings you a great combination of athleticism and comfort while keeping it professional. It is made of 100% polyester and has a pull-on closure and side zipper. The lightweight, stretchy fabric offers a customized fit and is machine washable. The top has two front pockets for storing essentials and a bungee loop that is perfect for hanging your ID badge. The zipper at the side of the waist gives it a better fit for a slimmer appearance.
Pros
Pull-on closure
Lightweight
Stretchable
Bungee loop for ID badge
Zipper side
Front pockets
Stretch fabric
Cons
None
Price at the time of publication: $27.95
The Med Couture Activate scrub top for women has a back-knit racerback panel and is 95% polyester and 5% spandex. It sports a zipper closure and a V-neck. The shoulder yokes allow ease of movement, while the multiple storage pockets add to the convenience. There are two large patch pockets, hidden side seam pockets, and extra accessory pockets. The soft, lightweight material ensures comfort for all-day wear.
Pros
Multiple pockets
Zipper closure
Shoulder yokes for easy movement
Lightweight
Easy care
Soft
Activate stretch
Cons
Price at the time of publication: $24.99
If you are looking for scrub pants with a tailored fit, this pair by Figs Livingston Basics is just for you. The proprietary FIONx fabric is four-way stretchable with a drawstring closure that provides a good fit, comfort, and functionality for all-day wear. It has an anti-wrinkle and moisture-wicking feature that keeps you sweat-free and dry. The Silvadur technology controls mal-odor, and double-needle stitching increases the durability of the pants. The scrub pajamas sport straight cut legs with a flat elastic yoga waistband. There are two back pockets for storage, and the pants offer a polished, professional look without sacrificing comfort.
Pros
Super soft
Anti-wrinkle
Four-way stretch
Moisture-wicking
Odor-resistant
Durable
Cons
Not suitable for thick thighs
Expensive
Price at the time of publication: $54
You spend long hours in these pieces of clothing and they have to be comfortable! Check out the section below for help with making the right purchase next time.
What Should Tall Nurses Look For In A Pair Of Scrubs?
Here are some points to keep in mind while buying your next set of scrubs.
The most common fabric for scrubs is cotton, which is a lightweight, breathable material. It is comfortable to wear all day but may shrink and stain easily. The other common material is a synthetic blend like polyester, rayon, and spandex. This blended fabric is stain-resistant, stretchable, wrinkle-free, and offers a sleeker and better fit.
This refers to the waistband of the scrub pants. There are mainly three types of closures. The drawstring closure is the most common and fits most waist sizes as the string allows you to customize the fit according to your waist size. Scrub pants also have zipper and button closure, while the yoga-style pajamas have a wide elastic waistband and a simple pull-on closure.
Being a nurse, you have to constantly be on your feet, which means heat and sweating. The scrubs should be crafted with moisture-wicking technology, which will feature breathability and air circulation. It will keep the clothes dry and odor-free. The scrubs should also be quick-drying in case of any minor spills.
Multiple pockets and extra loops to store instruments and essentials are necessary in scrubs. As a nurse, you must have storage in your scrubs to carry your phone, ID card as well as some basic instruments such as the stethoscope, thermometer, penlights, and other medical gear.
If you are tall, you probably have a longer neck. A longer V-neck or full cover is a good option for you. Also, pick a neckline that provides enough coverage and looks professional.
Now spend your working day as a nurse in the most comfortable and hygienic clothes with the best scrubs for tall nurses in 2023. Based on the material and add-on features, these uniforms for tall nurses have been carefully selected to provide a great fit, facilitate quick wearing, and convenience of storage.
Why Trust StyleCraze?
Baishali Bhattacharya is our certified in-house image consultant who knows what works best for your body shape and size. She believes that feeling comfortable in what you wear is key to feeling confident. That's why she has painstakingly gone through extensive reviews before shortlisting the best scrubs for tall nurses. These are not only comfortable to wear for long hours with the right amount of stretch and breathability but also are moisture-wicking and non-sticky that keep one going all day.
Frequently Asked Questions
What is the inseam on tall scrubs?
The tall-fit scrubs come with a long inseam that is 33 to 36 inches on tall scrubs.
Should nurses wear scrubs tight or loose?
Nurses should wear scrubs that are not too tight or too loose. They must be snugly fit and help in easy movements.
How often should scrubs be cleaned?
Clean your scrubs after every two days or twice a week to maintain hygiene.
How many pairs of scrubs do you need?
Keep five to six pairs of scrubs with you throughout the week for safety.
Are there different meanings for scrub colors?
Yes. Dark blue scrubs are for doctors, while nurses wear soft blue scrubs. Surgeons usually wear green scrubs. Receptionists wear gray scrubs. Technicians wear pink or maroon scrubs. However, these colors may change depending on hospital rules.
Recommended Articles