13 Best Seamless Bralettes Of 2023 That Are Super Comfortable
Experience true comfort and support with one-of-a-kind and gentle bra alternatives.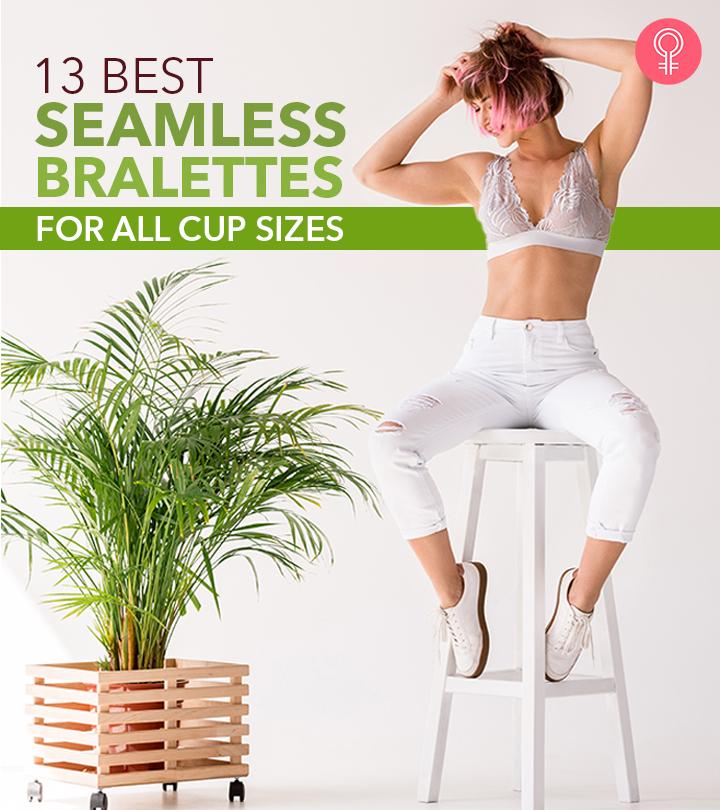 Seamless bralettes have arrived as a blessing for women all over the world! When you work from home or relax on the couch, a bra is the last thing you want to wear. However, not wearing a bra can leave you feeling uncomfortable at certain instances. This is where the best seamless bralettes come into the picture. They are designed and crafted with creative expertise to feel like a second skin, as they fit perfectly and flatter your outfits. These bralettes are versatile and are known to provide ample support. Women in sports can also rely on seamless bralettes for ultimate comfort during strenuous practice sessions. With that thought in mind, we have listed the 13 best seamless bralettes that have garnered amazing reviews and can meet your styling needs effortlessly.
The 13 Best Seamless Bralettes For All Cup Sizes – 2023's Top Picks
The super comfortable and lightweight Amazon Essentials Seamless Bralette is designed with seamless fabrication technology. The molded cups provide good support and make you feel like you are not wearing anything heavy. This bralette can offer superb comfort and support during hot and sweaty days. The best part is that they are easy to clean and can be put in the washing machine with other clothes. Reviewers have found it to be specifically suitable for people with a long torso.
Specifications
Material: 93% Nylon and 7% Elastane
Size: S – 3XL
Pros
Lightweight
Easy to clean
Good quality strap
Soft material
Suitable for hot days
Cons
None

The B.Bang Seamless Bralette is lightweight and provides maximum support to our breasts. This bestselling bralette is lined with soft cotton that provides a comfortable cover without the bulk. The adjustable strap offers you enough freedom of movement. This bralette fits under your shirt or tank top and features a non-slip strap for added protection. The 4-way stretch and seamless ​design are easier to fit any cup size. This bralette is very comfortable to wear at night while sleeping.
Specifications
Material: 93% Nylon and 7% Spandex
Size: M – XXL
Pros
Removable pads
Adjustable straps
Comfortable to wear
Lightweight
Great quality material
Cons
None

The BQTQ Seamless Bralettes are made of premium materials, molded-in polyester and spandex, which are soft and lightweight. These V-neck seamless camisole bralettes are designed with removable pads, double skin straps, and insert pads that can support your chest and lend it a natural shape. You can remove or insert pads as per your needs. The adjustable straps can hold your bralette effortlessly while keeping it in a great position. This elegant top bra is suitable for exercising, running, jogging, attending parties, or daily wear. Reviewers confirm that the bralette stays put without any strap slips and is perfect for long wear.
Specifications
Material: Polyester and Spandex
Size: M- XXL
Pros
Soft fabric
Comfortable to wear
Double strap
Lightweight
Cons
The Calvin Klein Seamless Bralette is made from simple microfiber with interlocking panels for extra support. It is designed with a scoop neck and removable pads for various purposes. This bralette features a detailed interlocking logo and clean-cut edges for casual wear. It remains invisible under clothing due to its seam-free edges. The seamless elastic band helps in excellent shape retention. The wire-free construction offers you a sleek silhouette. This bra is ideal for low-impact workouts, yoga, and jogging. If you are into luxury undergarments, you must give this one a try.
Specifications
Material: 77% Nylon and 23% Elastane
Size: XS – XL
Pros
Seam-free edges
Provides shape retention
Wire-free construction
Adjustable strap
Cons
The strap is uncomfortable to wear
The pullover-style Comfy Bra Seamless Bralette features seamless fabric with 0.98 inch wide straps. The 2.95-inch expandable underbust band provides moderate support. This bralette has no padding and features a stylish scoop neck and a smooth, soft tank top design with strong straps and provide loungewear comfort. It offers all-round body coverage and can be worn even while sleeping. This product is perfect for running, yoga, pilates, weight training, and other low-impact sports.
Specifications
Material: 92%Nylon and 8%Spandex
Size: S – XL
Pros
Comfortable to wear
Durable material
Snug compression fit
Works as a tank top
Cons
The Hatopants Seamless Bralette features a triple criss-cross front, pull-on closure, and non-padded, flattering design. It can be worn inside a summer dress. You can also wear it on top of a bra to get a perfect beach look! It is made of high-quality nylon and spandex for a comfortable feel. This trendy product features lightweight, breathable, and moisture-wicking fabric that provides high elasticity and superb comfort.
Specifications
Material: 92% Nylon and 8% Spandex
Size: S – XXXL
Pros
Breathable
Moisture-wicking fabric
Slim straps
Easy pull-on closure
Cons
The DKNY Women's Energy Seamless Bralette is made from high-quality fabric, making it super comfortable and lightweight. It features an easy hook closure, supportive fit, and a no-seam design. This bralette looks great under t-shirts, while the padding can be adjusted to your liking. It works great on every cup size, from A to D. As per reviews, these would be super comfortable for your workout sessions.
Specifications
Material: 92% Nylon, 8% Elastane
Color:  Bright White, Colony Blue, Caviar
Size: S – L
Pros
Lightweight
Easy hook closure
High-quality material
Wire-free design
Comfortable padding
Cons
Not suitable for sportswear
Slightly expensive
The signature combination of 92% nylon and 8% spandex in the Nikibiki Seamless Bralette offers you full support and comfort. It is specially designed to hold each curve and move it with your unique body. This product's simple style, fitted shape, and soft fabric make it ideal as a classic crop top-style bralette. You can layer it with a cut top, clear tops, jerseys, dresses, and other simple options for sunny days.
Specifications
Material: 92% Nylon and 8% Spandex
Size: One Size
Pros
Extra supportive
Stretchable
Provides good coverage
Lightweight
Cons
None

The Reebok Seamless Bralette with a minimalist design and spaghetti straps provides proper bra fitting, and its straps are discreet under T-shirts and tank tops. It comes with removable pads to provide high coverage, support, comfort, and body confidence. This lightweight and stretchy racerback crop cami bralette is designed for luxury, where the tag-free design reduces sensitive skin irritation.
Specifications
Material: 93% Nylon and 7% Spandex
Size: S – L
Pros
Lightweight
Stretchable
Tag-free design
Removable pads
Machine washable
Provides high coverage
Cons
None

The stretchable Vanity Fair Seamless Bralette is designed with superior fabric that offers all-day comfort and support. It features wireless straps and removable pads to flatter your figure. The elastic underband provides additional support. This bra is suitable for everyday use and low-impact activities.
Specifications
Material: 93% Nylon and 7% Spandex
Size: S – XXL
Pros
Removable pads
Comfortable to wear
Lightweight
Stretchable
Elastic underband
Wireless straps
Cons
Pads visible from the fabric
The Wacoal Women's B-Smooth Bralette is great for low impact work at home, as they come with comfortable padding and an easy slip-on feature. It is made with skin-friendly materials, perfect for women with sensitive skin. This supportive lingerie features wide straps for better comfort and elevates your bust for better style. The removable foam pads provide uniform comfort. You can try out these easy-fit bralettes for better support and body shape and structure.
Specifications
Material: 90% Nylon and 10% Spandex
Size: S – 2XL
Pros
Lightweight
Skin-friendly material
Good for low impact exercises
Provides full coverage
Cons
The Geyoga Seamless Bralette is made of nylon and spandex. It is comfortable and friendly on the skin. It complements most of your outfits and offers extra comfort in everyday wear. The wireless style provides good coverage and support without the problem of tight straps. The non-padded design will not bring any discomfort or excessive pressure when worn. This bralette is professionally designed with exquisite texture, and its well-woven lines bring reliable quality and support.
Specifications
Material: Nylon and Spandex
Size: S – XL
Pros
Strapless
Skin-friendly material
Durable
Non-padded design
Provides good coverage
Cons
None

The beautiful and stylish Maidenform Seamless Bralette features a scoop neckline and double strap criss-cross back. It is made from high-quality and sensual fabrics that give it a sexy appearance. This easy pull-on bra comes with a wire-free structure and a feminine design. It is super comfortable and offers ample support, suitable for home and party wear.
Specifications
Material: NA
Size: S – XL
Pros
Lightweight
Pullover
Wireless design
Cons
The neckline is uncomfortable
Seamless bralettes are all the rage right now, but you should keep certain pointers in mind before purchasing the right one.
The Ultimate Guide To Seamless Bralettes
1. Fabric: A good seamless bralette should have two layers of fabric, further adding more depth to your chest and lifting your breasts. The fabric used for the straps should be well-adjustable for customization and better comfort.
2. Sizing: From XS to XL, seamless bralettes come in every size and can be purchased for every cup. However, you should be extra careful while determining the best size, as many bralettes are designed only to cater to specific bust sizes. Therefore, you should check the sizing guide of these bralettes for a better understanding.
Why Trust StyleCraze?
The author of this article, Srijani Roy Chowdhury, is a fashion enthusiast who loves keeping a check on the latest trends. She has curated a list of the best seamless bralettes after carefully browsing online reviews from trusted e-commerce websites. Her well-written article ensures that the products chosen are skin-friendly, comfortable, and super durable.
Frequently Asked Questions
What does a seamless bralette mean?
Seamless bralettes are modern bras that offer more comfort and convenience to women. They provide a smooth structure underneath your clothing.
Do seamless bralettes have padding?
Yes, seamless bralettes offer both padded and unpadded designs.
What is the difference between a wireless bra and a bralette?
Bralette is not molded, so it gives you easy support. It features unique cuts and designs. Therefore, a bralette is often used as a fashionable alternative to wireless bras that also do not use underwire technology.
Is seamless bralette good for heavy breasts?
Yes, seamless bralettes are good and reliant bras for heavy breasts.
Who wears seamless bralette?
Seamless bralettes do not have seams running through the cups of your bralettes. They are comfortable for daily use and can be worn by everyone.
How tight should a seamless bralette be?
Your seamless bralette must have its band flat against your ribs without any gap. It should fit as snugly as possible because the elastic will stretch out in the long run.
Which is better: bra or bralette?
Both bras and bralettes are good. However, bralettes offer better comfort because the band does not dig into your skin.
How often should you wash seamless bralette?
You can wash your bralette after 2-3 wears based on how much you sweat.