13 Best Seamless Leggings That Feel Like Second Skin
Get style and comfort in just one pair of leggings. Style them in unique and trendy looks.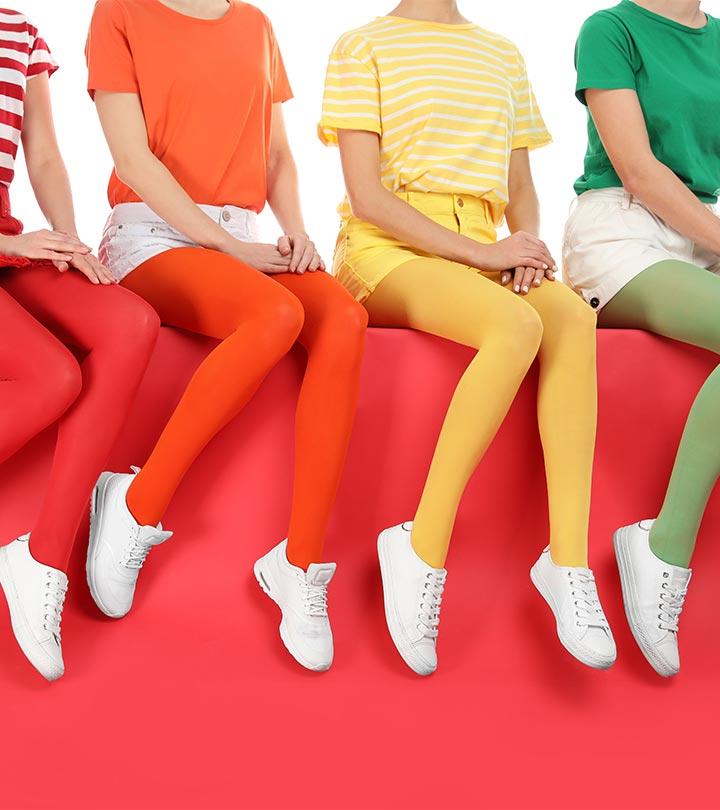 Wearing the best seamless leggings can help you flaunt your legs in the best way possible. If you are a person who prefers comfort to anything else but won't compromise on style, legging is something specially made for you. Gone are the days when opening your skinny jeans after a long day felt like peeling tight skin off your legs. All thanks to fashion technology, leggings are now the epitome of comfort. They help you stay relaxed and are made from breathable materials. They are also super flexible, and you won't have to think twice before bending down or squatting on the floor. Not only are they a perfect pair with your jackets and tops, but you can also team them with your tunics and dresses.
The fashionable and light leggings are a must-grab for your wardrobe. These machine-washable leggings have moisture-wicking properties, and you won't have to spend a weekend washing them by hand. They are also made with a seamless stitch, so nothing pinches your legs while you wear the leggings for hours. What's more, since they are skin-hugging, you can even top a skirt over them to change the look as you want. Here are the 13 highest-rated leggings to go for!
13 Best Seamless Leggings To Keep Comfy In 2023
Yoga is an activity where you gravitate towards wearing leggings for comfort and flexibility. YUNOGA Women has the perfect pair of buttery-soft seamless leggings perfect for any yoga class or strenuous exercise. These opaque leggings have a seamless high waistband that offers tummy support and keeps it looking streamlined while giving you full coverage. The lightweight leggings feel like a second skin and have compression technology that improves blood circulation to release muscle fatigue. The 4-way stretch with flatlock seams ensures wearability while reducing chafing. If this was not all, the material of this pair of workout leggings has also got moisture-wicking properties.
Pros
Seamless and soft
Offers tummy control
Opaque
Lightweight
Improves blood circulation
Help release muscles fatigue
Moisture-wicking
Flattering
Cons
Size may run small, so it is advisable to size up.
Price at the time of publication: $25.99
For everyday, comfortable wear, try the best seamless leggings from Hi Clasmix that gives you tummy compression with its high-waist tummy control band, flattering to any body type. The leggings also have a 4-way stretchy soft fabric that offers enough elasticity to keep you comfortable and protect you from high friction. The ultra-soft fabric is also non-see-through, giving you the freedom to wear it comfortably while it hugs your curves with its adjustable fit and closure.
Pros
Seamless
High-waisted tummy control
Non see-through
Elasticated fit
4-way stretch fabric
Available in regular and plus sizes
Cons
Price at the time of publication: $11.99
Feel your comfiest self when lifting weights or performing squats at the gym while wearing the best seamless workout leggings from Redqenting. You don't have to worry about any slippage or show during workouts as these come with an elasticated, ribbed high waisted band that is super flexible and squat-proof. The ultra-stretch lightweight fabric is non-see-through, breathable, and also absorbs sweat while providing tummy control. The mesh jacquard design on either side of the thighs provides air permeability, while crotch gussets prevent the oh-so embarrassing camel-toe. A bonus to all these praised features is its breathable, 4-way stretch  fabric and elastic waistband.
Pros
Seamless and soft
Tummy control
Non-see-through
Elasticated fit
Absorbs sweat
Breathable, 4-way stretch fabric
No-slip design
Mesh jacquard
Prevents camel toe
Cons
Fabric may tear with intense workouts
Price at the time of publication: $22.99
Rejoice women all over the world as the seamless high-waisted leggings of your dreams are here! Aoxjox vital women's seamless leggings have an extremely elastic compressed fabric with a dotted pattern that are designed to hide the appearance of cellulite, allowing you to show off your curves. The seamless leggings have a high-waisted fit with a ribbed waistband for support, which will leave you feeling relaxed and comfortable all day. Squat-proof, with quick-dry technology, these leggings have an elastic closure and can be machine washable.
Pros
Seamless
Elastic compressed fabric
Dotted pattern
Hides appearance of cellulite
Ribbed waistband
High-waisted fit
Cons
Price at the time of publication: $24.99
For a cozy, athletic fit pair of seamless leggings, try Tsutaya's high waisted yoga pants designed to fit the contours of your body. This 60-65% squat-proof pair of yoga leggings come in various vibrant and brightly colored designs made from a breathable, sweat-wicking fabric that will keep you comfortable all day long. They are also quick-drying, hence will keep you cool and dry even as you work up a sweat outdoors.
Pros
Seamless
Soft
Breathable sportswear
Quick drying
Moisture wicking
Ideal for curvy body types
Cons
May not be completely squat proof
Price at the time of publication: $18.99
Who says seamless leggings have to look boring? Grab this gorgeous pair of seamless workout leggings from Running Girl and liven up your look at the gym with its pretty ombre design that is double layered to lift your behind. These opaque shapewear leggings have a tummy control feature to hide cellulite and tuck in excess fat. The buttery soft fabric also offers a 4-way stretch, is opaque, has moisture-wicking ability, a seamless, tight waistband, and comes with a gusset crotch to maximize free movement. The seamless leggings are also lightweight and breathable while being moisture-wicking to keep you dry and comfortable.
Pros
Seamless and soft
Breathable fabric
Lightweight
Opaque
Ombre design
Tummy control
Double layered
Moisture-wicking leggings
Cons
Price at the time of publication: $18.99
Escape to the great outdoors in the comfiest manner possible with these seamless camouflage leggings from WodoWei Women. These squat-proof, soft leggings are high-waisted and help streamline your stomach with its tummy control feature that doesn't dig into you. The seamless workout leggings are made from a breathable, 4-way stretch fabric with good elasticity and are also not see-through. Available in muted, gorgeous colors, you will be spoilt for choice.
Pros
Seamless and soft
Tummy control
Non see-through
Elasticated fit
Squat-proof
Breathable 4-way stretch fabric
Cons
Scrunch design on back may stretch and tear
Price at the time of publication: $21.99
These super stretchy compression leggings from picotee are perfect as their high-waist compression technology coupled with the tummy control feature will give you a flattering and streamlined look. The high-elasticity lightweight leggings are designed to minimize friction and rubbing, hence giving you a comfortable and cozy fit while you lounge around or work out. The moisture-wicking seamless leggings with 4-way stretch also have a gusseted crotch for extra comfort and are also tear-resistant.
Pros
Compression
Tummy control
Lightweight
Gusseted crotch
Moisture-wicking ability
Minimizes friction
Breathable, 4-way stretch fabric
Cons
Price at the time of publication: $15.99
AURIQUE Women has the best seamless leggings that you can find for exercise and daily wear with its color block, breathable leggings. They come with an elastic waistband for a supportive and flattering fit. The squat-proof leggings ensure no exposure while exercising, and the material is made from breathable, seamless fabric that wicks away moisture. The seamless leggings also minimize rubbing and chafing, so you don't feel discomfort while exercising or going about your day.
Pros
Seamless and soft
Non see-through
Elastic fit
Moisture-wicking
Minimizes friction
Breathable fabric
Squat-proof
Cons
Fabric may be too thin for some
Price at the time of publication: $20.08
Say bye-bye to your muffin top with these seamless workout leggings that come with an extra-wide high-rise waistband to give you a tummy control feature and a push-up effect for a flattering figure. The no-seam leggings are 80%-90% squat proof and are made from moisture-wicking and non-see-through fabric that allows you to exercise and work out comfortably. The material is also super soft and breathable, so you are at ease all day. The flatlock stitching, dry-fit material, and anti-cellulite properties ensure that these leggings are made to last while providing you with an accurate fit.
Pros
Seamless and soft
Non see-through
Tummy control
Moisture-wicking
Breathable fabric
80%-90% squat-proof
Cons
Price at the time of publication: $24.99
Jed North Women's seamless cotton leggings are a great choice for home workouts or trips to the gym. This pair of seam-free leggings is body-hugging and gives your figure a flattering fit as it sculpts your physique. While squatting, you don't have to be worried about the workout pants slipping down as they are high-waisted and will stay firmly held in place. For a soft and comfortable workout, opt for these seamless high waist leggings. Made from a durable blend of nylon, spandex, and polyester, it is machine washable for easy maintenance.
Pros
Seamless and soft
Squat proof
High waisted
Flattering
Body hugging
Cons
Price at the time of publication: $50
Take these ribbed seamless leggings from Suuksess out for your next run, so you can feel relaxed and comfortable while you working out. The thick and breathable fabric with 4-way stretch is stretchy allowing for a comfortable workout. The opaque leggings also come with a tummy control feature for compression and are squat-proof. If this is not all, it also doesn't pilling or show. You also don't have to worry about slippage as the ribbed wide waistband ensures that the leggings will stay secure.
Pros
Seamless
Opaque
Thick and breathable fabric
No pilling or camel toe
Tummy control
Flattering
Breathable, 4-way stretch fabric
Cons
May not be sweat proof
May be prone to tearing
Price at the time of publication: $25.95
For a casual everyday pair of seamless leggings for you to run out for errands or lounge around in your house, you can go for the Hofish Women's seamless yoga leggings. It has an elastic medium-waisted band that will help shape and tuck in your tummy, giving you a flattering fit. The fabric is lightweight, breathable, and wear-resistant, perfect for doing simple yoga stretches and exercises, as it also prevents friction. The flatlock stitching, high-performance quality, and pull-on closure make this one a pair you cannot miss out on.
Pros
Seamless
Medium waist
Tummy control
Flattering
Soft
Minimizes friction
Breathable fabric
Cons
Elastic may dig into skin
Price at the time of publication: $14.99
If you still need help deciding which pair of seamless leggings are the best for you during a workout or a casual day in, here are some things you can look out for while making a decision.
How To Choose The Best Seamless Leggings For You
When you're looking to buy seamless leggings for a workout at the gym or to go for a run, you don't want the cloth to constrict you. In that case, look for seamless leggings with breathable fabric to keep you comfortable and your legs airy. While cotton is a great option to keep you comfortable, it may not be ideal for sweaty workouts as it doesn't wick away moisture. However, leggings with a spandex and polyester blend will offer both comfort, stretch, and moisture-wicking abilities. Fleece-lined leggings are a suitable option if you live in colder regions of the globe.
A majority of seamless workout leggings are high-waisted and come with a tummy control option that helps tuck your tummy in and compress your body so that it gives you a lifted and flattering look while you're out. Check if the leggings you're buying have this feature if you're looking for leggings to simultaneously provide you with shape and comfort.
One way to ensure that you're as comfortable as possible while working out, doing yoga, or simply lounging about is to see if the no seam leggings are stretchy, soft, and flexible. If this is a priority for you, look out for stretchy fabric with 4-way stretch and stitch lock technology to ensure free movement.
No one wants anyone to catch a glimpse of their underwear while squatting or even simply walking. Make sure the leggings you buy are squat proof and not see-through so that you are at ease while exercising.
How To Wear Seamless Leggings?
Seamless leggings are easy to wear as most of them have a pull-on closure and elastic waistbands. You just have to pull them up and voila you're ready for comfort.
Benefits Of Seamless Leggings
They are breathable and lightweight.
The seamless technology rids the leggings of all seams that may dig into your skin.
Made keeping comfort in mind, these leggings will feel like a second skin.
Why Trust StyleCraze?
Priyam Gupta, the author of this article, is a makeup and fashion expert. She browsed online and conducted in-depth research by checking out the user feedback to compile a list of the best seamless leggings that are comfortable and soft. These leggings are made of breathable fabric with an elastic fit. Apart from the moisture-wicking feature, the leggings also minimize friction. Priyam has listed out based on stretchability, material, shaping feature, and exposure.
Frequently Asked Questions
What is the difference between seamless leggings and leggings with seams?
The main difference is the absence of seams which will make the leggings more comfortable to wear and move around.
How tight should seamless leggings be?
Ideally seamless leggings should not be too tight, so your legs have room to breathe and move. They can be body hugging but should not be constricting.
Are seamless leggings stretchy?
Yes, most seamless leggings are stretchy, so you can feel as comfortable and move as freely as possible.
Are seamless leggings flattering?
Yes, seamless leggings are greatly flattering. These leggings come with a high-waist fit that offers a sculpted silhouette to every body shape and size.
Can you run in seamless leggings?
Yes. Seamless leggings are the best to run as they are lightweight, offer support to your body structure, and keep you comfortable.