10 Best Seaweed Products Of 2021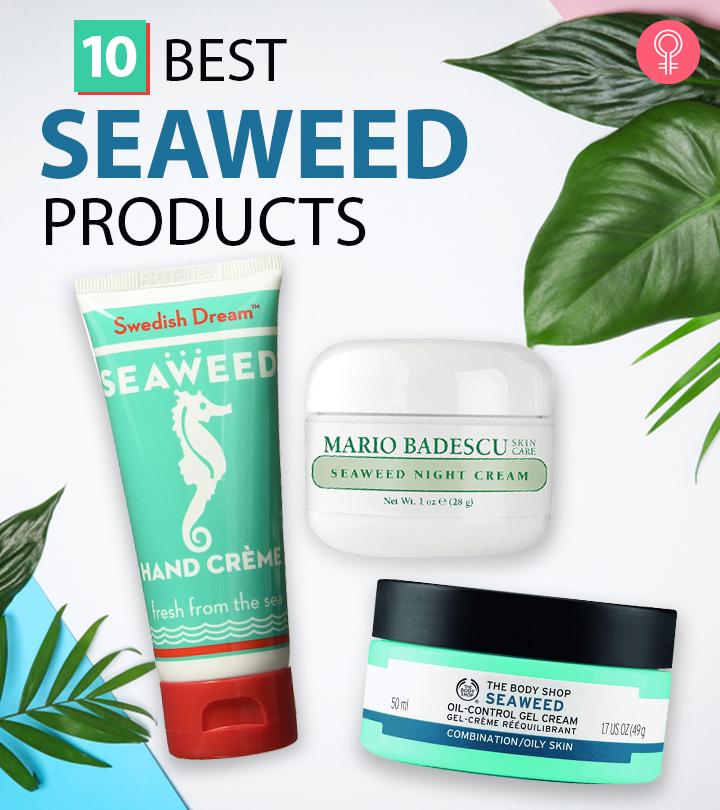 How many of you are aware that the seaweed – which is a part of your favorite sushi rolls – is a potent ingredient in skin care products? Yes, this marine algae is an excellent source of anti-inflammatory and anti-aging benefits. It offers superior hydration, improves skin elasticity, reduces the signs of aging, minimizes fine lines, and treats hyperpigmentation. This super food is rich in antioxidants, vitamins, and minerals that help in the skin's natural detoxification process. Furthermore, it helps in brightening your skin and is suitable for all skin types. All these incredible attributes make seaweed an important ingredient in beauty products. In this article, we have reviewed and compiled a list of the 10 best seaweed products that are available right now! Check them out below.
10 Best Seaweed Products Available Right Now
Lovetica Rejuvenating Multi-Vitamin Serum is the best anti-aging serum with an antioxidant-rich formula. It is enriched with Stay-C 50 (the most stable form of vitamin C), hyaluronic acid (that locks in moisture), vitamin B3, and seaweed. This serum helps eliminate hyperpigmentation, boost collagen production, and reduce the appearance of wrinkles. It offers you a 24-hour radiant and illuminating glow. The vitamins used in this serum help reduce dark spots and redness, and the seaweed provides regenerating and calming properties.
Pros
Reduces fine lines and wrinkles
Prevents skin damage
Eliminates hyperpigmentation
Boosts collagen production
Slows down skin aging
Fights UV rays
Dermatologist-tested
Imparts an illuminating glow
Non-toxic
Cruelty-free
Cons
None
The Seaweed Bath Co. Detox Exfoliating Body Scrub is a high-performance body scrub. It is infused with organic and nutrient-rich bladder wrack seaweed, French clay, coffee bean extract, green tea extract, and coconut, kukui, and neem oils. The hand-harvested seaweed with 65+ vitamins and natural minerals detoxifies and promotes skin elasticity. Finely ground walnut shells gently exfoliate the skin to help remove dead skin cells. Green tea extract protects and moisturizes your skin, while the mineral-rich French clay helps remove impurities.
Pros
Exfoliates dead skin cells
Moisturizes the skin
Protects skin from free radical damage
Promotes skin elasticity
Removes impurities
Vegan
Paraben-free
Cruelty-free
Gluten-free
Cons
The Seaweed Bath Co. Hydrating Cleansing Body Wash hydrates your skin while cleansing it. This body wash can be used as a shaving gel with its lathering formula. It is infused with nutrient-rich seaweed, antioxidant-rich blue-green algae, skin-softening algae, and kukui, neem, coconut, and olive oils. The antimicrobial neem oil protects and moisturizes all types of skin, including dry, cracked skin. This deeply moisturizing body wash cleanses, calms, and refreshes your skin with its eucalyptus and peppermint fragrance.
Pros
Hydrates the skin
Suitable for dry skin
Refreshing fragrance
Vegan
Gluten-free
Paraben-free
Cruelty-free
Cons
Strong fragrance
May cause skin reactions
LAPCOS Seaweed Purifying Sheet Mask is a purifying daily face mask. This Korean beauty favorite is enriched with seaweed that offers superior hydration, hyaluronic acid, and the Super Marine complex that penetrates deep into the skin to soothe any irritation and protect it from environmental damage. This hydrating mask helps revitalize, fortify, and soothe the skin. It is also infused with papaya fruit water that helps in conditioning the skin and removing dead skin cells, and squalane that locks in moisture.
Pros
Offers superior hydration
Soothes irritation
Prevents environmental damage
Removes dead skin cells
Conditions the skin
Easy to use
Cons
Mario Badescu Seaweed Night Cream is an oil-free hydrating night cream. This cream plumps up and smoothens the appearance of your skin. It is infused with bladder wrack seaweed that softens and nourishes your skin, collagen that plumps and smoothens your skin, sodium hyaluronate that works to retain its natural hydration levels, and collagen that protects against moisture loss. This lightweight night cream promotes the firmness and elasticity of the skin.
Pros
Oil-free
Lightweight
Provides superior hydration
Tightens the skin
Improves skin elasticity
Smoothens the skin
Cons
Unpleasant fragrance
May cause irritation
Natural Escentials Seaweed Powder is a pure and organic seaweed powder. The potent organic kelp in it possesses anti-aging and anti-cellulite properties. It is infused with Ascophyllum Nodosum, the most nutrient-rich algae. It purifies and smoothens your skin and makes it glow. This kelp powder is full of minerals and antioxidants that help soften and hydrate your dry skin. This seaweed facial mask can reduce acne, lessen the redness of rosacea, and brighten hyperpigmentation. Furthermore, this powder helps boost elastin and collagen production.
Pros
Reduce the appearance of cellulite
Improves the complexion
Anti-aging formula
Reduces acne
Reduces redness
Hydrates dry skin
Tightens and smoothens the skin
Cons
The Body Shop Seaweed Oil-Control Gel Cream is a paraben-free daily face cream. It is enriched with mineral-rich seaweed from Ireland that hydrates the skin. This lightweight gel-cream helps balance oil and excess sebum in the skin. It offers a matte, shine-free finish to your face. This moisturizing facial cream gets absorbed quickly and is ideal for combination and oily skin types.
Pros
l Controls oil production
l Lightweight
l Hydrates the skin
l Reduces shine
l Gets absorbed quickly
l Does not clog pores
l Vegan
l Paraben-free
l Suitable for combination and oily skin types
Cons
Not suitable for sensitive skin
Swedish Dream Seaweed Hand Cream is a high-quality scented hand cream. This hand cream is a rich blend of 20% natural shea butter combined with lavender, calendula, sunflower, and olive oils. It provides moisture with a pleasant fragrance and does not leave behind any residue.
Pros
Non-greasy
Moisturizes the skin
Paraben-free
Sulfate-free
Phthalate-free
Pleasant fragrance
Cons
None
RAYA Ultra-Light Seaweed Cream is a moisturizing facial day cream. This nutrient-rich cream is excellent for normal to oily, blemished skin. It is infused with nourishing seaweed extracts that control oil production and reduce sebaceous secretion. It helps detoxify, stimulate, and hydrate the skin. Furthermore, this seaweed cream improves collagen production and slows down the formation of new fine lines and wrinkles.
Pros
Lightweight
Nourishes the skin
Moisturizes the skin
Improves collagen production
Reduces the appearance of fine lines and wrinkles
Paraben-free
Cruelty-free
Cons
None
PINPOXE Seaweed Mud Mask is a deep cleaning facial mask. It is formulated with salt mud composition (marine-sourced ingredients), jojoba oil, and sodium hyaluronate that detoxify and nourish your skin. This facial mask can be used to refine pores, reduce blemishes, reduce wrinkles, and eliminate blackheads and pimples. It is rich in minerals and nutrients and suitable for combination, oily, and dry skin. Also, it boosts collagen production and provides youthful and glowing skin.
Pros
Moisturizes the skin
Reduces blemishes
Unclogs pores
Boosts collagen production
Cruelty-free
Suitable for all skin conditions and types
Cons
None
That was our list of the 10 best seaweed products available right now. We hope this article helps you choose a seaweed product to include in your skin care routine and that suits your needs. Pick your favorite one from this list and try it out to get healthy and youthful-looking skin!
Recommended Articles