12 Best Self-Defense Keychains – Useful Safety Gadgets For Travel
Self-defence techniques may not always be reliable, but these keychains will save you.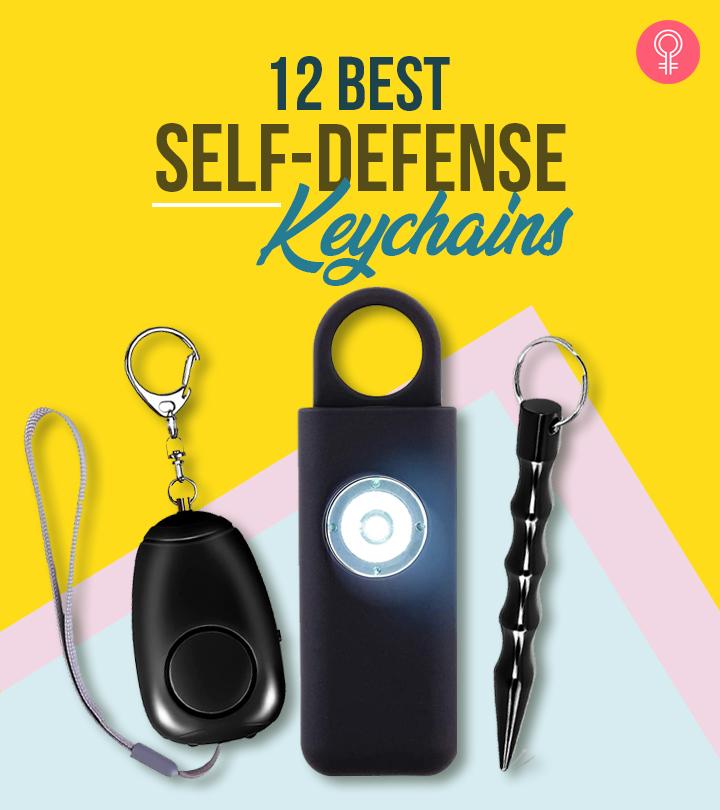 The best self-defense keychains can prove to be blessings in certain situations. No matter how well you are trained in self-defense, sometimes it is just not enough. That is when these specially designed key chains come in handy. They can be used for medical emergencies or to attract attention.
They are available in various forms, including pepper sprays, whistles, knives, alarms, sharp attacking objects, and so on, to be used during emergencies. These tiny defense tools are conveniently designed to fit in small purses and pockets, and you do not need any extensive training to use them. While some key chains feature one tool, others may have more for multi-purpose usage. So, if you need one such defense tool, you have landed on the right page. We have curated a list of the 12 self-defense keychains that have received positive reviews from the users. Swipe up and take a look!
12 Best Self Defense Keychain
It is a set of two aluminum defense keychains from Kubaton loaded with a keychain ring. This baton-shaped keychain measures 6.3 x 1.4 x 0.4 inches and weighs only 3.99 ounces. The keychain's tip is pointed to render a non-lethal blow to the attacker. It has a black metal construction and is useful for self-defense.
Pros
Easy to use
Lightweight
Good grip and control
Portable
Cons
Some parts may not be sanded
It is a set of three keychains — one in silver and two in black. Made up of aluminum, it comes with a keychain ring to help you keep it handy with your keys. It is strong enough to be used as a combat tool if you are in trouble. Though it has a blunt tip to sharpen the strike, it is safe enough to carry in your pocket.
Pros
Ergonomic design
Suitable for breaking a car window
Sturdy
Easy to carry
Cons
The keychain may be too light
This Personal Alarm for Women is also suitable for kids and elders to be used in emergencies. This self-defense keychain alarm set includes five black and five white pieces that make a loud noise to draw attention across a distance of 11 feet.
It features an LED light to help you navigate through the dark, making it an ideal choice for night hikes, walks, and camping. This compact alarm is equipped with a keychain to easily attach to your bag, keychain, or belt. On pulling the contact pin out, a siren buzzes for 30 minutes until the pin is reinserted into the alarm. The alarm is made of ABS material, which makes it very durable, and has a battery time of 90 minutes.
Pros
 Loud
 LED light charge of 24 hours
 Portable
 Fall-resistant
 Durable
Cons
None
Price at the time of publication: $26.99
The Vogoroad Safe Sound Personal Alarm is a compact personal safety alarm that produces 130 dB of sound to gather attention. Its loud sound can easily disorient the attacker, giving you time to escape or attract help meanwhile.
This alarm features LED lights to be used in dark areas and during nighttime. You require no expertise or training to use this alarm – just pull the pin and activate the alarm for the next one hour to produce a loud sound. The pin can be placed back at any point to stop the alarm from buzzing. It comes with a small keychain to easily clip it anywhere you want, such as your bag, belt, purse strap, etc.
Pros
 Instant access
 Easy to carry
 Easy to use
 Reusable
 Cute design
Cons
None
Price at the time of publication: $17.99
Weten's Self Defense Safesound Personal Alarm Keychain is a long-range, portable protection alarm designed like a fancy keychain. It helps in escaping from attackers and snatchers by producing a sound of 130 dB up to a range of 600 feet.
This small yet loud device draws attention; it is not just limited to women's protection but can also be used by the elderly and kids during medical or any other emergencies. The alarm is simple to use – all you need to do is to take the pin out for the alarm to buzz and press and hold the button to activate the flashlight. It comes with a keychain holder and fits easily anywhere in your pocket and bag.
Pros
 Portable
 Compact
 Lightweight
 2 AAA batteries included
 Easy to use
 Flashlight equipped
Cons
 Tends to go off at the slightest pressure
Price at the time of publication: $15.95
This Personal Alarm Keychain from Stinger makes a super loud sound of 140 dB to draw attention for help. It can be heard up to 600 feet during any emergency. It is equipped with three LR44 batteries and has a variety of other features apart from the alarm.
The pointed tip is capable of breaking car window glass and tempered glass. It also has razor-sharp blades, sharp enough to cut through the seat belt and set you free. This device is a must-have for anyone concerned about the safety of their loved ones and themselves. It comes with a key ring to clip easily onto your purse, bag, belt, backpack, and other places.
Pros
 Angled tip
 Easy access
 Easy to use
 Batteries included
 Elegant design
Cons
 Cannot use the window breaker without the alarm
Price at the time of publication: $25
The Zertone Self-Defense Keychain Set is a five-in-one keychain set that works for self defense and other daily uses. It has an inbuilt tungsten attack head and is capable of breaking glass. It can also be used as a screwdriver for a quick fix and as a bottle opener. The keychain also has a small utility blade for cutting open packages. It comes in an attractive metal finish and fits easily into your keychain, bag, or purse.
Pros
 Portable
 Lightweight
 Multipurpose
 Doesn't run on battery
 Easy to use
 Durable
Cons
 Can be uncomfortable for a strong grip
Price at the time of publication: $9.97
Tasmtto's Self Defense Wristlet Keychain Set has all that you need. It is equipped with a wristlet, a hand sanitizer bottle, a 130 dB emergency alarm with LED, two chapstick holders, a window breaker, a whistle, an opener, and a pom pom. The kit is useful not only to protect oneself from any mishap or attack but also works as a quick fix for your daily needs. It comes with a key ring holder to let you clip it anywhere you want. You can also keep it in your bag or purse.
Pros
 Loud alarm
 LED-equipped
 Portable
 Durable
 Multipurpose
Cons
None
Price at the time of publication: $13.99
What if you can choose a self-defense keychain that will not only help you in keeping yourself safe but is also stylishly designed to complement your looks? In such a case, this keychain delivers. This keychain is a combination of a torchlight, sanitizer bottle, window breaker, lipstick holder, plush keychain, and a self-defense whistle. This keychain reduces the need to carry all of these things separately.
Pros
Ergonomic design
Flexible structure
Suitable for all age groups
Easy to carry
Suitable for outdoor activities
Cons
The devices here may malfunction
Whether you are looking for a window breaker, safety alarm, or even a whistle, this keychain has got them all. Thanks to this product, you won't have to carry different items separately as they will be handy in this keychain. With a total of 11 objects, it is a wholesome keychain kit. So, whether you are traveling or returning from a night shift, this safety tool has got your back.
Pros
Suitable for gifting
Safety alarm included
Visually appealing
Suitable for different age groups
Cons
Multiple products may be difficult to maintain
This Flashlight Sound Alarm is a large and bright LED alarm that makes for a great choice to be used for safety. Its 125 dB loud and sharp sound ranges beyond 300 yards. It continues to buzz for an hour and helps to grasp attention to save you from tricky situations.
The LED emits enough light to brighten up your way during dark hours. This portable and compact keychain can be effortlessly attached anywhere you want, like your belt, backpack, purse, etc. The alarm gets activated on pulling the pin, and it goes off once the pin is reinserted. Press the side button once to switch the light on and twice to switch off. This keychain also comes with three LR44 batteries that provide up to one year of quality performance.
Pros
 Loud
 Easy to operate
 Bright LED-equipped
 Compact
 Portable
 Batteries included
 Pack of three
Cons
Price at the time of publication: $8
This self-defense siren from Thopeb is a security keychain that can be used at the time of any emergency. It features a 130 dB loud alarm that can be heard up to a range of 1000 feet and functions on separating the pin.
It also flashes a bright LED light that also works as an SOS light and is effective for night workers, women, kids, and elders living alone. It offers military-grade durability and comes with a CR2032 battery for longevity. This siren has an easy-to-carry hook that can be clipped to your purse, bag, or belt and a speaker to make an SOS call during any emergency.
Pros
 Lightweight
 Portable
 Compact
 Bright LED
 Easy to use
 Premium matte finish
 Value for money
Cons
Price at the time of publication: $19.95
Self-defense keychains come in different designs, forms, and styles. To know which one will suit your lifestyle the best, take a look at the below guide.
How To Choose A Self-Defense Keychain To Suit Your Lifestyle
Choose any of the below based on your needs:
 Traditional Japanese Style Kubotan
The traditional Japanese style kubotan is pen-like and made from solid steel, aluminum, or high-impact plastic. This device fits perfectly in your hand and works by striking the attacker with its pressurized head.
Pepper sprays feature a stingy formula that evokes a painful burning sensation. It is meant to be sprayed on the face to target the attacker's eyes so that the victim can get a chance to escape. However, it is important to learn how to use them to avoid harming oneself.
Mini foldable knives are small but have sharp blades to stab the attacker. They can also be used to cut – for example, cutting the seat belt to break out of the car.
 Mini Personal Alarm Systems
The mini personal alarm system is one of the best ways to get out of tricky situations. The alarm emits sharp and loud sounds, usually between 125 dB to 140 dB, to gain the attention of those in the range and help you out in case of emergency. Some alarms are also equipped with LED lights to help you find the way during night time.
Why Trust StyleCraze?
Aditi Naskar, the author of this article, holds a diploma in health & wellness, and she takes it upon herself to help her readers find the right fitness products. She went on a hunt for the best self-defense keychains and made a list of the most effective ones with the help of extensive research. These listed products are easy to use and carry.
Frequently Asked Questions
Are self-defense keychains good?
Yes, self-defense keychains come with sharp objects that can be used to stab an attacker and aid you in an emergency.
How do I use a self-defense keychain?
You can protect yourself with your safety keychain if there is an immediate threat. The sharp point on most keychains is used to poke an intruder. The keychain can also be a striking tool to deliver decisive blows. Remember to target susceptible areas such as the eyes, nose, and throat. If attacked from behind, you can strike the attacker in the crotch or stomach with the keychain.
What are self-defense keychains called?
Self-defense keychains are also known as Kubotan.
What is a cat's eye weapon?
The self-defense keychain with cat eye lets you secretly carry a useful stabbing weapon that appears like a loving cat.
Recommended Article