7 Best Self Tanners For Beginners That Give Your Perfect, Streak-Free Glow
If you have never done self-tanning before, these products are the best to start with.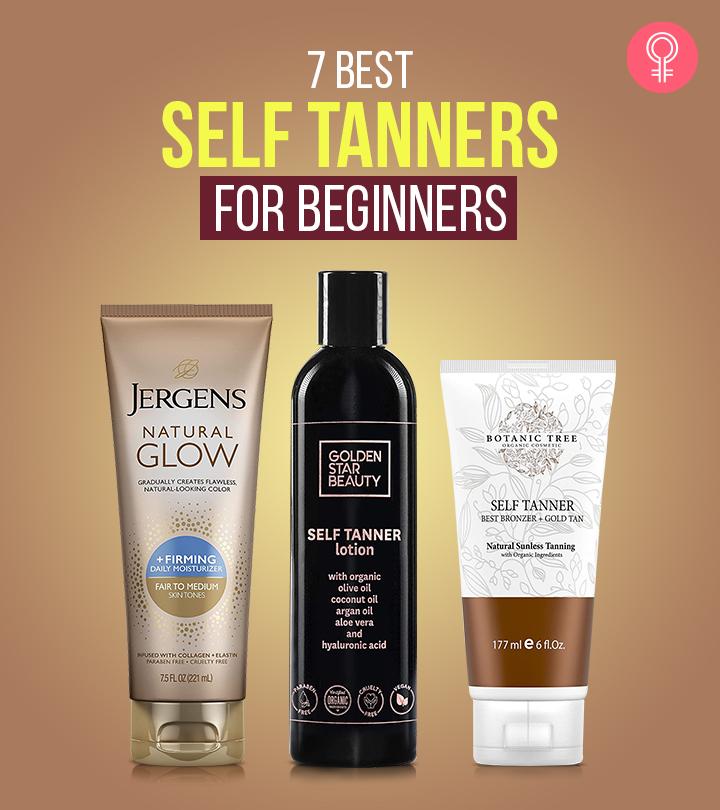 A self-tanner is a specially formulated cosmetic product that can provide a sun-kissed glow even without going out in the Sun. The self-tanners also come with certain SPF values. The best self-tanner for beginners covers your skin surface with a bronze color. You can use these products from the comforts of your home without having to spend your time and money at a salon.
If you are a rookie and looking for the best self-tanner, you are at the correct place. Here, we have compiled a list of the 7 ideal self-tanners that can be used smoothly to get a sun-kissed appearance. Check them out below!
Top Picks
7 Best Long Lasting Self Tanners For Beginners
Pros
 Easy to use
 Non-sticky formula
 Lightweight
 Non-comedogenic
 Hydrating formula
 Transfer-proof
 Quick drying
 Comes with free tanning mitt
Cons
Price at the time of publication: $29.89
Pros
 Streak-free application
 Hydrating formula
 Smooth look
 Reduces cellulite
 Natural-looking color
 Hides scars
 Smells good
 Easy to apply
 Transfer-proof
 Cruelty-free
 Refreshing fragrance
Cons
None
Price at the time of publication: $18.96
Get salon-like results at the comfort of your home with this amazing plant-based self-tanner by Botanic Tree! The organic tanning lotion gives you a beautiful, bronzed complexion without turning orange. Its quick-absorbing formula does not stain your clothes or leave dark spots on your towels and sheets. The formula is infused with rosemary, grapeseed, and passion fruit extract to soothe inflammation and redness. Linseed and moringa help fade wrinkles and fine lines while adding glow to your face. Plus, the richness of shea butter adds a dose of hydration to your skin.
Pros
 Hydrating formula
 Less curing time
 Even application
 Transfer-proof
 Tames irritation
 Paraben-free
 Cruelty-free
 Vegan
 SLS-free
Cons
Price at the time of publication: $20.39
Pros
 Mild formula
 Prevents premature aging
 Soothes skin
 Less curing time
 Quick-drying
 Streak-free
 Paraben-free
Cons
Price at the time of publication: $19.19
Pros
 Quick drying
 Induces a natural shine
 Hydrating formula
 Easy to use
 Affordable price
 Long lasting results
 Cruelty-free
 Paraben-free
 Gluten-free
 Fragrance-free
 Comes with money-back guarantee
Cons
 Runny texture
 Can cause skin allergies
Price at the time of publication: $24.95
Pros
 Non-comedogenic
 Hydrating formula
 Transfer-proof
 Quick drying
Cons
Price at the time of publication: $23.52
Pros
 Hydrating formula
 Non-sticky
 Lightweight
 Long-lasting
 Blush pigmentation
 Streak-free
 Cruelty l-free
 Vegan
Cons
Price at the time of publication: $34.8
A self-tanner would be an ideal pick to achieve a lovely bronze glow effortlessly. But, being a beginner, it feels overwhelming to find out the right product from the endless options available in the market. Besides, the right tone, it is also essential to look up for the best product that will preserve your skin health. Here are a few things that you should remember before making a decision.
How To Select The Best Self-Tanners For Beginners
Skin Type And Ingredients
Before trying out any cosmetic product, it is necessary to consider your skin type. Some products tend to dry out the skin, while some cause skin rashes or allergies. For dry skin, look for moisturizing ingredients like jojoba oil, avocado oil, olive oil, and argan oil in the product. For oily skin types, look for non-greasy, oil-free self-tanners. Be extra-careful in case of sensitive skin types. Make sure to opt for mild, hypoallergenic self-tanners to avoid allergies, breaks out, or other skin issues.
Cosmetic products like tanners often tend to cause various skin issues. Hence, it would be safe to pick a product that is enriched with organic extracts. No matter what your skin type is, tanners infused with herbal extracts or natural ingredients are generally safer for beginners to achieve a flawless glow without any side effects. Moreover, it would be an added benefit if the product has an SPF formula and offers buildable coverage.
Hydration: applying a self-tanner and keeping it on for a long duration may lead to dryness. Hence, look out for products that come with hyaluronic acid and organic aloe vera to ensure intense moisturizing benefits.
Fast-Absorbing: for a perfect bronzed complexion, it is also necessary that the product blends well and does not leave blotches or nasty streaks. Opt for a product that ensures fast absorption and is non-staining.
Lightweight And Non-Sticky: for a long-lasting tanned glow, choose a product that does not feel sticky or leave an orange tone. Hence, choose a buildable tanning cream that feels light on the skin and provides a non-sticky moisturizing effect.
Non-comedogenic: while applying a tan that stays on for long hours there might be a high chance of skin issues if you do not apply the right product. Choose non-comedogenic self-tanning lotions that blend well and do not clog pores to cause breakouts.
Self-tanners are the easiest way to get the golden glow without sun damage. But how to get streak-free results? Here is a guide that can help you.
How To Use Self Tanners For A Long Lasting Finish?
Here is a step-by-step procedure and how to use a self-tanner, for a long-lasting finish:
 To ensure a long-lasting and streak-free finish, the very first thing to do is exfoliate! You can use a loofah in the shower or a gentle washcloth to exfoliate, paying extra attention to the thicker areas like knees, elbows, and ankles.
 Dry yourself completely and put on a thin layer of moisturizer along with SPF!
 Apply a liberal amount of self-tanner in sections in long vertical strokes starting from your legs, gradually moving upwards.
 Once you are done, gently buff your knees, elbows, and ankles with a damp cloth and wash your hands with warm water and gentle soap.
 Let the self-tanner dry for about 10 minutes, and you are done. The self-tanners take around 8 to 12 hours to develop into rich, golden glow.
Why Trust StyleCraze?
The author of this article, Baishali Bhattacharya, is certified in makeup artistry and has a keen interest in experimenting with different makeup products. After thorough research and going through numerous reviews and feedback on multiple forums, she has curated a list of the best self-tanners for beginners. You can use these from the comforts of your home without having to spend your time and money at a salon. In addition, these products are easy to use, and cruelty-free.
Frequently Asked Questions
How often should you self-tan?
Your skin sloughs of dead skin cells every day, and a new layer of skin is formed every 35 to 45 days. When the dead skin wears off, the fake tan also wears off as well. Thus, applying a self-tanner every 3 to 5 days to maintain the tone.
Can I sleep with a self-tanner on?
You can sleep with a transfer-proof self-tanner. Leaving the tanner overnight can also help the color to develop fully!
Do self-tanners age your skin?
Self-tanner promote oxidation on the surface of your skin, causing oxidative stress and cause signs of aging. But self-tanning is not as harmful as exposing your skin to UVA and UVB rays.
Does self-tanner rub off on sheets?
Not all self-tanner rubs off on sheets, but few of them can transfer due to sweat, as the sweat lifts the pigments of your skin and transfers it onto other surfaces.
Do you put self-tanner on wet or dry skin?
Always apply self-tanner on dry skin.