5 Best Self-Tanners With Sunscreen To Buy Online – 2023
Give yourself a bronzy glow without having to sit under the sun for hours at a stretch.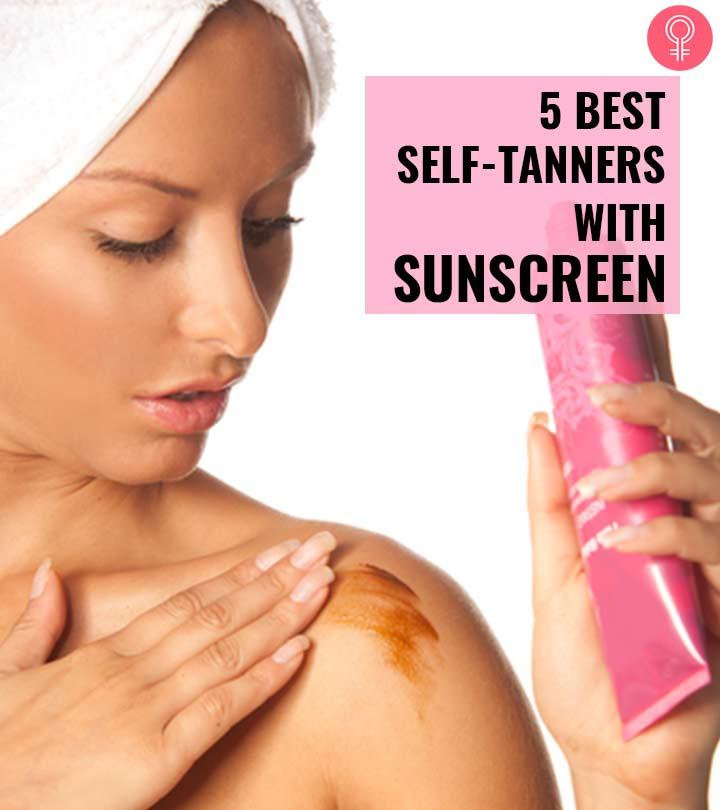 At some point, everyone has wanted tanned skin without the stress of harmful sun exposure. This is where self-tanners come into play. But instead of using regular self-tanners, you can pick the best self-tanners with sunscreen to look sun-kissed while still being protected from the harsh UV rays. Achieving a natural tan means having to sit out in the sun for a long time. But too much exposure to the sun leaves your skin severely damaged. Using self-tanning lotions gives you a natural tan without having to expose your skin to the harsh sun rays. In addition, self-tanners blended with sunscreens provide enhanced sun protection. Because, after all, what is the point of that lovely tan if you can't go out and show it off! So, scroll down and check out the 5 best self-tanners infused with SPF protection.
Top Picks
5 Best Self Tanners With Sunscreen Available Right Now
Beauty By Earth Self Tanner is a vegan sunless tanning lotion. It is enriched with ingredients like organic aloe vera, shea butter, organic green tea extract, coconut oil, and DHA. This self-tanner offers a gradual sunkissed glow without the danger of sunburn or early signs of aging from the sun. It also helps hide scars, veins, and stretch marks.



Pros
Creamy formula
Helps hide scars, veins, and stretch marks
Easy to spread
Vegan
Paraben-free
Phthalate-free
Cruelty-free
Gluten-free
Suitable for all skin types
Cons
Greasy
Unpleasant fragrance
Price at the time of publication: $32.91
Jergens Natural Glow Instant Sun is an easy-to-use and fast-drying tanner. This airy bronzing mousse enhances your natural skin tone to mimic the results of a suntan. It offers a gradual and natural-looking color with flawless coverage. The mousse formula of this instant bronzer is tinted and allows precise and even application. It dries in just 60 seconds.
Pros
Streak-free application
Fast-drying formula
Easy to spread
Moisturizes the skin
Scented
Cons

Quick Tip
Exfoliate your skin before applying the tanning mousse to remove dead skin cells and get an even tone.
Price at the time of publication: $17.96
Jergens Natural Glow Face Daily Moisturizer With Sunscreen is a lightweight moisturizer that creates flawless, natural-looking color when used daily. It also offers broad spectrum SPF20 for UVA and UVB protection and keeps your skin hydrated. This self-tanner is enriched with color-enhancing ingredients and nourishing emollients that enhance your natural skin tone to a beautiful, natural-looking glow within one week. You can check this YouTube video for more information about the product.
Pros
Oil-free
SPF 20
Moisturizes the skin
Builds color in 7 days
Scented
Suitable for fair to medium skin tones
Cons
Price at the time of publication: $9.49
Banana Boat Summer Color Self-Tanning Lotion is an oil-free self-tanner. It is infused with aloe vera extract and vitamin E that moisturize and soothe your skin. Its Time Release Color formula gives you color that lasts up to 7 days. The advanced fragrance technology eliminates odors, while a fresh citrus fragrance energizes your senses. It offers streak-free application and allows you to control the intensity of your luscious tan. It is also formulated without using oxybenzone and octinoxate.
Pros
l Oil-free
l Dries quickly
l Reef-safe
l Streak-free application
l Lasts up to 7 days
l Refreshing citrus fragrance
l Easy to use
l Suitable for all skin tones
l Affordable
Cons
No-tint formula makes it difficult to see where you are applying it

Pro Tip
Avoid exfoliants and products containing salicylic acid after tanning as they make your skin cells shed faster and result in rapid fading of your tan.
The Coppertone Glow Protect and Tan SPF 45 is a gradual self-tanner with optimal UVA-UVB protection. It is lightweight, hydrating, and provides up to 80 minutes of water resistance. The regular application of the product builds a beautiful, natural-looking tan over time. It is also sweat resistant and free of toxic ingredients.
.

Pros
Gentle on the skin
Lightweight
Easy to apply
Oxybenzone-free
Octinoxate-free
Dye-free
PABA-free
Cons
Price at the time of publication: $10.39
Infographic: What To Look For Before Buying A Self-Tanner With Sunscreen?
If you desire to achieve the perfect sun-kissed, luminous skin without stepping out in the sun, tanning beds are here to help. Unfortunately, they also release harmful UV rays that may damage your skin. So, self-tanners with SPF are your savior.
Scroll down and check factors you must keep in mind before buying a tanner that benefits your skin with sun protection.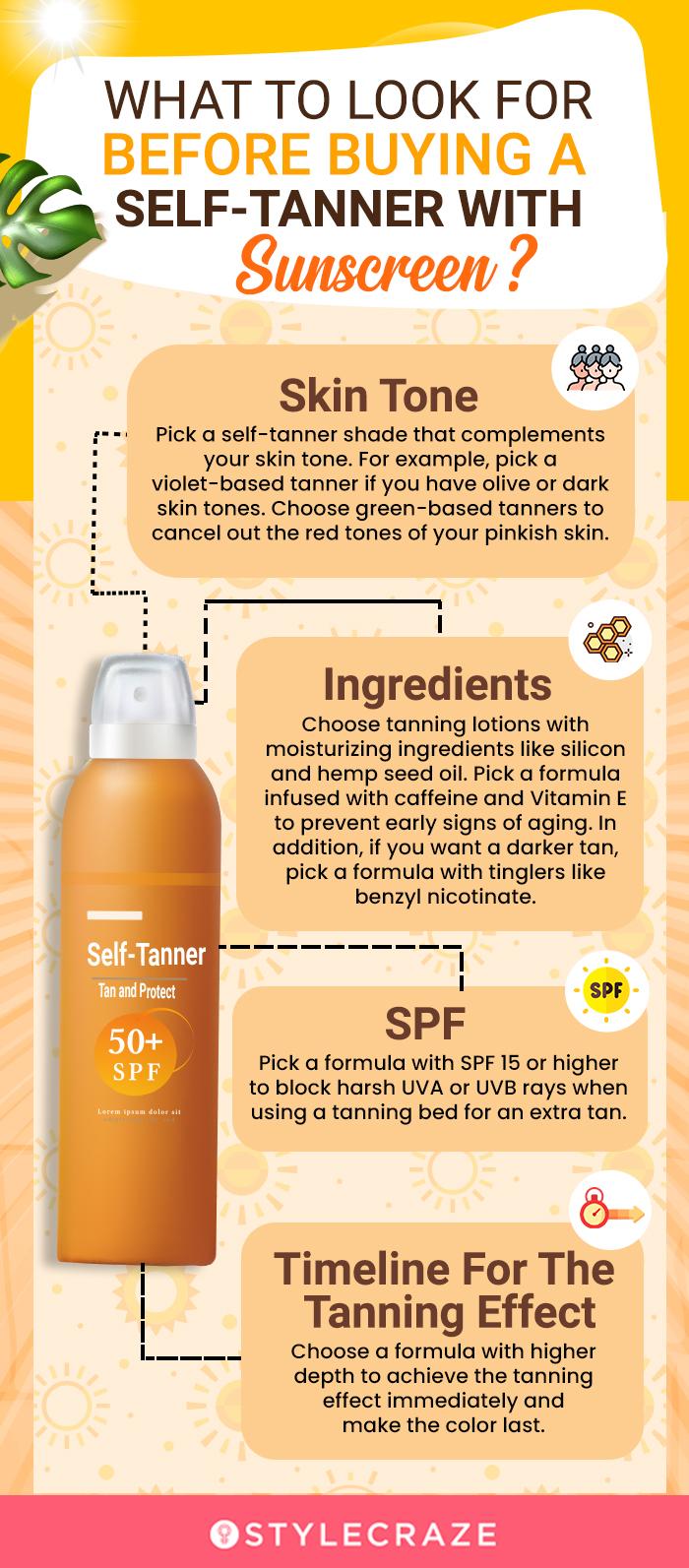 There's nothing better than getting the perfect sun-kissed glow during the summers. The best self-tanners with sunscreen are an ideal way to a tanned look while staying protected from the harsh UV rays. The self-tanners reviewed above are blended with sunscreens to provide you with enhanced protection. They have a creamy formula devoid of harsh chemicals and suitable for all skin types. They can also conceal that helps hide scars, veins, and stretch marks. In addition, their fast-drying formulas get absorbed quickly and allow streak-free application. These amazing self-tanners with SPF are worth trying.
Why Trust StyleCraze?
Oyendrila Kanjilal is a certified skin care coach. Her love for makeup and skin care products motivates her to find products that keep the skin smooth and looking good. She tried out several self-tanners available on the market, conducted in-depth research on the product's ingredients, and curated this list of self-tanners with sunscreen that gives you a shimmery and tanned look without worrying about the harmful rays of the sun.
Frequently Asked Questions
Can self-tanner be used with sunscreen?
Yes. Use a self-tanner with sunscreen to protect the skin from the harsh UV rays while achieving the golden tan look.
Are self-tanners safe while breastfeeding?
Yes. The active ingredients in a self-tanner like DHA and erythrulose do not penetrate the skin and contaminate the milk. Thus, self-tanners are safe while breastfeeding.
Does sunscreen affect self-tanner?
No. Sunscreen does not affect fake tan if you let the tan set on the skin for 12-24 hours. Let the tan develop in the skin thoroughly, then apply sunscreen to prevent ruining the tan color.
Does self-tanner come off with sunscreen?
No. The color of the self-tanner remains intact if you apply sunscreen after the tan developmental stage.
Do you put sunscreen on before or after self-tanner?
Apply sunscreen after 12-24 hours of using a self-tanner.
The following two tabs change content below.