The 13 Best Eyebrow Gels To Accentuate Your Arches – 2023
Trust these gels to tame your brows in creative ways and achieve your desired look.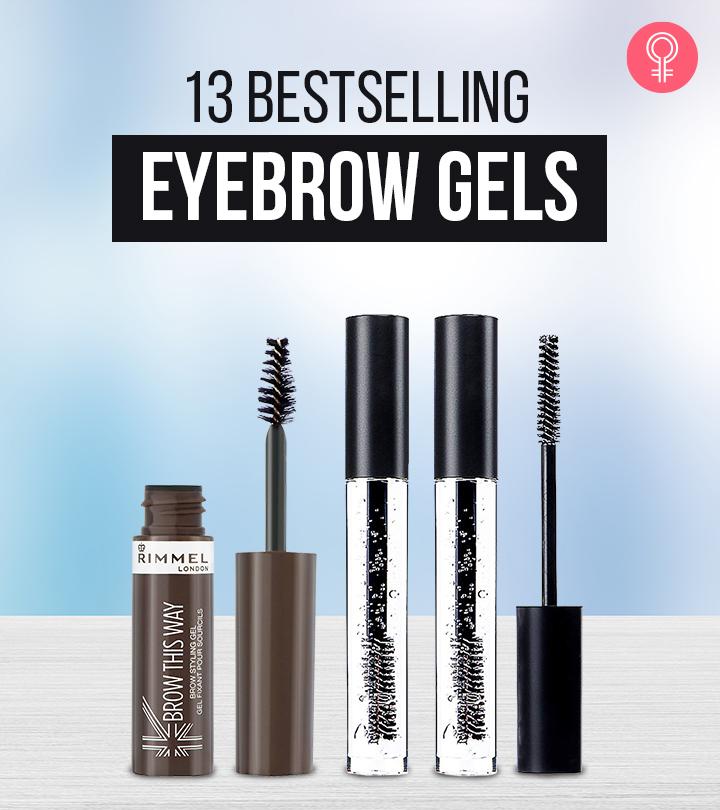 Eyebrow gels are equally crucial, as are your brow fillers or pencils. Setting and holding your brows can complete the strong eyebrow game you always wished for. Don't worry if you were not born with symmetrical eyebrows because this is where the best eyebrow gel can step in and help you. They shape and provide the much-needed support to those short eyebrow strands with their formulation, holding them in place. Not only do they come in various formulas, but they also come in a wide range of colors that will complement the natural shade of your brow. Here are the 13 best-selling eyebrow gels to ensure that your brow game is solid.
13 Bestselling Eyebrow Gels Of 2023
The Control Freak Eyebrow Gel from NYX has a non-sticky formula that works in conjunction with powders and pencils to fill in and hold your brows in place. It has a clear formula with a lightweight feel and is comfortable for all day use to tame bushy eyebrows or define thin arches. As stated in numerous reviews, this multipurpose gel can also be used as a clear mascara to highlight and define the natural curl of the lashes.
Pros
Non-sticky
Long-lasting
Easy to use
Cruelty-free
Vegan
Cons
The waterproof eyebrow gel from Wunder2, a brand known for not conducting animal testing, delivers a natural look to the brows by reducing the appearance of gaps. It is enriched with the innovative PermafixTechnology that attaches the color pigments to the skin in one easy swipe. This gel contains a unique blend of hair-like fibers, is smudge-proof and sweat-proof, and stays on for three days. It comes with a dual precision brush that can be used to sculpt and define the eyebrows. It is available in a wide range of shades, such as Jet Black, Blonde, Brunette, and Taupe.
Pros
Waterproof
Transfer-proof
Long-lasting
Dual precision brush
Vegan
Cruelty-free
Oil-free
Alcohol-free
Cons
Give your brows a full definition and lush look that lasts all day long with the Elizabeth Mott Queen of the Fill Brow Eyebrow Gel Makeup. It comes with a film-forming polymer technology that seamlessly coats each of your brow hair with a lightweight gel formula. This dries quickly and creates a life-like hair texture with a natural finish.
This eyebrow gel comes with a spiral-tapered triangle brush which is more tapered than the traditional brushes and gives you a quick, flawless, easy and professional-grade application. It fills the sparse brows and even covers the grays. As per the list of reviewer's experience online, the formula is smudge-free, lasts all day long and is sweat resistant.
Pros
Smudge-proof
Lightweight formula
Spiral-tapered triangle brush
Long-lasting formula
Sweat-resistant
Dries up quickly
Cruelty-free
Cons
None

The highly pigmented eyebrow gel from Anastasia Beverly Hills has a waterproof formula that provides full coverage and a matte finish. It fills in sparse areas and attaches to the brows instantly to tame thick, bushy hair or enhance fine, sparse hair. It comes with a cone-shaped brush that allows precise and detailed application of the gel with ease to give you salon-quality results. Enhance your skills in makeup artistry with this product for a statement-making look.
Pros
Waterproof
Long-lasting
Matte finish
Available in multiple shades
Cons
The nourishing Easy Breezy Brow Setting Gel from COVERGIRL is enriched with biotin and argan oil to strengthen the hair follicles and encourage eyebrow hair growth. This clear gel comes with a precise applicator that is designed to shape and sculpt fine hairs. The waterproof all-day wear formula lasts up to 24 hours without fading or smudging. Reviewers are hyping this gel for it adds volume to the brows while taming and setting them to achieve a healthy look.
Pros
Nourishing formula
Long-lasting
Fade-resistant
Smudge-resistant
Waterproof
Transfer-proof
Cruelty-free
Cons
Not suitable for sensitive skin.
May form clumps.
If you are searching for a natural looking brow gel which adds volume to your brows, the Wonderskin Dream Brow Gel is perfect for you! This waterproof, easy-to-use formula is infused with biotin, keratin, and hyaluronic acid that strengthen and boost the growth of your brows and deeply nourish them. The lightweight formula is enriched with silk fibers that instantly add volume to accentuate and thicken the appearance of the brows. It adds a natural-looking tint and creates an illusion of fuller-looking, defined brows with ease. The product is available in four different shades that can suit all colors of brows, so you can easily create all of your favorite celebrity-inspired makeup looks.
Pros
Lightweight
Nourishing ingredients
Waterproof
Defines without smudging
Long lasting
Boosts hair growth
Paraben-free
Cons
None

Define arches with the Babe Brow Amplifying Serum Gel which is the ultimate solution to get fuller, thicker, and more defined eyebrows. This brow-shaping gel is infused with natural and nourishing ingredients like castor oil and biotin that stimulate hair growth and improve the appearance of eyebrows. It also comes with a precise doe applicator that helps in mess-free, uniform application, ensuring it reaches all the right places. This lightweight, fast absorbing serum is a powerhouse of vitamins and nourishing ingredients that deliver quick and visible results within weeks. It not only enhances facial features but also nourishes your brows.
Pros
Nourishing ingredients
Lightweight
Fast-absorbing
Non-sticky
Vegan
Cruelty-free
Cons
None

The Benefit 24-HR Brow Setter Setting Gel is an excellent choice to keep your brows in place without flaking, smudging, or fading. This lightweight, quick-drying formula easily tames and locks brows for the entire day, giving a natural look. Its custom-molded brush is designed to help you evenly distribute products and ensure every hair is set in place. You can use this alone or layer it on your favorite brow products for added hold and definition. The water resistant formula makes it perfect for everyday wear and is available in different hues to match all brow colors.
Pros
Lightweight
Quick-drying
Water-resistant
Smudge-proof
Flake-free
Cons
Some may not like its smell
The Instatint eyebrow gel from BrowGal by Tonya Brooks is crafted with microfibers to give a voluminous and natural look. It keeps the brows in place all day while adding a gentle contrast to dark brows and depth to lighter brows, delivering exceptional results. This gel is available in three shades: brown hair, dark hair, and light hair. It is easy to apply and offers coverage of gray hairs. It is also dermatologically tested to be hypoallergenic and irritant-free.
Pros
Waterproof
Gray coverage
Sweat-proof
Long-lasting
Cons
The multitasking Physicians Formula Brow Gel is enriched with vitamins B and E to nourish, condition, and strengthen the brows while it shapes, fills, and defines them. This clinically tested creamy gel is formulated with long-lasting silicone resin and brow-enhancing fibers to deliver a natural groomed look. It feels comfortable and lightweight and is water-resistant and smudge-proof. It is available in three shades of brown and blonde.
Pros
Hypoallergenic
Lightweight
Water-resistant
Smudge-proof
Fragrance-free
Paraben-free
Dermatologist-approved
Cruelty-free
Cons
The Hi-Def Brow Gel from REVITALASH Cosmetics is fortified with peptides and oat beta-glucan to strengthen and condition the eyebrows for a healthy appearance. It is infused with soft-hold polymers to tame bushy brows and maintain a flexible hold. This tinted gel is enriched with natural mineral colors to fill in thin and sparse brows. It comes with a precision styling brush that reaches the inner and outer corners with ease to deliver enhanced beauty through sculpted eyebrows.
Pros
Hypoallergenic
Cruelty-free
Clinically tested
Vegan
Paraben-free
Phthalate-free
Fragrance-free
Cons
Sticky texture
Not long-lasting
The clear formula of the Madluvv Clear Brow Gel works in combination with makeup products like pencils and powders to fill in the brows while setting and holding them in place. It tames unruly brows, provides definition to thin brows, and makes them look well-groomed and healthy. The built-in brush makes it easy to smooth the hair and give it a glossy, laminated look that holds well and allows easy removal at the end of the day.
Pros
Flake-free
Non-sticky
Quick-drying
Hypoallergenic
Cruelty-free
Cons
None

Tame unruly eyebrows with the plant-based W3LL PEOPLE Brow Gel which is packed with cacao seed butter, shea butter, and aloe to strengthen, condition, and nourish the brows. It has a creamy wax texture that delivers a flexible hold. This flake-free preparation does not leave any residue and is ideal for filling, shaping, and thickening, and is suitable for all brow types. It is available in three shades – blonde, brown, and dark brown – to gently enhance the natural color of the brows and deliver a customizable finish.
Pros
Non-toxic
Vegan
Cruelty-free
Non-GMO
Gluten-free
Paraben-free
Cons
Not suitable for sensitive skin.
Before you buy any of these products, here's a list of factors to keep in mind.
 What Are The Things To Consider Before Buying An Eyebrow Gel?
Formula: Look for options that have a slightly creamy texture and are expertly crafted to ensure easy application. Some gels have hair-like fibers that adhere to the natural hair to give a fuller and voluminous look. Others have ingredients that make them flake-free, waterproof, and smudge-free. Ensure that it is non-greasy, non-comedogenic, and allows even distribution to a put-together look.
Hold: Eyebrow gels have strong, medium, and light hold. Choose the hold that will choose you best based on your eyebrow thickness. For bushy, unruly eyebrows, stronghold gels work best, and medium to light hold gels are best for thinner brows.
Shade/Clear: Barbara Ritzman, a beauty specialist, suggests, "When choosing a gel shade for your eyebrows, it's important to create a natural look that compliments your hair and skin tone. Avoid using a gel that will make your brows stand out too much. If you have dark eyebrows, choose a lighter shade of gel. For those with blonde or platinum hair, select a slightly darker shade. If you want a versatile, polished look, consider using a clear gel, but make sure it doesn't leave any flakes or residue."

Brush: Most gels come in tiny bottles with a spoolie-type brush. This applicator brush is an important factor to consider as it will help in easy and smooth application. Look for small brushes with a stiff and tapered head that is slightly angled to ensure mess-free buildable coverage.
Other Benefits: Apart from defining the brows, some gels also offer nourishment and condition them to make them look fuller and healthy. They are enriched with natural oils and can be used to strengthen the brows as well.
Why Trust StyleCraze?
Baishali Bhattacharya, the author of this article, has a certification in makeup artistry. She believes that enhancing your brows correctly can change your entire makeup look. A good eyebrow gel is one of her personal favorite products because it shapes and provides the much-needed support, holding the strands in place. She researched and reviewed many products and their user reviews on trusted online forums to curate this list of the best eyebrow gel for her users.
Frequently Asked Questions
How long can you use brow gel?
You can use an eyebrow gel for nearly a year.
Do you apply eyebrow gel before or after?
After filling in your brows, use a clear or colored brow gel to hold everything in place.
How do you apply eyebrow gel for beginners?
Begin with clean, dry eyebrows, free from makeup or moisturizer.
Fill in your brows with pencil or powder, then use a spoolie to comb them neatly.
Apply clear brow gel in the direction of your brow hair growth.
Use a cotton swab or makeup remover with an angled brush to fix any errors.
Can clear eyebrow gel be used as mascara?
Yes, you can use eyebrow gel as mascara to impart your lashes a glossy look.
How do you remove clear eyebrow gel?
Use makeup remover or a light face cleanser to remove clear brow gel.
Can I sleep with clear mascara on?
No, do not sleep with clear mascara on. It might irritate your eyes and cause your lashes to fall out as it dries and clumps overnight.
Recommended Articles