30 Gorgeous Senegalese Twist Hairstyles For Women To Try
There is more than one way to rock your twists, so pick one for every mood and occasion.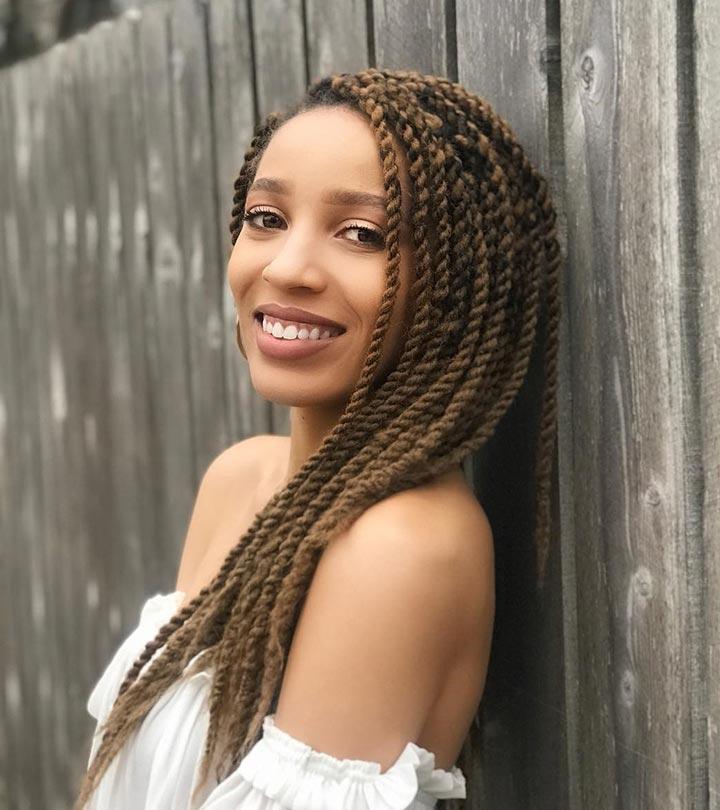 Your hair is your biggest asset. We women believe that ardently. What don't we do to protect our hair? We wash it, condition it, cover it while traveling, and use our hair serums to preserve it. We protect our hair so that we can style it the way we want to. But, in the end, we don't style it at all do we? The Senegalese twist is here to save the day!

Before You Get Started
Prepare your hair for Senegalese twists by cleansing it with a clarifying shampoo.
You will need to use pomade after the Senegalese twists have been created to prevent frizz and stray hair.
Before bed, wrap your head with a satin bonnet or scarf to maintain the Senegalese twists.
It is best to wash your Senegalese twists with mildly warm water to prevent them from drying out.
What Is A Senegalese Twist?
The Senegalese twists hairdo is a protective style mostly done on afro hair using kinky hair extensions. Senegalese twists are from Senegal, Africa. It's also called a rope twist or a crochet twist. This hair braiding technique not only serves as a fashion or beauty statement in their culture but is also a type of haircare method for natural, thick Black hair. It's called a protective hairstyle because it protects your hair from damage caused by coloring, environmental conditions, and heat styling. Moreover, your hair grows much faster when braided in a Senegalese twist. Senegalese twists are obtained by using hair extensions blended with your natural hair. They not only help protect hair but also promote their healthy growth. It's no wonder so many African women sport them.
Nadja Vanterpool, a professional hairstylist, says, "Senegalese twists are very similar to Marley twists. Once twisted, you can style your hair in many different edgy hairdos. They may last for about 5-6 weeks. When it gets to the 6th week, your hair may look amazing but don't let that deceive you. If you have to have them redone otherwise they turn into locs, becoming matted and knotted. You don't want this to happen as then you will have to untangle natural hair strand by strand."
What Types Of Hair Extensions Should I Use?
Synthetic hair extensions are preferred over natural hair extensions. Here are the three most used hair extensions for Senegalese twists.
Marley: This type of hair is coarser but has a natural finish.
Kanekalon: Kanekalon hair extensions are more natural looking. They require less maintenance and are cost-effective.
Toyokalon: These hair extensions are high maintenance as they tangle easily. They are preferred for short hairstyles and are light and fluffy.
How To Senegalese Twist Your Hair
You can head to a hair salon or try this hairstyle at your home. Senegalese twists are pretty easy to pull off if you know what you're doing. However, it takes a little bit of prep and the right hair products.
Things You Need:
Edge control cream to smooth down your edges: Apply this to your scalp and to the ends of your natural hair to blend it in with the hair extensions. This cream prevents hair from sticking out of the twists.
Hair growth oil or moisturizer for your hair: Apply just enough, so you feel your hair is smooth but not so smooth that the extensions slip off.
3-5 packs of hair extensions: Depending on the length and thickness of your hair. If you want thick Senegalese twists, then buy the jumbo pack.
A rat-tailed comb to make partitions
Duckbill clips and elastic bands: To tie your hair while twisting
Some hot water and a towel
A small brush or toothbrush: To smoothen down the baby hair near the forehead
With the right care and the right hair extensions, these twists can last for up to a year.
Hair extensions:
Wash the extensions before you attach them to your hair. Wash your extensions in apple cider vinegar to take the lye out of them. Take them out and rinse them with water. Let them air dry.
If you notice, when you get your extensions the ends are cut blunt. These blunt edges give the hair a fake look. So if you want a natural look then feather your hair at the ends. Feathering is where you randomly pull at some strands of hair at the end, so some appear longer than others, giving it a more natural look. Or you can just stretch your hair out.

Quick Tip
As you are using extensions, you can play up your senegalese twists by using multiple colors. The most popular color combination is black, brown, and blonde.
The Senegalese Twist:
Make sure your hair is washed before you start.
Tie up all your hair in a bun except for a small part nearest to your neck. The amount of hair is ultimately left up to you.
Split the part into two equal sections. Apply the edge protection cream to your hair near the scalp.
Hold both the sections of hair with one hand. With your other hair hold the extensions near the scalp. Take the center of the entire extension and place that near the scalp. So now ideally you have four sections of hair, two natural and two synthetic. Pair one synthetic with one natural and twist it together. Do the same with the other pair. Now you have two twists.
If you're looking for a simpler way to start the twist then just braid it at the beginning and then slowly merge the natural hair with the two tuffs of synthetic hair to start the twists.
Keep twisting them both in the same direction and simultaneously overlap them to form one big twist.
It's essential to keep the same amount of pressure and tension throughout the procedure.
Keep twisting till the very end until it tapers as it reinforces the strength of the braid. If it unravels at the end once it's done, then you've done it wrong. Repeat the same thing for all the twists.
After all your hair is twisted completely, take the ends of your hair and dip them in hot water to seal the ends. Use a towel to pat dry your hair before allowing it to air dry. Do not wipe them roughly with a towel as the twists might unravel.
Using a small brush or a toothbrush smoothen down the baby hair near your forehead the way you want.
Maintenance:
Here are a few tips so you can get the best out of your Senegalese twists:
Wash your hair with shampoo once every four days. Washing your hair regularly might loosen the twists. You can run water over your braids to make sure they're clean every day.
Don't forget to apply edge protection and hair growth creams to your hair and scalp, but don't use too much as the extensions might come undone or fall out entirely.
Don't tie your twists too tight as it might lead to Traction Alopecia. Traction alopecia is hair loss caused due to high tension or pressure on the hair.
You can also accentuate your braids with hair accessories like beads.
30 Best Hairstyles For Senegalese Twists
1. Micro Senegalese Twists:
If you're going for an effortless look, try these gorgeous Micro-Senegalese twists. Micro braids can make for completely fuss-free hairstyles. In order to give your scalp time to adjust, the best thing you can do is to leave them down after you get them.
2. Curly Senegalese Twists:
Are you tired of straight Senegalese twists? Curl them! You can curl your hair for special occasions even if you already rock these simple twists. Wrap your twists around some curling rods and secure a silk scarf around your head for cover. Remove the rods in the morning to see gorgeous and bouncy curls!
3. Senegalese Bob:
Given how popular short hair is right now, it's not surprising to find super-chic short Senegalese styles everywhere. This Senegalese bob is ideal for warm weather or for people who find it difficult to remain still for lengthy hair appointments.
4. Ponytail Senegalese Twists
Not in the mood for a complicated hairstyle? Create the simplest updo by combining twists from the left and right sides of your head. Then, tie them at the top into a voluminous ponytail. The best part is you will need just one hair elastic!
5. Double Braided Senegalese Twists
This striking hairstyle will make heads turn with its two straightforward lace braids. It's just what a woman who isn't afraid to be a little daring needs. Choose small twists with Kanekalon hair to get this texture.
6. Senegalese Twist Low Bun
Small rope twists with color added throughout for a dramatic effect are the best choice for this hairstyle. Then, gather your twists into a low bun for a sophisticated and elegant look.
7. Half Updo Senegalese Twists
If looking for a hairstyle that is appropriate for a casual supper with friends or a family event, then try this. This half-up, half-down style uses loosely tied Senegalese twists and takes only a small section of your twists to create a simple flip-in ponytail while the rest of your twists stay down.
8. Braided Senegalese Updo
This lovely and sophisticated Braided Senegalese updo is perfect for special occasions. Start by parting the hair on your preferred side. Create a high ponytail and use a rubber band or a portion of your twist to hold it in place. Make a braid from the ponytail, securing the ends. Next, twist the braid into a bun and fasten it with a hairpin. Ensure that everything is firmly in place.
9. Senegalese Flat Twist Braids
The ultimate look for summer, this Senegalese flat twist hairstyle is ideal for keeping hair out of your face when sunbathing. The hair is tightly twisted from the hairline to the nape. Don't forget to leave your edges exposed so you can gel them back into your preferred pattern.
10. Back Braided Senegalese Bun
This is a quick and simple hairstyle with a relaxed bun that is loosely braided or braided around itself. The long Senegalese twists accentuate the refined look and make it perfect for a first date.
11. Thin Crochet Senegalese Twists
Long thin crochet Senegalese twists look simple and perfect. These thin twists are the best pick if you're looking for a partial Senegalese hairdo like just twisting the front part of your hair and leaving the rest free.
12. Jumbo Crochet Senegalese Twists
Jumbo braids are just larger thicker twists consisting of more hair. These look super chill. If you have a round face, then try this look as it frames the face by adding volume to your hair.
13. Senegalese Lob
Revamp the long bob with this slick hairdo. This hairstyle is the perfect trendsetting hairstyle. Tired of curls, waves, and straight hair? Then try out this new hairdo!
14. Long Senegalese Twists
Wear it simple and wear it long! These long crochet Senegalese twists look stunning. It doesn't matter if you don't have long hair since you're using hair extensions anyway!


Trivia
It may take anywhere between 6 to 8 hours to do senegalese twists on a full head of hair.
15. Bun Senegalese Crochet Twists
Who says you can't wear these twists to work? Classy and elegant, this bun Senegalese twist updo is perfect for those hectic work schedules.
16. Half Up Senegalese Twists
Looking for a new classic hairdo to show off your neat twists? Try this. You can pull half your hair back and tie it into a loose ponytail. You can also try a middle parting, tying the half ponytail a little loose, so it falls a bit on your forehead.
17. Half Top-knot Senegalese Twists
This hairdo looks absolutely awesome. After finishing your Senegalese twists, just tie the upper half into a bun while leaving the rest loose.
18. Senegalese Twists With Hair Left Loose
After you finish twisting your hair, roll about two to three inches of your hair with a roller. Then dip your hair in hot water to seal the ends. Carefully take your hair out of the hot water and remove the rollers. Let your hair dry naturally rather than using a blow dryer.
19. Two Buns Up Senegalese Twists
Looking for a hairstyle that shows off your playful side? Try this stylish hairdo. You can try big side buns or small ones as well.
20. Senegalese Braid Twists
Nothing looks cooler than twists in a braid! Weave your hair into a loose, messy braid to mimic this look.
21. French Braid Senegalese Twists
Look utterly bad-ass with this killer hairstyle! To obtain this look, you need to follow the French braid method. You braid along the scalp line for 3 inches and then switch to twisting your hair. So with each Senegalese twist, more hair is added gradually until the twist ends. Take an inch of the Senegalese twists, divide them in two, and twist them with each other in the pattern of a top crown.
22. One-Sided Senegalese Twists
If you're looking for something cutting-edge, look no more! If you don't want to shave your head, you can simply weave your twists to fall only on one side by twisting them, on the other side, close to the scalp French braid style.
23. The Mohawk Twist
The mohawk twist is one of the best Senegalese twist hairstyles. I wish I possessed that level of suave to pull off this look! It's got just the right amount of badassery and coolness. You will need professional help getting this hairdo done right.
24. Hair Tie Senegalese Twists
Leaving some hair off on the side, take the rest of your hair to the middle of your head. Wrap the side that you left around your pony like a hair tie. Tie your hair using an elastic band, and wrap the rest of your hair around the elastic band to cover it if you feel the high ponytail is a bit loose.
25. The High Ponytail Senegalese Twists
These colorful Senegalese twists look amazing in a high ponytail. Uber cool! The best part is this look is so easy to obtain, and there are so many ways you can pull this look off. You can tie it tight and high, or just a little loose, or you can try patterns with the twists.
26. The Egyptian Senegalese Twist
Add an ancient feel to your twists by copying this hairstyle. This look screams Cleopatra. You will need professional help to get this hairdo done as it requires a lot of thread work done.
27. Senegalese Twists Hidden Underneath A Half Ponytail
This hairdo is super laid-back and easy to accomplish. It is a blend of twisted and loose hair. You just twist the top of your hair (ear to ear). After twisting your hair, tie it in a high pony. Braid your hair and tie it at the end to secure the hair.
28. Thin And Thick Senegalese Twist
Try this impressive blend of thick and thin twists. Try out different patterns. Here, the small and thick braids blend near the nape of the neck.
29. Head Pattern Senegalese Twists
If you love experimenting with bold hairstyles, then try this killer look. Most hair stylists will work with you to get the pattern you want, so it's not just the one flower hairdo.
30. The Front Bun Hair Do
Clearly, Senegalese twists are all about boldness! Try this excellent hairdo to turn heads and have all eyes on you. And the fantastic part about this look is that it's easy to do by yourself.
Accessories
Being a protective hairstyle means that you're going to be sporting these Senegalese twists for maybe six to eight months or more. Try these accessories to add more pizzazz to your twists!
Add in beads, springs, and other small trinkets to make your Senegalese twists even more amazing.
Mix and match colorful threads with beads to add a certain oomph factor to your hairstyle.
This tightly twisted Senegalese hairstyle is the perfect summer beach look!
These are easy to wear and remove, so they're not part of your hairdo always.
Scarves and bandanas can be used to add some flavor to your look. Use bright colors for the best effect.
These gorgeous hair rings work towards making this simple long Senegalese twist hairdo so much more stylish.
Hair ties or elastic bands when used right can accentuate your hairstyle and the entire ensemble.
Pattern Senegalese Twists
The best part about Senegalese twists is that you can move the twists in all directions. You can either play around with the twists themselves or with the parting designs as shown in both pictures.
Colored Hair Extensions And Tassels
The best part about hair extensions is that rather than coloring your hair you can just use colored hair extensions. If you don't find extensions in the color you want, then just dye them. Remember that it's easier to dye a light color into a dark one rather than vice versa. And finish off the hairdo by adding tassels at the end. Try new gorgeous hair colors and completely dazzle.
Go gypsy with this sick hairdo! After all, the monochromatic look is highly coveted.
Infographic: Top 6 Senegalese Twist Hairstyles
Sometimes, after all the hair care routines, you must protect your hair from harsh environmental conditions and heat styling. Give your hair its recovery time with easy Senegalese twist hairstyles, which you can maintain for about 5-6 weeks. Check out the infographic to know about some of the best protective yet fashionable hairstyles.


The Senegalese twist is a protective hairstyle usually used with kinky hair extensions on afro hair. This hairstyle can help protect your hair from coloring, environmental factors, and heat styling. Hair also grows considerably faster when braided in Senegalese twists, which are made by combining hair extensions with natural hair. Marley, Kanekalon, and Toyokalon are the most popular extensions for these hairstyles. The hairstyles in this post can be done at home using the DIY tutorial or in a salon by a professional. What matters is that you choose your favorite and go for it!
Frequently Asked Questions
Can Senegalese twists damage your hair?
No, they are a protective style that help you stay away from heat styling and harmful treatments. Senegalese twists don't harm your hair if done right.
Are Senegalese twists painful?
They may not hurt to begin with, but might seem a bit uncomfortable for a day or two later on till your scalp gets used to it.
Do Senegalese twists break your hair?
When done right, they don't cause any hair loss.
Want to know how to create beautiful Senegalese twists? Check out this video for step-by-step instructions to get your the perfect results.
The following two tabs change content below.