8 Best Serums To Control Hair Fall Available In India
Bid adieu to unwanted hair fall and welcome lustrous-looking locks.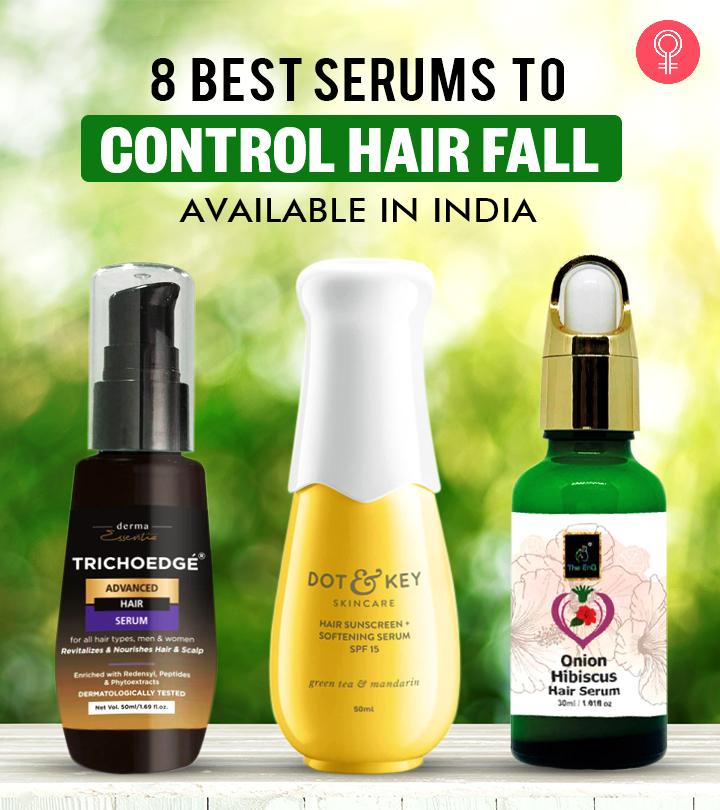 Is hair fall giving you sleepless nights? You must have changed your shampoo, conditioner, towel, comb, pillow, and perspective to no avail. Don't give up yet because we have a solution. Hair serums are pure and high-performance formulations that control hair fall and prevent bald patches.
These potions are made with vitamins, growth factors, plant extracts, and biomolecules that instantly seep through the scalp and fight hair fall at the molecular level. This article has listed the 8 best serums available in India that can effectively control hair fall. Scroll down to find out the product that suits you the best.
8 Best Serums To Control Hair Fall Available In India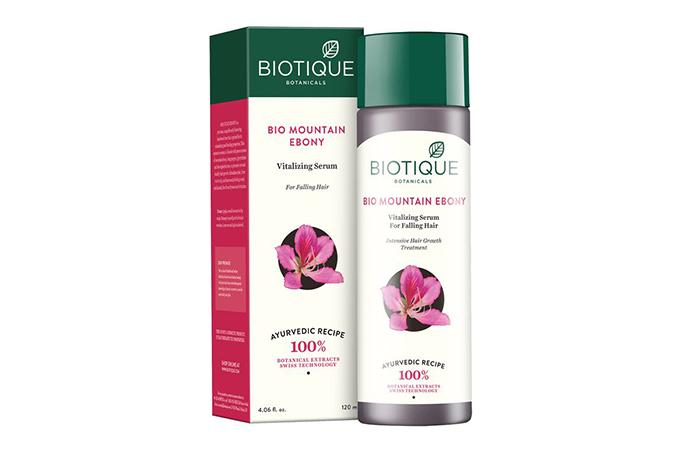 The Bio Mountain Ebony Vitalizing Serum by Biotique is one of India's best anti-hair fall serums. It has an intensive hair growth formula containing 100% herbal and pure extracts of mountain ebony, long pepper, licorice, neem, and the euphorbia tree. They stimulate new and healthy hair growth from root to tip and soothe dryness and irritation in the scalp.
Most of these ingredients have antibacterial and astringent effects on your scalp. They protect the hair follicles and cuticles against fungi and bacteria in humid and hot conditions. They also strengthen the anchorage of hair shafts to the scalp, controlling breakage and shedding in any season.
Key Ingredients: Neem bark, Kusumbhi oil, Kanchnar stem, Mulethi stem, and Pippali fruit
Pros
Contains only natural extracts
Hypoallergenic
Suitable for all hair types
Fast-acting formula
No residue
Cruelty-free
Cons
Overpowering smell
Makes the hair dry.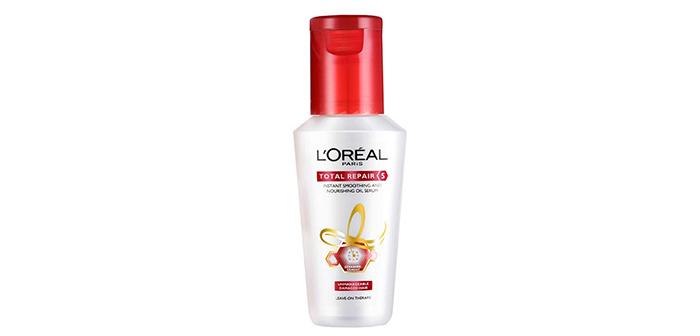 The L'Oréal Paris Total Repair 5 Repairing Serum offers protection against the five visible signs of damaged hair – hair fall, dryness, roughness, dullness, and split ends. This serum uses ceramide-cement technology to repair damaged and thin hair.
It replicates hair's natural cement, which keeps it strong and resilient. When applied on damp hair, this ceramide-cement, along with proteins, instantly attaches to the damaged areas on the hair fibers and repairs the surface. These molecules bind and seal open cuticles, creating a protective shield against heat, humidity, split ends, breakage, and ultimately, hair fall.
Key Ingredients: Lactic acid and Hydroxyethyl cellulose
Pros
Spreads well
Subtle smell
No residue
Doesn't weigh the hair down
Suitable for all hair types
Safe for color-treated hair
Gentle formula
Long-lasting
Cons
None
Price at the time of publication: ₹11.9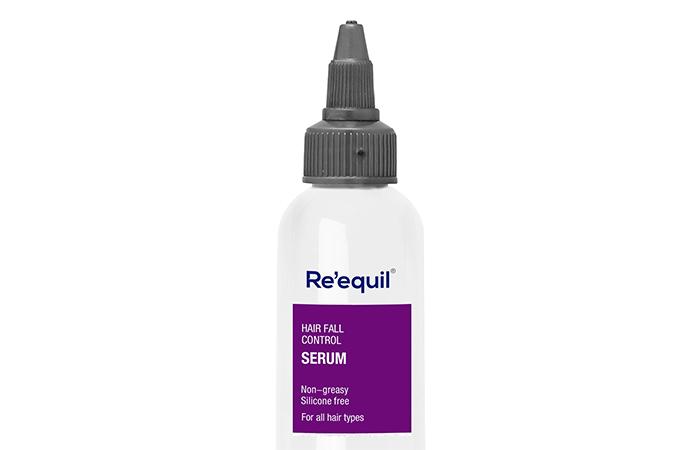 The Re'equil Hair Fall Control Serum is a weightless and non-sticky formulation that revitalizes the hair roots. It does not clog the scalp pores, thus enabling the active ingredients to penetrate effectively.
This serum comes with clinically proven ingredients like cressatine and aminexil that boost healthy hair growth by improving blood circulation. They block the formation of DHT, a molecule that primarily causes genetic hair loss, thereby protecting more hair follicles in the growth stage. With regular use, this serum balances the hair life cycle and visibly enhances hair density and thickness.
Key Ingredients: Cressatine (Indian Cress and Watercress extract), Aminexil, and Chestnut seed extract
Pros
Silicone-free
Dermatologically tested
Non-comedogenic
Paraben-free
Sulfate-free
Mineral oil-free
Absorbed quickly
Mildly scented
Cons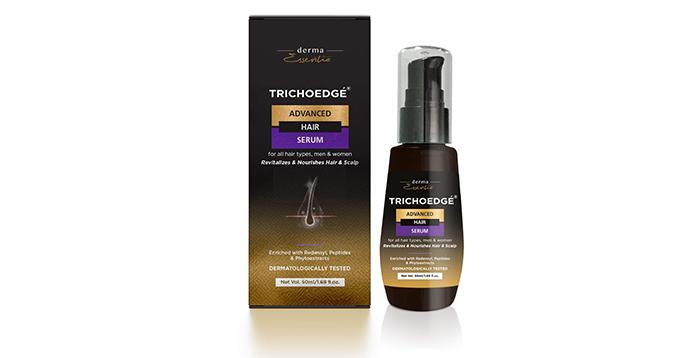 The TRICHOEDGE® Hair Serum by derma Essentia rejuvenates and nourishes your scalp and hair follicles with natural ingredients. This anti-hair fall serum contains a natural DHT blocker, which limits hair thinning and loss at the molecular level. The active ingredients reactivate the hair follicles to stimulate healthy hair growth and regeneration. They regulate microcirculation in the scalp to ensure stronger hair anchorage and lesser breakage.
Key Ingredients: Hairgenyl, Cressatine, Redensyl, Root Biotec, Sunflower oil, and Aloe extract
Pros
Cruelty-free
Dermatologically tested
Oil-free
Paraben-free
Made with natural ingredients
Lightweight
Unscented
Cons
None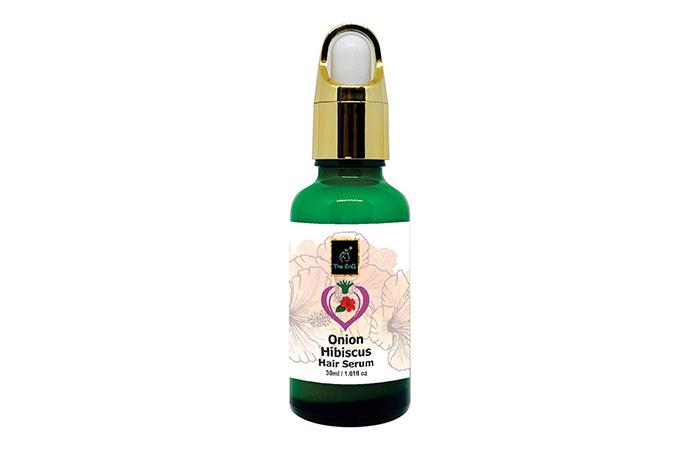 The EnQ Onion & Hibiscus Hair Serum is a unique, 100% herbal product based on Ayurveda practices. It nourishes and replenishes the hair fibers and scalp with essential minerals and vitamins.
This serum uses sulfur-rich onion and hibiscus extracts to condition and strengthens keratin in the hair strands. It seals open cuticles and treats conditions like frizz, dryness, split ends, breakage, and hair fall. This sulfur-rich serum prevents hair thinning and alopecia in women and men by stimulating keratin production. With regular use, it makes your hair fuller, healthier, and shinier.
Key Ingredients: Onion extract, Hibiscus extract, and Olive extract
Pros
100% vegan formula
Paraben-free
Sulfate-free
Mineral oil-free
Silicon-free
COSMOS, ECOCERT-certified organic product
Hypoallergenic
Suits all hair and skin types
Cons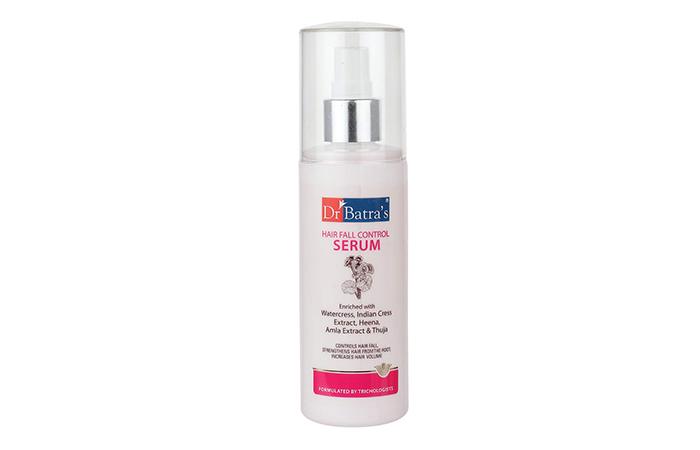 Dr. Batra'sHair Fall Control Serum is enriched with watercress and Indian cress extracts to protect the hair strands from heat, humidity, and styling damage. It also contains henna, peas, and ginseng extracts that restore your scalp's pH and moisture balance. They clear product buildup and clogged pores around the active hair follicles and stimulate blood circulation. This serum also contains thuja (white cedar) extracts that naturally block hair growth repressors like DHT. This lightweight serum comes in an easy-to-dispense spray bottle.
Key Ingredients: Sweet Pea extract, Ginseng extract, Hops, Henna, and Thuja extract
Pros
Easy to use
Sulfate-free
Lightweight
Doesn't weigh the hair down
Non-sticky
No residue
Cons
Runny consistency
Makes the hair dry.
Price at the time of publication: ₹39.99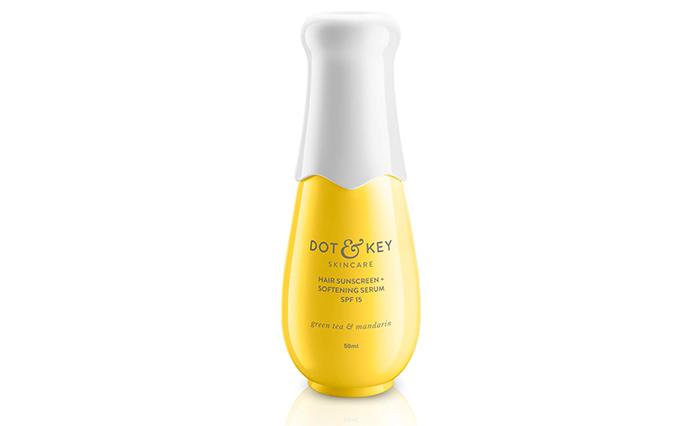 This hair serum from Dot & Key comes with SPF 15 to shield your hair from UV damage and prevent color fading caused by sunlight. It is best for color-treated and damaged hair that needs extra protection from heat, pollution, and humidity. This serum also contains essential oils and vitamin E that nourish and condition your hair and scalp. The oil-free formula smoothens the hair cuticles, fights split ends, and prevents breakage. It imparts a hint of mandarin and green tea to your hair.
Key Ingredients: Mandarin extract, Vitamin E, and Green tea extract
Pros
Paraben-free
Phthalate-free
Mineral oil-free
Alcohol-free
Cruelty-free
Silicone-free
Cons
None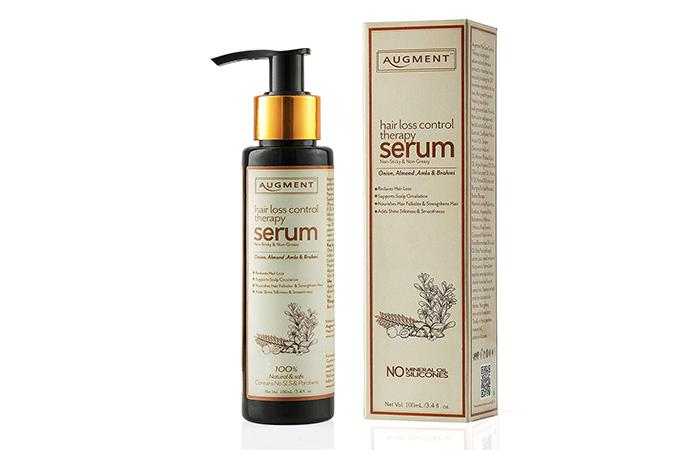 The Hair Loss Control Therapy Serum by AUGMENT is enriched with extracts of onion, almonds, amla, brahmi, neem, henna, bhringraj, and other nourishing herbs. These extracts strengthen your hair from root to tip and fight hair fall. This serum replenishes the hair follicles with essential nutrients and natural oils to make it stronger and thicker. It can be used on all hair types and textures and leaves a mild, herbal fragrance that lasts all day long.
Key Ingredients: Amla, Almond, Bhringraj, Brahmi, Neem, Onion, and Shikakai extracts
Pros
Contains only natural ingredients
Paraben-free
Suitable for all hair types
Sulfate-free
No artificial dyes
Mildly scented
Suitable for color-treated hair
Cons
These eight serums are made with potent formulas that control hair fall and nourish your scalp. While some are based on modern research, the others have all-natural, traditional medicine-based recipes. To shortlist the best ones from this list, here are a few points you should look for.
How To Choose The Best Serum For Hair Fall?
Ingredients: Serums with plant extracts or vegan formulations are recommended by several dermatologists and cosmetologists. They are not only sustainable and cruelty-free but also hypoallergenic and affordable. Look for extracts of chamomile, aloe vera, honey, caffeine, and rosemary in serum to ensure protection against hair fall.
Molecules like minoxidil are US FDA-approved hair growth stimulators that can safely fight breakage and strengthen the roots. Such stimulator-based serums are also equally effective. Hence, make sure you read the ingredient list before finalizing it.
Hair Type: Another critical factor is the compatibility between your hair type and the serum components. If you have an oily scalp and choose a serum with coconut oil, it will only worsen hair fall. Hence, pick serums that suit your hair type.
For dry hair and scalp, choose something with nourishing emollients like shea butter, honey, yogurt, argan oil, etc. Oily scalps will love lightweight hydrators like aloe vera, chamomile, licorice, sea minerals, and vitamin B.
When you find a serum with the right ingredients for your hair type, hair fall will no longer be a concern. Since serums have the advantage of better penetration, their growth factors and components reach the core of the hair follicles faster. You will, therefore, see a visible difference in your hair length, density, and size of the bald spots. Order an anti-hair fall serum from the list above and use it regularly. All you need is a little patience, and you will see them work!

Recommended Articles
The following two tabs change content below.